Letters from Lodi
An insightful and objective look at viticulture and winemaking from the Lodi
Appellation and the growers and vintners behind these crafts. Told from the
perspective of multi-award winning wine journalist, Randy Caparoso.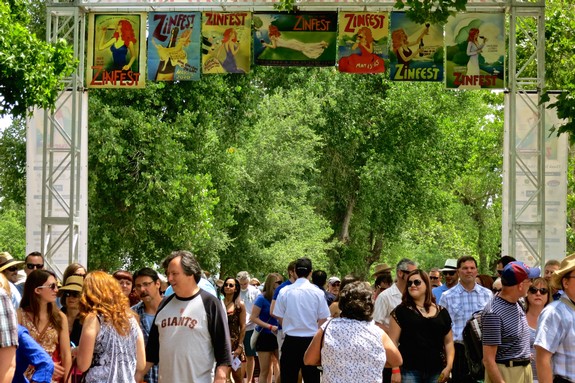 Next month's Lodi ZinFest Wine Festival (Saturday, May 14, 12-5 PM) will be chock-full of opportunities for Lodi wine lovers experience things they love most (like barbecued foods and wines) or to expand their wine knowledge with the guideance of two of the state's most respected sommelier/educators, under the cozy tent of our ZinFest Wine School.
Continue »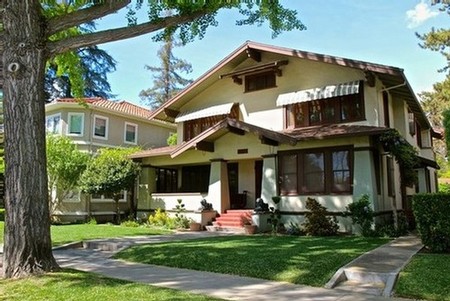 Lodi artist and businessman Tony Segale – who has also been profiled by Lodi News-Sentinel as "Lodi's best-known sign painter" – lives in the original, longtime home of the Mondavi family, just two block west of Downtown Lodi's main drag (School Street).
Continue »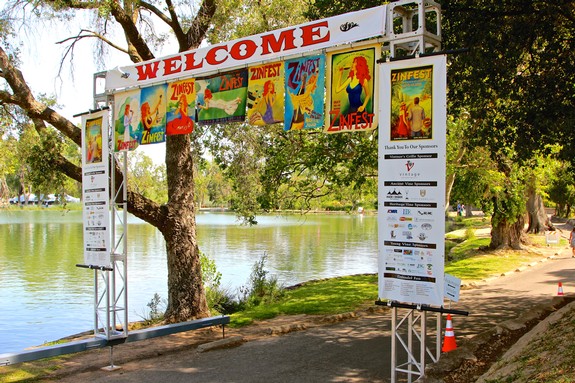 ZinFest Wine Festival – by far, Lodi's biggest yearly event – is just a motion away: Saturday, May 14, 2016 (12-5 PM), taking place on the lush, dreamy peninsula between Lodi Lake and the Mokelumne River, where towering oaks, willows and riparian brush and birdlife set the table for a natural love-in feel to this vinous experience.
This may be called ZinFest; but as thousands of wine lovers discover each year, the Lodi Viticultural Area is all about far more than Zinfandel. Lodi has evolved into a magnet for the newest generation of grape connoisseurs who, frankly, have grown tired of conventional varietals and bigger-than-thou (or high "scoring") attitudes.
Continue »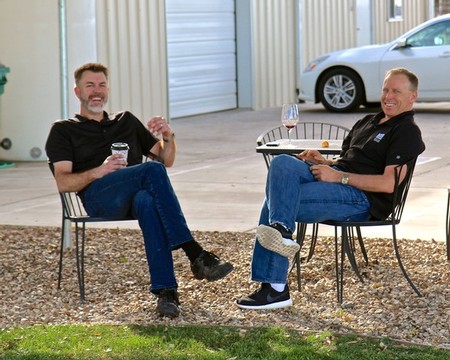 When Lodi's Russ Fields and Ryan Sherman first got together to start making wine back in 2005, you could well describe the endeavor as your classic two-guys-with-day-jobs-and-extra-time-and-a-tub-of-grapes-on-their-hand situation. Mr. Sherman looks back on their first three vintages as "mad scientist" days; telling us: "We had no formal background, training, experience or reference points other than our own. So we did dozens of trails... just being curious, trying to learn, figure shit out for ourselves without anyone else's protocol or dogma."
Continue »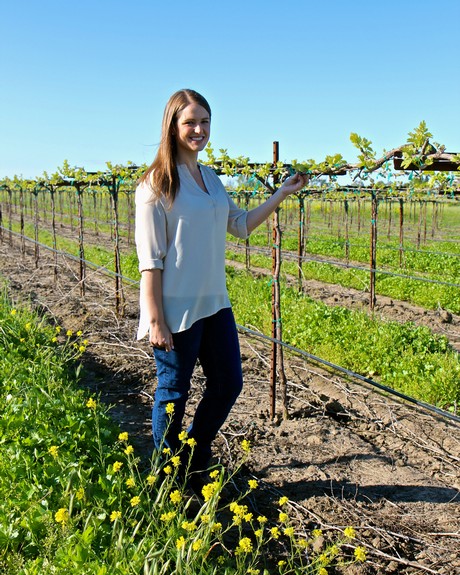 We are continuing our series of profiles on the Lodi wine industry's most powerful women with a conversation with Amy Blagg, the Executive Director of the Lodi District Grape Growers Association (LDGGA).
Continue »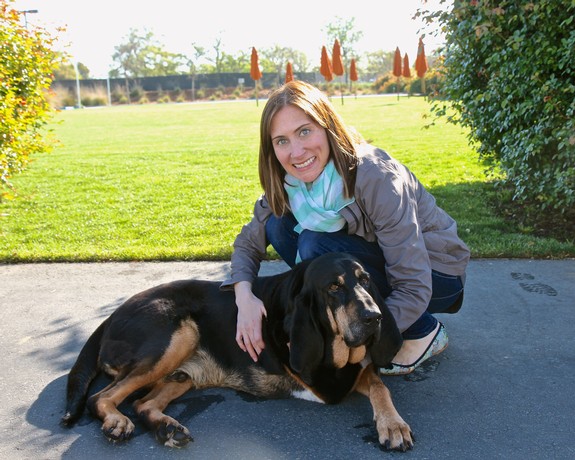 Continuing our series of profiles on the Lodi wine industry's most powerful women, we present to you Kendra Altnow, the Marketing Manager of LangeTwins Family Winery & Vineyards as well as LCF Wines (the latter, a multi-brand product line established by the Lange family in partnership with two other families). 
Continue »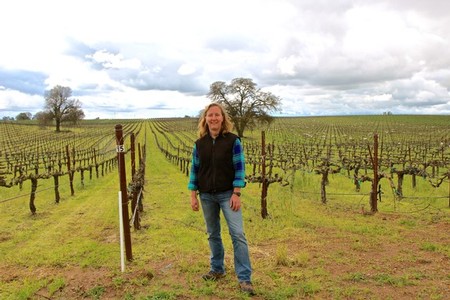 In the third of our profiles of the Lodi wine industry's most powerful women, we are highlighting Elyse Egan Perry, the winemaker of Bokisch Vineyards.
Ms. Perry's position is a huge, complex responsibility, as it not only entails vinification of Bokisch Vineyards' cutting-edge, multi-award winning Iberian varietal wines, but also the custom crush production of wines for numerous winery clients purchasing fruit from Bokisch Ranches. The Bokischs' farming operation supplies some 40 different grape varieties grown on over 2,200 acres, in six of Lodi's seven official sub-appellations.
Continue »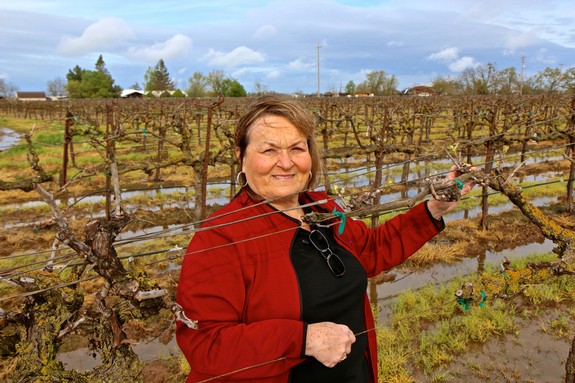 In the second of our profiles of the Lodi wine industry's most powerful women, we are proud to hold up Janis Barsetti Gray as one of our more admired figures – a story about one woman's lifelong devotion to her family's farming heritage. A story about Lodi.
Continue »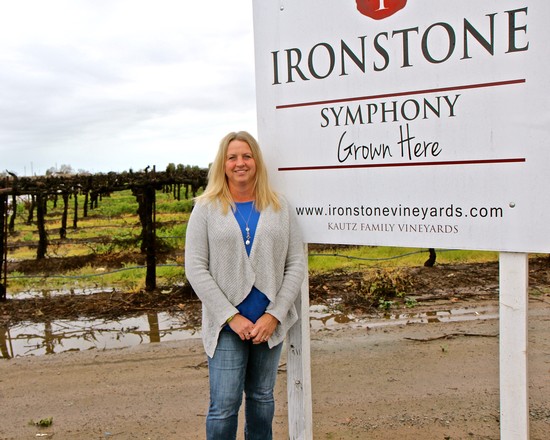 This if the first of several posts in which we will be profiling a few of the Lodi wine industry's most powerful women, and letting them tell their own stories.
There are few women as significant as Joan Kautz, who serves as Sales & Marketing Manager of Ironstone Vineyards, which has been listed among the 20 largest wineries (in terms of cases sold) in the U.S. Although many wine lovers are aware that Ironstone's winery and tasting room are located in Calaveras, in the Sierra Foothills, the Kautz family's operations have always been primarily based in the Lodi Viticultural Area, where they farm some 4,500 acres of premium wine grapes as John Kautz Farms.
Continue »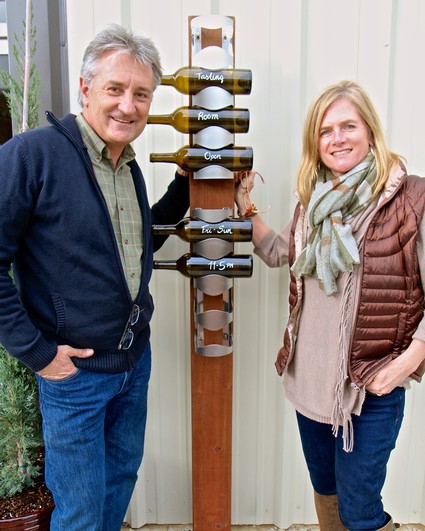 Bokisch Vineyards' Terra Alta Vineyard has always been one of Lodi wine country's most spectacular, photogenic, yet very rarely seen (at least by visiting wine lovers) sites. 
It sits in Lodi's Clements Hills Viticultural Area, east of the City of Lodi, which is a region of bucolic, rolling hills and gravelly clay soils – in dramatic contrast to the flat, sandy loam landscape of Lodi's more historic Mokelumne River AVA, surrounding the little City of Lodi.
Continue »