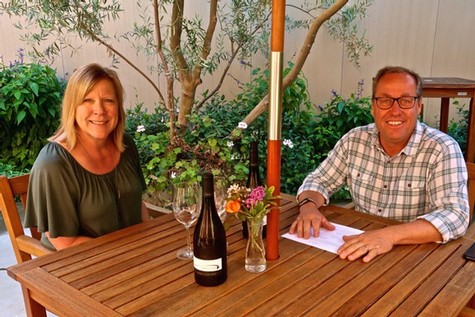 It's happening, slowly but surely: Lodi grown Chardonnay that tastes like it comes from... Lodi!
The newly released 2018 Harney Lane Winery Scottsdale Vineyard Lodi Chardonnay ($28) represents a resounding step in that direction, and it's delicious despite not following in the fuller bodied, round, soft, fleshy and lusciously fruited and creamy oaked style that many Chardonnay lovers prefer (Harney Lane Winery's "regular" Lodi Chardonnay, as a matter of fact, follows that formula, and it's also delicious for that style of wine).
Instead, this new bottling – the winery's first-ever vineyard-designate bottling from this estate owned property, located on the east side of Lodi's Mokelumne River AVA, where the soil is the deepest and sandiest in the appellation – is, according to co-owner Jorja Lerner, "a cleaner, crisper wine, more about the fruit than the influence of oak." Jorja's husband, co-owner/grower Kyle Lerner, describes the wine as being a "less broad shouldered style than most Chardonnays, including our own Harney Lane Chardonnay..."
Continue »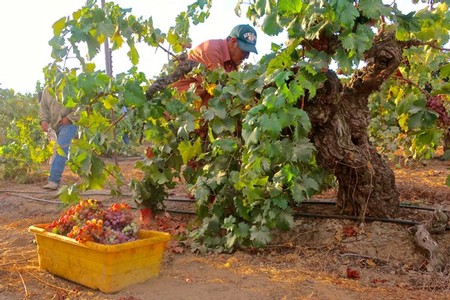 When I first moved to Lodi, just before the 2010 harvest, one of the conversations that taught me most about the region was with longtime grower Jonathan Wetmore, who owns the Lodi based vineyard management company called Round Valley Ranches. Round Valley Ranches farms over 2,000 acres of wine grapes for both large wineries (such as E. & J. Gallo) as well as some of the region's most celebrated specialty estates, such as Acquiesce Winery, Oak Farm Vineyards, and Jessie's Grove...
Continue »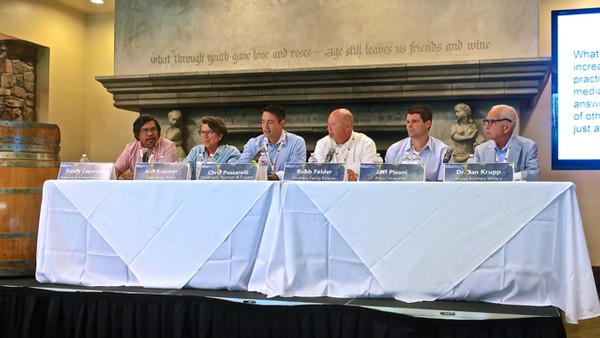 At the recent Lodi Vineyard & Wine Economics Symposium (June 27, 2019), there was a panel discussion entitled "The Art of Negotiation" focusing on best practices for vineyard owners seeking to bolster wine grape prices, while communicating the integrity of their product to potential grape buyers as well as to the media, trade and consumers who ultimately drive the market.
Each of the five speakers on this panel brought a slightly different perspective to the burning issue of grape pricing – something that has always been on the front burner in the Lodi Viticultural Area, where nearly a fifth of all of California's commercial wine grapes are grown, in some 110,000 acres... 
Continue »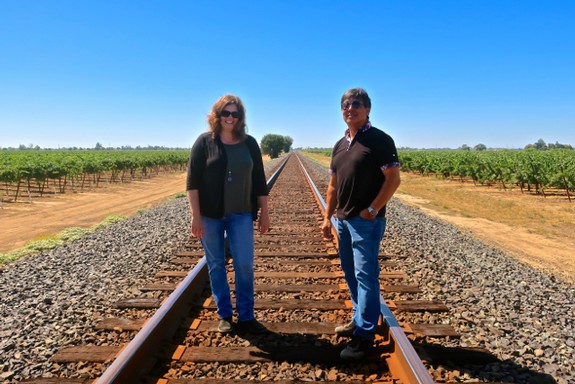 One of the most important recent developments here in Lodi is the bottling of five new single vineyard designated bottlings by LangeTwins Family Winery & Vineyards – a family that traces their farming roots in the Lodi Viticultural Area as far back as the 1870s.
The significance is twofold:
1. The highlighting of single vineyards on labels does more than bolster a region's impeccable grape growing reputation, to which the Langes have contributed tremendously. It also showcases a maturation of winemaking philosophy and skill on the part of this particular winery's two lead winemakers, David Akiyoshi and Karen Birmingham. Akiyoshi and Birmingham – whose winemaking mastery reflects over 50 years of combined experience in the industry – are no longer focusing purely on capturing the "varietal character" of grapes, or a predictable brand style. Just as important, or more, to them is capturing the qualities of grapes within the context of specific vineyard sources. Therefore they have adjusted their entire winemaking protocols to achieving exactly that: Putting a strong sense of place – something that is often called terroir – on equal or greater footing with objectives such as sheer intensity or even house style (although you can also say that LangeTwins Family's brand style has now become terroir focused)...
Continue »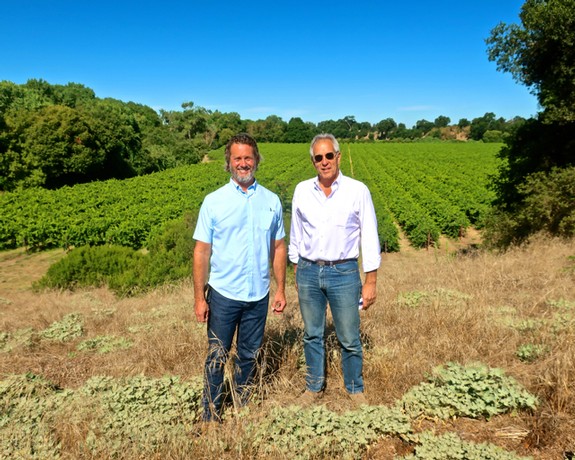 Bringing natural and Biodynamic principles to Lodi
"Grow what belongs here... be patient" is what you read on the Web site page explaining the farming philosophy of DaVero Farms & Winery, founded by Ridgely Evers and his wife Colleen McGlynn.
While DaVero Farms & Winery is located in the Healdsburg area of Sonoma County, there are connections to the Lodi Viticultural Area: Starting eight years ago with vintages of Vermentino sourced by Schatz Family Farms in the Cosumnes River-Lodi AVA, bottled under a sub-label called Avivo...
Continue »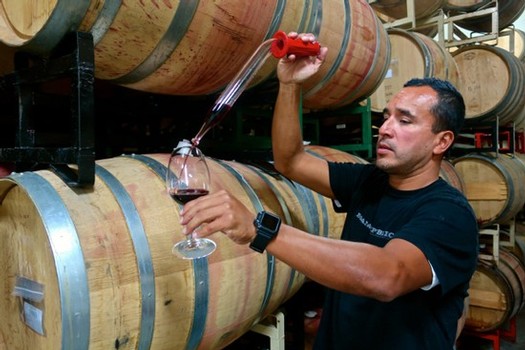 Lean and iconoclastically tart and edgy skin-contact Pinot gris. A rarely seen Nebbiolo showing the intricacies of a grape that tends to get lost on California wine lovers, accustomed to more obvious, wham-bam, instant gratification. And grown in Lodi. This is what this post is all about. But first, a little background...
Lodi wine lovers in-the-know have no doubt noticed the recent disappearance of wines bottled under the Viñedos Aurora label. These were deep, dark, powerful wines made from Cabernet Sauvignon and Petite Sirah grown by the Anaya family – second generation Mexican-American farmers – from their home vineyard (called Viñedos Aurora Vineyard) in the red clay colored slopes of Lodi's Clements Hills AVA, just east of the little communities of Victor and Lockeford...
Continue »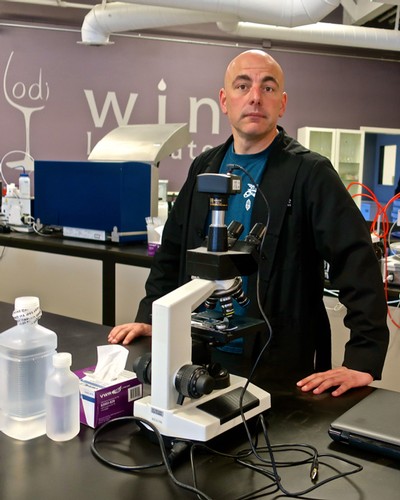 When there's something strange in a wine produced by a small winery or home winemaker, who you gonna call?
In Lodi, professional and amateur winemakers alike enjoy the distinct advantage of being able to call upon Lodi Wine Labs, located right here in the City of Lodi just adjacent to California Hwy. 99.
Lodi Wine Labs is not only one of the largest and best-equipped commercial industry laboratories in the entire U.S. – offering analytical services for the production of not just wines but also for beer, mead, spirits as well as water and metals – it is also a one-stop shopping center for virtually anything anyone may want or need for the fermentation and production of alcoholic beverages. You name it, they got it: corks, bungs, hydro presses, bladder presses and old fashioned wood basket presses, steel drums and oak barrels, filters, yeasts, nutrients, 6-gallon glass carboys or plastic tubs for the first-time home winemaker or 290-liter stainless steel fermentation tanks for the aspiring, future or would-be wine industry professional...
Continue »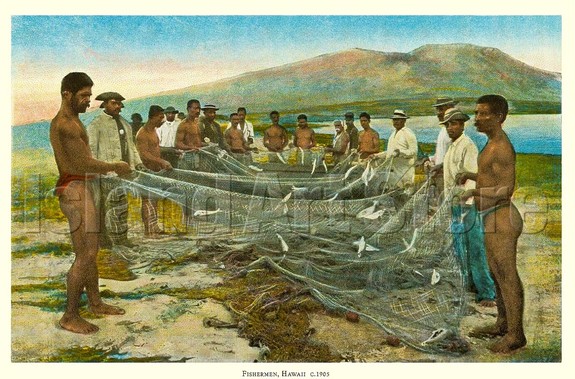 The native Hawaiian dish called poke (pronounced poh-keh) is now found seemingly everywhere outside the fiftieth state. It was bound to happen, with millions of people from around the world visiting the Hawaiian Islands each year, and then going back to their homes in New York, California, Minnesota, Texas, and everywhere else in the American continents, Asian or European countries still dreaming about the taste of this raw fish dish.
What is so captivating about poke? Although there are countless variations of the dish, most often made with sashimi-grade 'ahi tuna (yellowfin or bigeye tuna), the one thing they all have in common is that they taste like, well, Hawaii. It's those briny, salty, fresh sensations that are basically the culinary equivalent of taking a dip in the refreshing waters on one of those Hawaiian beaches where that sand is as soft as pillows, and waves roll up and back onto the shore with that foaming sizzle...
Continue »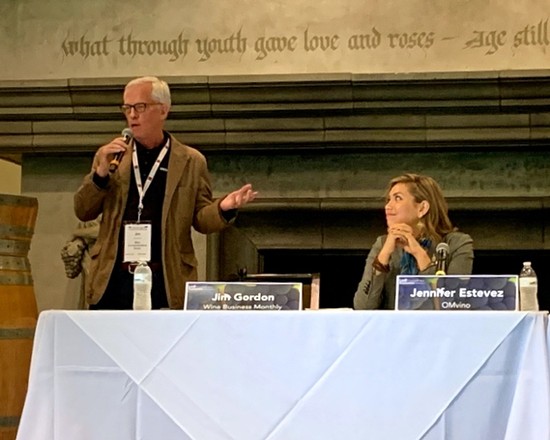 "How do Lodi wines relate to the big picture?" That was a question asked by Jim Gordon at the Lodi Vineyard & Wine Economics Symposium last week (June 27), in a seminar entitled Modern Lodi: The Media View on Lodi Wines' Stature In the Marketplace.
Mr. Gordon's outlook on Lodi wines, and Lodi as a winegrowing region in general, carries a lot of weight because he, like many longtime traditional print media journalists, has only recently (within the past 10 years) begun to recognize Lodi as a source of distinctive, high quality wines. Prior to that, his opinion of Lodi wines was... well, put it this way, it wasn't that positive...
Continue »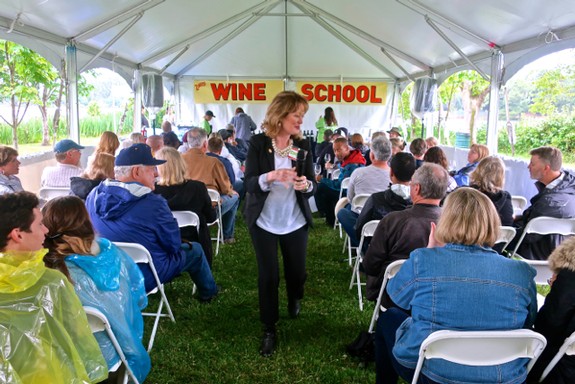 Many have called for it, but few have earned it. That is, the coveted title of Master Sommelier, which Catherine Fallis achieved 22 years ago, in 1997.
How few? There are only 219 Master Sommeliers in the entire world, 140 of them in the U.S. Fallis – who you can read about on her Planet Grape® Web site – was the fifth of only 21 female Master Sommeliers (the sommelier industry is still clearly dominated by men). Being an "MS" is sort of a big deal.
Therefore, an MS who absolutely adores the wines of Lodi is also a big deal (to us). Ms. Fallis backs this up in words: In her current best selling book, entitled Ten Grapes to Know (2018 Countryman Press, available on Amazon as Ten Grapes to Know: The Ten and Done Wine Guide), Fallis devotes not just an entire chapter to Zinfandel, but to Lodi grown Zinfandel in particular...
Continue »