Letters from Lodi
An insightful and objective look at viticulture and winemaking from the Lodi
Appellation and the growers and vintners behind these crafts. Told from the
perspective of multi-award winning wine journalist, Randy Caparoso.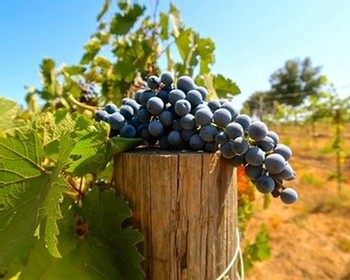 One of the joys of the annual wine harvest is being able to get up close and personal with a good variety of grapes, bursting with ripened flavors on the vine. Since there are over 100 wine grapes grown in Lodi alone, this time of year is paradisiacal for a professional oenophile able to walk freely among the vines.
In light of that, we'd like to share close-ups of ten grapes that we find of particular interest (starting below)...
Continue »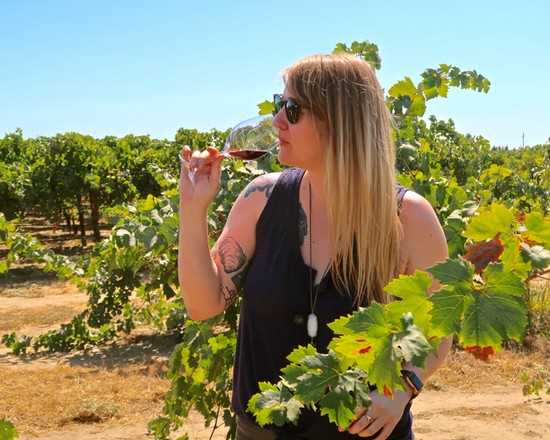 One of our endeavors during the four days last week when visiting sommeliers selected by SommFoundation explored the Lodi Viticultural Area was to find out where they thought Lodi grown wines fit with the wines of the rest of the world. So we did this in a way that sommeliers love best: blind tasting.
We conducted two blind tastings on two separate days, one comparing Lodi white wines with classic whites from Europe, and the other comparing Lodi vs. European reds. The purpose was not to demonstrate who makes "better" wines. Heck, here in Lodi we can't even decide where you get the "better" Lodi wines – the ones grown on the east side of the railroad tracks running down the middle of Lodi, or the ones grown a few feet away on the west side...
Continue »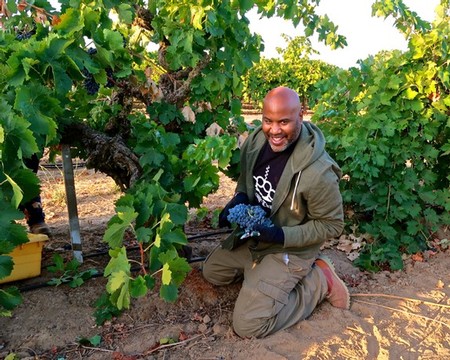 Last week – from Sunday, September 8 to Thursday, September 12 – eight sommeliers selected from across the U.S. and Canada by the SommFoundation (a scholarship program associated with the Guild of Sommeliers) – visited Lodi wine country for a full-immersion course. These eight wine professionals were selected from a list of over 60 applicants.
One local sommelier, Benjamin Caldwell of Lodi's Wine & Roses Hotel & Spa (relatively new to the region, Mr. Caldwell moved to Lodi earlier this year), also joined the group in their study of the appellation during this fortuitous time frame – the middle of the 2019 harvest!
Continue »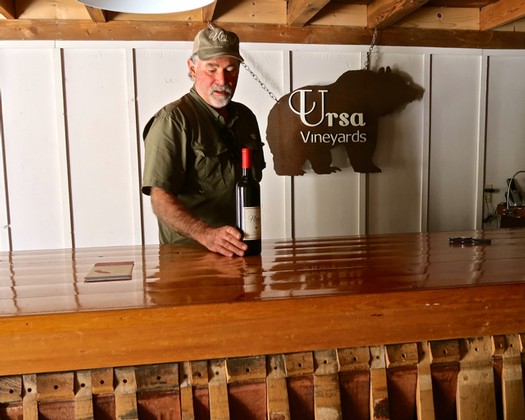 Greg Stokes and Deborah Elissagaray, the husband/wife winemaking owners of Ursa Vineyards, relocated to the Sierra Foothills back in 2001 from Santa Cruz Mountains in order to pursue their love of warmer climate winegrowing, after meeting at David Bruce Winery where they specialized in Pinot noir.
While they source most of the grapes for their Ursa label wine in the Foothills, naturally they've also been drawn to the Lodi Viticultural Area because, as Stokes puts it, "We also love to work with unusual stuff..."
Continue »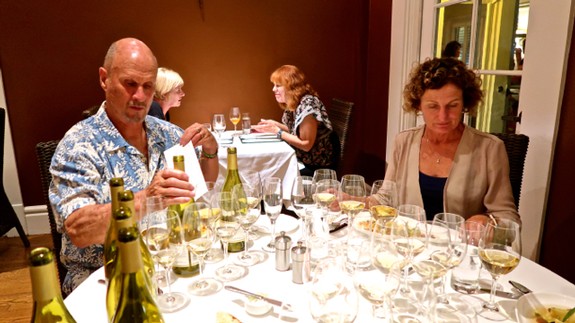 In Lodi we talk a lot about Zinfandel because it's been the appellation's leading wine grape at least since the 1880s.
But Lodi also grows a lot of Chardonnay. According to the USDA's 2018 California Grape Acreage Report, there are 12,416 acres of bearing Chardonnay vines in Lodi, compared to 17,814 acres in Monterey, 15,819 acres in Sonoma County, and 7,860 acres in San Luis Obispo/Santa Barbara.
Although Chardonnay grows well in Lodi, an actual "style" for the varietal as a premium Lodi grown wine has yet to be identified, but that may soon change. Slowly but surely, family owned wineries such as Michael David Winery, Harney Lane Winery and Oak Farm Vineyards have been etching out a profile of bright fruit buoyed by crisp natural acidity in their commercial bottlings...
Continue »