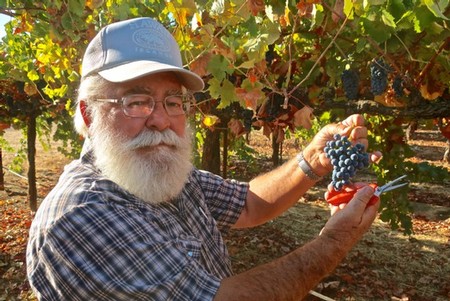 Like thousands of other Americans of Portuguese descent, Ron Silva – owner/grower of Lodi's Silvaspoons Vineyards, east of Hwy. 99 located between Elk Grove and Galt – is a cattleman (Portuguese-Americans own about 46% of the dairies in California, which produce more than half of the state's milk).
Mr. Silva is also the largest grower of Portuguese grapes – particularly the varieties that go into the production of the famous sweet, fortified reds known as Port, grown in Portugal's Douro Valley – in the U.S.
Like most of the Portuguese-Americans in California, Silva's parents and grandparents originally came out of the Azores Islands – the archipelago off the coast of Portugal which has always offered limited resources and economic opportunities to its island residents – and settled in either Hawaii (initially to work on 5-year sugar cane labor contracts, starting in 1877) or the Bay Area, particularly San Leandro (Alameda County) on the eastern shores of the San Francisco Bay...
Continue »