Letters from Lodi
An insightful and objective look at viticulture and winemaking from the Lodi
Appellation and the growers and vintners behind these crafts. Told from the
perspective of multi-award winning wine journalist, Randy Caparoso.

January 4, 2018 | Randy Caparoso
The perfect sweet reds and blue cheeses for wintry days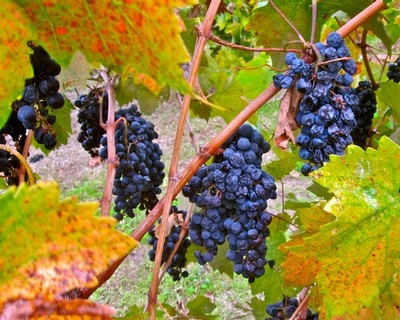 When the weather is nippy, days are short, and you're hunkered down in a cozy room with an open fire and friends, enjoying the moment after a dinner, old-time music playing on a turntable, that's when a good sweet wine seems to take the cake.
Especially sweet red wines; which, served at cool room temperature, come off a little deeper in aroma and flavor than sweet whites. Versions of Port – full bodied wines made from black skinned grapes, fortified to 19%-20% alcohol – are, perhaps, the ultimate sweet reds. Here in Lodi, there is also a handful of sweet reds made in a more natural style: red grapes left hanging (i.e. as "late harvest" red wines) or dried on trays until they raisin to higher sugars, then fermented with no fortification of spirits to more moderate alcohols (say, 16% or 17%).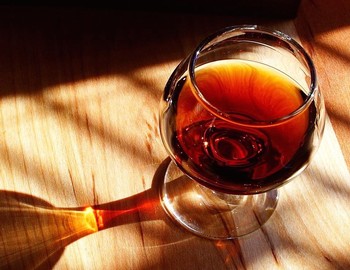 Either way, a wintry day is heightened by such liquid luxuries; conversation made lyrical, like the late, great Jesse Winchester's classic song, Little Glass of Wine...
Little glass of wine, a good thing you are here
You're warm on my lips, warm as a tear
A comfort to the fool who's restless in his mind
The lover's trusty potion, little glass of wine
Chocolaty desserts, of course, are natural with glasses of higher alcohol sweet reds; but blue veined cheeses – served with walnuts, crisped breads or crackers, dried or fresh fruits like fig or pear, if not little dabs of sweet things like quince paste, plum preserves or just thick honey – are also a magical match. Why? Because. But if we really must say: because, on a sensory level, sweet things always balance out briny/salty as well as slightly bitter sensations – hence, the classic combination of sweet reds, blue cheeses and nuts.
You might have heard, in fact, that the matching of wines and cheeses can be something of an art. Not an art that's complicated, but more in a sense of wiliness – like having a secret ingredient for your omelettes or stews, like Joni Mitchell's "red red rogue."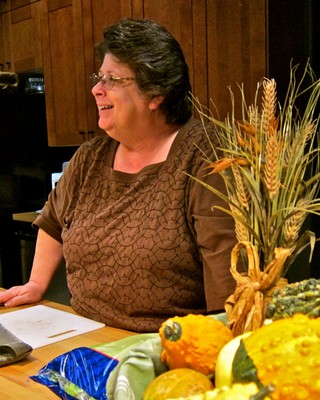 Here in Lodi when you want tips on wines and cheeses most locals go to Cheese Central – Downtown Lodi's fabulous little cheese shop (over 100 artisanal selections at any given time!), owned by Cindy Della Monica. Cindy has definite ideas on sweet red and cheese matching; recently telling us:
Not all blue cheeses are alike, just like not all sweet reds are the same. The Lucas Winery, for instance, makes a sweet Late Harvest Zinfandel that is quite a bit lighter than your usual sweet Port. So for lighter sweet reds, I like to recommend softer, milder blue cheeses. One of them is Grand Noir – a Bavarian triple crème blue made from cow's milk. Grand Noir is rich, creamy, almost buttery, with a nice blue cheese taste that won't overpower. Perfect for late harvest Zinfandels.
Another soft style of blue cheese is Bleu des Basque, made from sheep's milk in the Basque region of France. Sheep's milk naturally has a creamy, lanolin taste. Like the Grand Noir, its blue cheese is on the mild side – less briny than most blue cheeses – but with an interesting earthy taste of its own.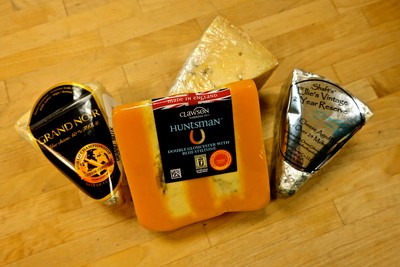 For heavier, Port style sweet red wines, on the other hand, my absolute favorite to recommend is Shaft's Ellie's Vintage 2-Year Reserve from right here in California (Roseville). It is rich and strong in blue cheese flavor, mostly owing to its long aging, since most blue cheeses are aged 3 to 6 months at the most. Its aggressive, sharp, sweet/salty taste is amazing with Port. It can carry wines with the highest alcohol.
But of course, the Brits probably know Port wines like no others; and so, from England, I like to recommend the Huntsman Double Gloucester with Blue Stilton. As the name implies, it is deep, rich, aged cheese made from the milk of cows in Gloucestershire, with a thick layer of Stilton, the classic blue cheese, pressed in between. This cheese was specifically developed by the Brits to go with Port – especially long aged Tawny Ports. The layers of Double Gloucester give it a rich, sharp taste that combines beautifully with the lush blue cheese taste of Stilton.
Are your lips salivating like ours? If so, here's a round-up of some of the finer sweet reds of the Lodi Viticultural Area: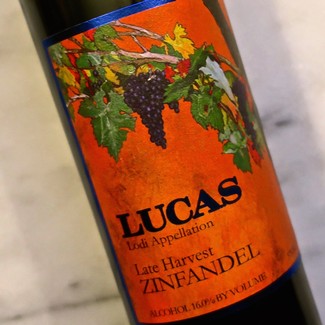 The Lucas Winery, Late Harvest Lodi Zinfandel ($50/375 ML.) – This nonvintaged bottling is one of California's ultimate, natural style late picked Zinfandels. It is made from grapes picked when shriveled on the vine in mid-November, then dried on straw mats (in an Italian passito style) to intensify the sugar and flavors before fermented and finished at 16% alcohol and about 7% residual sugar. The result is a pungently spiced, nutty, raisined berry aroma with slightly loamy/earthy undertones distinctive of its west side/Mokelumne River-Lodi provenance. The sweetness is fine, silky smooth and balanced.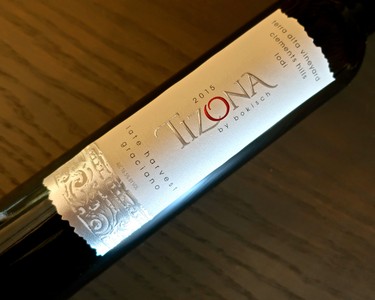 2014 Tizona (by Bokisch Vineyards), Terra Alta Vineyard-Clements Hills Late Harvest Graciano ($25/500 ML.) - At just 16.5% alcohol and about 5% residual sugar, this is another one of Lodi's natural style (i.e. not fortified with spirits) sweet reds. The Graciano grape, native of Spain, is what gives it both a zesty acid balance – keeping the sweetness bright, balanced and buoyant on the palate – and an exotic flavor, which is deep and luscious, with raisiny/sweet-spicy/caramelized sensations. The vibrant fruit qualities remain pure – without a hint of nutty, oxidized tones more typical of late harvest California reds – all the way through a lip smacking, velvety finish. Totally unique to Lodi, and world class by any standard. Visit bokischvineyards.com.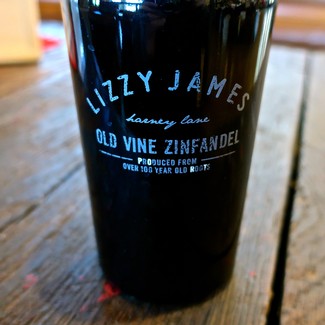 2014 Harney Lane Winery, Lizzy James Vineyard Lodi Dessert Wine ($35/375 ML.) – Although this red wine also starts off as a late picked Zinfandel – picked late in the season from the winery's oldest (first planted in 1904), most prestigious, estate grown block – a judicious dose of spirits bolsters the wine up to a Port style 19% alcohol level. The resulting robust quality is positively stuffed with pungent sensations of honeyed walnut, toasted almond, dried fig and berries – like a decadently sweet, meaty, layered cake, screaming for morsels of Shaft's Ellie's Vintage 2-Year Reserve Blue. Find on harneylane.com.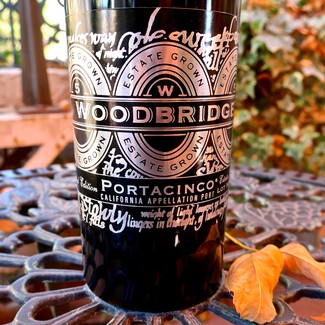 Woodbridge by Robert Mondavi, Limited Edition Portocinco®, Lot 502 ($22.50) – Before you ask "Woodbridge?", let us state emphatically that this bottling is the total opposite from any of the mass production style wines associated with this brand. In fact, it is an extremely limited, handcrafted, micro-cuvée found only at Woodbridge by Robert Mondavi's tasting room in Lodi's Acampo area. It is aged no less than 7 years in wood – following the classic "tawny" style of Portugal's Port wines – and artfully blended from Lodi grown grapes of authentic Portuguese lineage (38% Touriga Nacional, 27% Alvarelhão, 21% Souzão, 13% Bastardo, and 1% Tinta Cão). Its pretty red brick color signals an aged, caramelized nose of dried fruit, walnut and crushed leaf woodsiness. At 20% alcohol, the taste is full yet balanced, almost delicately sweet; the luscious, dried fruit sensations tinged with brown spices, finishing with a high toned, bright zestiness. Bring on some Huntsman Double Gloucester with Stilton, or else a pure Stilton or Shropshire Blue!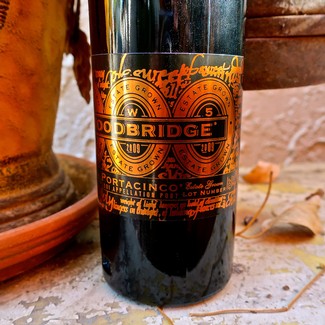 Woodbridge by Robert Mondavi, Limited Edition Portocinco®, Lot 509 ($15/375 ML.) – As if that's not enough, those crazy, Portuguese grape obsessed winemakers at Woodbridge also produce ruby style Port – aged a shorter time in wood to retain a deeper ruby-red color and brighter fruit taste – from the same mix of grapes, all sourced from the winery's estate owned block (just 4.5 acres) located along Woodbridge Rd. Finished at a classic 20% alcohol level, and chubby as a Christmas pie with a luscious, dried plum fruitiness, sweet yet palate slaking with almost briny, zesty qualities. Tailor-made for the strongest of blue cheeses, like those of Maytag Dairy Farms in Iowa, Spain's Queso de Cabrales, or classic, authentic Roquefort from France.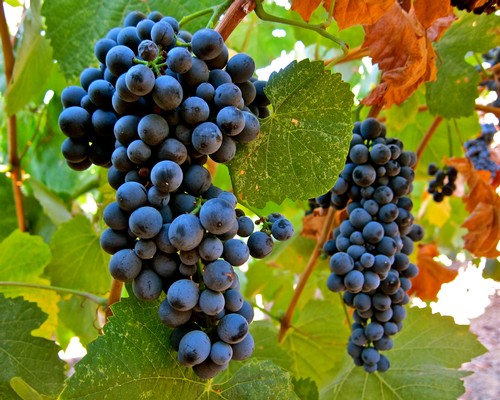 Comments