Letters from Lodi
An insightful and objective look at viticulture and winemaking from the Lodi
Appellation and the growers and vintners behind these crafts. Told from the
perspective of multi-award winning wine journalist, Randy Caparoso.

December 28, 2017 | Randy Caparoso
A look back at 2017 - a year of change, innovation and growing prestige

January
Vintage 2017 in Lodi started off with a bang, as an honor roll of Lodi grown wines took "Best of Class" awards at the San Francisco Chronicle Wine Competition, which in 2017 involved over 7,000 entries grown and produced in no less than 28 states across the country. The wines chosen for being the finest in their respective categories:
2015 Bokisch Vineyards, Terra Alta Vineyard Clements Hills-Lodi Albariño (category: Muscat/Albariño/Chenin Blanc)
2014 Bokisch Vineyards, Lodi Tempranillo (category: Tempranillo $24.99 or less)
2013 Jessie's Grove, Lodi Ancient Vine Carignane (category: Carignane)
2014 Loma Prieta, Lodi Petite Sirah (category: Petite Sirah $33 or more)
2015 Macchia, Mischievous Lodi Zinfandel (category: Zinfandel,$20.00-$23.99)
2014 Oak Farm, Lodi Petit Verdot (category: Petit Verdot)
2014 OZV (by Oak Ridge), Lodi Zinfandel (category: Zinfandel $14.99 or less)
2014 Zynthesis, Lodi Zinfandel (category: Zinfandel $15.00-$19.99)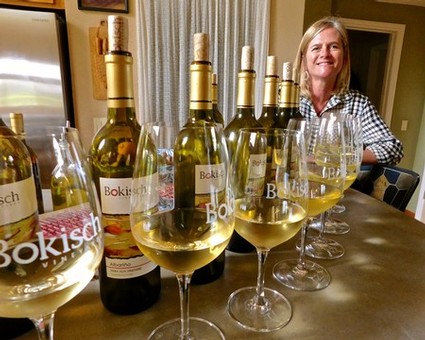 Around the same time in January on the opposite end of the country, Florida's invitation-only (meaning, only the country's finest wines are invited to be entered) American Fine Wine Competition awarded numerous Lodi grown wines top awards like Golds and Double-Golds. But perhaps the biggest coup of all was the Best of Class distinction going to the 2015 Oak Farm Lodi Grenache (a 2013 Bokisch Vineyards Terra Alta Vineyard Clements Hills-Lodi Garnacha also took a Double Gold): achievements proving what we've recently come to suspect – that Lodi grows some of the finest, and definitely the spiciest and most refined, Grenache based red wines in the entire U.S.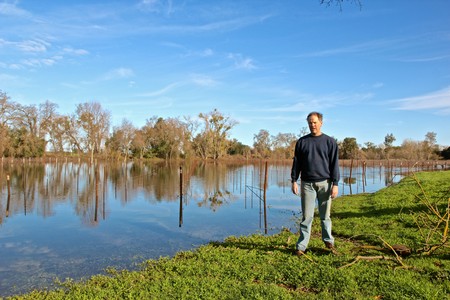 February
In February 2017 Lodi wine country continued to experience heavy winter rains, which began in January. The wet ground and replenished aquifers were heaven-sent after basically 5 years of brutal drought. Little did we know, of course, that it would soon turn to flooding, and wouldn't stop until nearly June. Rain, rain go away, come again...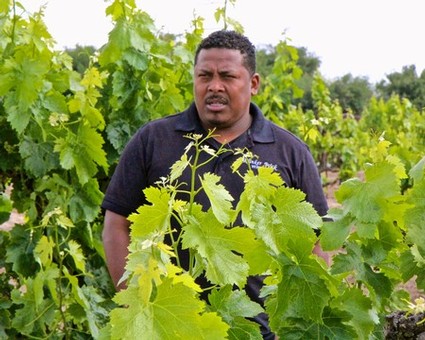 Meanwhile, we turned our attention to Carignan, a grape that once ruled the roost as California's most widely planted grape, period – at least in the 1960s and '70s. Re our post profiling Lodi bottlings, Is ancient vine Carignan ready for its star turn?, in which we give the sensory reasons why this varietal – which has the perfume and gentle texture of Pinot noir with the delicious immediacy of classic red Zinfandel – might be ready for its "comeback": The black skinned Carignan makes a... red wine of vivid color and effusive fruit expression; usually suggesting black cherry... strawberry, cranberry, raspberry or rhubarb, and sometimes violet or rose petal-like fragrances.
April
While riverbend vineyards in Lodi's Mokelumne River Viticultural Area remained soaked in waters as high as trellis wires, it was a busy time for the local wine business. Michael David Winery – which, at nearly a 1 million yearly case production, now ranks among California's 25 largest wineries – purchased the 70,000-case-capacity winery facility (along with a 12-acre vineyard of Cabernet Sauvignon) originally built by the famed Silver Oak Cellars in Geyserville, Sonoma County.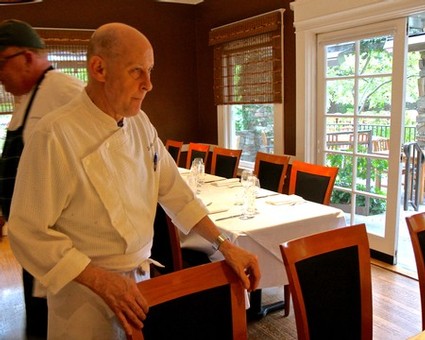 Why? According to Michael David Vice President of Operations Kevin Phillips (son of CEO/co-owner Michael Phillips), "I have what I call a reverse commute... we buy a bunch of North Coast grapes (i.e. from Napa, Sonoma, Mendocino and Lake Counties) to make Lodi wines." In other words, a matter of acquiring additional vinification and barrel space to accommodate Michael David's seemingly endless growth – and indicative of Lodi's market strength.
Around the same time, Delicato Family Vineyards – based in Manteca (just south of Stockton), but grounded in their 1,200-acre Clay Station Vineyard in Lodi's Borden Ranch AVA – quietly announced the purchase of the Blossom Hill Winery from Treasury Wine Estates. While the Indelicato family plans to eventually phase out the ubiquitous Blossom Hill brand, the additional 4 million-case capacity of this Paicines, San Benito County production facility will give them the ability to expand their line-up of brands (i.e. such as Noble Vines and Gnarly Head) driven by Lodi grown grapes.
Meanwhile, back at the ranch: Wine & Roses Hotel, Restaurant and Spa announced the appointment of the acclaimed Chef Bradley Ogden as Culinary Director. The two-time James Beard Award winning Ogden counts as Lodi wine country's first internationally celebrated culinary resident – and hopefully the first of more to come!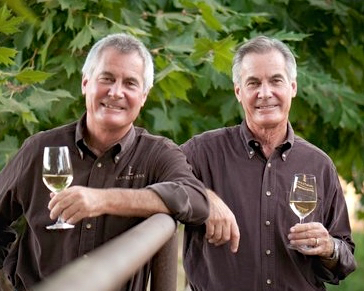 June
The California Association of Winegrape Growers (a.k.a. CAWG) announced their 2017 Grower of the Year: Lodi's LangeTwins Family Winery & Vineyards – an award accepted by co-owner/founders Bradford and Randall Lange in an Awards of Excellence Program and Dinner that took place in July. This honor, according to the organization, spotlights "exceptional people who have benefitted the broader community of winegrape growers through exemplary leadership and outstanding commitment to the well-being of the winegrowing industry, California communities and the environment."
Also in June, at the Second Annual Lodi Vineyard & Wine Economics Symposium taking place at Lodi's Wine & Roses Hotel, about 150 industry professionals took in reports by speakers such as The Nielsen Company's Brian Tognotti, who talked about the fact that the U.S. is the #1 wine market in the world, and that more and more consumers are "trading up" to $10-$15 wines (we also learned that about 74% of the American wines sold in the U.S. is still under $10). Allied Grape Growers Vice President Jeff Bitter pointed out that California crushes about 10% of the entire world's wine grapes, and that Lodi crushes at least 20% of California's wine grapes.
In our report on the 2017 Economics Symposium, we talk about how Lodi is in the "pole position" to capitalize on the continuing "premiumization" of the wine market – particularly as the U.S.'s most widely planted premium wine grape region (larger than that of Napa and Sonoma Counties combined – heck, more than the entire states of Washington and Oregon combined, plus another 30%!).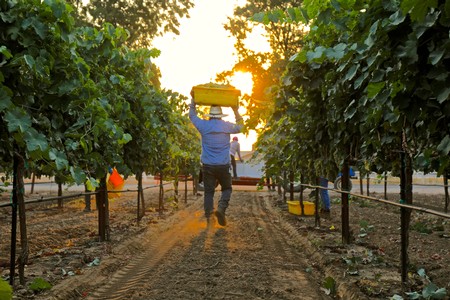 September
As the 2017 harvest (which started in mid-July) entered its 6th week, it became apparent that biblical winter flooding does not necessarily translate into higher than normal yields. With the succession of previous drought years taking its toll, the grape crush was down 20% to 25%, depending upon the grape variety. We do, however, report the good news about Lodi's first-ever harvesting of Mencía grapes (see Silvaspoons's latest Iberian innovation), as well as Clairette blanche and Bourbolenc grapes (re Acquiesce harvests first crop).
Other posts on bottlings of Sagrantino and Teroldego (in Ripken's latest bold moves) and PRIE Vineyards releases seriously deep, layered Dornfelder illustrate how Lodi leads the American wine industry in not just sheer production, but also in innovation.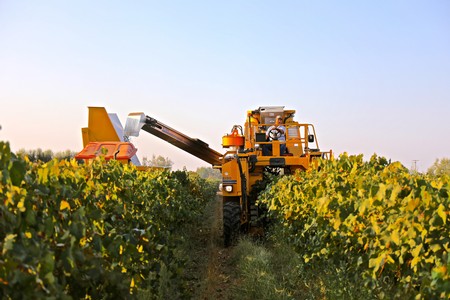 Innovation and change may be good – marks of a vibrant, healthy industry, not to mention a thriving local economy – but also a little bittersweet. Americans, for instance, are now drinking better wines than the White Zinfandel they were going crazy for in the '90s and early 2000s. But this has exacerbated another aspect of Lodi's uniqueness: the region's thousands of acres of pre-mid-'60s Zinfandel plantings (our oldest, planted as long ago as 1889).
In our September report, Last rites for Lodi's old vine plantings, Kevin Phillips is quoted to say:
I think a lot of old vine zins will be getting yanked out of the ground this year, mostly due to labor shortages (i.e. the rising cost and difficulty of hand-cultivating untrellised, head trained vines). Lodi will obviously be ground zero for this phenomenon. This is living history being demolished; the very story that actually helps Lodi attract media attention."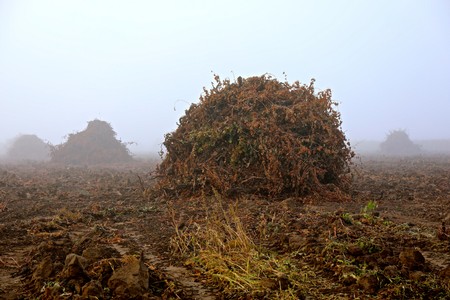 These signs of-the-times, alas, are all around the City of Lodi as we speak: the sight of hundreds of acres of these old vines pulled out of the ground and gathered up in piles, in fields soon to be replaced by grapes in much higher current demand (such as Cabernet Sauvignon, Sauvignon Blanc, Petite Sirah, and even lesser known grapes used for blending such as Teroldego).
November
While sales of White Zinfandel and $10-and-under red Zinfandel are dipping across the country, wines like Michael David's 7 Deadly Zins ($16-$20) and Delicato Family Winery's Gnarly Head Zinfandel ($12-$16) continue to grow within their respective price categories. In response to the growing loss of old vine Zinfandel plantings, Delicato Family is now experimenting with free-standing vines connected to trellis wires, making mechanical harvesting a near-future possibility (re The Gnarly Head conundrum).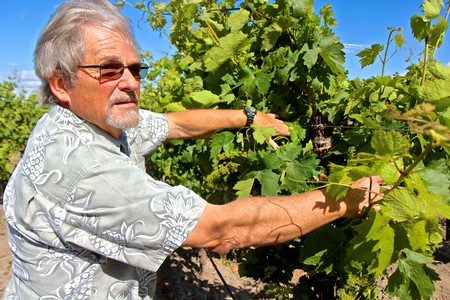 Michael David, however, remains bullish about genuine, spur pruned, head trained old vine plantings: announcing, in November, the purchase of a historic 160-acre planting called DeLuca Vineyard, located in Lodi's Clements Hills AVA. These 56-year-old own-rooted vines, according to Kevin Phillips, have been the source of some of the winery's highest rated Zinfandel fruit in recent years (the Phillips family holds blind tastings of over 60 of their single-vineyard cuvées with their growers each year).
According to the Phillips family, the LODI RULES sustainably grown DeLuca Vineyard property will help assure a steady supply for their growing Zinfandel program. This purchase also underlines the fact that there really is no substitute for "old vine" plantings when it comes to what makes Lodi special – at least in respect to quality, terroir and Lodi's growing prestige!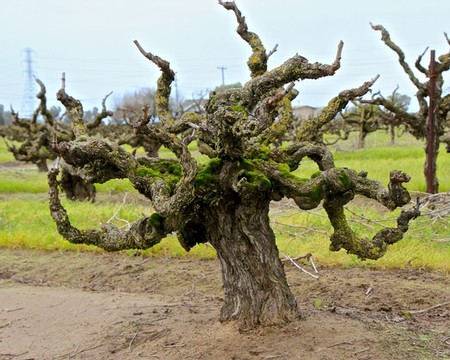 Comments