Letters from Lodi
An insightful and objective look at viticulture and winemaking from the Lodi
Appellation and the growers and vintners behind these crafts. Told from the
perspective of multi-award winning wine journalist, Randy Caparoso.

January 1, 2018 | Randy Caparoso
Tribute to Paul Verdegaal – one of Lodi's "men behind the curtain"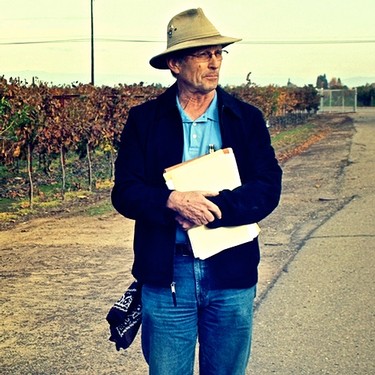 This coming February 6, 2018, Lodi winegrowers will get together for their 66th Annual LODI GRAPE DAY. They will also mark the occasion with a celebration of the retirement of Paul Verdegaal, who has been working full-time as San Joaquin County's viticulture, bush berry and almond Farm Advisor under the auspices of UCCE (University of California Cooperative Extension) since 1986.
Dr. Stephanie L. Bolton – Lodi Winegrape Commission's Director of Grower Communications & Sustainable Winegrowing – tells us: "Paul is retiring as of January 1st 2018 after over 30 years as the UCCE Viticulture Farm Advisor. You could safely say that he's literally affected every grape grown in San Joaquin County!
"Paul is the first guy most of our growers call when they need to know something or have a problem in the vineyard. We are planning his retirement reception as part of our annual LODI GRAPE DAY, which Paul himself has helped organize for many years – and in true Paul fashion, he has organized the agenda for that day, and will be speaking twice at his own day of honor!"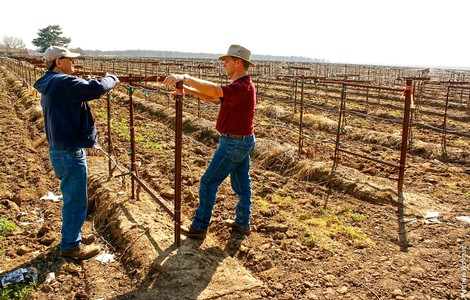 As you might imagine, anyone who has worked in the Lodi Viticultural Area since 1986 has seen a lot. 1986, for instance, was the year that Lodi was recognized as an official AVA (American Viticultural Area). According to Mr. Verdegaal, however, the significant steps that made Lodi the important wine region that it is today – by far, America's most widely planted source of classic, premium wine grapes (i.e. Vitis vinifera) – started a good 30 years before he took on the job as San Joaquin County Farm Advisor:
"First, there was the strong local support for UC research during the 1950s, signaled by the establishment of LDGGA (Lodi District Grape Growers Association) as well as the Tokay Marketing Agreement, in effect up until 1987. A second major step for Lodi growers was the recognition of the Lodi AVA in 1986. The third step culminated in 1991, when local growers got together to initiate legislation leading to the creation of the Lodi-Woodbridge Winegrape Commission, now called the Lodi Winegrape Commission.
"From the perspective of winegrape production in Lodi, the important milestones include the establishment of drip irrigation and regulated deficit irrigation, initial plantings of premium varieties, and the Lodi Winegrape Commission's IPM (Integrated Pest Management) program which provided impetus for the eventual widespread adoption and grower interest in the industry-leading LODI RULES for Sustainable Winegrowing."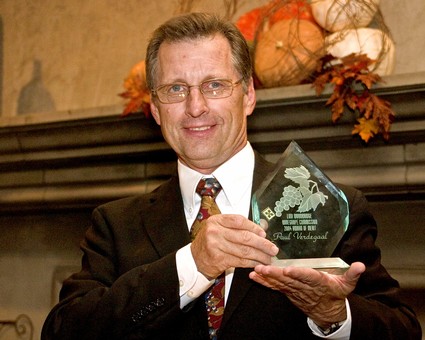 Verdegaal's roots in San Joaquin County have always run deep. He grew up in Ripon among grapes and almonds, and he has always farmed his wife's family's own 11 acres of Zinfandel. After earning his B.S. in Fermentation Science at UC Davis in 1976, he traveled throughout the wine regions of France, Spain and Italy before serving as Vineyard Foreman for Pacific Agri Lands, Inc. in Modesto. He was working as a Field & Lab Technician in the San Joaquin County Cooperative Extension office when he took over the role of UCCE Viticulture Farm Advisor from his predecessor, Jim Kistler. In 1991 he received his Master's in Horticulture (Viticulture specialty) from UC Davis.
When honored by the Lodi Winegrape Commission with the 2004 Lodi Woodbridge Award of Merit, then-Commission Chair Larry Mettler (also of Mettler Family Vineyards) was quoted to say: "Paul is an unsung hero of Lodi's recent success, and recognition for his work is overdue. It is his personal commitment to improved winegrape quality in Lodi that has made him an invaluable resource to the grower community..."
Since the 1990s, for instance, it was Verdegaal who led much of the research on the valuation of lesser known grape varieties and clones that would eventually account for the incredible diversity of wines coming out of Lodi today, establishing it as a wine region par excellence. In an interview a few years ago, Verdegaal talked about his early "observation variety trials":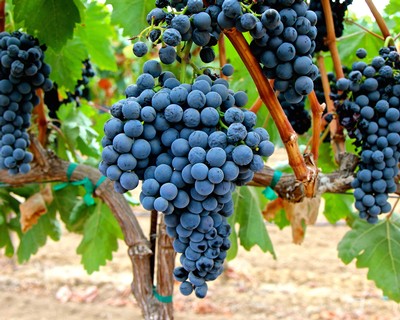 "In 1992 we began looking at the suitability of alternative varieties to the area – particularly Spanish, French, Italian and Portuguese grapes such as Graciano, Morrastel, Barbera, Durif (a.k.a. Petite Sirah), Sangiovese, Marzemino, Touriga Francesa, and Souzão. Most of these varieties were not unknown to Lodi growers, but until that time they had not been used commercially. Silvaspoons Vineyards now specializes in many of these Portuguese varieties, and Mokelumne Glen Vineyards is known for its German grape collection. Another good example is Tempranillo, which used to be called Valdepeñas in California. Tempranillo was once considered a low quality blender, not a high-end varietal, but today it is among the most popular wines coming out of Lodi."
It is thanks to Verdegaal's field research and trials – working hand in hand with visionary growers such as Bob Koth (Mokelumne Glen Vineyards), Ron Silva (Silvaspoons Vineyards), Markus Bokisch (Bokisch Ranches), and numerous others – that Lodi now enjoys its reputation as an industry leader in cutting-edge grapes. Verdegaal also played a role in research on Lodi's signature grape, the classic Zinfandel. He recalls:
"Years ago (starting in 1995) we collaborated with Jim Wolpert and Amand Kasimatis (of UC David Viticulture & Enology Department) in search of older vineyards for possible clones of Zinfandel to established a Heritage Vineyard block in Oakville, because many winemakers did not like the selections available to them (re the Zinfandel Heritage Vineyard Project). As a result of that research, we found that Primitivo was among the best performing clones of Zinfandel, and it has since become a workhorse quality selection." Harney Lane Winery, Maley Bros. and Bokisch Ranches are among the many Lodi growers now successfully utilizing this Zinfandel selection.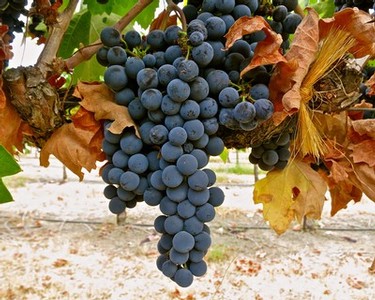 Today, the buzzword bandied about in the Lodi winegrowing community is "premiumization" – meeting the needs of a wine market steadily transitioning from $10 and under wines (some 74% of California wine sold) to higher price points. When asked about how Lodi winegrowers will successfully make their own transition towards higher quality winegrowing, notwithstanding economic demands of both wineries and rising costs, Mr. Verdegaal comments:
"Unfortunately, input costs and regulatory burdens are huge factors, but local growers' community spirit and dedication to winegrowing as more than a business have been meeting these ongoing challenges. I suspect that they will continue to successfully meet these challenges head-on, with regard to mechanization and 'systems based' approaches to balancing production with quality, to meet the market demand for great wines of value."
But above all, says Verdegaal: "The Lodi growers' advantages, in addition to their traditions, are that Lodi and San Joaquin County are great places to grow grapes!"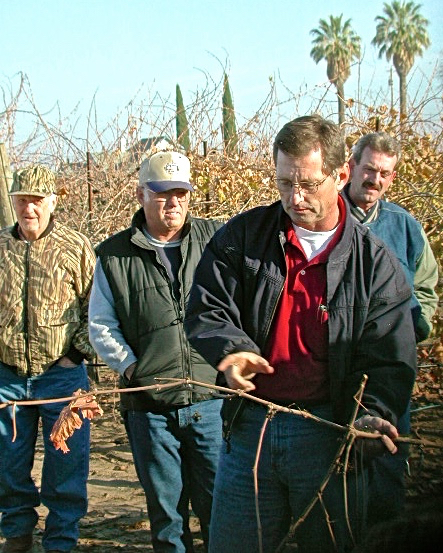 Comments