Letters from Lodi
An insightful and objective look at viticulture and winemaking from the Lodi
Appellation and the growers and vintners behind these crafts. Told from the
perspective of multi-award winning wine journalist, Randy Caparoso.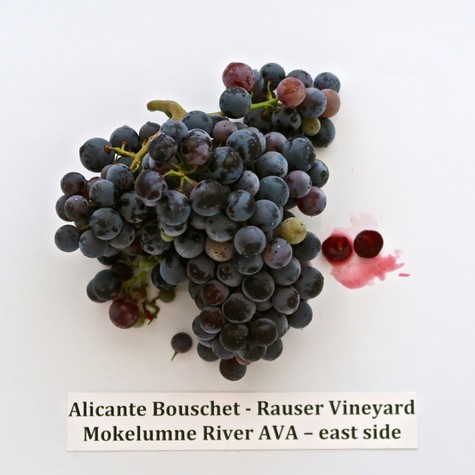 Historic Impact of Climate and Soil on Grape Selections and Wines
One thing growers and wineries have learned long ago about Lodi, by far and away America's largest winegrowing region, is that wines from this region have their own sense of place.
Cabernet Sauvignons grown in Lodi, for instance, tend to be softer in feel and more fruit-forward in aromas than Cabernet Sauvignons grown in Napa Valley, Sonoma County, Santa Cruz Mountains or Washington's Walla Walla Valley. Why? Because of Lodi's warm Mediterranean climate with its daily diurnal swings (i.e. average 91°/60° in Augusts, 84°/55° in Septembers). Plus the fact that grapes grown in Lodi see the sun from sun-up to sundown without the interference of fog or excessive wind, and because many of Lodi's Cabernet Sauvignons are grown in deep, vigorous sandy loam soils, which are more conducive to softer tannin red wines than shallower, clay based soils...
Continue »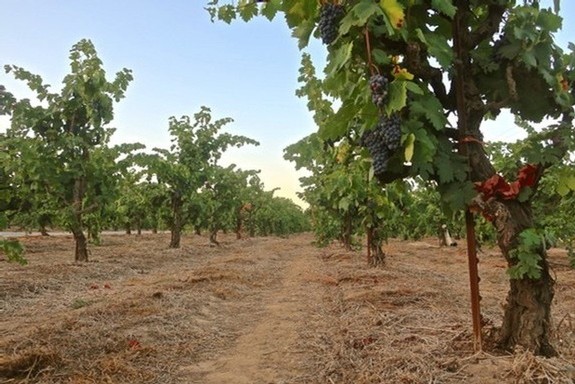 Most of the Lodi's growing legion of wine fans have come to know the top brands. Names such as Michael David Winery, Klinker Brick Winery, LangeTwins Family Winery & Vineyards, and Mettler Family Vineyards have been making waves from coast to coast, not to mention in Alaska and Hawaii. Largely within the local market, smaller brands brands such as Harney Lane Winery, Oak Farm Vineyards, McCay Cellars, Acquiesce Winery, the tiny Fields Family Wines or the long established The Lucas Winery have been carving out their own modest sized niche in very limited or no outside markets at all.
Nonetheless, hardly any of these Lodi wine lovers – even those who take the time to visit and explore Lodi wine country – have any real idea of exactly where the vineyards sourced by these wineries are located. Lodi is a sea of vines – far more vineyards than anywhere else in the U.S. – yet the whereabouts of these vineyards have been practically a secret...
Continue »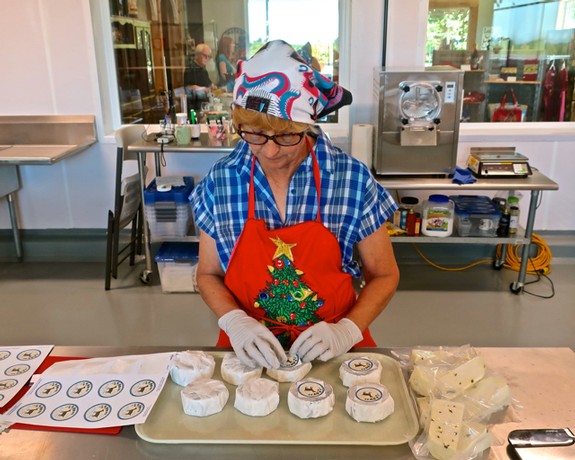 "I loved cheese," explained Bettyann Spenker to a captive crowd of visitors to her Spenker Family Winery & Artisan Creamery," but I was never a cheese expert. But I was a winemaker, so I thought, why not? I taught myself to be a cheesemaker."
Two weekends ago the Spenker family's combination winegrowing/cheesemaking barn finally opened for business, well over a year after their 24 or so "working" goats of multiple breeds, plus their ever-growing brood of kids, got their own new, comfy barn. And when we say "family," we mean family: Right now the entire operation is run by Bettyann with her grape growing husband Chuck (a third generation Lodi farmer) manning the wine counter, popping open the bottles, while daughter Kate (the graphic artist/designer in the family) handles the cheese samples and other-daughter Sarah does most of the talking and pouring while ringing up the brisk sales...
Continue »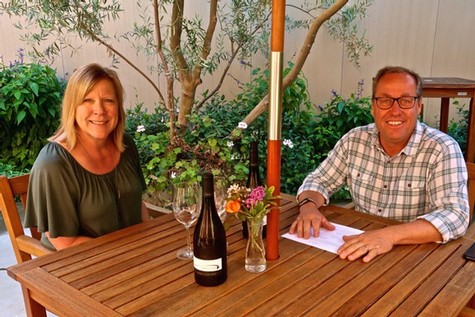 It's happening, slowly but surely: Lodi grown Chardonnay that tastes like it comes from... Lodi!
The newly released 2018 Harney Lane Winery Scottsdale Vineyard Lodi Chardonnay ($28) represents a resounding step in that direction, and it's delicious despite not following in the fuller bodied, round, soft, fleshy and lusciously fruited and creamy oaked style that many Chardonnay lovers prefer (Harney Lane Winery's "regular" Lodi Chardonnay, as a matter of fact, follows that formula, and it's also delicious for that style of wine).
Instead, this new bottling – the winery's first-ever vineyard-designate bottling from this estate owned property, located on the east side of Lodi's Mokelumne River AVA, where the soil is the deepest and sandiest in the appellation – is, according to co-owner Jorja Lerner, "a cleaner, crisper wine, more about the fruit than the influence of oak." Jorja's husband, co-owner/grower Kyle Lerner, describes the wine as being a "less broad shouldered style than most Chardonnays, including our own Harney Lane Chardonnay..."
Continue »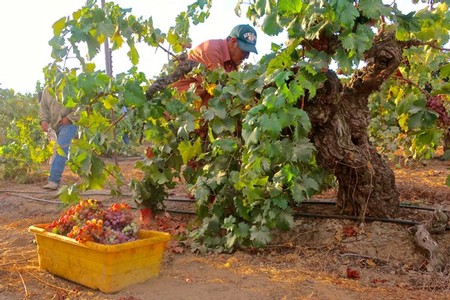 When I first moved to Lodi, just before the 2010 harvest, one of the conversations that taught me most about the region was with longtime grower Jonathan Wetmore, who owns the Lodi based vineyard management company called Round Valley Ranches. Round Valley Ranches farms over 2,000 acres of wine grapes for both large wineries (such as E. & J. Gallo) as well as some of the region's most celebrated specialty estates, such as Acquiesce Winery, Oak Farm Vineyards, and Jessie's Grove...
Continue »