Letters from Lodi
An insightful and objective look at viticulture and winemaking from the Lodi
Appellation and the growers and vintners behind these crafts. Told from the
perspective of multi-award winning wine journalist, Randy Caparoso.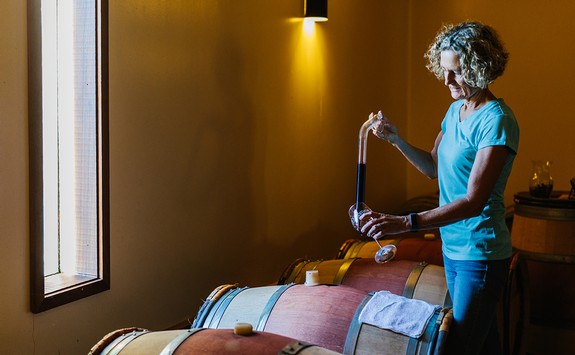 Oak barrel protocols at Lodi's first artisanal winery
In 1978, after working for Robert Mondavi Winery for 16 years, David Lucas established Lodi's second small, independent winery, and the region's first to focus exclusively on wines crafted in a traditional French style. Which meant usage of strictly French oak barrels.
Mr. Lucas' first bottling was a 1978 Zinfandel grown entirely on his own winery estate, which he began calling ZinStar Vineyard (first planted in 1933) a few years later. Explains Lucas: "I picked the grapes at a lower Brix (i.e., sugar reading) because I never wanted to make a high alcohol wine, and from the beginning I aged my Zinfandel in French oak — not because I was trying to make a Bordeaux or Burgundy style wine, but because I wanted to make the best Zinfandel I could..."
Continue »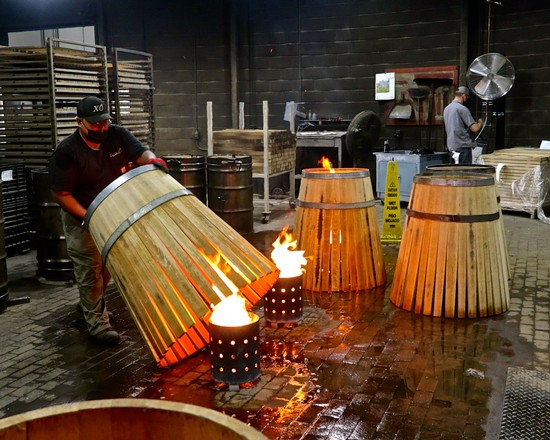 Slow and patient barrel-aging (vs. shortcuts)
This is an article about oak barrels. When and where the notion of aging wine in artfully bent staves of oak first started, and how it's done — or not really done — today.
What do we mean by "not really done"? Most of the world's finest wines are still aged in oak barrels. It's a centuries-long tradition. Many of the finest wines are also fermented in oak barrels, which is known to achieve even more harmonious sensory qualities associated with use of oak barrels. Generally speaking, both red and white wines can be improved by oak aging because the porous nature of a barrel allows for oxygenation, as well as a little evaporation and concentration, of wines during the course of several months or often over a year, and even as a result of more than two or three years of being kept in a barrel...
Continue »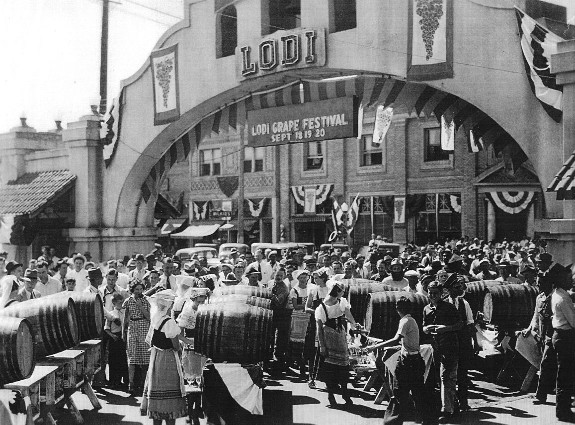 The era of saloons and gamblers
In 1874 the 450 or so citizens of a little town called Mokelumne — nestled in the lush watershed area of California's Mokelumne River, just east of the marshy Sacramento-San Joaquin River Delta — decided they needed a name change. So they came up with "Lodi." 
A short and sweet, pronounceable name probably wasn't the only thing that was needed. At that time, the community was being drawn up in unpaved roads, bogged down by sticky mud during the winter rains, and engulfed in nostril-clinging dust when stirred up by the Delta breezes during the desert-dry summer months. One local historian has called late 1800s Lodi "an unruly child... sometimes referred to as a 'rum-guzzling' town with young boys on the road to hell" (Christman, Our Time to Shine)...
Continue »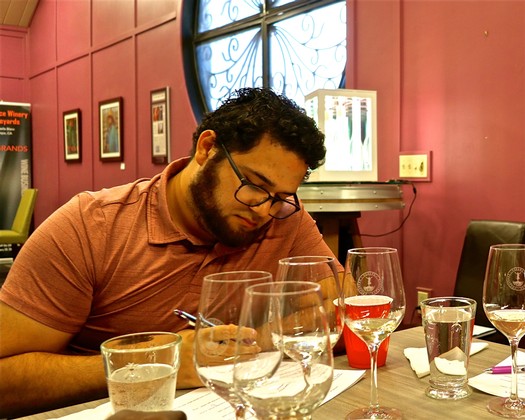 This past Wednesday, June 9, Acquiesce Winery owner/grower/winemaker Sue Tipton pulled out a tool from her box familiar to all wine regions that have been in the process of carving out an identity recognizable to wine consumers and wine professionals all around the world: A double-blind tasting comparing three of her Lodi estate grown wines with three classic examples of wines made from the same grapes, grown and produced in France...
Continue »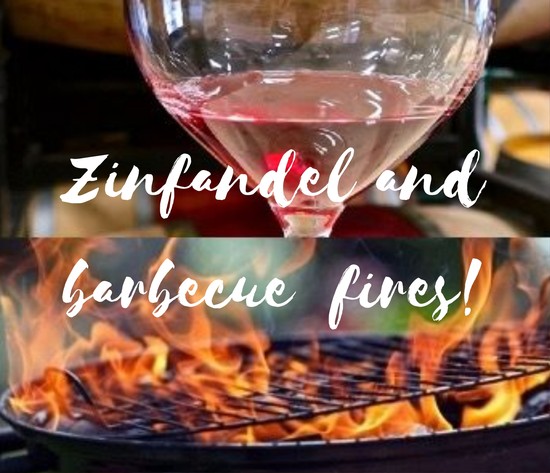 The first lily of June opens its red mouth...
And moves on to equally lusty phraseology with
... The green will never
again be so green, so purely and lushly
 
new, grass lifting its wheaty seedheads
into the wind. rich fresh wine 
of June, we stagger into you smeared
with pollen, overcome...
Continue »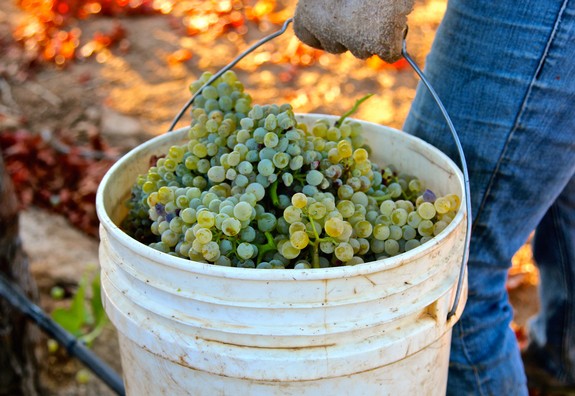 The misbegotten grape
Grenache blanc, the golden-green tinted clonal variation of the black-skinned Grenache noir, is the little grape that could. The best word to describe its track record, or fairly recent success, in the Lodi region just may be "unlikely." Why? Mostly because no one ever expected much out of this grape in the first place.
The high priestess of wine literature, for instance, is the U.K.'s Jancis Robinson, MW. She has described Grenache blanc as "discreetly important" in the vast wine regions of Southern France and north-eastern Spain. But the most positive thing she has said about the grape is that it is "light-berried [not exactly sure what that means since we don't use that terminology in the U.S.]... producing full-bodied, sometimes rather flabby wines which can oxidise easily, although careful winemaking can make attractively scented wines for early drinking." This, if anything, is a polite way of saying that Grenache blanc makes lousy wines..
Continue »


The Lodi Wine way
There are no absolutes when it comes to wine. That is, the perception of the quality of any wine, plain or beautiful, cheap or expensive, rare or plentiful.
Take, for example, this Lodi Wine blog. If you've been following along, you have undoubtedly noticed that wines are never "rated" here. Instead, words are used to talk about wines and how they come about.
It's a blog about Lodi, so descriptions are couched in terms of Lodi's physical or geographical factors that have an impact on wines discussed. Regional history and people are also usually part of the discussion. But if the matter of how a wine tastes comes up, it is done without passing judgement. Ultimately, it's up to you to decide whether or not a wine may be for you. Don't get me wrong. I'd never recommend a wine that isn't worth your while. Life's too short for lousy wine — for me, you, anyone...
Continue »