Letters from Lodi
An insightful and objective look at viticulture and winemaking from the Lodi
Appellation and the growers and vintners behind these crafts. Told from the
perspective of multi-award winning wine journalist, Randy Caparoso.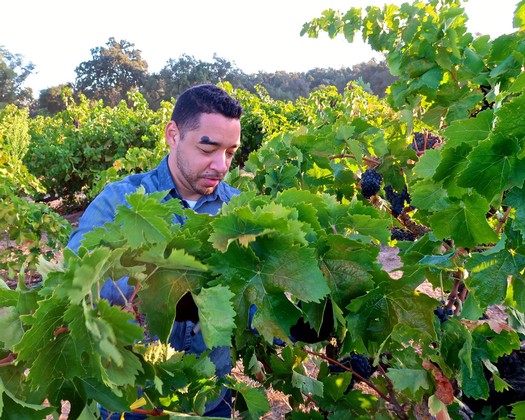 Last week Louis Anthony Chico, a sommelier living in Orlando, FL, wrote to us saying he had just experienced a déjà vu. It came upon tasting a 2016 Alquimista Cellars Jessie's Grove Lodi Zinfandel while listening in on a recent Zoom virtual tasting broadcast from Lodi's Jessie's Grove estate, led by Alquimista Cellars winemaker Greg La Follette and Jessie's Grove owner/grower Greg Burns...
Continue »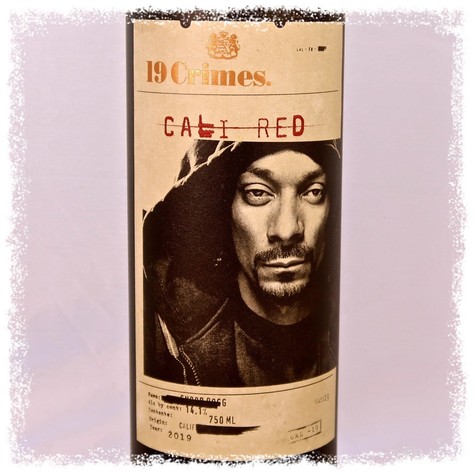 It's not so much what the label on the 2019 19 Crimes Cali Red ($12) says than what it projects: the iconic face of the long celebrated rapper, Snoop Dogg, in muscular black and tan, with slashes of inky red and black marking pen. It practically screams "drink this wine... if you've got the guts."
So I did. The color is a deep, opaque purplish-ruby with a bright red outer rim. The aroma mixes black tea, dried herbs, a touch of tobacco/smoke, and red and black berryish fruits. But while "big" in the nose, on the palate the wine is soft, round, almost cuddly. And it has what many of the wine cognoscente would describe as a "jammy" finish — code words for super-fruity, or slightly sweet. Not super-sweet like a dessert wine, but just sweet enough to cushion the ripe fruit and generous oak sensations, keeping it from completely drying out the mouth with tannin. Like drinking chocolate cake. 14.1% alcohol, which is about par for any commercial California wine (these days many of the state's finest Pinot noirs are higher than that)...
Continue »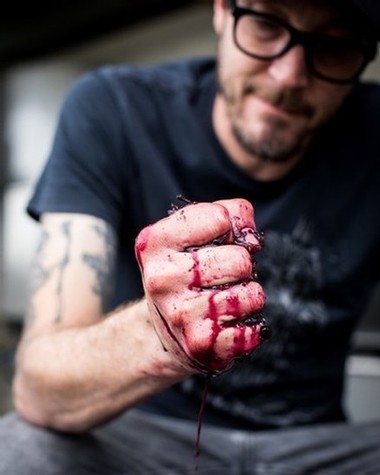 There is an unusual sense of "nakedness" in the immediacy of fruit and whiffs of tea leaf-like dusty/earthiness to the just-released 2019 Monte Rio Cellars Primitivo. Something strange for a California wine, but very deliberate for this particular wine brand which proclaims itself (on its website home page) devoted to the "Spirit of Old California."
That is to say, a style of wine harkening back to, perhaps, the 1950s or early '60s, when California vintners were not yet hooked on the taste of oak, and 12.5% alcohol was the norm rather than rare exception...
Continue »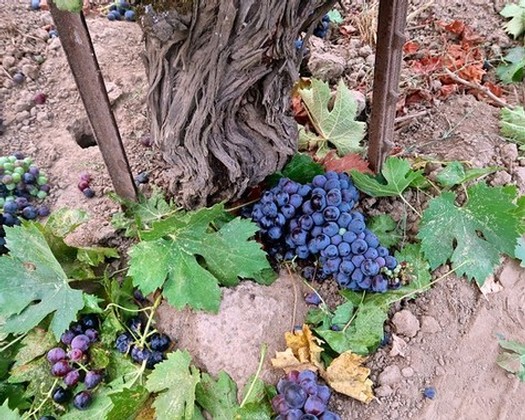 What better way to pay tribute to Bechthold Vineyard, Lodi's oldest continuously farmed vineyard, than to produce four different wines from its venerated fruit, which is 100% Cinsaut.
This is what Estate Crush (Downtown Lodi's custom crush facility) owner/winemakers Bob and Alison Colarossi have done. It's as much a tribute the vineyard's diversity and the beauty of its fruit as it is the skill and ingenuity of a couple of winemakers...
Continue »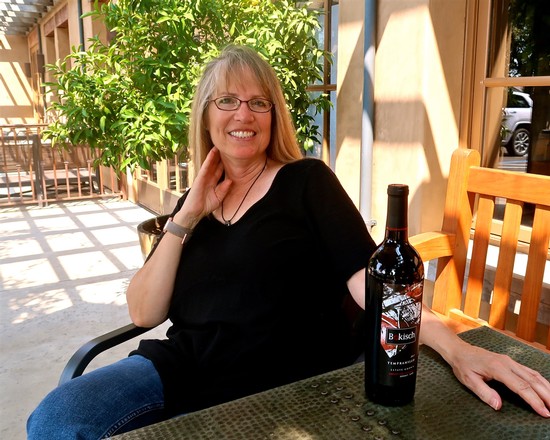 Robin Burcell is a novelist who lives in Lodi, California. She has published her own series of police procedurals, but since 2015 she has been busily co-writing international best sellers for Clive Cussler, the New York Times Best Selling author of more than 80 books of fiction — including the 1976 classic, Raise the Titanic!, plus two books turned into blockbuster movies (one of them, 2005's Sahara, starred Matthew McConaughey, Steve Zahn, William Macy and Penélope Cruz, and was produced and distributed at a staggering cost of $241 million).
Ms. Burcell's own life has been one huge adventure. Before embracing her current career as a high profile novelist, she spent 28 years working in law enforcement. She was, in fact, the Lodi Police Department's first female officer, starting in 1983. Because of that, for years she had to make do with a converted storeroom as a locker room. She also served as a hostage negotiator and a FBI Academy-trained forensic artist, then moved to Sacramento County where she worked for 10 years as a Criminal Investigator, before retiring to write full-time in 2010...
Continue »

To everything there is a season. Especially at the start of each year's harvest, which is the height — the culmination — of all seasons. At least in Lodi, America's largest winegrowing region.
Lodi is the largest because most of its wine grapes go into wines that most Americans actually drink. The bottlings you see on the grocery store or volume retail shelves, landing in the shopping cart. These, admittedly, are wines that are more like "products" reflecting consumers' expectations of varietals or brands, often with eye catching labels...
Continue »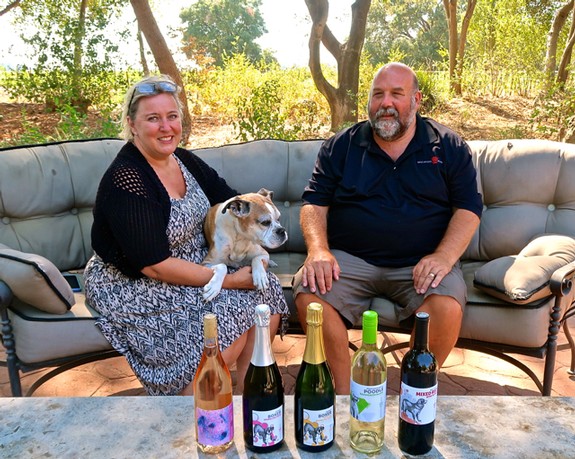 Blair and Laura Lott got the hankering to escape the "insanity" of living and working in the Bay Area. "The traffic just got crazier," Mr. Lott tells us, "and we didn't think we could go on like this."
And so the couple sold their very successful business (Massage Envy) and embarked on arguably an even crazier new career: as wine producers.
"We looked everywhere from Paso Robles to Napa Valley for vineyard and winery properties to buy," says Mr. Lott, "and someone suggested, have you considered Lodi?... check it out, it's fantastic."
The Lotts followed suit, liked what they saw, and settled on a 19.5-acre property with a home and old vines (since pulled out and replaced with new, trellised vines) on Acampo Rd. That was in 2016. They didn't waste time establishing their wine brand, because they also decided to do this in a way that follows their heart — their love of dogs...
Continue »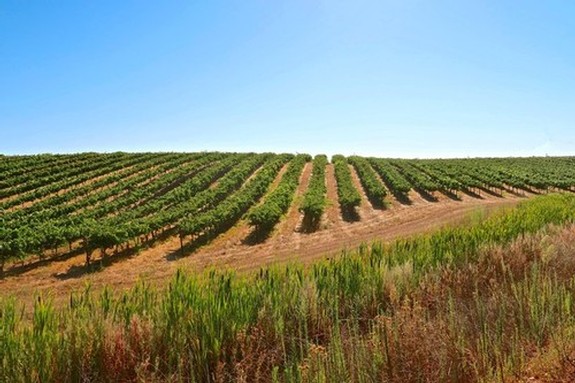 Continued from: Strong case for Lodi terroir (part 2) — the climatic factors
The Language of Terroir Establishing the Lodi AVA
When the petition submitted to the federal government proposing the establishment of a Lodi AVA was submitted in 1982, it was noted that the viticultural area historically known as Lodi consisted of approximately 39,000 acres of vineyards and 15 bonded wineries. Today those numbers are up to just over 100,000 acres of planted vineyards, and 85 wineries.
In the 1986 Federal Register document acknowledging the final approval of the Lodi AVA, the appellation is described as "an inland area that is comprised mainly of alluvial fan, flood plain lands, and lower and higher terrace lands..."
Continue »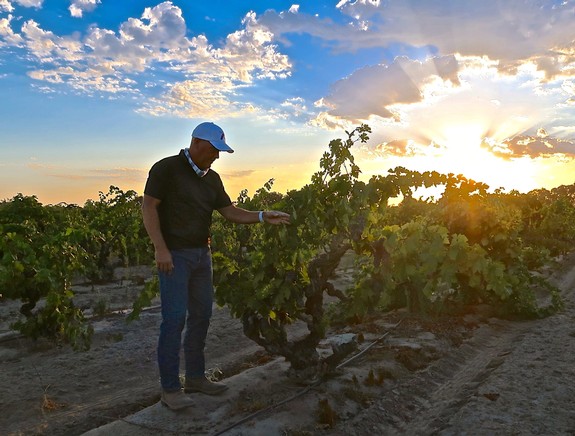 Earlier this week (August 11, 2020) we asked to tag along with McCay Cellars owner/grower Mike McCay during part of his early morning vineyard walks. 
Typical of most of 2020's summer days so far, the early morning started off in the lower 60°s, barely hitting 72° by 9:00 AM. Perfect morning constitution weather. Weather is dry as a bone with high wispy clouds at the most, and the gentle breeze blowing in from the Sacramento-San Joaquin River Delta has been consistent during the early morning hours, picking up at the end of each day. Lodi winegrowing weather...
Continue »


Natural Environment Conducive to Grapes
Part 2 of our discourse on Lodi terroir is for the technically minded wine geeks out there, looking for the no frills answer to the question: What are the physical factors of the Lodi AVA that have a direct impact on the "sense of place" found in more and more of Lodi's handcraft style wines, strongly influencing the decisions made by growers and vintners?
The land occupied by the Lodi appellation, of course, existed long before trappers encountered the native Plains Miwok tribe in the early 1800s; and before the first enterprising farmers of European descent began putting down roots towards the end of the 1840s... 
Continue »