Letters from Lodi
An insightful and objective look at viticulture and winemaking from the Lodi
Appellation and the growers and vintners behind these crafts. Told from the
perspective of multi-award winning wine journalist, Randy Caparoso.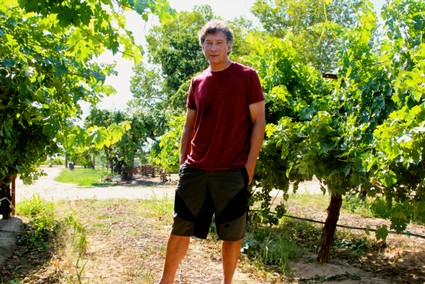 PRIE Vineyards co-owner/winemaker John Gash in his Cabernet Sauvignon estate planting
The Lodi Viticultural Area's latest artisanal wine producer, PRIE Vineyards, quietly opened its tasting room at 15628 N. Alpine Rd. (practically across the street from Klinker Brick Winery's tasting room), this past April.
Owners John and Lisa Gash may be newbies – "home" winemakers since 2005, and commercial winemakers since 2011 – but they are dead-serious about their winegrowing operation; having invested in an 8.5-acre vineyard previously planted to Cabernet Sauvignon, surrounding their low-key winery facilities designed for a maximum yearly production of 2000 cases.
Continue »

We have this recurring dream. It's almost mid-day. We wake up late, after some wine-soaked conversation deep into the night before, and still haven't yet eaten. So after stopping at a tiny charcuterie for some cooked sausages, marinated olives, a round of local bread – tasting as sweet and silky as pancakes in the inside, crunchy as toasted crusts on the outside – and a bottle of wine, we follow a winding brook at the foot of a steep hill outside the village, in search of a table in the sky.
Continue »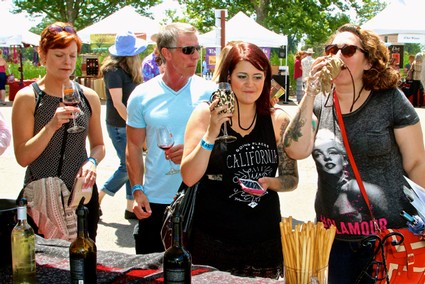 Wine lovers at 2015 Lodi ZinFest
Recently, folks at local wineries have been reporting a growing influx of wine lovers of a different stripe. They've been coming in from major cities – San Francisco, L.A., Dallas, Chicago, New York, Vancouver – after reading about it in national magazines or the blogosphere, or catching a taste of it in a few bottles that say "Lodi." Sleek women in citified heels (awkward for walking between the rows of grapevines for selfies), and guys in goatees and/or hipster hats.
Continue »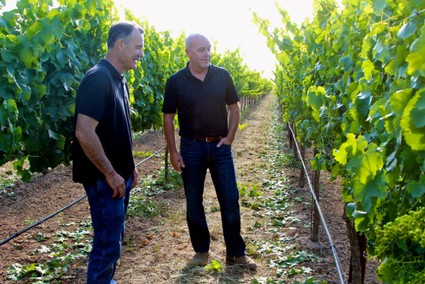 Lodi grower Phil Abba and McCay Cellars winemaker/owner Mike McCay in Abba Vineyard
Some things just creep up on you – like the unsuspected appeal of red wines made from the black skinned Grenache grape. Especially those grown in Lodi.
Earlier in the month we endeavored to take a measure of varietal bottlings of Lodi grown Grenache; gathering 15 of the finest examples grown and produced in California for a "blind" tasting. Meaning, the bottles were poured from paper sacks, their identities unknown to the tasters, which included three of Lodi's most respected vintners: Markus Bokisch of Bokisch Vineyards, Chad Joseph of Harney Lane Winery and Oak Farm Vineyards (plus three more Lodi based wineries), and Michael McCay of McCay Cellars.
Continue »

Lodi hat trick
Over the past year the Lodi Viticultural Area has achieved something of a hat trick; garnering no less than three prestigious California wine industry awards for...
Continue »