Letters from Lodi
An insightful and objective look at viticulture and winemaking from the Lodi
Appellation and the growers and vintners behind these crafts. Told from the
perspective of multi-award winning wine journalist, Randy Caparoso.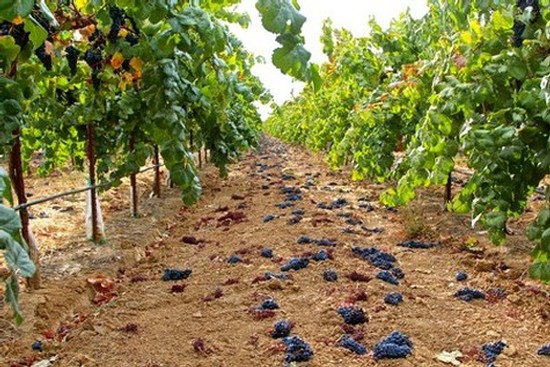 Dropped Tannat grapes between the rows in Alta Mesa-Lodi's Silvaspoons Vineyard, still waiting to be harvested last week
One question brought up from last week's visit of 28 sommeliers from across the country to the Lodi Viticultural Region was this: do sommeliers' preferences truly reflect the tastes of American consumers?
Continue »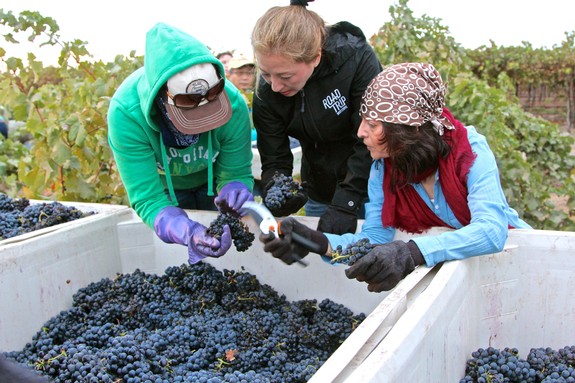 In Mohr-Fry Ranch, Honolulu sommelier Ivy Nagayma (center) and Elk Grove's Marie Mertz (right) being shown how to field-sort grapes
These wines deserve to be in the same league with any region, any varietal, on the world wine stage. - David Kristiansen (Lead Sommelier, The Lodge at Pebble Beach)
What do sommeliers think about Lodi wines? Up until recently, probably not much, since the idea of artisanal style Lodi grown wine is still a relatively new concept, for wine professionals and consumers alike. Sommeliers are just beginning to hear about this as well, despite the fact that there is very little about the world of fine wines that today's average sommelier doesn't know about.
Continue »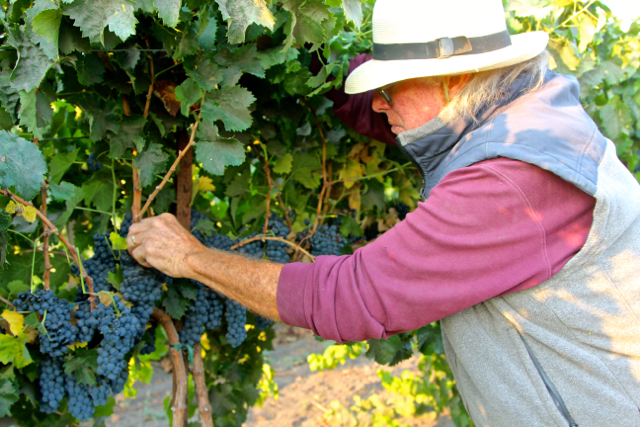 Richard "Rip" Ripken sampling his newly planted Sagrantino grapes
Early this morning (Thursday, September 10), Richard "Rip" Ripken was out in his 400-acre Guard Road Ranch picking his first crop of a grape called Sagrantino.
Sagrantino, you say? Yes, this is a very rare grape in California; growing in only four other vineyards in the state, as far as we know, and probably adding up to barely an acre, all-told.
Continue »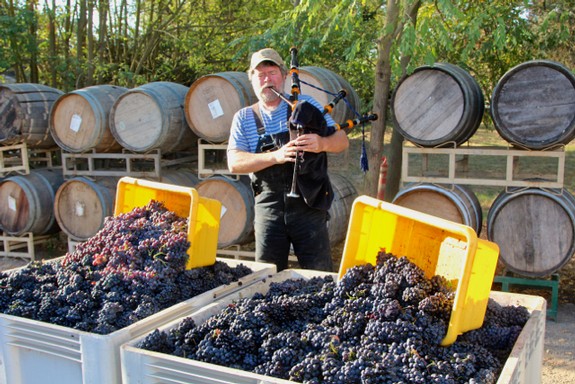 Winemaker Greg La Follette (Sonoma's La Follette Wines), blessing 2015 Zinfandel harvest from Royal Tee Vineyard (planted on Lodi's west side in 1889) with a bagpipe rendition of "Scotland the Brave" (to listen, visit Heralding Lodi's 2015 Zinfandel Harvest)
It's exhausting, but you never tire of it:  the yearly grand spectacle of the wine harvest in Lodi wine country.
Continue »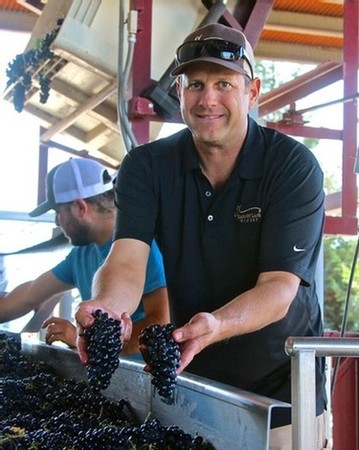 Harney Lane winemaker Chad Joseph is excited about the "perfect" quality of the 2015 Lodi Zinfandel fruit thus far
September 2, 2015 - The Lodi Viticultural Area's 2015 harvest – which, as in much of California, kicked off in late July – is now entering its second month. This week we asked a few growers and winemakers for their assessments thus far.
Continue »