Letters from Lodi
An insightful and objective look at viticulture and winemaking from the Lodi
Appellation and the growers and vintners behind these crafts. Told from the
perspective of multi-award winning wine journalist, Randy Caparoso.
December 19, 2017 |
Here Are Five Gift Ideas For Wine Lovers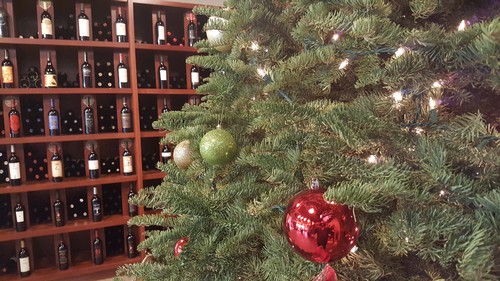 It happens to most.
Life gets hectic and the Christmas season sneaks up. Suddenly, it's late December and you still have gifts to buy.
Need some suggestions? These ideas are sure to be a big hit.
LODI NATIVE
Few projects have brought more positive media and consumer attention to the Lodi appellation than Lodi Native. In 2012, six winemakers of like-mind agreed to follow a minimalist protocol and crafted six distinct single-vineyard Zinfandels sourced from some of Lodi's most revered heritage plantings. The 2014 Lodi Native is the third vintage of this successful project, and it's as staggeringly beautiful as the previous releases. Several of the wines have received scores of 90 points and higher from critics, including Wine Enthusiast.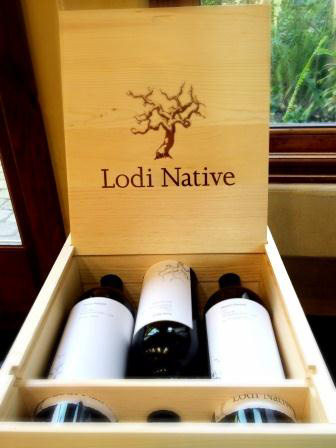 By agreeing to a strict set of rules that buck conventional practices, Stuart Spencer, Chad Joseph, Layne Montgomery, Mike McCay, Ryan Sherman and Jonathan McMahan handcrafted wines that are indeed native and delicious.
In general, the Lodi Natives have the richness and dark berry flavors one would expect from Lodi's king grape. But each Lodi Native possesses distinct nuances and subtle sensations unique to the terroir of its host vineyard.
The 2014 Lodi Native is $180 plus tax for the six-bottle set. Only 40 sets remain, so hurry. These exclusive wines can be purchased at the Lodi Wine & Visitor Center (2545 W. Turner Rd.) or at LodiWine.com.
LODI WINE AND CHOCOLATE WEEKEND TICKETS
Lodi's decadent and delicious Lodi Wine & Chocolate Weekend is Feb. 10 & 11. More than 50 wineries in the Lodi appellation will offer a diverse selection of artisan wines and savory and sweet chocolate treats. It's the perfect kickoff to Valentine's Day weekend. Tickets for the Lodi Wine & Chocolate Weekend and are just $55 each in advance. Tickets are available at the Lodi Wine & Visitor Center or by calling (209) 365-0621.
LODI RULES WINES
LODI RULES is California's first third-party certified sustainable winegrowing program and is aimed at ensuring a healthy and prosperous environment and community for generations to come. Wines that carry the LODI RULES insignia on the label are sourced from growers who care about the land, the environment and their people.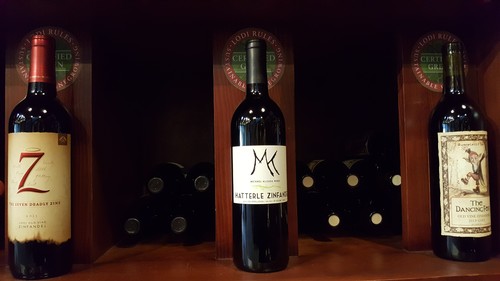 More than 45,000 acres of winegrapes in Lodi and elsewhere have earned LODI RULES certification.
The Lodi Wine & Visitor Center has many outstanding reds, rosès, whites and late harvest wines with the LODI RULES seal. They're easy to spot. Just look for the LODI RULES stickers on the display racks next to wines that are certified. For those who value responsible farming and business practices, LODI RULES wines are a thoughtful gift.
LoCA WINE CLUB MEMBERSHIP
The wine lover on your list will think of you fondly throughout the year with a gift membership in the LoCA wine club. What makes this wine club unique is the variety it offers. Four times each year, a shipment of carefully selected Lodi wines from different wineries will be shipped or made available for pick-up at the Lodi Wine & Visitor Center.
Many of the wines are in limited distribution and can only be found at the wineries or through the LoCA Wine Club.
The LoCA "reds only" club offers an exciting opportunity to enjoy exclusive hand-picked red wines from the Lodi appellation. The "mixed" club offers a collection of selected white and red wines. LoCA wine club members also receive discounts on bottle, case and merchandise purchases.
Information: LodiWine.com or (209) 365-0621.
STOCKING STUFFERS
The Lodi Wine & Visitor Center has an assortment of great-looking LoCA t-shirts that are a must to wear while exploring Lodi Wine Country, as well as other fun stocking stuffers, including local olive oil, dipping spices, wine gift bags, hydro flasks, reusable wine caps, and LoCA hats, wine glasses and coffee mugs.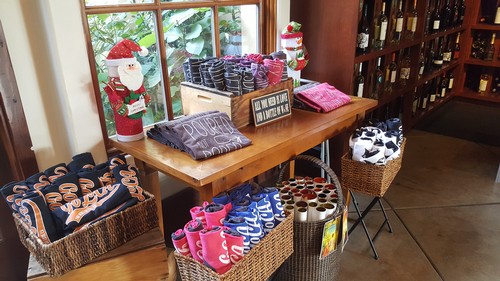 T-shirts and ZinFest posters are fun stocking stuffers available at the Lodi Wine & Visitor Center.
Another stocking stuffer centers on one of Lodi's can't-miss events. ZinFest has been an annual Lodi staple for more than a decade. Each year, a special, limited, one-of-a-kind poster is created to commemorate the festival. The posters are bright and colorful and feature the red-headed muse. The Lodi Wine & Visitor Center has ZinFest posters from each of the previous 13 years. Suitable for framing, the posters are collectors' items.
By the way, make sure to mark your calendar for the 14th annual ZinFest on May 18-20 at gorgeous Lodi Lake. More than 40 wineries will take part, and there be food from local vendors, live music and cooking schools.
WHERE TO GO
The Lodi Wine and Visitor Center is open weekdays from 10 a.m. and 6 p.m., and weekends from 10 a.m. to 5 p.m. Wine tasting, maps and information, and an incredible selection of more than 180 different Lodi wines also are available. There's something for anyone in need of a perfect gift for the wine enthusiast on their Christmas shopping list.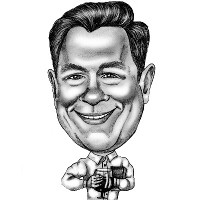 Welcome to Bob's Blog, a fun look at the people and places behind Lodi's food and wine scene.
For story ideas and comments, contact Bob Highfill, Marketing and Communications Manager with the Lodi Winegrape Commission, at BHighfill@LodiWine.com.
Follow on Twitter @Lodi_Wine and @BobHighfill; Instagram @Lodi_Wine and Facebook.com/LodiWine.
Comments