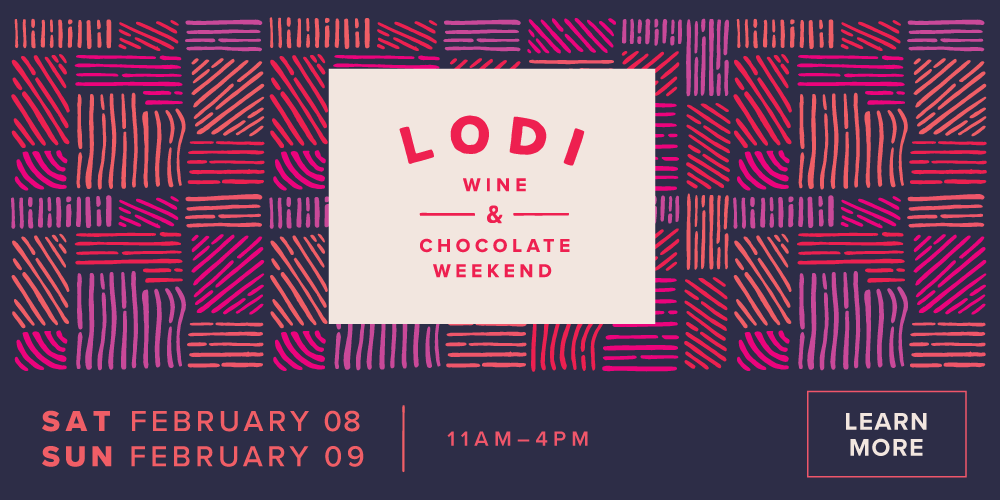 23rd Annual Lodi Wine & Chocolate Weekend
February 7-9, 2020
California's most iconic Valentine's Day celebration of premium wines and chocolate pairings, Lodi Wine & Chocolate Weekend returns February 7-9, 2020. Travel from winery to winery as you experience the region's diversity of wines and hospitality of its people.
New this year – Sunday only ticket! The fans have spoken. For the first time in 23 years, wine and chocolate lovers will have the option to purchase a weekend pass (Saturday & Sunday) or a Sunday Only pass.
All tickets include access to more than 50 participating wineries, wine tasting, a complimentary chocolate treat from sponsor The San Francisco Chocolate Factory, and your own souvenir wine glass.
TICKETS GO ON SALE NOVEMBER 2019! BE READY...
Lodi Winery Events
Explore a range of events being hosted at our Lodi Wine Country wineries
January 2020
Nostra Vita Family Winery - Fire Pit Friday
6:00 PM to 9:00 PM
Fri, Jan 24, 2020
Venue:
Nostra Vita Family Winery - 1150 W Turner Rd, Lodi, CA 95242
Brrr… feel the chill in the air? Shorter days, longer sleeves, it can only mean one thing?!? It's time to celebrate 'round the campfire! Join us every other Friday, from 6-9 p.m. for live music, ooey gooey S'mores, a lovely bottle of wine, and a roaring fire here in our newly
renovated courtyard. Bring your family, kids 'n friends, but be sure to bundle up, roast a marshmallow or two, then join us for a dance under the stars. It's gonna be a toasty warm Friday here at Nostra Vita Family Winery!
Peltier Winery - Comedy Night
7:00 PM
Sat, Jan 25, 2020
Venue:
Peltier Winery - 22150 N. Kennefick Rd. Acampo, CA 95220
Comedy night with Brent Pella! Brent is a stand-up comedian whose online comedy sketches, celebrity impressions and parody music videos have been featured on MTV, Funny or Die and have gotten more than 50 million views online. Best known for his impressions of Eminem, Logic and The Rock, as well as the "NorCal Bro" character series online, Brent currently lives in Los Angeles and headlines comedy clubs around the US, Canada and Europe, while continuing to produce his own content for release on Instagram (@BrentPella) and at YouTube.com/BrentPella. Wine available for purchase and complimentary pub snacks.
https://www.eventbrite.com/e/comedy-night-at-peltier-winery-featuring-brent-pella-tickets-85301821043