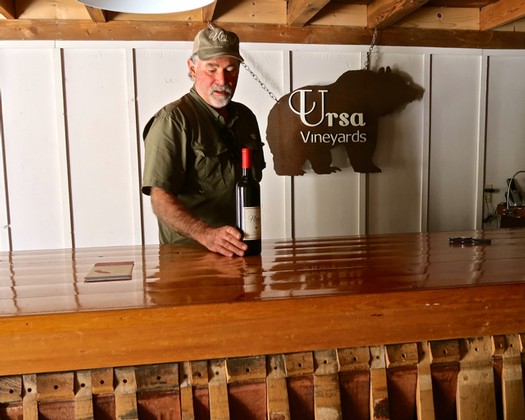 Greg Stokes and Deborah Elissagaray, the husband/wife winemaking owners of Ursa Vineyards, relocated to the Sierra Foothills back in 2001 from Santa Cruz Mountains in order to pursue their love of warmer climate winegrowing, after meeting at David Bruce Winery where they specialized in Pinot noir.
While they source most of the grapes for their Ursa label wine in the Foothills, naturally they've also been drawn to the Lodi Viticultural Area because, as Stokes puts it, "We also love to work with unusual stuff..."
Continue »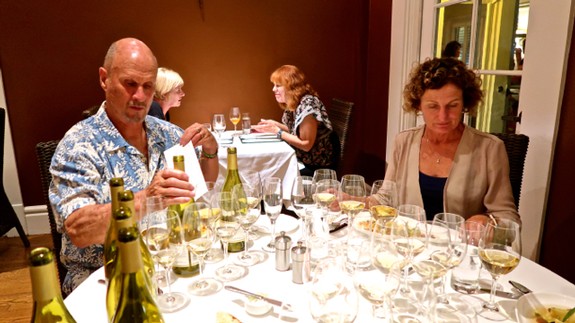 In Lodi we talk a lot about Zinfandel because it's been the appellation's leading wine grape at least since the 1880s.
But Lodi also grows a lot of Chardonnay. According to the USDA's 2018 California Grape Acreage Report, there are 12,416 acres of bearing Chardonnay vines in Lodi, compared to 17,814 acres in Monterey, 15,819 acres in Sonoma County, and 7,860 acres in San Luis Obispo/Santa Barbara.
Although Chardonnay grows well in Lodi, an actual "style" for the varietal as a premium Lodi grown wine has yet to be identified, but that may soon change. Slowly but surely, family owned wineries such as Michael David Winery, Harney Lane Winery and Oak Farm Vineyards have been etching out a profile of bright fruit buoyed by crisp natural acidity in their commercial bottlings...
Continue »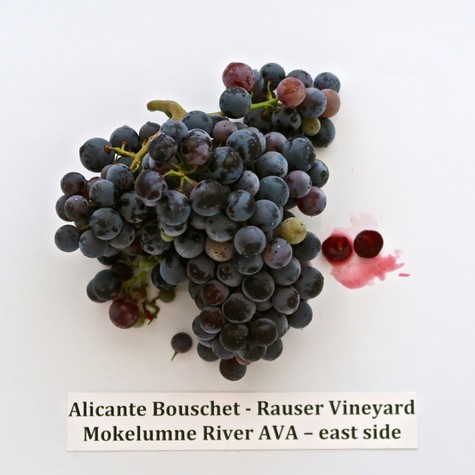 Historic Impact of Climate and Soil on Grape Selections and Wines
One thing growers and wineries have learned long ago about Lodi, by far and away America's largest winegrowing region, is that wines from this region have their own sense of place.
Cabernet Sauvignons grown in Lodi, for instance, tend to be softer in feel and more fruit-forward in aromas than Cabernet Sauvignons grown in Napa Valley, Sonoma County, Santa Cruz Mountains or Washington's Walla Walla Valley. Why? Because of Lodi's warm Mediterranean climate with its daily diurnal swings (i.e. average 91°/60° in Augusts, 84°/55° in Septembers). Plus the fact that grapes grown in Lodi see the sun from sun-up to sundown without the interference of fog or excessive wind, and because many of Lodi's Cabernet Sauvignons are grown in deep, vigorous sandy loam soils, which are more conducive to softer tannin red wines than shallower, clay based soils...
Continue »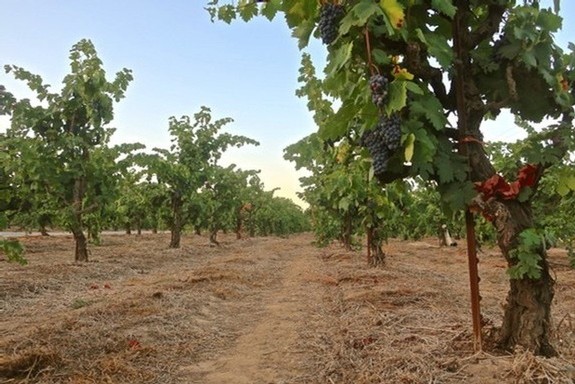 Most of the Lodi's growing legion of wine fans have come to know the top brands. Names such as Michael David Winery, Klinker Brick Winery, LangeTwins Family Winery & Vineyards, and Mettler Family Vineyards have been making waves from coast to coast, not to mention in Alaska and Hawaii. Largely within the local market, smaller brands brands such as Harney Lane Winery, Oak Farm Vineyards, McCay Cellars, Acquiesce Winery, the tiny Fields Family Wines or the long established The Lucas Winery have been carving out their own modest sized niche in very limited or no outside markets at all.
Nonetheless, hardly any of these Lodi wine lovers – even those who take the time to visit and explore Lodi wine country – have any real idea of exactly where the vineyards sourced by these wineries are located. Lodi is a sea of vines – far more vineyards than anywhere else in the U.S. – yet the whereabouts of these vineyards have been practically a secret...
Continue »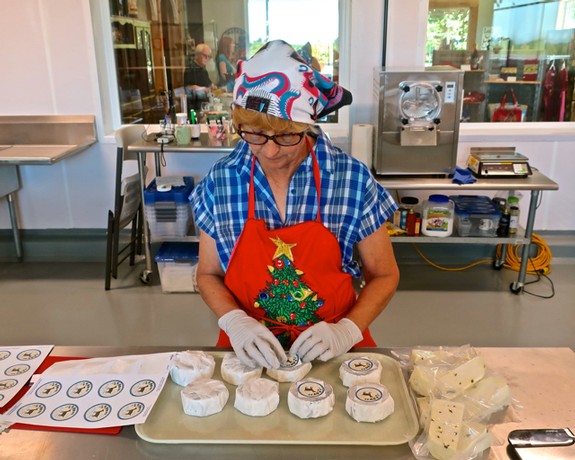 "I loved cheese," explained Bettyann Spenker to a captive crowd of visitors to her Spenker Family Winery & Artisan Creamery," but I was never a cheese expert. But I was a winemaker, so I thought, why not? I taught myself to be a cheesemaker."
Two weekends ago the Spenker family's combination winegrowing/cheesemaking barn finally opened for business, well over a year after their 24 or so "working" goats of multiple breeds, plus their ever-growing brood of kids, got their own new, comfy barn. And when we say "family," we mean family: Right now the entire operation is run by Bettyann with her grape growing husband Chuck (a third generation Lodi farmer) manning the wine counter, popping open the bottles, while daughter Kate (the graphic artist/designer in the family) handles the cheese samples and other-daughter Sarah does most of the talking and pouring while ringing up the brisk sales...
Continue »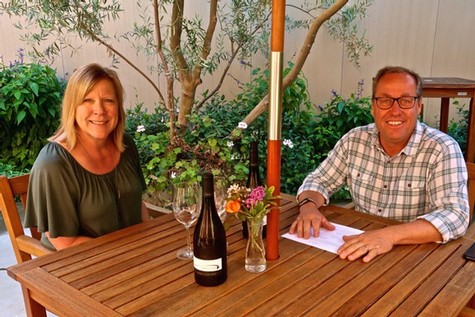 It's happening, slowly but surely: Lodi grown Chardonnay that tastes like it comes from... Lodi!
The newly released 2018 Harney Lane Winery Scottsdale Vineyard Lodi Chardonnay ($28) represents a resounding step in that direction, and it's delicious despite not following in the fuller bodied, round, soft, fleshy and lusciously fruited and creamy oaked style that many Chardonnay lovers prefer (Harney Lane Winery's "regular" Lodi Chardonnay, as a matter of fact, follows that formula, and it's also delicious for that style of wine).
Instead, this new bottling – the winery's first-ever vineyard-designate bottling from this estate owned property, located on the east side of Lodi's Mokelumne River AVA, where the soil is the deepest and sandiest in the appellation – is, according to co-owner Jorja Lerner, "a cleaner, crisper wine, more about the fruit than the influence of oak." Jorja's husband, co-owner/grower Kyle Lerner, describes the wine as being a "less broad shouldered style than most Chardonnays, including our own Harney Lane Chardonnay..."
Continue »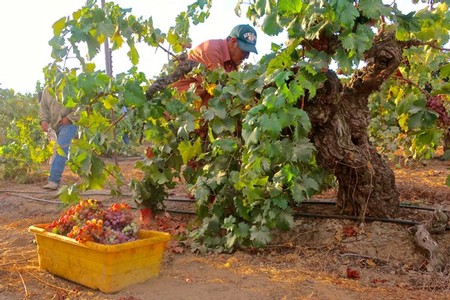 When I first moved to Lodi, just before the 2010 harvest, one of the conversations that taught me most about the region was with longtime grower Jonathan Wetmore, who owns the Lodi based vineyard management company called Round Valley Ranches. Round Valley Ranches farms over 2,000 acres of wine grapes for both large wineries (such as E. & J. Gallo) as well as some of the region's most celebrated specialty estates, such as Acquiesce Winery, Oak Farm Vineyards, and Jessie's Grove...
Continue »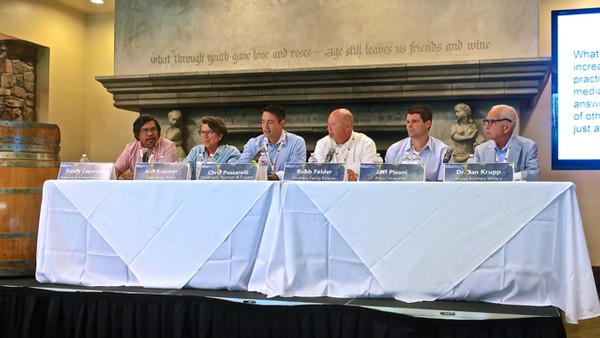 At the recent Lodi Vineyard & Wine Economics Symposium (June 27, 2019), there was a panel discussion entitled "The Art of Negotiation" focusing on best practices for vineyard owners seeking to bolster wine grape prices, while communicating the integrity of their product to potential grape buyers as well as to the media, trade and consumers who ultimately drive the market.
Each of the five speakers on this panel brought a slightly different perspective to the burning issue of grape pricing – something that has always been on the front burner in the Lodi Viticultural Area, where nearly a fifth of all of California's commercial wine grapes are grown, in some 110,000 acres... 
Continue »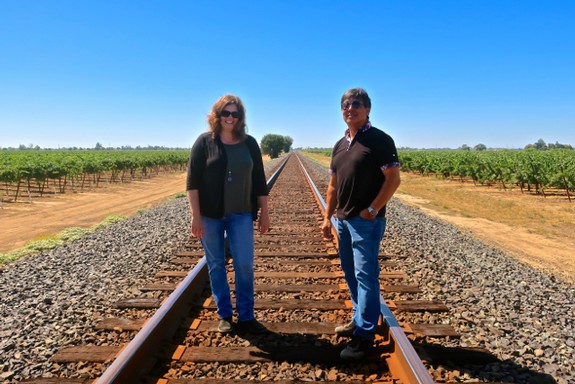 One of the most important recent developments here in Lodi is the bottling of five new single vineyard designated bottlings by LangeTwins Family Winery & Vineyards – a family that traces their farming roots in the Lodi Viticultural Area as far back as the 1870s.
The significance is twofold:
1. The highlighting of single vineyards on labels does more than bolster a region's impeccable grape growing reputation, to which the Langes have contributed tremendously. It also showcases a maturation of winemaking philosophy and skill on the part of this particular winery's two lead winemakers, David Akiyoshi and Karen Birmingham. Akiyoshi and Birmingham – whose winemaking mastery reflects over 50 years of combined experience in the industry – are no longer focusing purely on capturing the "varietal character" of grapes, or a predictable brand style. Just as important, or more, to them is capturing the qualities of grapes within the context of specific vineyard sources. Therefore they have adjusted their entire winemaking protocols to achieving exactly that: Putting a strong sense of place – something that is often called terroir – on equal or greater footing with objectives such as sheer intensity or even house style (although you can also say that LangeTwins Family's brand style has now become terroir focused)...
Continue »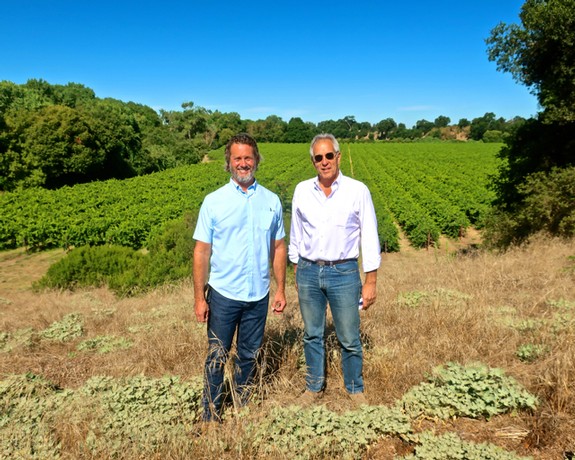 Bringing natural and Biodynamic principles to Lodi
"Grow what belongs here... be patient" is what you read on the Web site page explaining the farming philosophy of DaVero Farms & Winery, founded by Ridgely Evers and his wife Colleen McGlynn.
While DaVero Farms & Winery is located in the Healdsburg area of Sonoma County, there are connections to the Lodi Viticultural Area: Starting eight years ago with vintages of Vermentino sourced by Schatz Family Farms in the Cosumnes River-Lodi AVA, bottled under a sub-label called Avivo...
Continue »