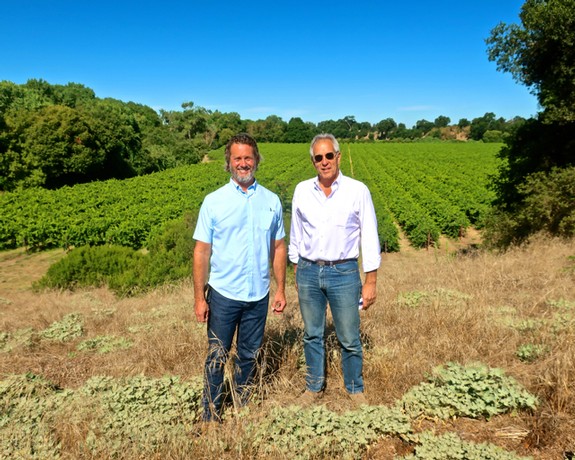 Bringing natural and Biodynamic principles to Lodi
"Grow what belongs here... be patient" is what you read on the Web site page explaining the farming philosophy of DaVero Farms & Winery, founded by Ridgely Evers and his wife Colleen McGlynn.
While DaVero Farms & Winery is located in the Healdsburg area of Sonoma County, there are connections to the Lodi Viticultural Area: Starting eight years ago with vintages of Vermentino sourced by Schatz Family Farms in the Cosumnes River-Lodi AVA, bottled under a sub-label called Avivo...
Continue »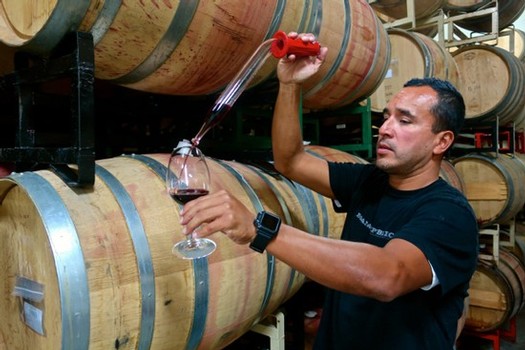 Lean and iconoclastically tart and edgy skin-contact Pinot gris. A rarely seen Nebbiolo showing the intricacies of a grape that tends to get lost on California wine lovers, accustomed to more obvious, wham-bam, instant gratification. And grown in Lodi. This is what this post is all about. But first, a little background...
Lodi wine lovers in-the-know have no doubt noticed the recent disappearance of wines bottled under the Viñedos Aurora label. These were deep, dark, powerful wines made from Cabernet Sauvignon and Petite Sirah grown by the Anaya family – second generation Mexican-American farmers – from their home vineyard (called Viñedos Aurora Vineyard) in the red clay colored slopes of Lodi's Clements Hills AVA, just east of the little communities of Victor and Lockeford...
Continue »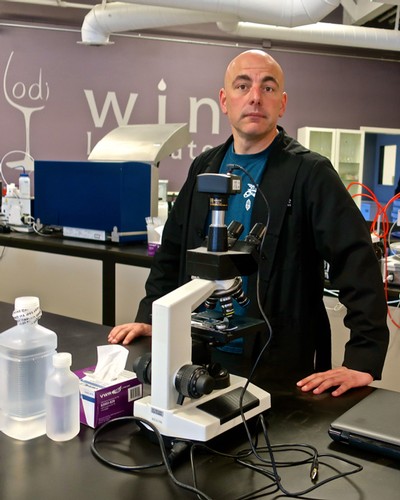 When there's something strange in a wine produced by a small winery or home winemaker, who you gonna call?
In Lodi, professional and amateur winemakers alike enjoy the distinct advantage of being able to call upon Lodi Wine Labs, located right here in the City of Lodi just adjacent to California Hwy. 99.
Lodi Wine Labs is not only one of the largest and best-equipped commercial industry laboratories in the entire U.S. – offering analytical services for the production of not just wines but also for beer, mead, spirits as well as water and metals – it is also a one-stop shopping center for virtually anything anyone may want or need for the fermentation and production of alcoholic beverages. You name it, they got it: corks, bungs, hydro presses, bladder presses and old fashioned wood basket presses, steel drums and oak barrels, filters, yeasts, nutrients, 6-gallon glass carboys or plastic tubs for the first-time home winemaker or 290-liter stainless steel fermentation tanks for the aspiring, future or would-be wine industry professional...
Continue »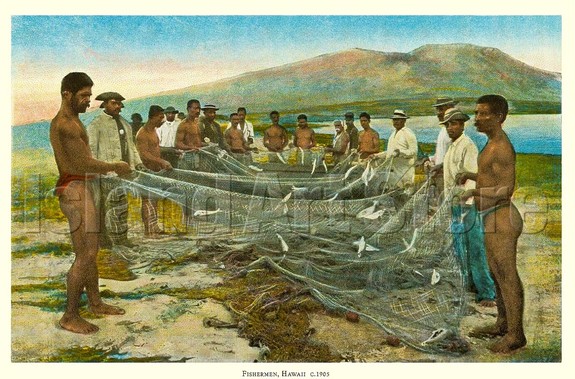 The native Hawaiian dish called poke (pronounced poh-keh) is now found seemingly everywhere outside the fiftieth state. It was bound to happen, with millions of people from around the world visiting the Hawaiian Islands each year, and then going back to their homes in New York, California, Minnesota, Texas, and everywhere else in the American continents, Asian or European countries still dreaming about the taste of this raw fish dish.
What is so captivating about poke? Although there are countless variations of the dish, most often made with sashimi-grade 'ahi tuna (yellowfin or bigeye tuna), the one thing they all have in common is that they taste like, well, Hawaii. It's those briny, salty, fresh sensations that are basically the culinary equivalent of taking a dip in the refreshing waters on one of those Hawaiian beaches where that sand is as soft as pillows, and waves roll up and back onto the shore with that foaming sizzle...
Continue »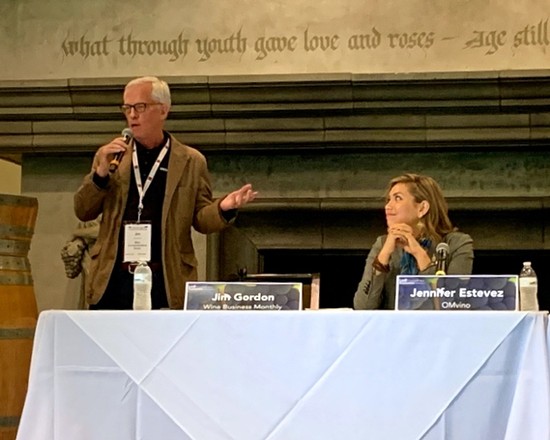 "How do Lodi wines relate to the big picture?" That was a question asked by Jim Gordon at the Lodi Vineyard & Wine Economics Symposium last week (June 27), in a seminar entitled Modern Lodi: The Media View on Lodi Wines' Stature In the Marketplace.
Mr. Gordon's outlook on Lodi wines, and Lodi as a winegrowing region in general, carries a lot of weight because he, like many longtime traditional print media journalists, has only recently (within the past 10 years) begun to recognize Lodi as a source of distinctive, high quality wines. Prior to that, his opinion of Lodi wines was... well, put it this way, it wasn't that positive...
Continue »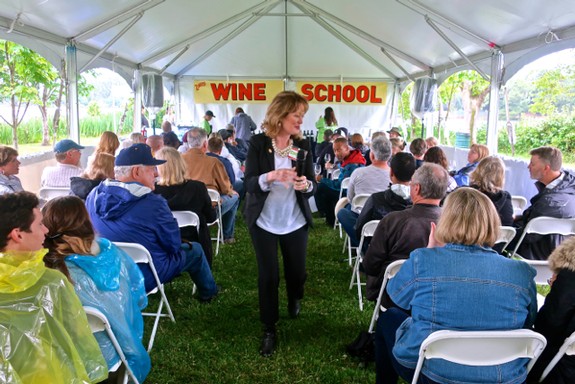 Many have called for it, but few have earned it. That is, the coveted title of Master Sommelier, which Catherine Fallis achieved 22 years ago, in 1997.
How few? There are only 219 Master Sommeliers in the entire world, 140 of them in the U.S. Fallis – who you can read about on her Planet Grape® Web site – was the fifth of only 21 female Master Sommeliers (the sommelier industry is still clearly dominated by men). Being an "MS" is sort of a big deal.
Therefore, an MS who absolutely adores the wines of Lodi is also a big deal (to us). Ms. Fallis backs this up in words: In her current best selling book, entitled Ten Grapes to Know (2018 Countryman Press, available on Amazon as Ten Grapes to Know: The Ten and Done Wine Guide), Fallis devotes not just an entire chapter to Zinfandel, but to Lodi grown Zinfandel in particular...
Continue »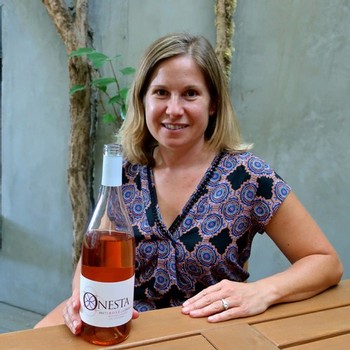 Over the past fifteen years Bechthold Vineyard, planted entirely to the Cinsaut grape, has developed an almost legendary, international renown, going far beyond its Lodi Viticultural Area roots.
This 25-acre-planting, in fact, has thrived on its own natural or "wild" roots – planted in 1886, long before Lodi growers thought to graft vines on to more root louse-resistant rootstocks – and is still owned by the descendants of Joseph Spenker, the original owner...
Continue »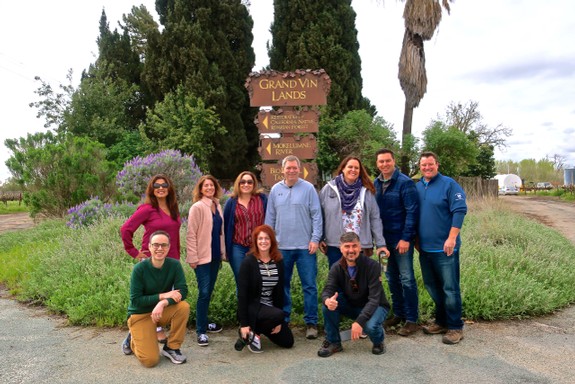 Continuation from The Wine Compass' opus on the long history and new iconic whites of Lodi (Part 1)
Is that all there is? -Peggy Lee
Much of the wine media, including almost everything you find in the blogosphere, is focused on same ol', same ol'. Yeah, we know that French grapes like Cabernet Sauvignon, Chardonnay and Pinot noir produce great wines, which is why Americans, Australians, Chileans, Canadians, Texans, South Africans, and seemingly everyone else is the world is obsessed with producing pretty much the same kind of stuff.
But for wine scribes like Wine Compass' Todd Godbout, this is just not enough. His curiosity leads to discovery of vinous joy in the most unsuspected (at least to anyone but Godbout) places...
Continue »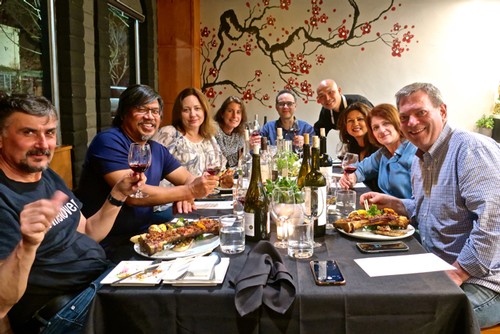 There are wine blogs and there are wine blogs. But how about one, called Wine Compass (est. 2005) that has endeavored to map out all the wineries, breweries, distilleries and cider tasting rooms in all 50 states of the U.S., plus Canada?
The Virginia based Wine Compass founder and author Todd Godbout is not only undaunted, he has also devised an iPhone or Android-compatible application in which you can locate most any producer of said alcoholic beverages by either name, map, radius search or zip code – at this writing, a total 18,387 of these establishments (and counting). Mr. Godbout has also posted notes on 35,865 different wines, spirits, beers or ciders over the years. He is definitely the Iron Man of the blogging industry, or at least his liver is made out of indestructible material...
Continue »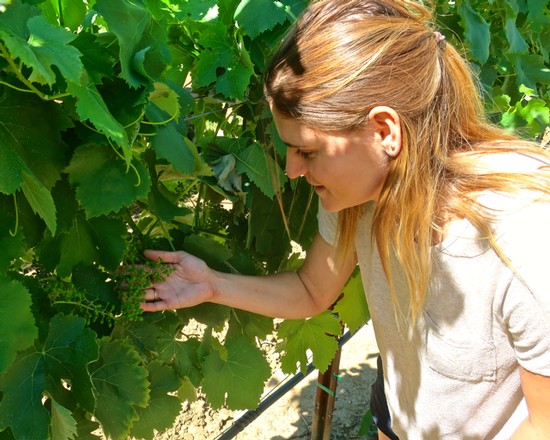 One of the most promising new wines to recently come out of Lodi is the 2018 Oak Farm Vineyards Estate Grown Lodi Fiano ($26), especially if you – like more and more wine lovers – have been gravitating towards dryer and dryer white wines with fresh, palate zinging natural acidity. This wine absolutely sings with flowery, honeyed fragrances with suggestions of toasted nuts (think pecan, veering towards hazelnut or filbert), and its lemon/lime zestiness on the palate is cushioned by a silk-textured viscosity.
The question for many, of course, would be: Fiano... why Fiano? Fiano is one of the three most important white wine grapes of Italy's Campania region (the other two being Greco and Falanghina). How important?
Continue »