Letters from Lodi
An insightful and objective look at viticulture and winemaking from the Lodi
Appellation and the growers and vintners behind these crafts. Told from the
perspective of multi-award winning wine journalist, Randy Caparoso.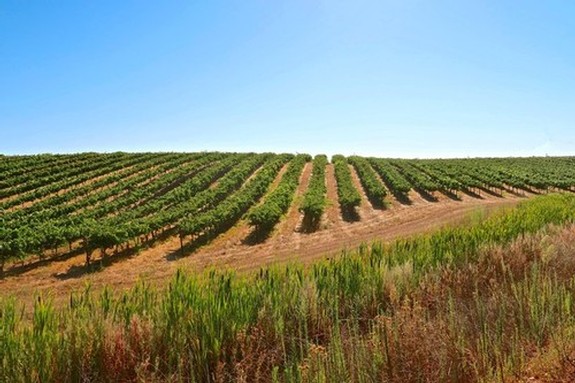 Continued from: Strong case for Lodi terroir (part 2) — the climatic factors
The Language of Terroir Establishing the Lodi AVA
When the petition submitted to the federal government proposing the establishment of a Lodi AVA was submitted in 1982, it was noted that the viticultural area historically known as Lodi consisted of approximately 39,000 acres of vineyards and 15 bonded wineries. Today those numbers are up to just over 100,000 acres of planted vineyards, and 85 wineries.
In the 1986 Federal Register document acknowledging the final approval of the Lodi AVA, the appellation is described as "an inland area that is comprised mainly of alluvial fan, flood plain lands, and lower and higher terrace lands..."
Continue »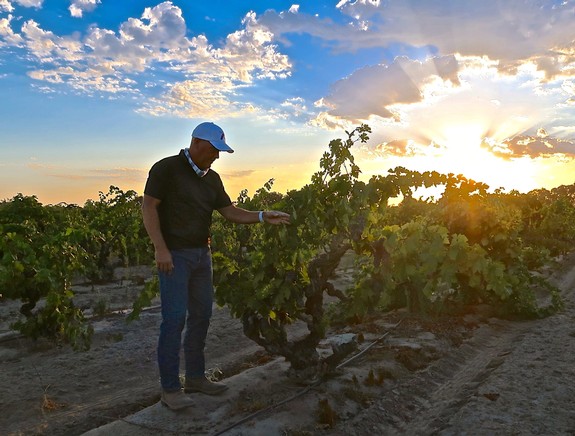 Earlier this week (August 11, 2020) we asked to tag along with McCay Cellars owner/grower Mike McCay during part of his early morning vineyard walks. 
Typical of most of 2020's summer days so far, the early morning started off in the lower 60°s, barely hitting 72° by 9:00 AM. Perfect morning constitution weather. Weather is dry as a bone with high wispy clouds at the most, and the gentle breeze blowing in from the Sacramento-San Joaquin River Delta has been consistent during the early morning hours, picking up at the end of each day. Lodi winegrowing weather...
Continue »


Natural Environment Conducive to Grapes
Part 2 of our discourse on Lodi terroir is for the technically minded wine geeks out there, looking for the no frills answer to the question: What are the physical factors of the Lodi AVA that have a direct impact on the "sense of place" found in more and more of Lodi's handcraft style wines, strongly influencing the decisions made by growers and vintners?
The land occupied by the Lodi appellation, of course, existed long before trappers encountered the native Plains Miwok tribe in the early 1800s; and before the first enterprising farmers of European descent began putting down roots towards the end of the 1840s... 
Continue »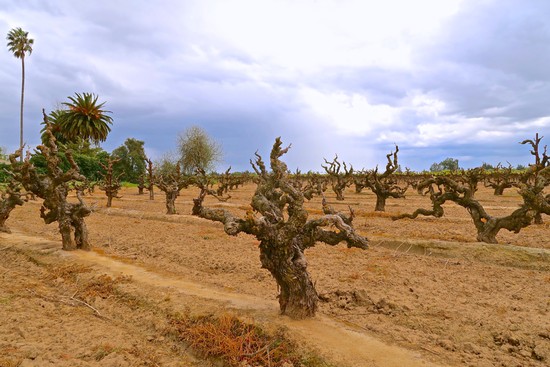 What is terroir and why should you care?
Answer to second part first: Because terroir differentiates Lodi from any other region in the world; and as Mr. Rogers always used to say, "There's no person in the whole world like you, and I like you just the way you are."
The first part might be harder because it's a French word, and translations of French words are not always literal. There is, perhaps, no greater international authority on all things wine related than British wine author Jancis Robinson. To quote her benchmark Oxford Companion to Wine:
Major components of terroir are soil (as the word suggests) and local topography, together with their interactions with each other and with macroclimate to determine mesoclimate and vine microclimate. The holistic combination of all these is held to give each site its own unique terroir, which is reflected in its wines more or less consistently from year to year, to some degree regardless of variations in methods of viticulture and wine-making...
Continue »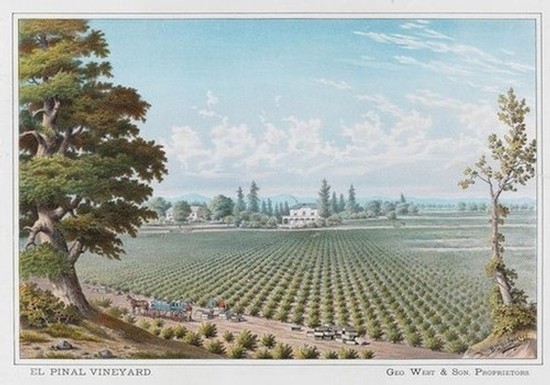 You won't find his name mentioned in most of the popular books touching upon the history of California wine. No Wikipedia entry, and nary an illustration or photograph to be found in "the Google." Why? From what we gather, he was a pioneer who rested more on his labors than his laurels. Also, probably because he didn't do his work in Napa Valley, Sonoma County or even the Santa Cruz Mountains. Yet in many ways, the visionary endeavors of George West, the founder of Stockton's El Pinal Winery, had as much impact on the entire California wine industry as any one individual... 
Continue »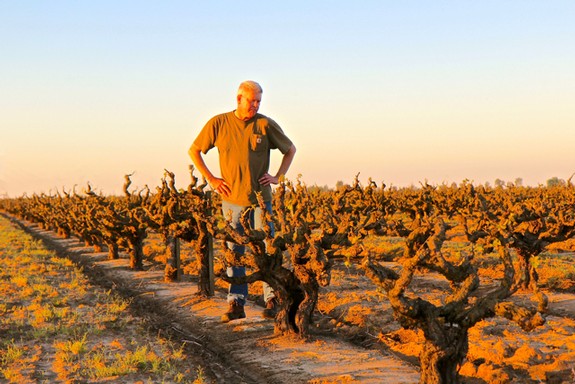 The growth and success of Lodi's m2 Wines has been intertwined with Soucie Vineyard, located at the farthest western edge of Lodi's Mokelumne River AVA, ever since this artisanal winery's founding in 2002.
m2 owner/winemaker Layne Montgomery has never been shy about saying, as-a-matter-of-factly, that "if Zinfandel is considered America's grape, Lodi is considered the home of California Zinfandel, and Soucie is one of Lodi's three or four best Zinfandel vineyards, then these are some of the finest Zinfandels in the world..."
Continue »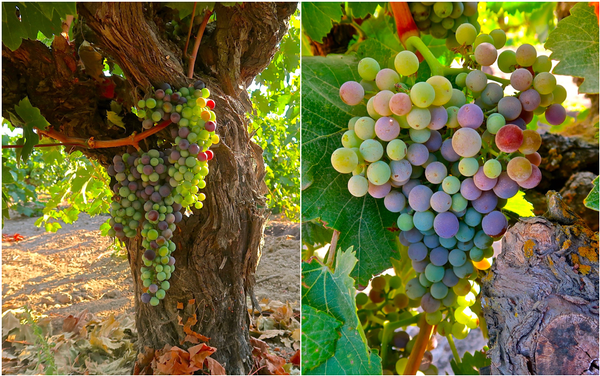 As we've reached the middle and end of July, Lodi wine country has been experiencing a period of time known in wine lingo as veraison: a word derived from the French term véraison, referring to the "change of color of grape berries." Call it the annual coming of age for grapevines, or a vinous bar mitzvah for grapes. 
For black skinned grapes grown for red wines, veraison usually happens in a spectacular blaze of colors, from greens and yellows to reds and purplish blues and blacks. But it's not just the transitioning of hues that farmers see in their vineyards during this time of year. It is also a signal that grapes have reached a mid-point of maturation... 
Continue »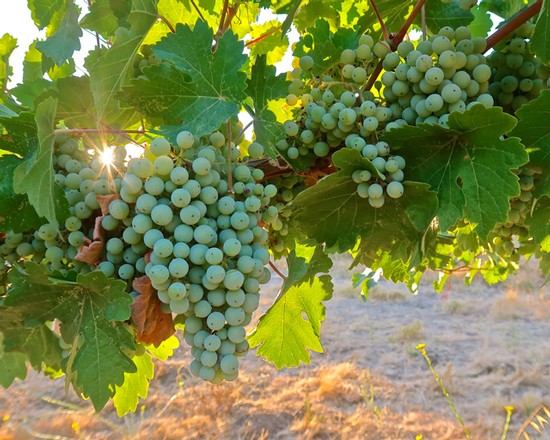 Forty or fifty years ago, shopping for a white wine to go with tonight's dinner used to be so easy. All you needed to do was look on the backsides of the wine bottles on the shelves.
Typical generic California "Chablis," for instance, was "recommended with fish, fowl, or veal." A "Burgundy" was for "beef, lamb or pasta." A personal favorite was the old Almadén brand of Grenache rosé — we used to drink gallons (or as they were called, "jugs") of that stuff. It was an off-dry pink wine that, as its back label strongly suggested with a gaily marching chicken, pig, fish and cow, could "complement any meal." Of course, that never stopped us from enjoying it with or without meals, preferably with ice cubes!
Continue »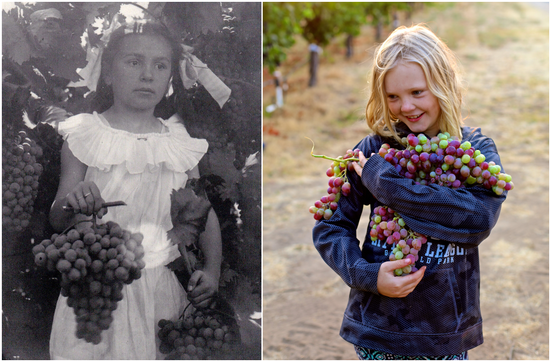 Lodi during the latter half of the 1800s, writes local historian Toni Christman in Our Time to Shine (2012), was "an unruly child, gathering strangers from all walks of life migrating from (nearby) Lockeford, Stockton, Sacramento in addition to other existing nearby settlements. Lodi was sometimes referred to as a 'rum-guzzling' town with young boys on the road to hell..."
Continue »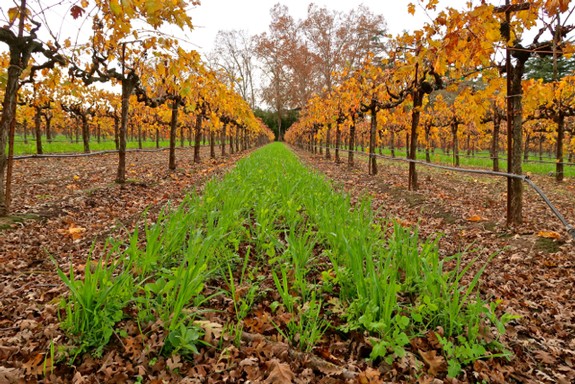 Last month (June 2020) we received a note from Clifford P. Ohmart — called, simply, "Cliff" by his colleagues throughout the agricultural industry as well as in Lodi, where he served as Lodi Winegrape Commission's Sustainable Winegrowing Director from 1996 to 2009. Prompted by our recent series detailing the history of winegrowing in the Lodi Viticultural Area, Dr. Ohmart suggested that we also consider posting "a detailed history of the evolution of Lodi's sustainable winegrowing program." Cliff's reasoning...
Continue »