Letters from Lodi
An insightful and objective look at viticulture and winemaking from the Lodi
Appellation and the growers and vintners behind these crafts. Told from the
perspective of multi-award winning wine journalist, Randy Caparoso.

September 3, 2019 | Randy Caparoso
Exactly why, at 10 to 15 years, a Lucas Lodi Chardonnay is just beginning to spread its gold tinted wings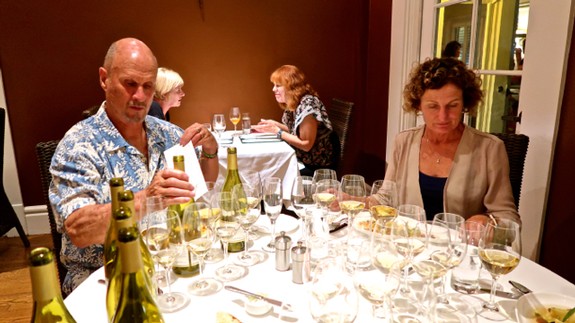 In Lodi we talk a lot about Zinfandel because it's been the appellation's leading wine grape at least since the 1880s.
But Lodi also grows a lot of Chardonnay. According to the USDA's 2018 California Grape Acreage Report, there are 12,416 acres of bearing Chardonnay vines in Lodi, compared to 17,814 acres in Monterey, 15,819 acres in Sonoma County, and 7,860 acres in San Luis Obispo/Santa Barbara.
Although Chardonnay grows well in Lodi, an actual "style" for the varietal as a premium Lodi grown wine has yet to be identified, but that may soon change. Slowly but surely, family owned wineries such as Michael David Winery, Harney Lane Winery and Oak Farm Vineyards have been etching out a profile of bright fruit buoyed by crisp natural acidity in their commercial bottlings.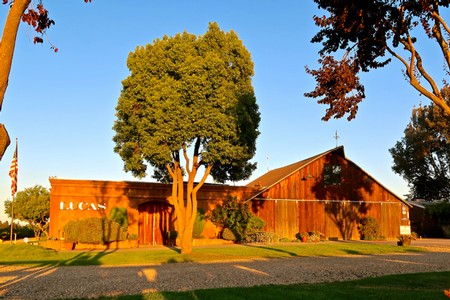 Lest it be forgotten, there is one Lodi producer, The Lucas Winery, that has not only been crafting fresh, restrained yet finely balanced Chardonnays since 1997, they have been doing it in a way associated with only the finest, and rarest, Chardonnay based white wines in world: That is, Chardonnays build to mature and improve in the bottle for as long as 20 years!
In a world where premium quality commercial Chardonnay grown in California is generally considered to be decidedly over-the-hill by its fifth year, this is, simply, a remarkable achievement. A typical Lucas Chardonnay, in fact, is just feeling its oats by its fifth year. At 10 years, a typical Lucas Chardonnay starts to unfold, and after 15 years it starts to reach an apex of richness, texture and balance, while retaining a youthful spring and freshness.
Although they freely admit that they don't hold on to nearly enough of their older bottles as they should (who can resist drinking them?), The Lucas Winery owners David Lucas and Heather Pyle – a married couple who both once worked for Robert Mondavi Winery in Napa Valley (back in the "glory days") – rank as the region's biggest cheerleaders for Lodi grown Chardonnay, notwithstanding the AVA's historic reputation for Mediterranean grapes like Zinfandel and Carignan, or its newfound association with Spanish grapes like Albariño and Tempranillo.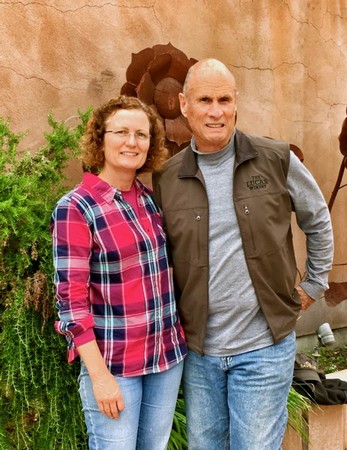 Heather Pyle and David Lucas (image courtesy of Nancy Brazil, pullthatcork.com)
20-Year Lucas Chardonnay Perspective at Wine & Roses' Towne House Restaurant
This past weekend we took a close sensory look at the fruits of Lucas and Pyle's labors with a 4-course dinner prepared by Towne House Restaurant in Lodi's luxury Wine & Roses Hotel & Spa. Culinary Director Bradley Ogden and Towne House Executive Chef Paul Durias devised a light, refreshing "late summer" menu to match 6 vintages of Lucas Chardonnay, ranging from 2018 to 1998.
The chefs' courses were brilliantly fashioned to enhance the evolving textures, from the youngest and snappiest Chardonnays to the oldest and most extravagantly flavored, followed by a dessert for two of Lucas and Pyle's rare, late picked, sun dried sweet wines. A summary...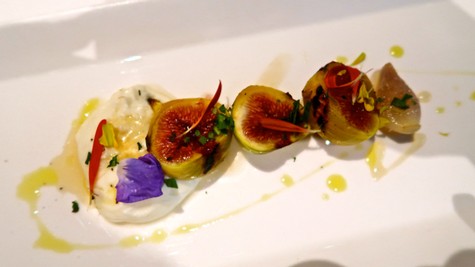 Course 1 - Grilled Striped Figs with "heart of summer onion," burrata and local honey
In this course, the caramelized figs connected like an electrical cord to the young, citrus-fresh 2018 Lucas Lodi Chardonnay, a bright straw gold wine bursting with lemon/cream and mineral qualities in the nose; lightly tart, silky textures, with mineral/lemon drop sensations coming across in a crisp edged/viscous juxtaposition, wound up tight as a drum.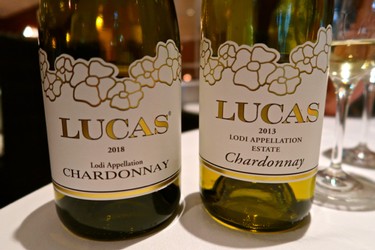 The honeyed touches in the dish brightened the 2013 Lucas Lodi Chardonnay – at 5 years, still a light, pale gold wine with an herby/candied lemon core in its fruit profile, tinged by a slightly honeyed richness indicative of both the advanced age (6 years being "over the hill" for the vast majority of California Chardonnays) and relative youthfulness (at least from the perspective of a normally slow maturing Lucas Chardonnay) in this wine's evolution.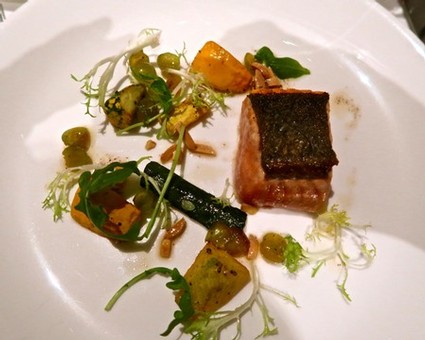 Course 2 - Wild California Salmon with almond brown butter, summer squash and Muscat grapes
What a deft move taken by the chefs, employing buttery, slivered almonds, the sweetness of fresh grapes and sous-vide tenderness of fresh wild salmon to play with 12- and 15-year old Chardonnays, just beginning to round out and emerge from their coiled, acid driven adolescence.
The 2007 Lucas Lodi Chardonnay's bright straw color is just tinged with gold, while fresh lemon and mineral qualities are still pervasive in the nose, although the palate fleshes out with luscious, crisp, juicy apple qualities before zippy/citrus and mineral notes – strikingly similar to that of the 2018 – predominate towards the finish in silky fine textures. According to Pyle, "We'll always remember 2007 as our best red wine vintage since 2000, although we still picked our Chardonnay in August – yet the entire season played out with moderate weather, long hang time and fairly big crop."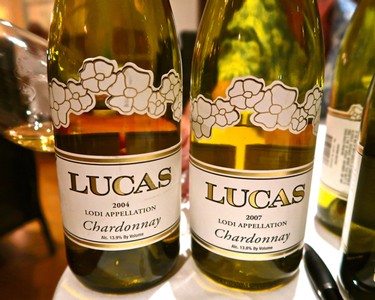 Of the 2004 Lucas Lodi Chardonnay, Pyle commented that this was always a "tart vintage," clearly gleaned in this wine's age-defying demeanor – a pale gold color, a youthful, lip-smacking freshness, and signature lemon/mineral sensations tight and steely enough to bode another 5, possibly 10 more years of maturation. An almost mesmerizing Chardonnay "picture" of Dorian Gray.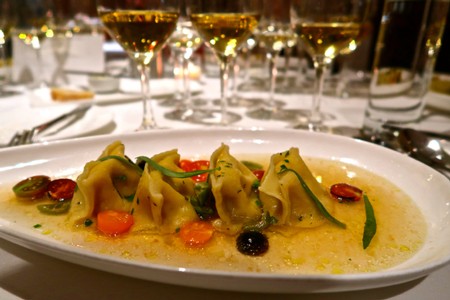 Course 3 - Agnolotti Pasta stuffed with corn pudding, with tomato water and Castelvestrano olives
The natural sweetness of fresh corn stuffing found balance in a "soup" of fruity-fresh tomato, while the green taste of the Castelvestrano olives popped up as the "surprise" sensory counterpoint for the enduringly pervasive minerality and herby notes of these senior citizen whites – especially the brassy gold 2001 Lucas Lodi Chardonnay with its pungent, leafy-green herby aroma and honeyed notes, plus vibrant sensations on the palate buoyed by lemony crispness, still fresh and zesty with a touch of sweet butter in the middle. Says Pyle, "2001 was a beautiful vintage, giving us good weather, a large crop and good natural acidity in our Chardonnay. The wine still has youthfulness despite its age, and has not begun to caramelize in its color and flavor."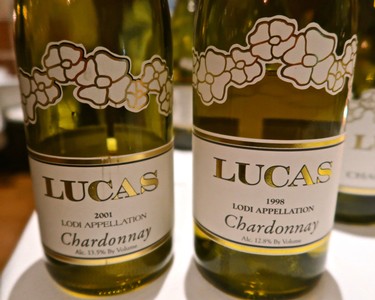 By way of contrast, the 1998 Lucas Lodi Chardonnay, only the winery's second vintage of Chardonnay, has veered into a browned butterscotch phase signaling a movement towards the bottom of its hill; yet the wine clings to creamy, crisp, silky mouth-feel, pushing out lush, honeyed, meaty if slightly oxidized sensations, echoing the sweetness of corn in the toothsome packets of al dente pasta.
Conversations About the Evolution and Potential of Lodi Grown Chardonnay
Over dinner, David Lucas and Heather Pyle reminisced about their Chardonnays past, and what they expect out of Lodi grown Chardonnay past and present. Our conversation:
David Lucas: "The Lucas Chardonnay is really Heather's wine. When Heather and I first got together in 1997 I was only doing Zinfandel. I wanted to stay focused on Zinfandel. But she wanted to do a Chardonnay, and immediately began sampling grapes in the area to find the perfect subject. The key was to find growers who were willing to work with her, and basically do what she asked – things like veraison thinning (i.e. dropping clusters just when grapes transition from their green colors), and other ways of going the extra mile to get higher quality in the grapes.
"You know, when you start making white wines it's a huge financial investment. We started with barrel fermentations in new French oak, and we bought small presses and stainless steel fermentation tanks. I did my part by getting out of her way. The difference in Heather's approach is she has such an amazing talent for finding balance in her wines, which always starts in the grapes."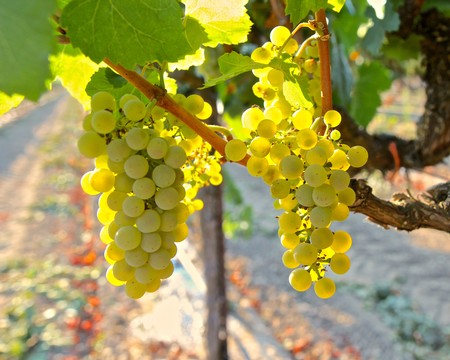 Heather Pyle: "We have been working with the same two vineyards, and getting fruit off the same rows in these vineyards, since 1997. Both are planted to (Foundation Plant Services) Clone 04, but you wouldn't think that from the cluster sizes we get from these vineyards. The vineyards are Phil Peterson's and Bill Shinn's, both located on the west side nearby us. Peterson's vineyard, located just north of W. Turner Rd., is on a high divided (i.e. quadrilateral) canopy and is furrow irrigated. It's an older vineyard of fairly low vigor. It yields nice small clusters, although it takes a lot of hand work to get the grapes to ripen evenly."
David Lucas: "I remember the first vintage (1997), which had an almost Sauvignon blanc-like, asparagus character, but with great acidity. In retrospect you can see why these wines have such a long life in the bottle. You live with that herbiness and get so much more out of it after a few years."
Heather Pyle: "Shinn's vineyard is actually Chardonnay budded on to the roots of the old vine Tokay originally planted there, and it produces even smaller clusters than Peterson's. It's old school, planted on a single wire supporting a canopy you would describe as an old fashioned California sprawl.
"A few years later Bill began asking if we could also make some Chardonnay for his own label, but we never took him up on his request. In the early years we really didn't know the potential of those grapes, but I think a lot of the quality from both Shinn and Peterson came from the fact that, for their first time, they were looking at Chardonnay as a separate entity from the rest of their fields. They began paying more attention to things like disease pressure, insect and canopy management. In that way, they became very dedicated to sharpening the quality of what was going into Lucas Chardonnay.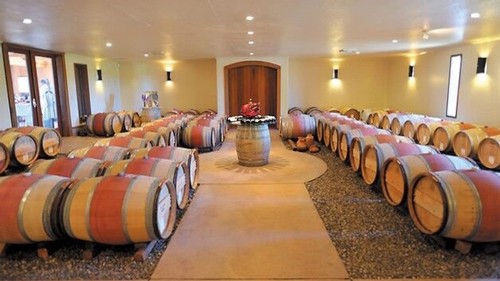 "David and I had fallen in love with French wines long ago, during our days at Robert Mondavi Winery. So we were always looking for higher acid wines that could go better with food, even in Lodi. At first, we thought we'd have to pick early, at lower maturity, to get enough malic acid for the wine to go through malolactic fermentation (i.e. when apple-like/tart malic acids are converted softer lactic acids) and still remain fresh. We soon found out we were just fine picking at 24° Brix (i.e. sugar reading) when the grapes reach a moderate amount of ripeness, but we keep our acidity in the wine by preventing malolactic."
David Lucas: "Years ago we saw how many of the Chardonnays grown on the coast would need to go through malolactic – otherwise they'd end up with acidity that could scrape the enamel off your teeth. But when going through malolactic they would get that buttery, butterscotch character. The key to our success is has been by maintaining a dichotomy: Heather ferments just a third of the fruit in barrels, and the rest in stainless steel.
"It's interesting that coastal Chardonnay producers really can't duplicate our style. They can do a combination of barrel and stainless steel fermentation, but they can't get the brightness of fruit that we naturally get from our vineyards Lodi. So that's what we play up in our Chardonnay – the fruit, not the malolactic or lees qualities, although we also stir our lees to get additional complexity. But we really don't like oak – that is, we like the influence of oak on the overall quality, but not in the flavor."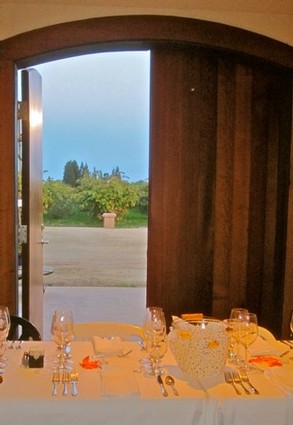 Heather Pyle: "We buy new barrels only about once every 5 or so years, so our oak is mostly neutral in flavor. Although our barrels ferment in a 55° room, the fermentation temperature is around 65°. We keep the fermentation temperature in the (1,500-gallon) tanks at about 56°, 57°. It's that coolness that retains that bright fruit character. But of course, it's really the quality of fruit that comes from the vineyards that makes the difference. The key is having a dialogue with the growers. It's not magic. But it's true that, for many years, growers were never asked to do the things that results in grapes for better wines, and I think we've all appreciated that working relationship we've developed over the years."
David Lucas: "What's really magical is what's happened to Lodi over the past 30, 40 years. A lot of people put in a lot of time to bring this region up to this level where we can talk about it in the same way we talk about a Napa Valley. The reason, when you think about it, is because of men like Mike Phillips (CEO/co-owner of Michael David Winery) and Steve Borra, who started the first winery in winery way back in the '70s (1975). Without Steve's influence or Mike's encouragement, I may not had started The Lucas Winery (established in 1978). About Steve Borra, we ought to build a monument to this important man, and monumental grower – it will be a crime if we don't!"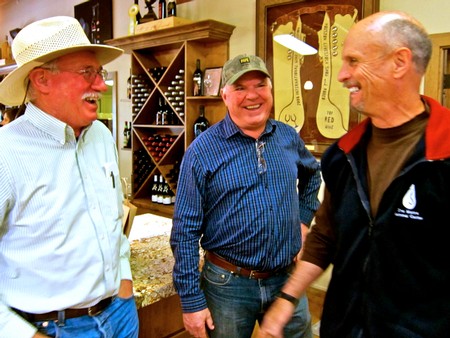 Dessert Course and Late Harvest Lucas Wines
Course 4 - Strawberry Turnover with ricotta, milk and honey sorbet
With this moderately sweet fresh fruit dessert, we enjoyed two different wines showing off the absolute essences of two different grapes, Zinfandel and Chardonnay:
2017 Lucas, Late Harvest Lodi Zinfandel – Although made only once about every 4 or 5 years, this bottling has been Lodi's premier sweet wine for the past two decades. Its beauty is in its concentration of "Zinfandelness" – not just a wild berry/strawberry liqueur concentration, but also a black pepper spice (an essence of the varietal character) that tingles the nostrils and beguiles the senses. On the palate, the wine is silky fine and lusciously sweet (6.2% residual sugar, 16% alcohol) but perfectly balanced to the point where the fruitiness is bright and fresh, absolutely not cloying. Says Pyle, "We used to try to produce a late picked style Zinfandel by letting grapes hang on the vine, but that was never as good as picking them at a normal sugar (about 25°) and then drying them out on straw mats to about 40°."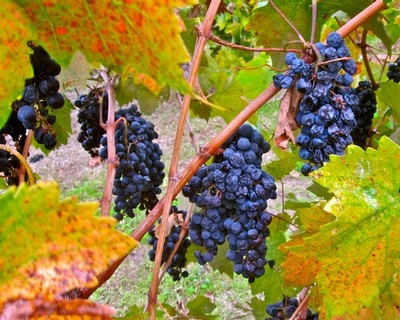 2004 Lucas, Late Harvest Lodi Summer Sun (Chardonnay) - A fascinating, sweet, late picked dessert style of Chardonnay done in a fashion Pyle calls "partial passito" (i.e. sun dried on straw) – the grapes picked at normal sugars (about 24°) but then dried on straw mats until the sugars concentrated to 36.8°. "We only did this once," said Pyle, "because it's so labor intensive – the drying grapes have to be kept in the shade because the white wine grapes are so fragile, so we cover them with umbrellas and the clusters are turned on their sides several times a week – so much hand work!" The result is a wine that is green-gold and nutty, like a chorus of toasted almonds, green olives, golden raisins and vanilla beans – absolutely luscious with a texture like fine-spun silk and crème brûlée, and of course, with a dessert wine sweetness and fullness (10.0% residual sugar, 14.9% alcohol), yet zesty enough in balancing acidity that might allow this wine to live seemingly forever.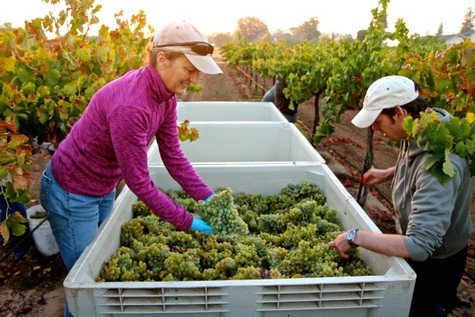 Comments