Letters from Lodi
An insightful and objective look at viticulture and winemaking from the Lodi
Appellation and the growers and vintners behind these crafts. Told from the
perspective of multi-award winning wine journalist, Randy Caparoso.

May 6, 2019 | Randy Caparoso
The 100 (plus!) grapes of Lodi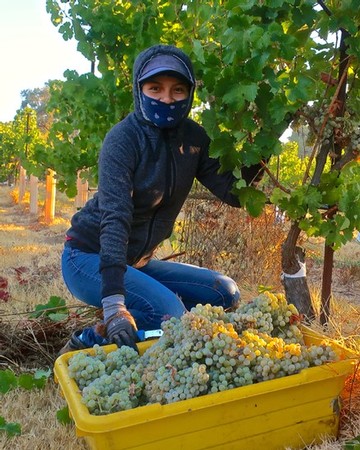 If anything, the Lodi Viticultural Area is prolific. We now count over 125 grape varieties planted in the region; all variations of Vitis vinifera, belonging to the original European family or species of wine grapes.
Why Lodi? Simply put, this is where the California wine industry sources most of the grapes going into wines sold for $10 and under, which is about 74% of all the wine sold in the U.S.
Needless to say, Lodi also furnishes a huge percentage of grapes going into premium priced (anything above $10) California wines. The wide variety of specialty wine grapes cultivated by Lodi growers such as Bokisch Ranches, Ripken Vineyards, Mohr-Fry Ranches, Silvaspoons Vineyards, Vino Farms and others supply both giant producers (such as E. & J. Gallo, Constellation Brands, Trinchero Family Estates and Fetzer Vineyards) and the tiniest boutique wineries (The Scholium Project, Leaf and Vine, Odisea/Cochon, Loma Prieta, Michael Klouda, etc.), and wineries of all sizes in between (Bonny Doon Vineyards, Neyers, Michael David, Jeff Runquist, et al.).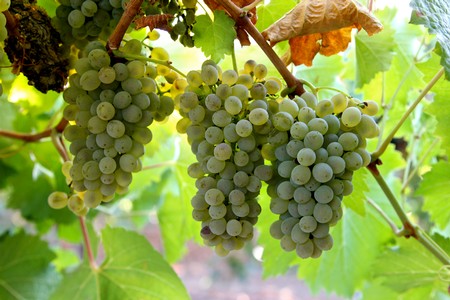 And with ever-proliferating consumer tastes, there is growing demand for grapes for varietal wine production such as Verdelho and Vermentino, Piquepoul and Pinotage, Graciano and Grenache, from Alicante Bouschet to Zweigelt, and from Nero d'Avola to Montepulciano.
Most recently, since red wine blends have become the third most popular wine category (after Cabernet Sauvignon and Chardonnay) in the U.S., Lodi growers have been scrambling to put more Petite Sirah and Teroldego – the latter, an obscure (to most Americans) grape valued for the deep color, sturdy tannin yet fairly neutral fruit profile it brings to red blends – into the ground.
Another reason why there are so many wine grapes grown in the Delta: Because Lodi can. The region's classic, moderate Mediterranean climate classification is naturally conducive to wine grapes. The cultivation of Vitis vinifera, after all, originated in the Mediterranean Basin – in the vicinity of present-day Iran, Palestine and Egypt - as long ago as 5,000 years ago, and was first perfected around 2,500 years ago in Greece and the ancient Roman Empire.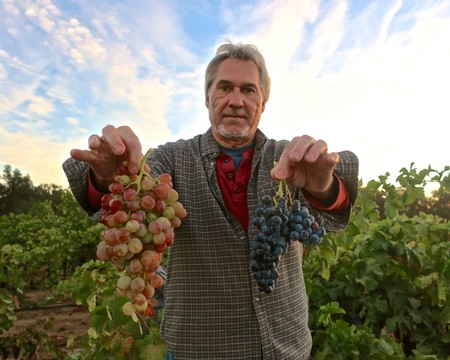 Lodi also possesses the classic soil types for high quality viticulture – consistently deep (as much as 50 feet), porous yet fertile sandy loam around the City of Lodi (distinguished as the Mokelumne River AVA), as well as gravelly or cobbly clay loams on slopes east and north of the city (Lodi's Jahant, Clements Hills, Borden Ranch, Alta Mesa, Cosumnes River and Sloughhouse AVAs).
Lodi is not unique, of course, in respect to climate and soils highly amenable to multiple grapes. You could say the same about Mendocino, Lake County, Santa Cruz Mountains, Monterey, Santa Barbara County, San Luis Obispo, Paso Robles, San Benito County, Sierra Foothills, Livermore Valley, as well as Napa Valley and Sonoma County. 50 years ago, there was a full range of grapes grown in Napa Valley – Petite Sirah, Zinfandel, Chenin blanc, Colombard, Riesling, Gray Riesling (a.k.a. Trousseau gris), Charbono, Carignan, Napa Gamay (a.k.a. Valdiqué), Grignolino, Green Hungarian, you name it, Napa Valley grew it – but what has obviously changed is the economics of grape growing in coastal areas. Even if vintners wanted to grow Green Hungarian or Grignolino in places like Napa Valley or Santa Cruz Mountains, costs and market realities make growing anything other than Cabernet Sauvignon, Merlot, Pinot noir or Chardonnay less and less feasible with each passing year.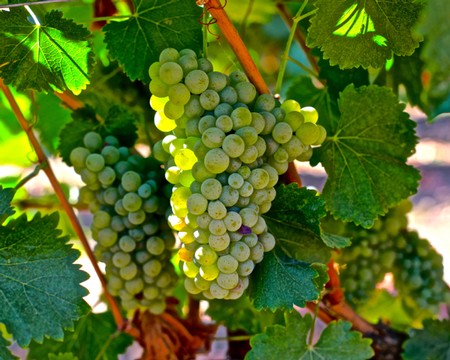 If you're into diversity, thank goodness for a place like Lodi!
So let us count our grapes. But first, some explanation, since delineation of grape varieties is not so straightforward as you may think.
As grape scientists may point out, there are several significant "families" of wine grapes that may be identical in terms of DNA. For instance, as in most regions in California and Oregon, there are multiple clones of Pinot noir grown in Lodi – variations of this ancient black skinned grape that might have slightly different grape or leaf morphology, may bud out and ripen at different times, and produce wines with varying aromas and phenolic contents. Nonetheless, on our list we count all Pinot noir cultivars as one and the same grape.
There are, however, other variations of the Pinot grape possessing the exact same DNA sequence, but which are obviously different in terms of even wider variance of plant morphology and subsequent wine types. Therefore, grapes such as Pinot gris (a.k.a. Pinot grigio), Pinot blanc and Pinot Meunier are counted as separate varieties.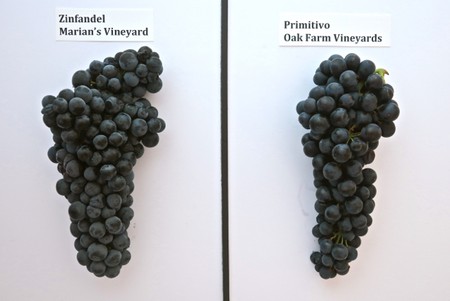 Then it gets tricky. Primitivo, for instance, is a black skinned grape with DNA identical to Zinfandel. Primitivo is so similar to Zinfandel that, frankly, many California growers sell their Primitivo to wineries as Zinfandel. Still, the U.S. Department of Treasury's TTB (Alcohol and Tobacco Tax and Trade Bureau), which regulates use of varietal names on wine labels, counts Primitivo as a separate variety; and therefore Primitivo is listed as a separate grape on our list.
As it were, the TTB is not always an up-to-date arbiter of grape identification. When Bokisch first began bottling a Graciano in the early 2000s, they had to call it a "Lodi Red" because the grape didn't exist on TTB rolls. As recently as 2017, Torrontés, Mencía and Marzemino were examples of Lodi grown grapes not listed by the TTB, despite their obvious existence and usage elsewhere in the world. There are also grapes like F1-16 – a black skinned crossing developed by Stanislaus County botanist Fay Triplett in the 1960s – that do not even have a name, just its U.C. Davis Foundation Plant Services number (although Ripken Vineyards' Rip Ripken has nicknamed it "Rip's Black" for its rich color and notable acidity). But since these grapes exist in Lodi fields, they are counted on our list.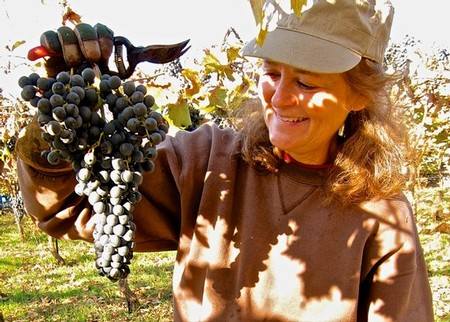 For the large part, in the list below we lump together clonal variations of grapes such as Pinot noir, Tempranillo, Chardonnay, Cabernet Sauvignon, Riesling, Grenache, Syrah, etc. all as one grape, respectively. But we make further exceptions when sensory qualities in resulting wines are so distinct, industry standard practice is to count clonal variants separately. Sauvignon Musqué (i.e. FPS Sauvignon blanc 27), for example, is identical to any Sauvignon blanc; except its floral aroma is so pronounced that both growers and wineries consider the grape unique unto itself. The same for other fragrant varieties such as Muscat, with its "Canelli," "Orange" and "Giallo" ("Yellow") variants, among others.
That said, the following is our list of Lodi's 100 (plus!) grapes, with selected images plus notations citing some of the more common synonyms as well as specific grape crosses. To see images of nearly all the different grapes grown in Lodi, please visit past posts, What ARE the 100 grapes of Lodi? or 100 Grapes of Lodi. Re:
Aglianico
Albalonga – Rieslaner (Silvaner x Riesling) x Müller-Thurgau (Riesling x Madeleine Royale)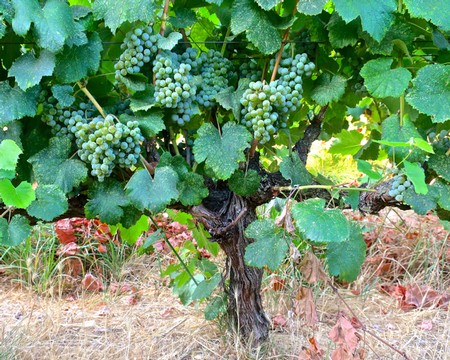 Albariño (a.k.a. Alvarinho)
Alicante Bouschet – Petit Bouschet (Teinturier du Cher x Aramon) x Grenache
Alvarelhão
Alvarinho (a.k.a. Albariño)
Arnsburger – Riesling Clones 88 x 64
Bacchus – Silvaner x Riesling
Barbera
Bastardo (a.k.a. Trousseau noir)
Black Prince (a.k.a. Rose of Peru)
Blauer Affenthaler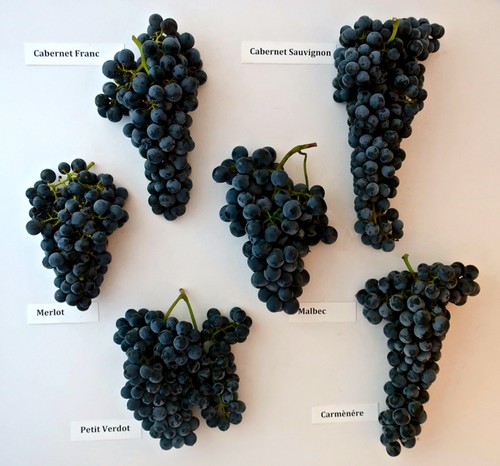 Blauer Portugieser
Blaufränkisch (a.k.a. Lemberger; Blauer Limberger; Blue Franc)
Bourboulenc
Burger (a.k.a. Monbadon)
Cabernet Dorsa – Dornfelder (Helfensteiner [Frühburgunder x Trollinger] x Heroldrebe [Blaire Portugieser x Blaufränkisch]) x Cabernet Sauvignon
Cabernet Franc (a.k.a. Bouchet)
Cabernet Sauvignon
Carignan (a.k.a. Carignane; Cariñena; Mazuelo)
Carménère (a.k.a. Grande Vidure)
Carmine – (Cabernet Sauvignon x Carignan) x Merlot;
Charbono (a.k.a. Douce noir; Bonarda; Corbeau)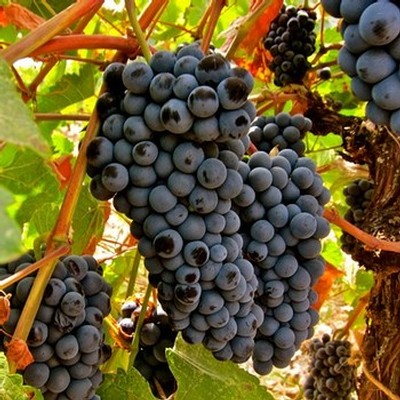 Chardonnay
Chenin blanc (a.k.a. Pineau de la Loire)
Cinsaut (a.k.a. Cinsault; Black Malvoisier)
Clairette blanche
Colombard (a.k.a. French Colombard)
Counoise
Dolcetto
Domina - Blauer Portugieser x Pinot noir
Dornfelder – Helfensteiner (Frühburgunder [a.k.a. Pinot noir Précoce] x Trollinger) x Heroldrebe (Blauer Portugieser x Blaufränkisch [a.k.a. Lemberger])
Ehrenfelser - Riesling x Silvaner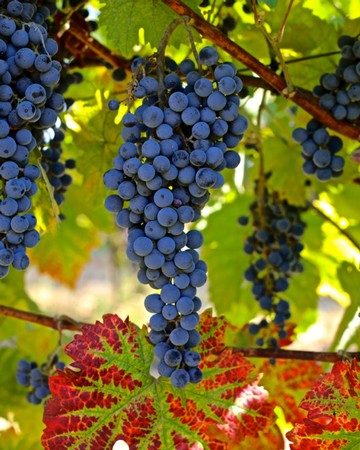 F1-16 (a.k.a. Rip's Black) – T213-13 (61-9 [Grenache x Gros Manzanc] x 74-21A [Zinfandel x Cabernet Sauvignon]) x T42-36 (Ruby Cabernet [Cabernet Sauvignon x Carignan] x Barbera)
Faberrebe - Pinot Blanc x Müller-Thurgau (Riesling x Madeleine Royale)
Fiano
Forta - Silvaner x Madeleine Angevine (Madeleine Royale x Précoce de Malingre)
Frühburgunder (a.k.a. Pinot noir Précoce)
Garnacha (a.k.a. Grenache; Grenache noir; Garnacha tinta; Cannonau)
Gewürztraminer
Grand noir (a.k.a. Grand noir de la Calmette)
Graciano
Grenache (a.k.a. Grenache noir; Garnacha; Garnacha tinta; Garnatxa negre; Cannonau)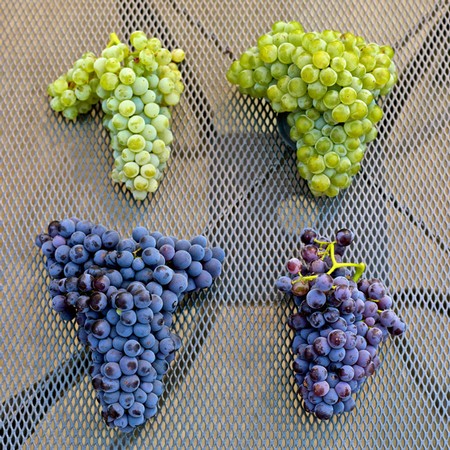 Grenache blanc (a.k.a. Garnacha blanca)
Grignolino
Grüner Veltliner
Gutedel (a.k.a. Chasselas; Fendant)
Huxelrebe – Gutedel (a.k.a. Chasselas) x Courtiller Musqué (a.k.a. Muscat Précoce de Saumur)
Kanzler - Müller-Thurgau (Riesling x Madeleine Royale) x Silvaner
Kerner - Trollinger x Riesling
Macabeo (a.k.a. Viura)
Malbec (a.k.a. Auxerrois)
Marsanne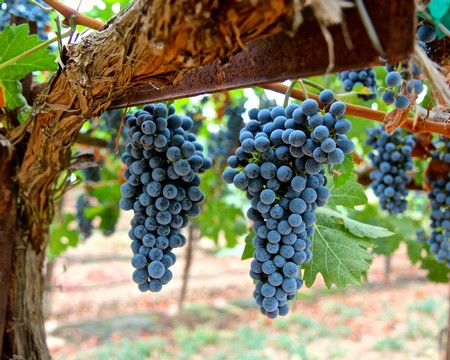 Marzemino
Mencía
Merlot
Mission (a.k.a. Listan Prieto)
Montepulciano
Morio Muscat - Silvaner x Pinot blanc
Moscato Giallo (a.k.a. Yellow Muscat)
Mourvèdre (a.k.a. Mataró; Monastrell)
Müller-Thurgau - Riesling x Madeleine Royale
Muscat Canelli (a.k.a. Muscat blanc; Muscat blanc à Petits Grains)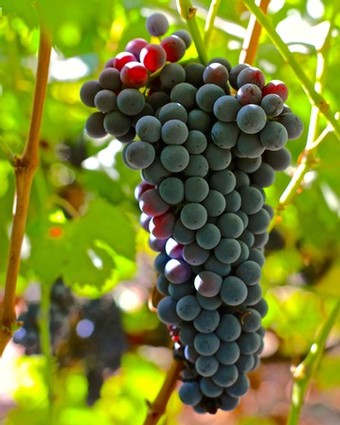 Nebbiolo
Nero d'Avola
Noblessa - Madeleine Angevine (Circe x Madeleine Royale) x Silvaner
Optima - (Riesling x Silvaner) x Müller-Thurgau (Riesling x Madeleine Royale)
Oraniensteiner - Riesling x Silvaner
Orange Muscat
Ortega – Müller-Thurgau (Riesling x Madeleine Royale) x Siegerrebe (Madeleine Angevine [Madeleine Royale x Précoce de Malingre] x Gewürztraminer)
Parellada
Perle - Gewürztraminer x Müller-Thurgau (Riesling x Madeleine Royale)
Petit Verdot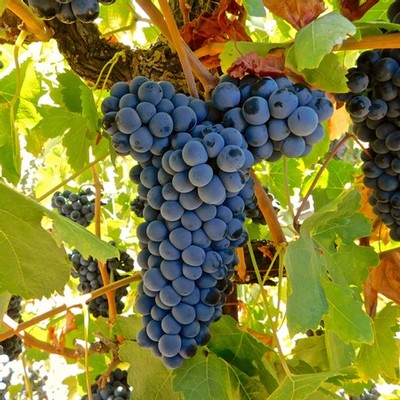 Petite Sirah (a.k.a. Durif) - Syrah x Peloursin
Phoenix – Bacchus ([Silvaner x Riesling] x Müller-Thurgau [Riesling x Madeleine Royale]) x Villard blanc (Le Subereaux x Siebel 6468)
Pinot blanc (a.k.a. Weissburgunder; Klevner)
Pinot gris (a.k.a. Pinot grigio; Grauburgunder; Ruländer)
Pinot Meunier (a.k.a. Schwarzriesling)
Pinot noir (a.k.a. Spätburgunder; Blauburgunder)
Pinotage - Pinot noir x Cinsaut
Piquepoul (a.k.a. Picpoul blanc)
Primitivo (a.k.a. Zinfandel)
Prinzipal – Geisenheim 323-58 (Siebel 7053 x Riesling) x Ehrenfelser (Riesling x Silvaner)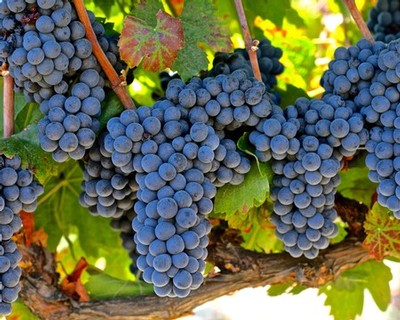 Räuschling
Regent - (Silvaner x Müller-Thurgau) x Chambourcin (unknown Seibel based hybrid)
Ribolla Gialla
Rieslaner - (Silvaner x Riesling)
Riesling
Rondo – Zarya Severa (Vitis amurensis x Malingre Précoce) x St. Laurent
Rotberger - Trollinger x Riesling
Roter Traminer (a.k.a. Savagnin Rose)
Roter Veltliner (a.k.a. Roter Muskateller)
Rotgipfler
Roussanne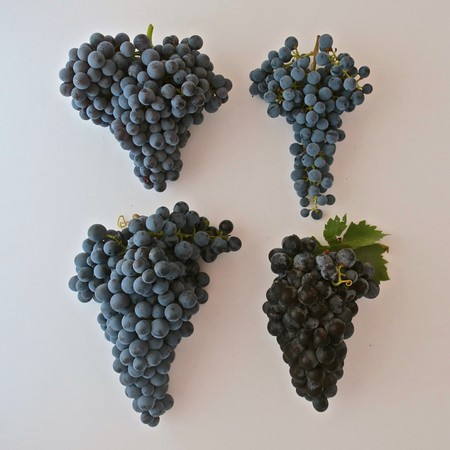 Cluster morphology comparison of Southern French (i.e. "Rhône") grapes grown in Lodi: (top, from left) Grenache and Syrah; (bottom, from left) Mourvèdre and Cinsaut)
Sangiovese
Sauvignon blanc (a.k.a. Sauvignon; Fumé blanc)
Sauvignon Musqué (a.k.a. Sauvignon blanc)
Scheurebe - Riesling x unknown
Schönburger - Pinot noir x (Chasselas x Muscat Hamburg)
Sémillon
Siegerrebe - Madeleine Angevine (Madeleine Royale x Précoce de Malingre) x Gewürztraminer
Silvaner (a.k.a. Sylvaner)
Sirius - Bacchus ([Silvaner x Riesling] x Müller-Thurgau [Riesling x Madeleine Royale]) x Seyve Villard 12-375
Souzão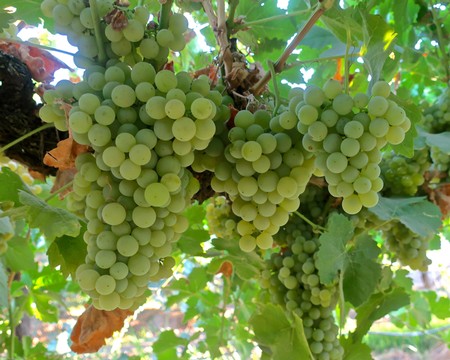 St. Laurent
Saint-Macaire
Sultana (a.k.a. Thompson Seedless)
Symphony - Muscat of Alexandria x Grenache gris
Syrah (a.k.a. Shiraz)
Tannat
Tempranillo (a.k.a. Tinta Roriz; Tinta de Toro; Tinta Fino; Valdepeñas)
Teroldego
Tinta Amarela (a.k.a. Trincadeira Preta)
Tinta Cão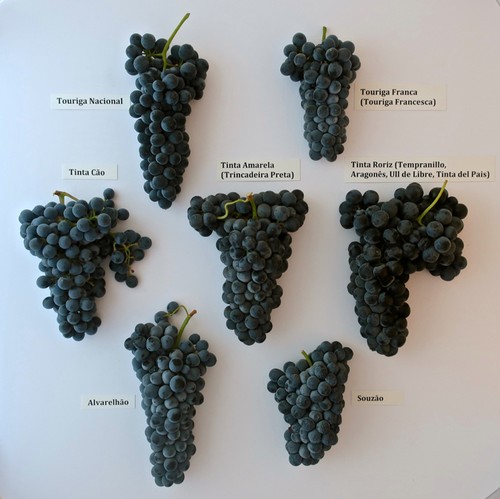 Tokay (a.k.a. Flame Tokay; Ahmer Bou'Amer)
Torrontés
Touriga Francesa (a.k.a. Touriga Franca)
Touriga Nacional
Traminer (a.k.a. Savagnin)
Trollinger (a.k.a. Schiava)
Verdejo
Verdelho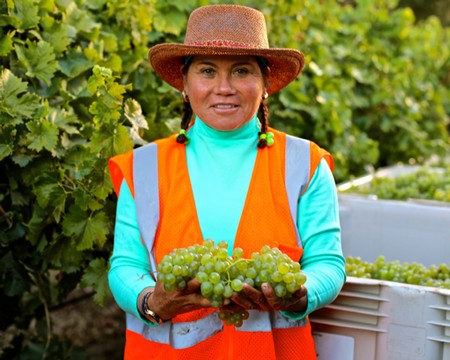 Vermentino (a.k.a. Rolle; Pigato; Favorita)
Viognier
Würzer - Gewürztraminer x Müller-Thurgau (Riesling x Madeleine Royale)
Xarel-lo
Zinfandel
Zweigelt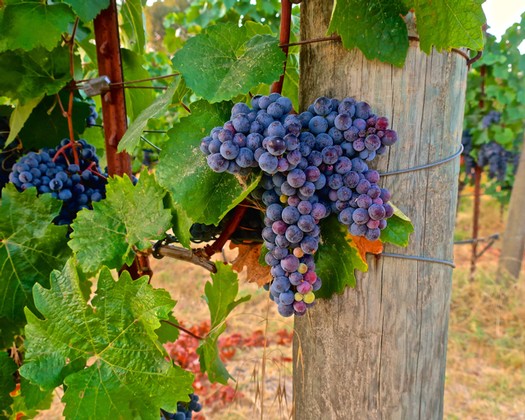 Comments