Letters from Lodi
An insightful and objective look at viticulture and winemaking from the Lodi
Appellation and the growers and vintners behind these crafts. Told from the
perspective of multi-award winning wine journalist, Randy Caparoso.

September 19, 2019 | Randy Caparoso
What we learned from two Lodi vs. Europe blind tastings with visiting sommeliers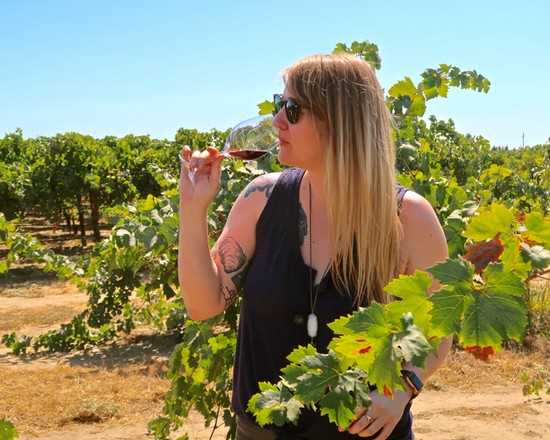 One of our endeavors during the four days last week when visiting sommeliers selected by SommFoundation explored the Lodi Viticultural Area was to find out where they thought Lodi grown wines fit with the wines of the rest of the world. So we did this in a way that sommeliers love best: blind tasting.
We conducted two blind tastings on two separate days, one comparing Lodi white wines with classic whites from Europe, and the other comparing Lodi vs. European reds. The purpose was not to demonstrate who makes "better" wines. Heck, here in Lodi we can't even decide where you get the "better" Lodi wines – the ones grown on the east side of the railroad tracks running down the middle of Lodi, or the ones grown a few feet away on the west side.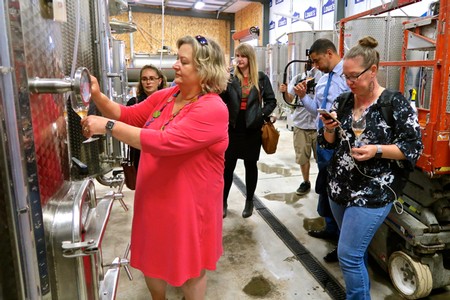 What is interesting is that you find distinctive wines from virtually any place where winegrowers are working diligently – particularly to produce wines that are expressive of where they are grown. That goes for Lodi and the rest of California, Canada, Australia, New Zealand, South America, South Africa, and of course, in Europe where the concept of terroir expressive wines (that is, wines prioritizing a "sense of place") began.
Mother Nature always has the first and last say on how artisanally crafted wines taste. Still, blind tastings also have a way of gauging where wine regions are at in terms of their approach to wine production. All regions go through phases or trends, where grower and winemaker choices have a direct impact on sensory qualities of their wines. This may be especially true for evolving wine regions like Lodi, or a Napa or Walla Walla Valley, but it's also true in far older wine regions in France, Spain, Italy, Greece, etc.
In last week's blind tastings, we presented rounds of two wines each to our nine guest sommeliers. To make it challenging, we did not tell them the grape varieties they were tasting. Rather, we forced them to use their experience in the deductive process of blind tasting involving a methodical evaluation of color, appearance, aroma, body, dryness/sweetness, acidity, tannin, etc. While this can make blind tastings something of a guessing game (trained sommeliers are very good at that), it also forces them to make qualitative judgements without preconceived notions.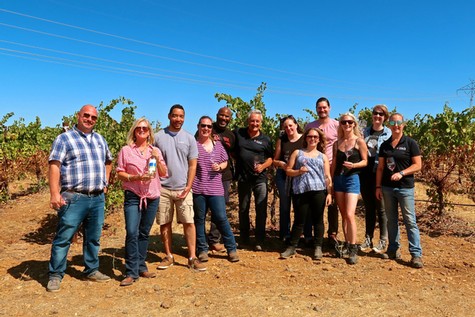 For instance, if we were to tell the sommeliers that they are tasting two Albariños, one from Europe and one from Lodi, the first thing they would do is look for sensory "markers" indicating whether a wine is from Lodi or Europe. This increases the chances of the comparison becoming a "contest" of which wine is better (the opposite of what we were looking for). But by not knowing the varietal, you are forced to judge each individual wine on the basis of its own qualities first – things like freshness, balance, or overall deliciousness – and only after that, look for sensations to help identify the wine.
For the most part, most of our visiting sommeliers arrived at a consensus of each wine type that they tasted after a little discussion and going through the process of elimination – at which point they were almost always able to distinguish which wine came from Lodi and which wine was European. Our ultimate goal, of course, is that wine professionals like trained sommeliers at least consider Lodi grown wines as "belonging" in the company of classic European wines made by established or prestigious producers. But that's something left up to every individual.
That said, notes from our blind tasting rounds: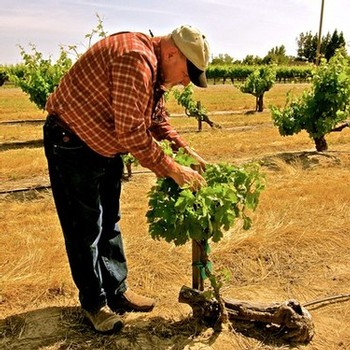 • Lodi: 2018 Klinker Brick Winery, Lodi Albariño
• Europe: 2017 Adegas Morgadío, Rías Baixas Albariño (Spain)
In this comparison, the Klinker Brick showed whiffs of tropical fruit and flowers, and then a good combination of bone dryness, lemony tartness, slight minerality and faint peachiness on the palate. The Morgadío Albariño led with a flowery note and lower key fruit, and a tad more minerality in its tart, lean yet silky textured taste.
Conclusion: Both whites demonstrated ample amounts of the natural acidity that appeals to Albariño aficionados. While the tropical fruit qualities helped identify the Klinker Brick as "Lodi" in this comparison, the sommeliers were not surprised that it demonstrated just as much of the long, sleek, moderate alcohol and mineral toned qualities as the Spanish iteration of this Spanish grape, given their exposure to a number of other Lodi grown Albariños during their visit.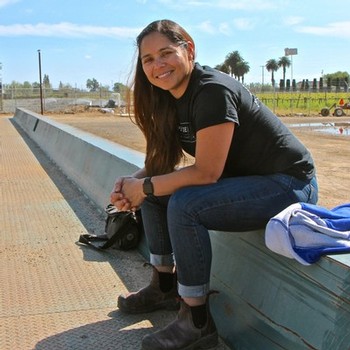 • Lodi: 2018 Peltier Winery, Lodi Sauvignon Blanc
• Europe: 2018 Patient Cottat, Sancerre Anciennes Vignes (France)
There was a pungent herbal/weedy/gooseberry-like note in the Peltier that recalls Sauvignon blancs grown in New Zealand rather than in France, but also a fresh melon note, citrus/lemon acidity and medium bodied, crisp edged feel common to the varietal nearly everywhere it is grown to good effect. While definitely there, the varietal herbiness (more like a green leafiness than vegetal herbiness) was more of a subtle grace note in the melon and citrus flower scented Cottat Sancerre, and there was a more notable mineral quality in its light-medium bodied, lip smacking, citrus-edged taste.
Conclusion: Although the Cottat was very "Sancerre" in its minerally feel and the Peltier more "New Zealand" inspired in its aromatic profile, the encouraging part of the comparison is that Lodi, evidently, can produce a pure (i.e. non-oaked) style of Sauvignon blanc with the fresh natural acidity found in the best examples of this grape in the world, and without the overweening fruitiness (or residual sugar, which is a stylistic choice on the part of wine producers) that is still common to many American interpretations of this varietal.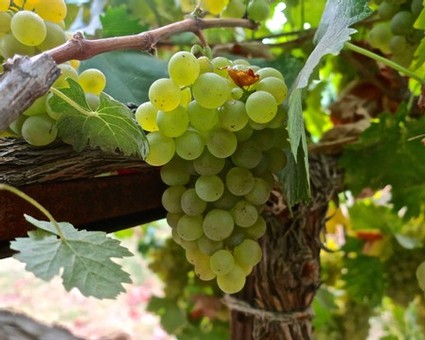 • Lodi: 2017 Fields Family Wines, Delu Vineyard Alta Mesa-Lodi Vermentino
• Europe: 2017 Yves Leccia, Patrimonio Blanc, Corsica (France)
Fields Family takes a contemporary approach to the Vermentino grape by picking early enough to retain an edgy taste of natural acidity and a moderated weight of alcohol, and they succeed with their lean, deliberately unfruity, lemony crisp varietal rendering, making subtle impressions of mineral/stoniness on the palate. Leccia's Patrimonio from Corsica, on the other hand, was even more minerally – verging on brininess, or sea salt – as well as even brighter in its lemony crispness, while showing a wildflower perfume also missing in its Lodi counterpart.
Conclusion: This is another case where a Lodi iteration of a varietal at least falls within the ballpark when compared to a classic European example. In all likelihood, a Lodi Vermentino will never have the briny minerality or scent of flowering wild scrub (think blossoming sagebrush or rosemary) of a Corsican Vermentino because those qualities are indigenous to that particular island. Nonetheless, the Fields Family Vermentino's taut, acid driven sense of balance is on point, and the thought process of suppressing obvious fruitiness to allow mineral sensations to push through is also a positive sign of the growing maturation of Lodi winegrowing.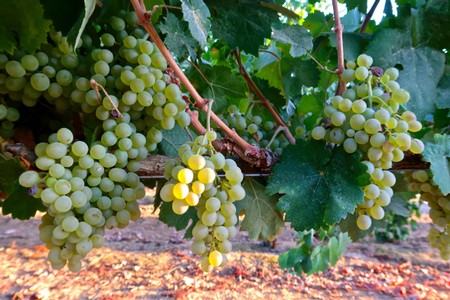 • Lodi: 2018 Acquiesce Winery, Lodi Ingénue (35% Grenache blanc/35% Clairette blanche/20% Bourboulenc/10% Piquepoul)
• Europe: 2017 Château La Nerthe, Châteauneuf-du-Pape Blanc (France – 40% Grenache blanc/30% Roussanne/15% Clairette blanche/15% Bourboulenc)
In this round, it did not take the sommeliers long to figure out that they were tasting blends of white wine grapes, rather than one varietal; and once they did that, they picked up on the chances that these were "Châteauneuf-du-Pape Blanc" blends. The Acquiesce came across as firm, zesty, and bone dry, while teeming in lavender/violet/mineral notes transitioning to flinty qualities on the palate. The pale gold (in contrast to the clear straw-gold of the Acquiesce) of the Château La Nerthe betrayed a differing style – partial aging in oak barrels, as opposed to the Acquiesce's pure, reductive (i.e. without exposure to oxygen) approach of keeping wine exclusively in stainless steel tanks – while the French white's floral/lavender nose transitioned into a slightly fleshy yet crisp, lively, long and minerally taste, with a flintiness similar to what was found in the Acquiesce.
Conclusion: While, after a little discussion, it was easy enough for the sommeliers to pick out the French vs. Lodi identities of these whites based upon color, texture and differences evident in winemaking style; although both wines clearly demonstrate the movement towards increased usage of two grapes, Clairette blanche and Bourboulenc, in their respective regions, resulting in crisper, notably more minerally and "fresher" styles of these "Rhône" style white blends (the use of even higher acid Piquepoul in the Acquiesce accentuating these qualities even more). In a recent conversation, Jason Haas of the half-French owned Tablas Creek Vineyard in Paso Robles has commented that this has been happening in Châteauneuf-du-Pape in response to impending global warming – the increased usage of higher acid grapes to complement the softer, rounder sensations associated with Roussanne and Grenache blanc. In Lodi, the motivation may be different – the usual pursuit of new and interesting wines – but the results are no less interesting.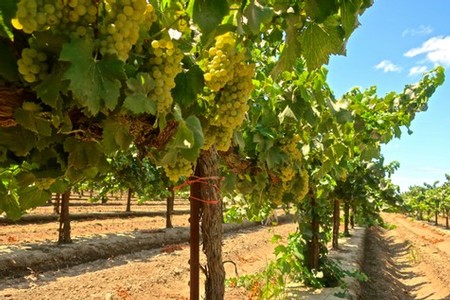 • Lodi: 2018 Harney Lane Winery, Scottsdale Vineyard Mokelumne River-Lodi Chardonnay
• Europe: 2017 Domaine Larue, Saint-Aubin 1er Cru "Sous Roche Dumay" (France)
Theoretically, the proposition of comparing a Lodi grown Chardonnay with one from Burgundy in France is preposterous. We agree, but the goal was to see how far this sun-soaked California region is progressing towards a more terroir focused varietal, as opposed to oaky or stylistic, interpretation of this popular category, generally viewed as a tabula rasa (made with a "we-can-do-whatever-we-like-with-it" attitude) within the industry. As it were, in the Harney Lane there was a surprising amount of lemon and stony notes in proportion to honeyed apple fruit, and the vanillin note of oak was negligible to the point of being barely noticeable, while palate sensations were lemony crisp, long, moderate in weight and laudably svelte in feel. Accordingly, there were equal, classically defined proportions of mineral, lemon/apple and smoke-of-oak in the Larue Saint-Aubin – in fact, notably more oak qualities than in the Harney Lane – although in terms of sheer length of crisp, stony/mineral sensations and effortless grace to its medium-weight body, the Saint-Aubin probably "wins" (even if this was not a contest) by most people's standards of finesse and grace. Beautiful white Burgundy.
Conclusion: It is possible for Lodi to produce a fresh, finely balanced Chardonnay – it need not be, as commonly believed, something fat, fruity, obvious or awkward because of the region's warm Mediterranean climate. Should it taste like French white Burgundy, or a Chardonnay from Los Carneros or Santa Barbara? Of course not. Point being, a Chardonnay consistently showing off the bright, honeyed, sun-soaked qualities natural to Lodi grown fruit can be presented with its own sense of balance and restraint, and the more it's done the more likely the region can become better known for it.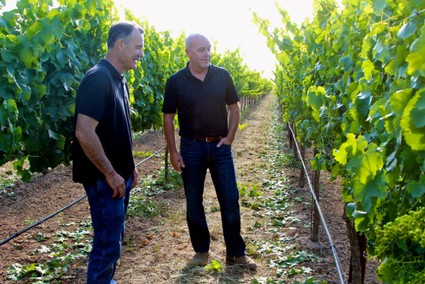 • Lodi: 2015 McCay Cellars, Abba Vineyard Mokelumne River-Lodi Grenache
• Europe: 2015 Domaine Les Pallières "Terrasse du Diable," Gigondas (France – 90% Grenache/5% Mourvèdre/5% Clairette blanche)
In the first round of our red wine blind tasting, the sommeliers were challenged by the fact that, typical of Lodi grown Grenache reds, the McCay (a 100% Grenache) was fragrant with sweet black pepper spice and a somewhat floral black cherry perfume, leading some of them to mistake this for a Syrah or other black skinned spice varieties despite the wine's soft tannin and easy structuring (typical of Grenache based reds around the world). Les Pallières' Gigondas was just as spicy, while being markedly more intense in its violet laced cherry perfume (perhaps owing to its blending with Clairette blanche, a white wine grape of the Rhône Valley) as well as garrigue (the scent of wild vegetation surrounding vineyards, typically giving wines from Southern France aromas suggesting combinations of lavender, sage, rosemary, thyme or juniper). While more svelte than girthy, the Gigondas was also beefier in tannin and body than the McCay; its meatiness undoubtedly enhanced by the blending of Mourvèdre (even if just 5%), although more than likely because, well, it's Gigondas, not "Lodi."
Conclusion: Lodi grows Grenache that tends to be spicier in black pepper (veering towards clove and mace) qualities than Grenache grown elsewhere in California, while also softer and more pliant in feel. We still don't know exactly why – it turns out this way whether it's grown in Lodi's deep, flat sandy loams or on Lodi's shallower, gravelly clay soils, and whether it's native yeast fermented or inoculated with yeast (leading to the conclusion that it's more of a response to climate). But will it ever be "Gigondas?" Wishful thinking, because Gigondas style Grenache can only be grown in Gigondas. Clearly, though, Lodi can grow its own brand of interesting Grenache – especially for those who love red wines with gentle, rounded tannins and sweetly spiced perfumes.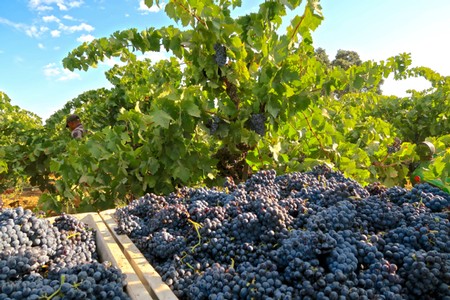 • Lodi: 2017 Michael Klouda Wines, Mokelumne River-Lodi Carignane
• Europe: 2016 Domaine d'Aupilhac, Mont Baudile Rouge "Le Carignan" (France – old vines planted in 1900)
Although Lodi boasts a number of ancient vine plantings of Carignan over 100 years old, the Michael Klouda is sourced from spur-pruned, vertical cordon vines more on the order of 40-something years old (still older than the average vineyard in, say, Napa Valley, which is about 17, 18 years). The wine is bright in Bing cherry fruit tinged with earthiness and a peppery spice, while unimpeded by oak in its full yet rounded, saturated feel, bolstered by a good but not excessive amount of tannin. The d'Aupilhac's aromatic profile is darker in fruit (black cherry veering into blackberry), with a cassis-like concentration as well as a good, earthy dose of garrigue (in this case, more like animal/game-like scent of rosemary when rubbed between fingers), and the wine is meaty in tannin and fleshy in its full bodied feel.
Conclusion: The sommeliers found this round to be as challenging as the Grenache comparison, mostly because sommeliers in fine restaurants don't deal a lot with Carignan (admittedly, this Mediterranean grape does not have the prestige of, say, Syrah or even Mourvèdre, even though Carignan was once the most widely planted grape in California). Nonetheless, once they were given the identity of the grape, they had no problem identifying the garrigue markers of the French wine, although the dusty earth tones of the Lodi grown Carignan was still a little puzzling. If anything, this tells us a little more exposure for this underappreciated heritage variety is probably in order.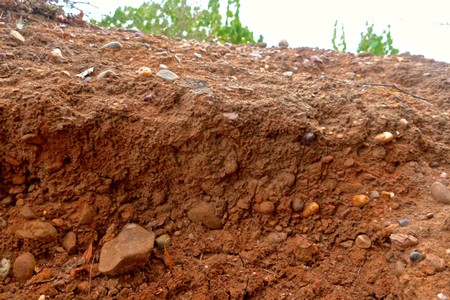 • Lodi: 2016 Bokisch Vineyards, Sheldon Hills Vineyard Sloughhouse-Lodi Monastrell
• Europe: 2015 Domaine de Terrebrune, Bandol Rouge (France – 85% Mourvèdre/Grenache/Cinsaut)
Monastrell is the Spanish name for Mourvèdre (also known as Mataró in Portugal as well as California), which is the dominant grape in red wines from France's legendary Bandol appellation. There was a ripe, warm climate fruit tone in the Bokisch's dark berry profile, stretching out on a broad, full bodied palate with densely textured flavors punctuated by slightly sinewy, meaty tannin. The ripe fruit aroma in the Terrebrune Bandol, on the other hand, was tinged with floral/violet notes and a mix of black and red berry qualities encased in a touch of leather – these qualities maintaining a bright, lithe poise despite dense texturing, a full body and that notable smack of leather.
Conclusion: Bandol is Bandol, always enthralling in its own incomparable way. But although just recently planted (2014), Bokisch's vines in the cobbly/rocky red clay hills of Lodi's Sloughhouse AVA are already showing a penchant for the type of dense, meaty texturing long associated with the red wines of Bandol – certainly, a different sort of "animal" from the somewhat softer textured Mourvèdre based reds grown in the sandy loams of Lodi's more historical Mokelumne River appellation. We are all watching and waiting to see how this develops.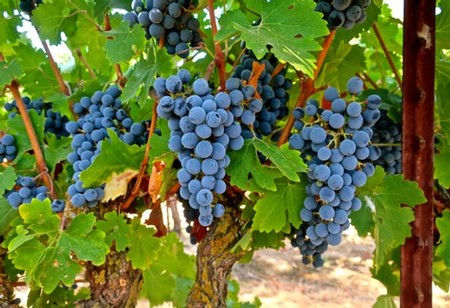 • Lodi: 2015 Klinker Brick Winery, Farrah Grand Reserve Mokelumne River-Lodi Syrah
• Europe: 2017 Lionel Faury, Saint-Joseph Rouge (France)
Faury's Syrah based Saint-Joseph absolutely soared with violet and berry liqueur-like fruit, filling the palate with dense yet bright, floral scented flavors despite a restrained, medium to medium-full weight of body and tannin. The Klinker Brick was just as intense in black, concentrated fruit but was not as flowery in its perfume, and was also more aggressive in its toasty/vanillin oak component, which added further to the wine's bigger body and denser tannin structure.
Conclusion: This was a case where you could have put any number of California's top Syrahs in this comparison with this particular Saint Joseph, and they still would have across as riper, laudably intense but also clunkier. For that matter, you could have put a number of other Syrah based reds from France next to the Faury, and the comparison would have been similar. All the same, the one aspect of the Klinker Brick that stood out the most was its emphasis on oak, which certainly enriched the wine but clearly marked it as the "Californian" in this blind tasting match.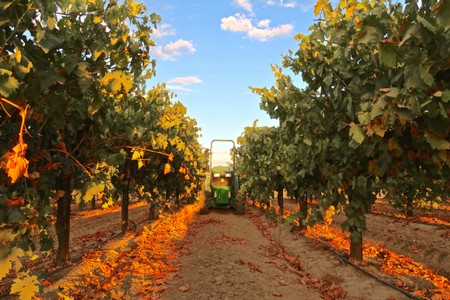 • Lodi: 2015 Fields Family Wines, Lot 13 Vineyard Mokelumne River-Lodi Tempranillo
• Europe: 2015 Numanthia Termes, Toro (Spain)
This was a fun match of two 100% varietal reds, both focused squarely on the more intense and pure (i.e. fruit rather than oak driven) sides of Tempranillo's varietal profile – particularly black cherry and meaty texturing. The Fields Family maintains its fruit driven character through a deep and supple feel, showing an intensity with a sense of restraint (very "European," if you will). If anything, the Numanthia, just as "big" and bright as the Fields Family, was even jammier in its fruit profile, while also coming across as more generous in body and tannin, even if brought into balance by round, opulent sensations.
Conclusion: Sturdy, well balanced examples such as Fields Family's continue to show that Tempranillo seems to be perfectly "at home" in Lodi's warm Mediterranean climate, doing equally well in deep sandy loam soils (where the Fields Family is sourced) and more shallow gravelly clay loams, resulting in both a good volume of varietal aromas as well as potential for sturdy tannin structuring recalling the best Tempranillo based reds of Spain (without, of course, being the same or imitative).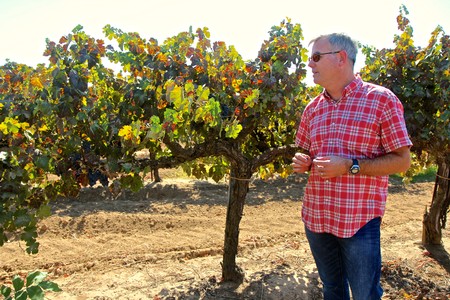 • Lodi: 2017 St. Amant Winery, Jahant-Lodi Barbera
• Europe: 2016 Michele Chiarlo, Le Orme Barbera d'Asti (Italy)
This was a comparison of two reds that proved to be very "correct" in both the varietal fruit profile of Barbera and in the terroir related aspects of their respective origins, but with a tipping point brought on by one the wines' allegiance to traditional style. That is to say, the St. Amant from Lodi sang purely of the black cherry/berry quality of the grape – penetratingly bright and focused in the nose – which translated into full yet zesty edged, meaty yet smooth, svelte sensations on the palate. The Chiarlo echoed the St. Amant in its intensity of black cherry/berry fruit and sharply etched, full yet svelte and meaty textured body, but was also tinged with a pungent, leathery note of Brettanomyces – a yeast that can give wines leathery and sometimes band-aid or "sweaty saddle"-like aromas and flavors, often found in European wines adhering to traditional methods of vinification. Why are many European wine producers unafraid of allowing Brettanomyces play a part in the "complexity" of their wines? It's a style choice, plain and simple, and it's what makes the wine world go round.
Conclusion: Even if somewhat unsung, Barbera has proven to be one of the better adjusted grapes to Lodi's warm Mediterranean climate. The grape's intrinsic tannin and acidity finds a good balance in the sandy loam or sandy clay soils of the region, and it loves the heat. The St. Amant remains a pure example (among a number of others). But does it meet the standards of, say, the Barbera based reds of Northern Italy's Piemonte region? Both acid levels and potential for strong phenolics and tannin are, undoubtedly, never quite as high in Lodi as it is in Italy; but they are still high enough to make Barbera a sturdier and zestier red wine than your typical (for example) Zinfandel, Carignan or Petite Sirah. In Lodi, it is a rare grape (like a Charbono, Tannat, or Dornfelder) that packs the punch of Barbera, yet still retains a sense of finesse and balance. More love for Barbera, please!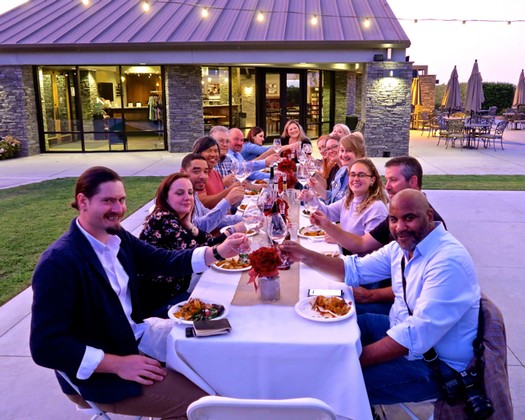 Comments