Letters from Lodi
An insightful and objective look at viticulture and winemaking from the Lodi
Appellation and the growers and vintners behind these crafts. Told from the
perspective of multi-award winning wine journalist, Randy Caparoso.

September 16, 2019 | Randy Caparoso
Visiting sommeliers experience Lodi's unique diversity and share thoughts on how to get the word out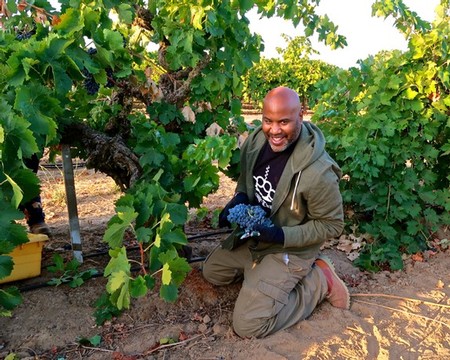 Last week – from Sunday, September 8 to Thursday, September 12 – eight sommeliers selected from across the U.S. and Canada by the SommFoundation (a scholarship program associated with the Guild of Sommeliers) – visited Lodi wine country for a full-immersion course. These eight wine professionals were selected from a list of over 60 applicants.
One local sommelier, Benjamin Caldwell of Lodi's Wine & Roses Hotel & Spa (relatively new to the region, Mr. Caldwell moved to Lodi earlier this year), also joined the group in their study of the appellation during this fortuitous time frame – the middle of the 2019 harvest!
Following their study, we queried the sommeliers about several things. First, what they learned about the Lodi winegrowing region that they didn't know prior to their trip. Second, what interested them the most, particularly in terms of their respective jobs as restaurant wine buyers or consultants. And third, what their thoughts are on how the Lodi wine industry can reach out to other wine professionals around the world in an effective way.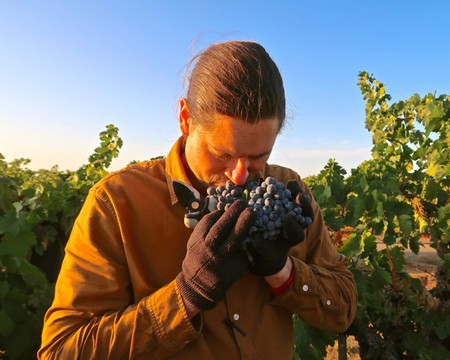 The first thing mentioned by Nicholas Gaspar, a sommelier at Ella Elli in Chicago, was: "90% of what I thought I knew about Lodi turned out to be only 10% of what is actually going on there. Old vine Zinfandel is just the tip of the iceberg."
Mr. Gaspar adds that, "It seems like the quality and diversity of the wines being produced there is the best kept open secret in the wine industry." Louis Anthony Chico, who buys the wine for Downtown Disney's Paddlefish in Orlando, digs down a little deeper, suggesting that one of the big issues for sommeliers is precisely the fact that the things that distinguish Lodi from a quality perspective is indeed a big "secret," especially among people in the wine trade who buy and sell the wines that get in front of consumers.
Says Mr. Chico, "Before I came on the trip I knew very little about Lodi. I knew they had Zinfandel. My first experience with a different varietal came when I purchased a bottle of Earthquake (by Michael David Winery) Petite Sirah. I knew Lodi has a Mediterranean climate, and that's about it."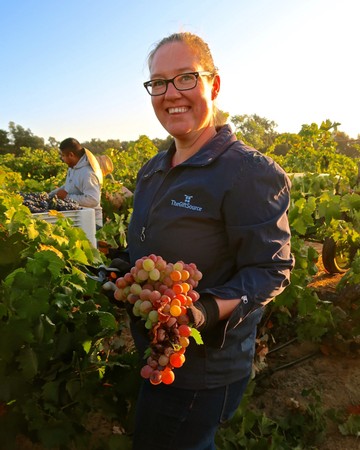 Lea Anne Ingendorf of Fort Worth, Texas' popular Reata Restaurant chimes in by saying, "I've been an ambassador for Lodi for a long time, but as a result of this trip all I can say is, 'Holy crap, you have a lot of grapes, making all kinds of wines, and they're all delicious!' Who knew?"
Krista Church, the sommelier at EBERLY in Austin, adds: "The white wines of Lodi completely blew me away. They have great acidity, they're super-fresh, and the quality is exceptional. Hey, all of us are wine nerds, but we hadn't heard about any of this until this week. The good news is that all of our concepts are pretty much farm-to-table, and these wines from Lodi fit right in with their freshness and authenticity. The bad news is that everyone thinks Lodi is only about big, overripe wine that you can buy for a cheap price. It seems to me that Lodi has one foot in the door. It's now a matter of getting the other foot into the other side."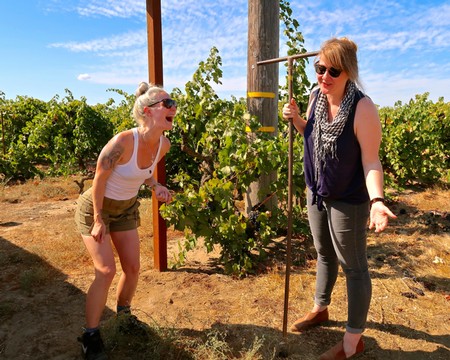 Alison "Ali" Martin, a Chicago sommelier formerly of Angry Pig Tavern (just recently closed, while Ms. Martin currently transitions to a new home), summarizes her experience by saying: "The opportunity to meet the amazing people making these amazing wines that, frankly, I had no idea about, was eye-opening. Forget big, fruit-basket Zinfandels, these were some of the most elegant wines I've ever had!"
Mr. Chico adds, "There are more wine varietals grown in Lodi than I could count – Viognier, Barbera, Tempranillo, Kerner, its all here, and the acid and minerality levels vintners are able to be achieve with these grapes are remarkable, challenging the rigid notion of who should grow what and where."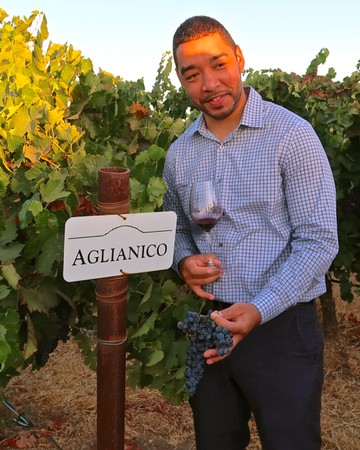 Chico elaborates further on the disconnect between what the wine trade knows about Lodi and what is actually happening in Lodi by saying: "When you take an exam with the CMS (i.e. Court of Master Sommeliers), it is important to know the 'classic' wines of the world, memorize what they taste-smell-look like, know where they are grown. So I think Zinfandel should continue to be a focal point with Lodi. There are definitely distinctive terroir expressions (i.e. a sense of place, translated into resulting wines) in Lodi's finest Zinfandels that should definitely be promoted."
Chico also believes that the promotion of the fact that Lodi has multiple AVAs (i.e. official American appellations) would also enhance the reputation of the region: "I think making use of sub-AVAs on labels is essential to obtaining a separation from a somewhat common perception of the public as it relates to the link between Lodi and generic or jug wines. I'm not saying 'jug wine' is bad. But establishing an identity linked with more premium quality is key. Napa Valley is famous for quality, but labels that feature Oakville or Rutherford on the label as well are trying to establish an identity for a reason – the more specific an AVA, the more serious a wine is taken.
"I think with the shrinking of the baby boomers' share of the market, there is an important younger generation that cares more about an 'experience' or 'story' behind wines. For example, a vineyard like (Harney Lane Winery's) Lizzy James can only help pull the younger generation in and separate higher quality producers from more generic brands. This also helps sommeliers do their job, since it gives them a more compelling selling point to the guest. Making a wine from the world's oldest Cinsaut vineyard (i.e. Lodi's landmark Bechthold Vineyard, planted in 1886) should mean something!"
The bottom line for Mr. Chico is being as specific as possible on labels: "Definitely make note of a significant vineyard, and know that sub-AVAs are your friends. You make wines from old vines? Then how old? I want to know! Be distinctive, and it doesn't hurt to brag about your vineyard if the grapes are being purchased by a more well known producer!"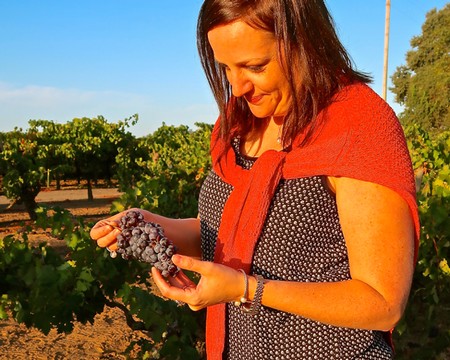 According to Lingua Vina's Margaux Burgess, who is a wine consultant based in Edmonton, Alberta, Canada: "The main reason I wanted to come on this trip was because I really didn't know much about the region other than the big brands and the history of White Zinfandel. I suspected there was more to it, but had no idea. The breadth of grape varieties, the distinctions between appellations, the variety in the wineries and styles of wines – it was an eye-opening experience!"
Burgess' thoughts on "getting the word out": "Distribution is key!" – even if it means promoting the wines of extremely small producers who don't have the means or motivation to compete out in larger marketplace with big wineries. Says Burgess, "Being able to source the smaller wineries will help us as ambassadors share what the region is really about, and create new fans that get to enjoy the smaller production and more unique wines."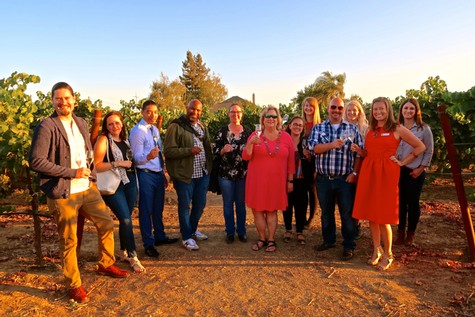 Reata Restaurant's Lea Anne Ingendorf echoed all of the visiting sommeliers' enthusiastic responses to their visit: "This was by far the most amazing experience I have ever had. We learned so much and got to be in front of amazing growers and winemakers. The experience itself also is pushing me to get started with my wine studies. We got to forge new friendships with others that are in our field, share successes and talk about things we encounter in our profession."
For Ms. Ingendorf, the opportunity to do things like pick and ancient vine planting (Jessie's Grove's Royal Tee Vineyard) at 6:00 AM and sort grapes later that morning at a state-of-the-art winery (Oak Farm Vineyards) was also priceless: "Being hands-on in the harvest gives you a new sense of what really happens. It takes a lot of manpower to hand-harvest those grapes. The science behind it is amazing, and it's not just about picking grapes. They work on their viticultural knowledge and skills all year round. What's impressive is the time and dedication of the growers, and the sense of family history felt by multi-generational farmers was amazing to see."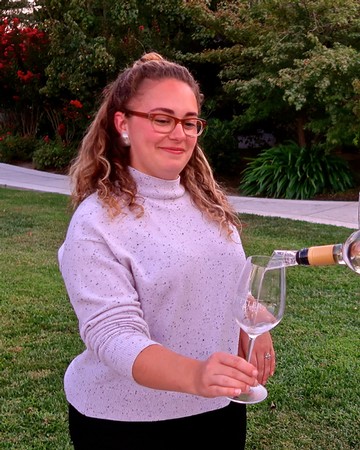 Katie Venezia came to Lodi all the way from New York, taking time off her duties as a floor sommelier at the internationally acclaiimed Gramercy Tavern. She reflects on some of the highlights of her visit – the first of which, at the start of their first full day, was a visit to the historic Bechtold Vineyard: "I had tasted Turley Wine Cellars' Bechtold Cinsaut years ago, but did quite realize what a special place this is until I got there. All the Cinsauts that we tasted in the vineyard were so alive, so bright and crunchy – a real departure from all of the Zinfandel we would go on to taste later in the day. It's hard to believe this place was a 'mystery' hidden from the rest of the world as recently as 2004.

"The highlight of the entire trip for me was our early morning visit to Royal Tee Vineyard, planted in 1889. It was my first time hand-picking grapes, and it helped put a lot of things into perspective. Unsurprisingly, this work is hard! I was paired up with a vineyard worker but gave up trying to keep up with her after the second vine. The next time I drink a bottle that was harvested this way, the impact of how hard folks work to get it to me will sit a bit differently due to this first-hand experience.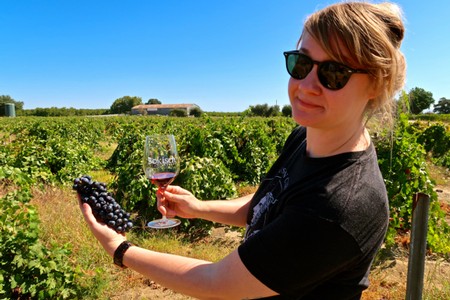 "The grower and producer that resonated the most with me was Bokisch Vineyards. It was really inspiring to hear these relative newcomers to the region tell their story of following their passion for Spanish varieties, not to mention hearing them talk about things like picking on acidity, doing massale selections (i.e. mixed clonal variations of the same grapes), and native yeast fermentation. The wines were totally unique and delicious, and the view from their winery (looking at the Bokischs' hilly Terra Alta Vineyard) didn't hurt either."
James Brim, who is the Beverage Director of City Winery in Atlanta, suggests that the challenge for the Lodi winegrowing industry is to create "demand" for their multifaceted and unique wines. "We know that people are always willing to stand in line for special products, even if they're made in small quantities. Lodi can create demand by doing more things like vineyard-designate wines with sub-appellations. Wines with a distinct style that you can't get anywhere else. Then the important thing will be to get them out into the market – never mind if the quantities are extremely limited. If you don't do this, you won't create demand for the rest of your wines."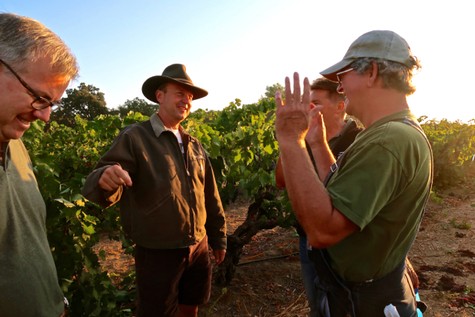 The bottom line, according to Nicholas Gaspar, is that "Lodi produces distinctive wines that clearly show the character and quality of their terroir. It's a matter of getting them into the hands of people who are looking for wines of this quality – wines with more balance and lightness. Getting famous winemakers like (Matthiasson Wines') Steve Matthiasson and Greg La Follette (of Alquimista Cellars) to make these kinds of wines from Lodi grapes is huge – awesome, so cool. Guests are looking for authenticity, and Lodi has the goods. If it remains a 'secret,' fine – I'm all about sharing secrets about the things I love!"
Adds Wine & Roses Hotel's Ben Caldwell, "My eyes are now wide open. I've always been wine/food conscious – I care more about how wine goes with food than how famous a wine is. As a result of this experience I now know Lodi makes these kinds of wines, whereas when I was a sommelier working in San Francisco I had some serious misconceptions."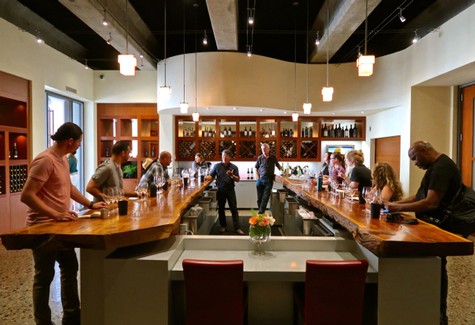 One of more underestimated aspects of Lodi, for Caldwell, is how well many of these balanced, food-friendly wines age in the bottle. "If I could ask anything of the local wineries, it would be to start library wine programs so we can show how well Lodi wines can and will age."
According to Ms. Burgess, another important factor will always be the growers and vintners themselves: "It is the people who make Lodi special. The community spirit and stories of the multi-generational farmers and winemakers are so valuable. Being able to share just a little bit of the spirit of the people who live and work in Lodi will be invaluable in getting people to realize there is so much going on!"
Adds Ms. Martin, "Getting into the harvest and getting dirty was too awesome but the people of Lodi really made the experience. I will certainly be shouting the praises of Lodi to everyone at every opportunity I can, from here on out!"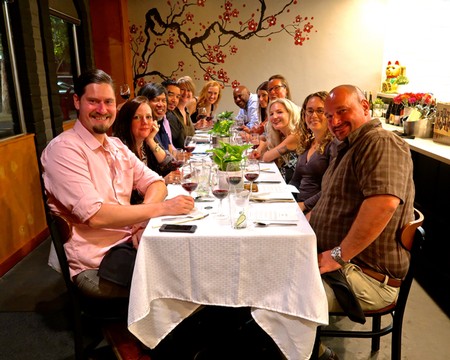 Mr. Chico agrees, saying: "The people of Lodi is another part of the story that must be told." Citing vintners that he got to know – such as members of the Mettler Family, the Bokischs, m2's Layne Montgomery, the Feltons at Klinker Brick, Markus Niggli of Markus Wine Co., Acquiesce's Sue Tipton, Craig Rous (representing Ironstone Vineyards during this visit), and Susana Vasquez of Peltier Winery – Chico tells us that "I could feel how important the trip was for our hosts," while adding, "If you visit Lodi be prepared to loosen your belt buckle because the growers and winery staff are not shy about showing off their culinary skills either. This is not to mention the local restaurants like Bubbles and Birds, Gypsy Bistro, and M Sushi Bistro in Downtown Lodi where we had incredible meals!"
Mr. Caldwell summarizes things by saying: "I can truly see how special Lodi is as an AVA. From the generational wineries to the care and attention they give to every detail that goes into making excellent quality wines while ensuring sustainable farming practices. Lodi has so much to offer to the world of wine and farming sustainability. I can't wait to see what is to come in the next 10 or so years of Lodi wines!"
A few more snapshots of the many illuminating moments during the SommFoundation sommelier visit to Lodi: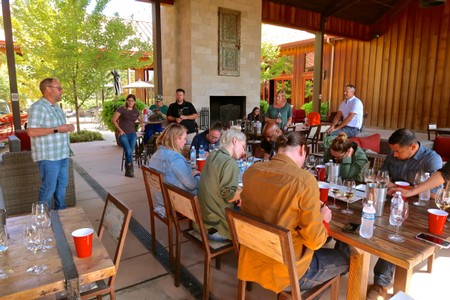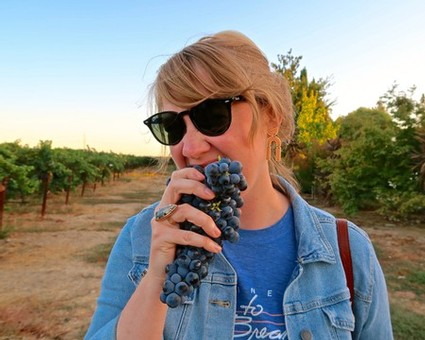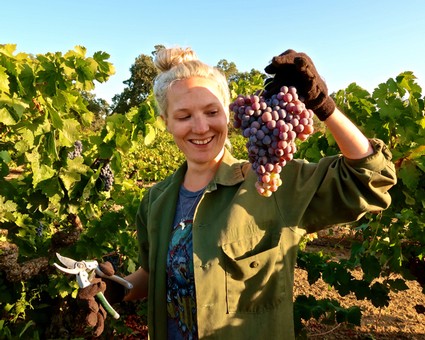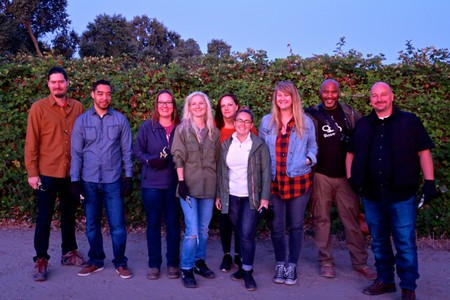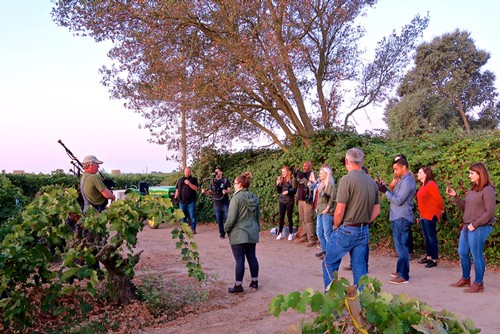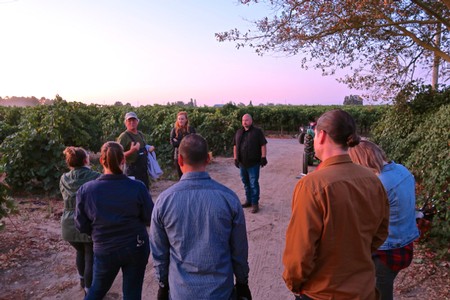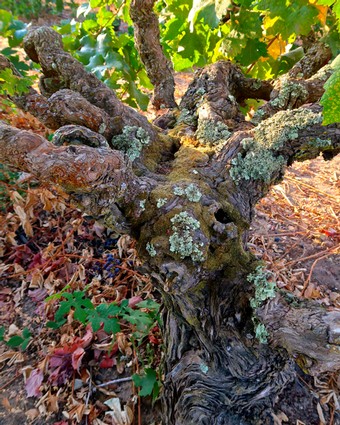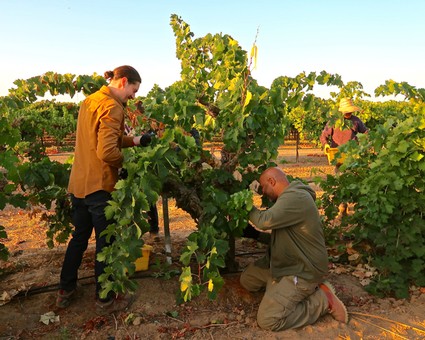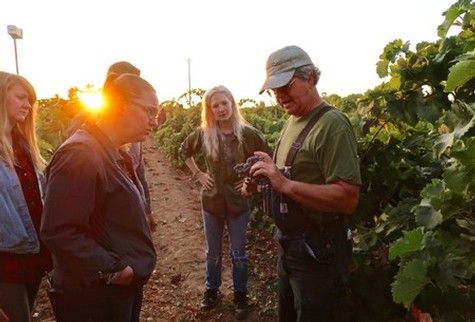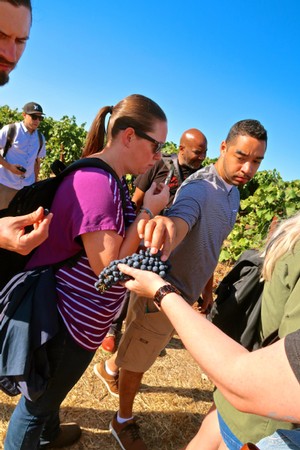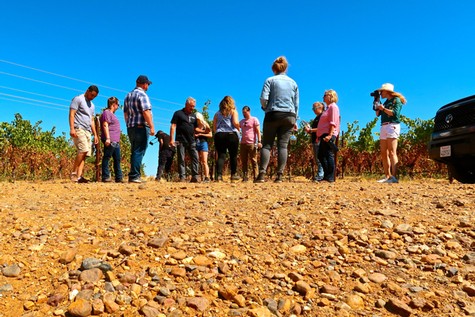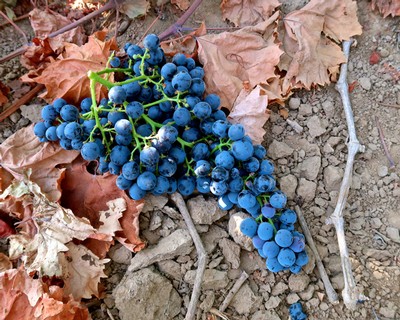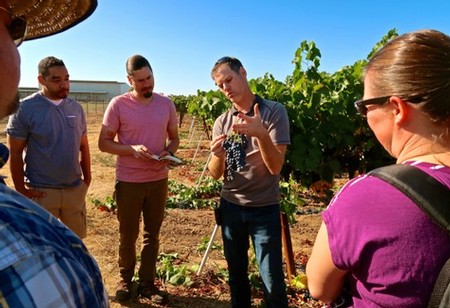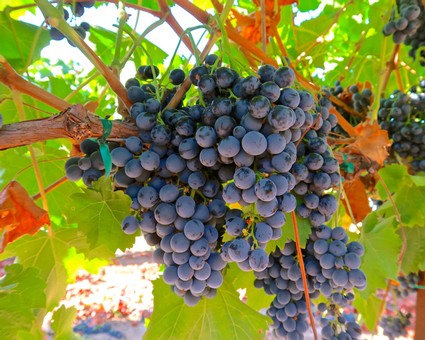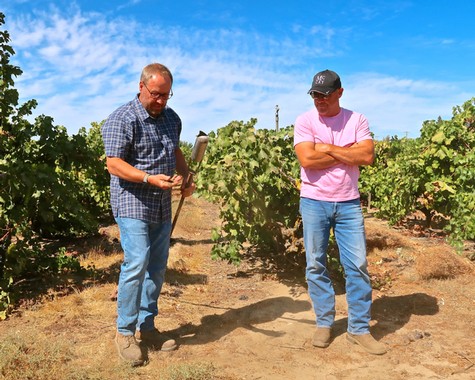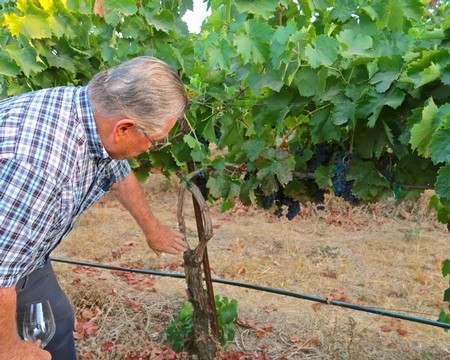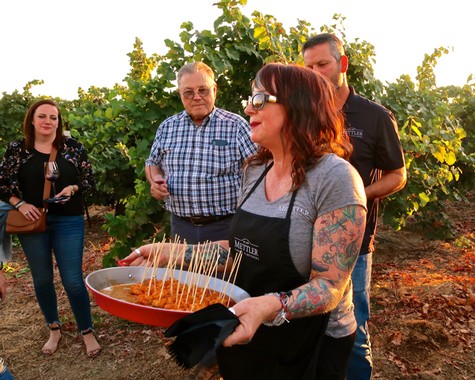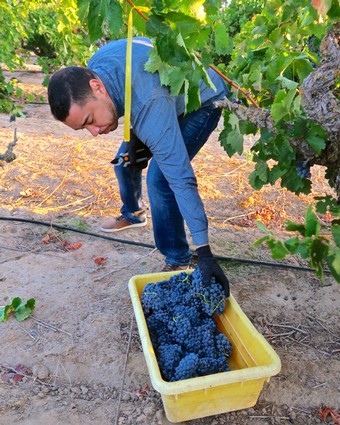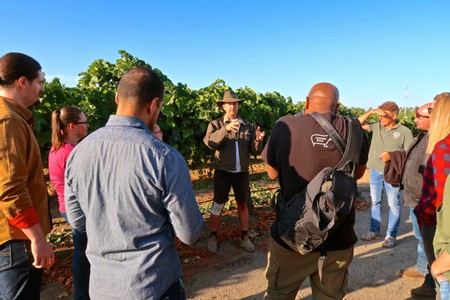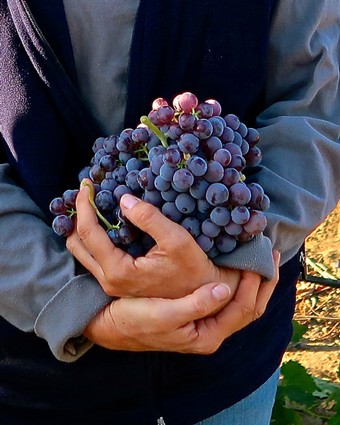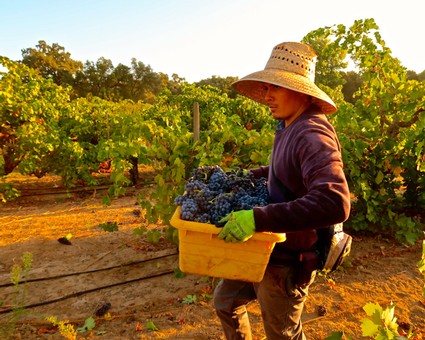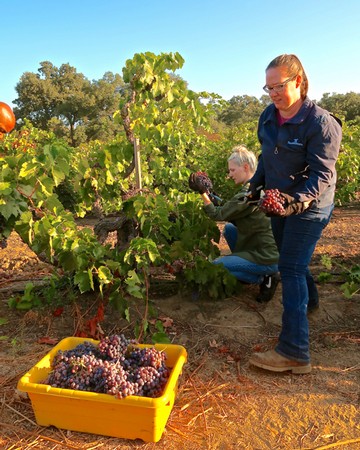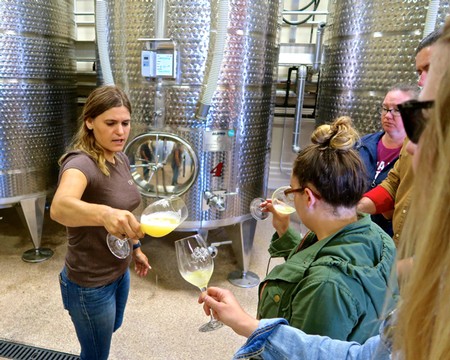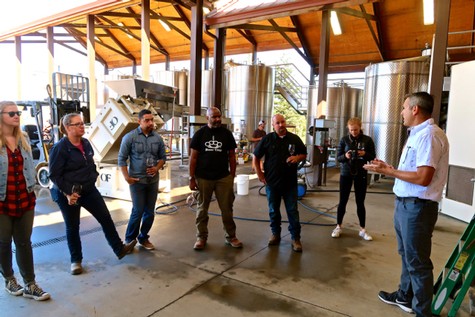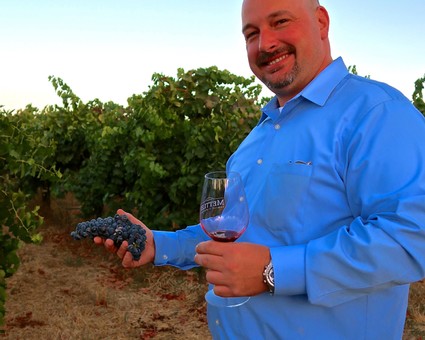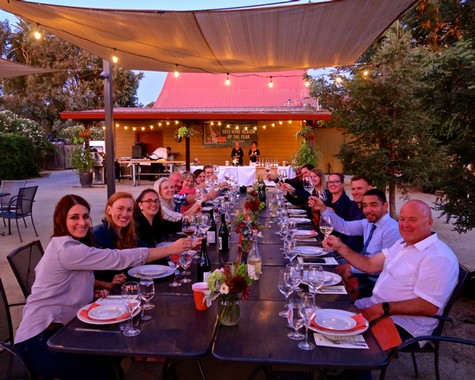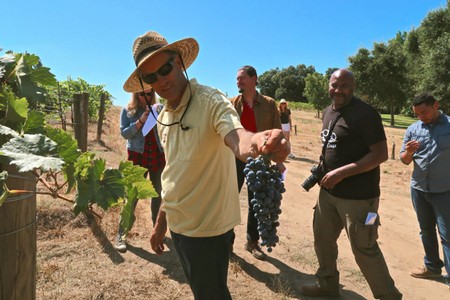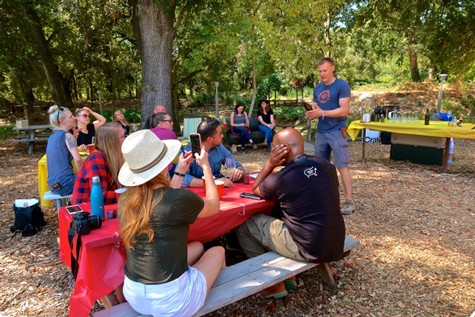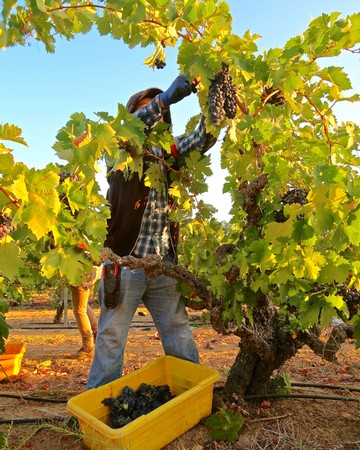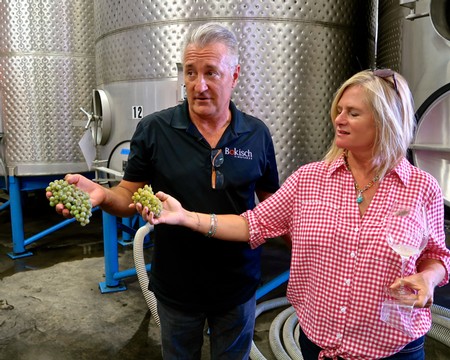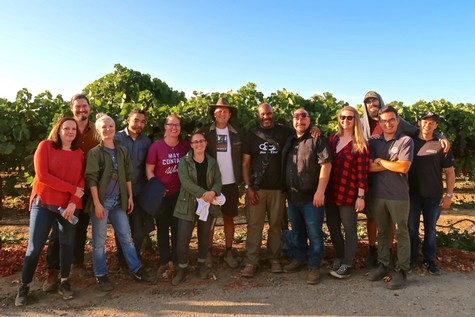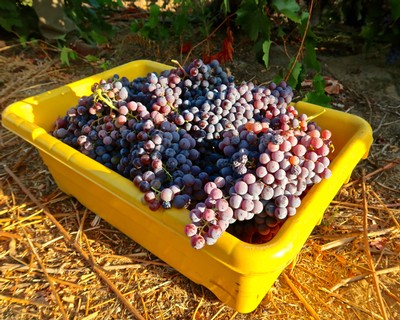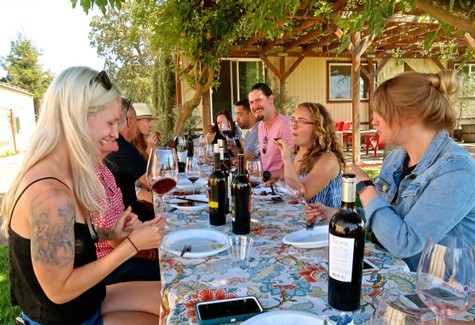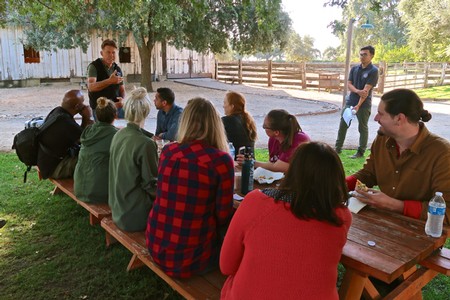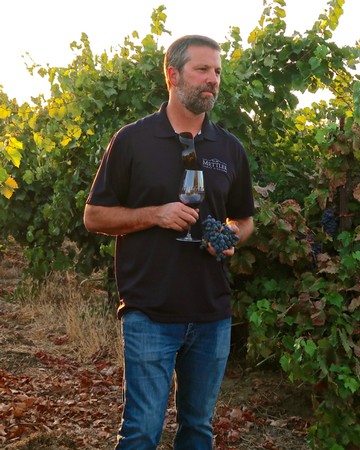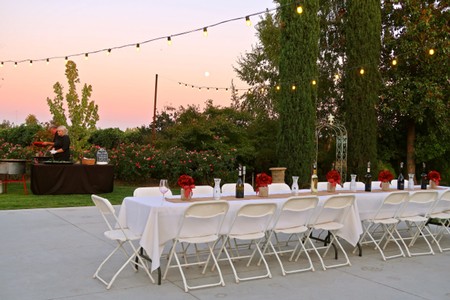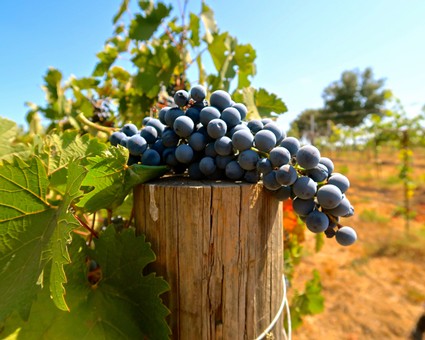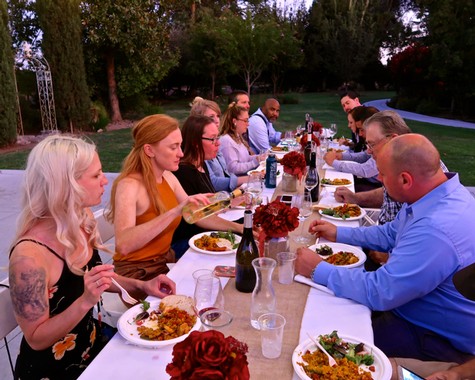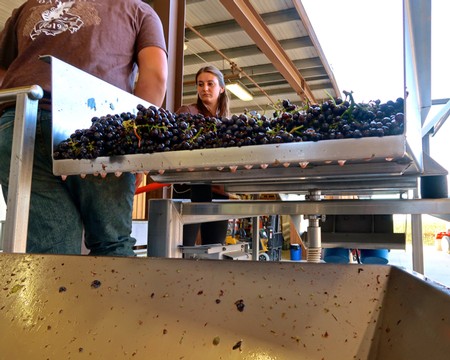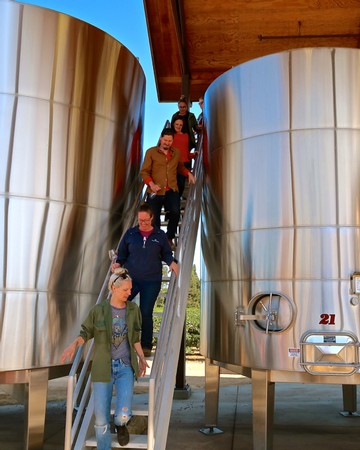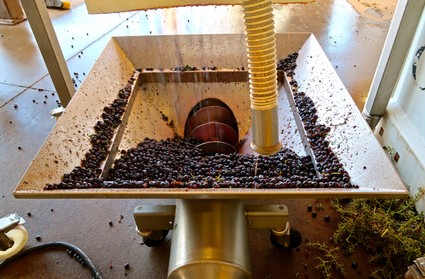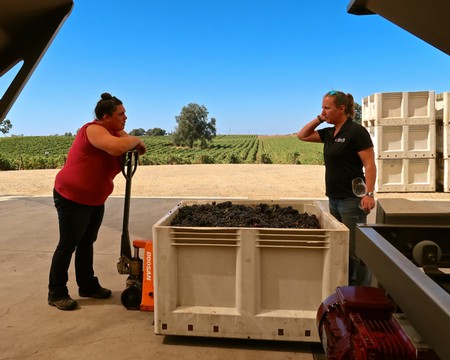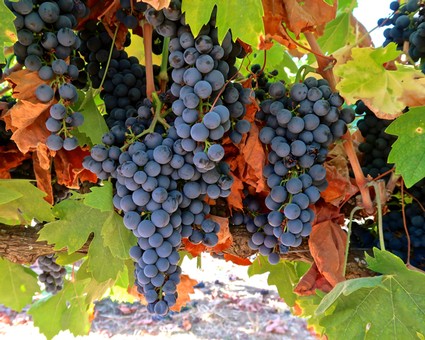 Comments