Letters from Lodi
An insightful and objective look at viticulture and winemaking from the Lodi
Appellation and the growers and vintners behind these crafts. Told from the
perspective of multi-award winning wine journalist, Randy Caparoso.

September 5, 2018 | Randy Caparoso
The utterly unique white Rhône grapes of Acquiesce Vineyards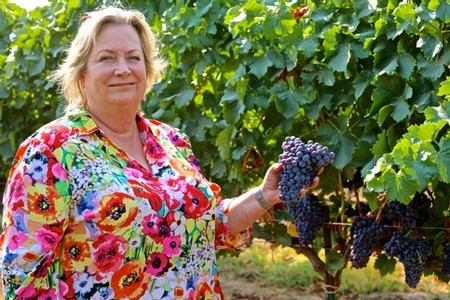 Since opening their doors in 2012 with offerings of their first commercial bottlings (from the 2011 vintage), Lodi's Acquiesce Winery & Vineyards has broken down more than a few barriers, and the misperceptions associated with them.
"From the beginning, we were determined to be a 'white-wine-only' winery," says owner/grower/winemaker Sue Tipton. "Many well meaning friends and neighbors used to stop by and say, 'Oh, you'll never make it in Lodi without selling any red wine, like Zinfandel.'" Boy, were they wrong: After six years, Tipton still has to shutter her tasting room doors by Thanksgiving of each year – the wines are so popular, they simply run out of bottles to sell!
The other ways in which Acquiesce has forged its own path, thus winning many a Lodi wine lover's hearts and minds:
• No oak barrels – all the Acquiesce wines (which include one bone-dry rosé) are fermented in stainless steel tanks and bottled without seeing a second in wood.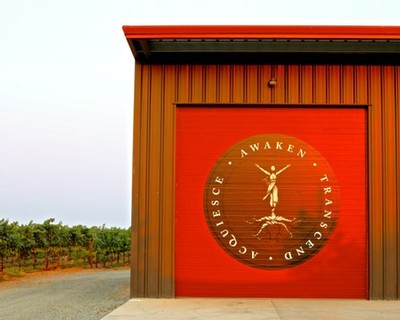 • Grapes (estate grown only – nothing purchased!) picked early enough to demonstrate that Lodi's Mediterranean climate is more than friendly enough for the growing of white wine grapes possessing plenty of fragrance, flavor, and fresh, mouth-watering acidity.
• Successful production of not just white wines originating from France's Rhône Valley, but also bold innovations such as America's first commercial Piquepoul – bottled by Acquiesce as Picpoul Blanc – proving that many wine lovers are more than ready for grapes known more for puckery/lemony dry white wines (the opposite of the fat, fruity, "buttery" taste associated with most California Chardonnays).
• Over the past year, blazing trails with other decidedly "unknown" Rhône inspired varietal wines such as Bourboulenc, Clairette blanche, and the first (as far as we know) Champagne style sparkling wine made purely from the Grenache blanc grape.
Therefore, this past August 2018, we asked Tipton to gather up sample clusters of all her grapes to give us a visual lesson on Rhône cluster morphology. The Acquiesce grapes, with Tipton's commentary: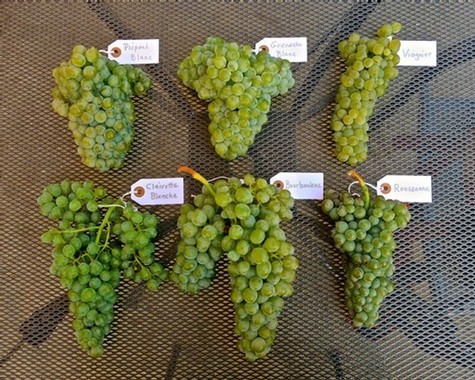 Piquepoul (a.k.a. Picpoul blanc)
According to Tipton: "Our Picpoul Blanc is a real favorite in the tasting room. It's traditionally meant to go with oysters and shellfish, but people love to drink it on its own. I think the most unique thing about Piquepoul here in Lodi is the fact that it has this fruit-forwardness that you don't typically see in Piquepouls from, say, Southern France. I believe that's due to Lodi. The fact that we're able to take this grape to ripeness here, where we can get a nice pineapple essence in the grape even when picked at low sugars – around 20° Brix (i.e. sugar reading), which usually finishes at around 12.5% alcohol – all goes to show how unique Lodi really is as a winegrowing region.
"Piquepoul is grown in Southern France and the Southern Rhône Valley. It is one of the six white wine grapes allowed in the production of Châteauneuf-du-Pape reds and whites. We grow five of those grapes (Piquepoul, Grenache blanc, Roussanne, Bourboulenc, and Clairette blanche) – all of them except for Picardan.
"Piquepoul may be rare here in California, but there are some 3,000 acres of Piquepoul grown in France's Languedoc-Roussillon, where it's bottled under its appellation name, Picpoul de Pinet. The cuttings in our vineyard come from Château de Beaucastel's nursery in Paso Robles, called Tablas Creek. You can find imported bottlings of Picpoul de Pinet here in the U.S.; but since most Picpoul de Pinet is consumed there in Southern France, there's not a lot of point of comparison for most people. But ours is still a big hit wherever we show it."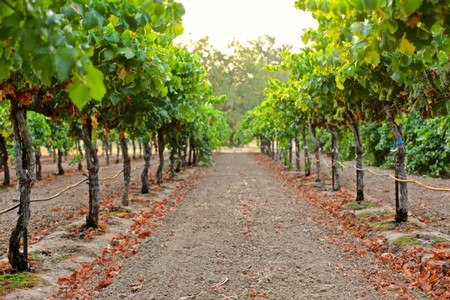 Grenache blanc
Tipton tells us: "Grenache blanc is the first white wine grape we planted in our vineyard in 2008; all on head trained vines. It's because it did so well that we decided to plant the other white Rhône varieties. The cluster you see here comes from our original head trained vines. It's a little smaller than the clusters we get on our trellised plantings, which we put in later; although in our vineyard, I don't think it's necessarily a matter of head trained vs. wire (i.e. trellising).
"Even though we grow the same clone (from Tablas Creek in Paso Robles), there are some parts of our vineyard where vines just struggle a little more. Our vineyard manager, (Round Valley Ranches') Jonathan Wetmore, also thinks that the rootstock originally selected for our head trained Grenache blanc may not have been the best choice for our soil. The grape quality and wine quality, however, have been just fine, despite the diminished cluster sizes. Obviously, we love it, which is why we planted additional acreage on trellis.
"So we now have a total of 3 acres of Grenache blanc. I describe it as our signature grape. I've found that it's the varietal that appeals to lot of red wine drinkers, who maybe have never tried these kinds of white wine before. A big reason is because Grenache blancs have a great mouth-feel. It's not quite as tart or astringent as some of our other whites, which makes it really friendly for people who associate white wines with, say, Pinot Grigio or Sauvignon blanc.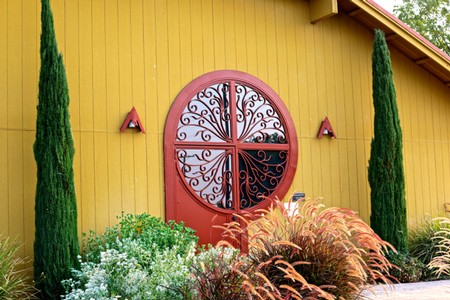 "Grenache blanc is also a great sushi wine. We've even enjoyed it with cheeseburgers. It really is a go-to wine for food in general. It has a green apple crispness; as opposed to, say, Piquepoul, which is more lemony and tropical, like pineapple.
"Grenache blanc is one of the most popular white wine grapes in France; but over there, it is almost always part of a blend. We use it to produce a pure varietal; and it is also usually about 45% of my blend, the Acquiesce Belle Blanc, which is our homage to Châteauneuf-du-Pape Blanc. In my research on the classic white wines of Southern Rhône, I found that Grenache blanc usually plays the most significant role in those blends because it typically performs well at all temperatures – when a wine is super-cold, or as it warms up – whereas other varietals, like Roussane and Viognier, tend to shut down at colder temperatures, or are always changing as wines warm up.
"Finally, Grenache blanc is the base wine of our Champagne style sparkling wine, which is one-of-a-kind. We could be wrong, but I don't believe there is any other sparkling wine in the world made from Grenache blanc."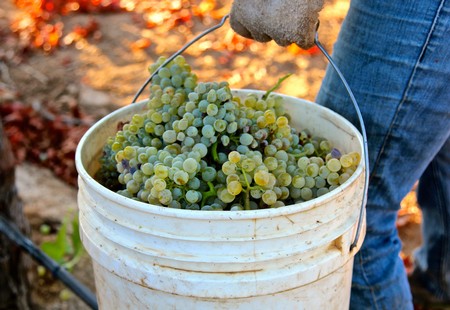 Viognier
Continues Tipton: "Our Viognier vines produce the smallest of our white wine clusters, which is typical. It is always triangular in shape, and fun in the vineyard because it doesn't have the tendency to over-crop – at least in our sandy soils (our note: Acquiesce is located at the northern edge of Lodi's Mokelumne River AVA, defined by its sandy Tokay Series soil). We still aggressively shoot-thin and cluster-thin, as needed; but even then, these little triangle shaped clusters are very moderate in size, and they don't tend to overlap with each other on the vine, and thus are probably our least problematic of our grapes.
"Viognier is not one of the white wine grapes of Châteauneuf-du-Pape. It is grown further up the valley, in the Northern Rhône. All of my white Rhône grapes have their own unique flavor; but different, perhaps, than the others, a Viognier grape tastes just like a wine made from Viognier. You can go out into the vineyard and taste the grapes, and it will be almost exactly what you get after you ferment it. The grapes have nice peach, apricot, tangerine flavors, with floral notes – particularly honeysuckle and violet.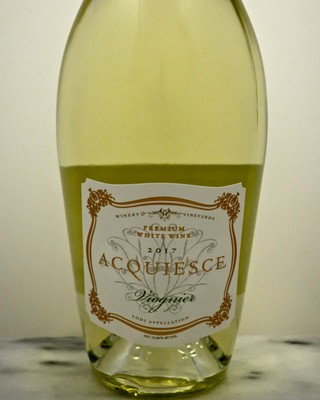 "We make our Viognier fairly low in alcohol, relatively speaking. We pick right around 23° Brix, and our alcohols end up under 14%, taken all the way to dryness. A lot of American Viogniers, on the other hand, are finished with some residual sugar. Sometimes we find customers who say they don't want to try ours because they've had Viogniers before that were sweet; either that, or high in alcohol or oaky. We get them to try ours, telling them that this might not be what they expect, and they love it. Of course, Viognier is such a floral wine, it can be perceived as sweet because of its nose. If anything, that helps when we get the occasional customer who says, 'I'd like to try your sweetest wine.' We can't really help them since all our wines are dry, but sometimes we're successful when we suggest our Viognier, which can at least come across as 'sweet' because of its perfumed character."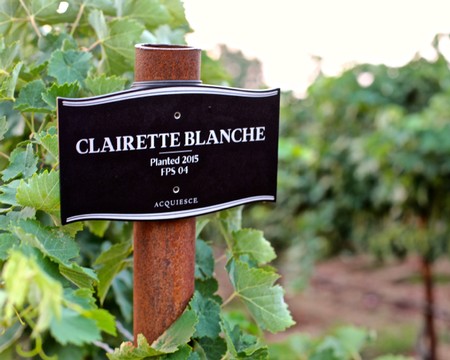 Clairette blanche
According to Tipton: "The Clairette blanche cluster has a prominent shoulder, or wing; and rather than round, the berries tend to have an ovoid shape to them, more pronounced in some years. As a varietal, this has been one of our biggest hits. It is, like, the best white wine I've ever had with cheese. With Clairette blanche you can really push the limit – we've tried blue cheeses, a feta, goats, anything you can think of, they've all gone really well with this varietal. I think that it has a bright crispness like a Sauvignon blanc and the green apple of a Grenache blanc, but it takes things further with its own other layer, which is almost like a caramel essence. It is not sweet; but when ripe, the grape itself tastes almost like a caramel-apple. I think it's this unique character that makes it so versatile with cheeses."
Bourboulenc
Tipton continues: "Like the Clairette blanche, 2017 was our first vintage of Bourboulenc. Last year the vines were still like babies – planted in the spring of 2016 – and so we got a very tiny crop; unlike our Clairette blanche, which was a little more generous in its first year. Our club members were limited to just 1 bottle of 2017 each. The good thing for us was everyone loved it – at least their one little bottle!
"You can see that Bourboulenc is just about our largest variety, as grape clusters go, with fairly large berries that give a nice, distinctive lemon/lime taste. Bourboulenc has been puzzling for most people – even those who really know their white wines – because it's basically unlike anything anyone has tried before. I know that Tablas Creek has also just produced their first Bourboulenc, so maybe we'll get some information from them on what exactly a Bourboulenc should produce. Just since last fall we've had three Masters of Wines visiting us, and none of them were been able to share their thoughts because they'd never had one either!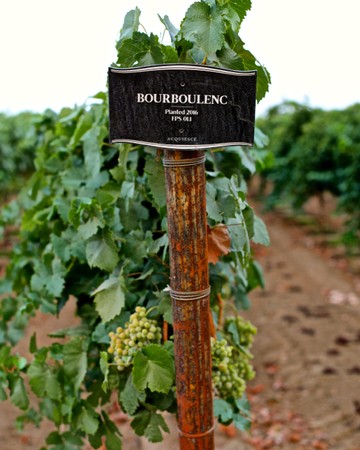 "What we already know is that Bourboulenc can make a super-complex wine, even if we're just getting to know it. I picked it a little earlier than the Clairette blanche last year; at around 13% alcohol. This year, I'm thinking that we may pick it a little later because I feel like our 2017 might have been a little austere. Perhaps it was because last year was our first, and the vines were so young – so we'll see.
"In 2018 we'll have a more generous crop; and so I'm seriously thinking of trying a brand new blend with these four grapes – Piquepoul, Grenache blanc, Clairette blanche and Bourboulenc. No Roussanne or Viognier. It will be a different wine from our Belle Blanc – I don't know what we'd call it. To get a little direction, my goal over the next few weeks will be to do some blending trials, using the single varietal bottlings we've already made.
"I've tried some lovely, fresh, young whites in France that I'd kind of like to duplicate; to produce more of a refreshing everyday wine as opposed to something more serious, like our Belle Blanc with its large percentage of Roussanne and Viognier. At the same time, I can't really say that our Belle Blanc will remain the same, now that our newer grapes are coming online. Remember, our original goal was to use Grenache blanc, Roussanne and Picquepoul in a blend, but our Belle Blanc ended up as a Grenache blanc/Viognier/Roussanne blend.
"When I think of it, I know that many of our customers like our Belle Blanc the way it is. Viognier is always the smallest percentage in that blend, because that grape is so dominant. That's the main reason why we release the Belle Blanc almost a year after our varietals. Because early on, Viognier dominates the taste of that blend, but that character dissipates after a little bottle age; allowing the complexity you get from Roussanne to come forward."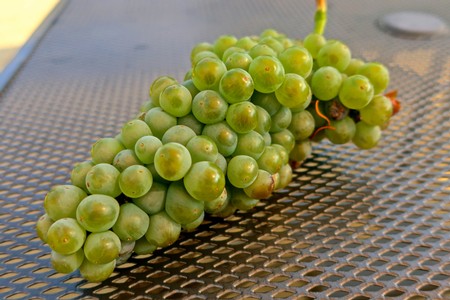 Roussanne
Tipton tells us: "Finally, we have the Roussanne, which the nurseries supposedly call 'The Princess,' because it can be a little demanding. Roussanne comes from the word roux, in reference to the grape's russet color. The grape cluster has a reddish-brown tinge. When Aaron Shinn (Round Valley Ranches vineyard manager) first started farming it, he came up to me and said, 'Sue, there may be something wrong with the Roussanne, it's changing into a weird color.' I told him, 'I think it's supposed to do that – it's Roussanne!'
"Jason Haas (GM/co-owner) of Tablas Creek has written about his experiences with Roussanne, and he has also hosted a conference on the grape with vintners from France, California as well as Washington. In talking about some of the problems they've had with Roussanne, basically the conclusion is that everywhere it's grown, it's going to be problematic. The biggest complaints are that leaves want to turn yellow, there's not a lot of canopy, the packed-in berries on the clusters make them prone to rot, and production is erratic.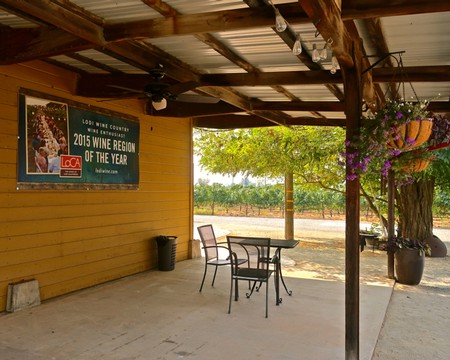 "On the vine, you can get a good-looking Roussanne cluster like this one next to a cluster full of raisins, and another one full of green berries. Unless you're going to be picking your vineyard several times, you have to put up with some variation in your fields. The vines like a lot of water; yet like I said, the bunches are prone to rot. You can't win. But you know, there are only about 300 acres of Roussanne in the U.S. Part of the reason for this is, if you were a farmer, you would never grow this variety to sell because it's so erratic. Still, we have to say we love it, and the wine is great. So of course, we recently planted another acre!
"In some ways, Roussanne is my favorite of the Rhône grapes. It has this honeyed/almond characteristic; and when it's a little older, it develops this rich marzipan texture and flavor. We just had a release party for our 2017 Roussanne, where we had a few bottles of the 2015 to show. If you were going to have a beautiful foie gras, I think I'd pick the 2015 vs. the 2017. The 2015 still has a nice acidity to it, with more of a golden color along with that varietal richness.
"Most of our wine club members might prefer the super-young Acquiesce varietals for all their brightness of fruit. But for Roussanne, I lean more towards the taste of a mature wine. This is the last of the varietal bottlings that we release each year – it comes out even after the Belle Blanc. If we didn't sell out of all of the wines so quickly, I'd hold our Roussanne back even longer; at least a year after all the rest, because it's really in about its third year that a Roussanne really starts to express itself. We may be able to do this soon because, with our new plantings, our production may finally get large enough for us to give these wines proper bottling aging before their release."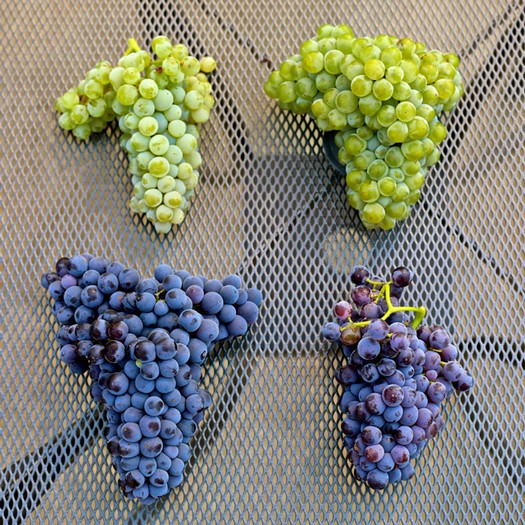 Acquiesce clusters from Grenache family: (top from left) head trained Grenache blanc and trellised Grenache blanc; (bottom from left) trellised Alban clone Grenache noir and head trained Tablas Creek clone Grenache noir
Grenache blanc and Grenache noir
Finally, presenting her last set of grape clusters, Tipton told us: "This is an interesting comparison because all four of these clusters are from the Grenache family – the Grenache blanc being the white wine variation of the Grenache noir.
"When you look at the Grenache blanc from our head trained vines, you can see that it's about half the size of the wire (trellised) Grenache blanc. The shoulder, or wing, on the head trained cluster is also small by comparison, and it is a looser cluster than the ones on wire. Yet both our head trained and trellised Grenache blanc get the exact same amount of water; and both Grenache blanc blocks are planted to the same clone, from Tablas Creek.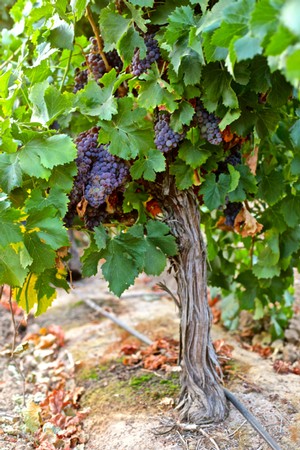 "We planted two separate clones of the dark skinned Grenache noir grape: the Alban (FPS Grenache noir 10) clone (the larger of the two), and the Tablas Creek clone. The Alban is grown on wire, and the Tablas Creek on head trained vines. You can see the same characteristics in the head trained Grenache noir as what you see in the head trained Grenache blanc – it is a smaller cluster, with smaller wings. Whereas the Alban clone is relatively 'huge,' even though we've dropped fruit from the trellised vines in two passes, with just as much shoot thinning and leaf pulling.
"Of course, we do not use Grenache noir to produce red wine. It is grown strictly for our dry rosé, which some people say is the closest thing to a Provence (or Southern French) rosé that they've ever tried in California."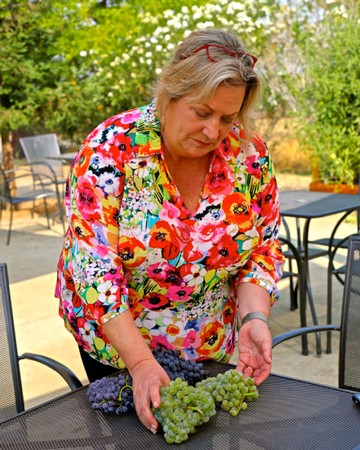 Current Acquiesce Releases
Here in September 2018, Acquiesce's tasting room has already sold out of their 2017 Picpoul Blanc, Bourboulenc, Clairette Blanche and Grenache Rosé. But the following are the winery's five remaining offerings (including their stunning, steely-dry, one-of-a-kind sparkler!), along with Sue Tipton's own tasting notes:
2017 Acquiesce, Lodi Grenache Blanc ($26) - Lively minerality with hints of green apple and apricot; pairs beautifully with seafood, salads, sushi, chicken, cream sauces and spicy Asian and Mexican foods.
2017 Acquiesce, Lodi Viognier ($26) - Bright fruit reminiscent of honeyed tangerine and peach. Pairs well with fish, Asian dishes, vegetables and citrus salads. We love this wine with just about everything, from arugula-based salads to a Moroccan style lamb dish.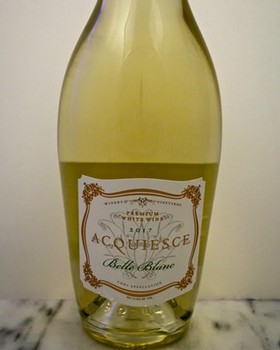 2017 Acquiesce, Lodi Roussanne ($28) - Essence of honeycomb, pineapple and jasmine on the nose. The mouth is rich and inviting with ripe pear, apricot and custard. Mineral finish with almond and honey notes.
2017 Acquiesce, Lodi Belle Blanc ($32) - Aromas of pear, honeysuckle and gardenia which give way to a long, dry finish. A balanced blend of Grenache blanc, Roussanne and Viognier, this wine pairs well with salads, pork, chicken, and more.
2016 Acquiesce, Lodi Sparkling Grenache Blanc ($55) – Hand-picked, whole cluster pressed 100% Grenache blanc; cool fermented in temperature controlled stainless steel tanks and then re-fermented in their own bottles in the old-world méthode Champenoise style. Mineral-driven and crisp with aromas of green apple, stone fruit and brioche. Only 200 cases produced.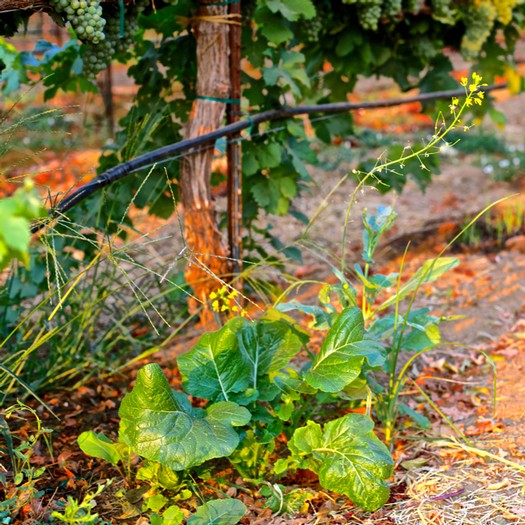 Comments