Letters from Lodi
An insightful and objective look at viticulture and winemaking from the Lodi
Appellation and the growers and vintners behind these crafts. Told from the
perspective of multi-award winning wine journalist, Randy Caparoso.

September 16, 2018 | Randy Caparoso
A close look at the fruits of Grenache, Syrah, Mourvèdre and Cinsaut in Lodi's vineyards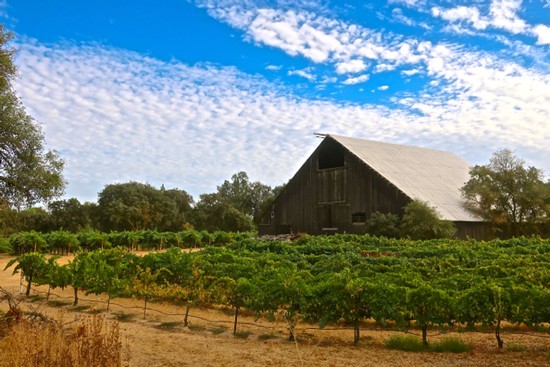 Throughout the vast expanse of wine regions along the Mediterranean collectively known as Southern France (or le Midi) – stretching from the Pyrenees touching the north-east corner of Spain in the appellation known as Languedoc-Roussillon, to Provence on the eastern side of the South where France bumps up against Italy – three of the most widely planted red wine grapes are Grenache, Syrah and Mourvèdre.
Carignan and Cinsaut are also heavily planted black skinned grapes in Southern France – widely used in blends going into both reds and dry rosés – but the red wine blends that are most often seen consist of the three aforementioned varieties: Grenache, Syrah and Mourvèdre. Hence, the proliferation of similar blends in Australia, the U.S. (particularly California and Washington) as well as South Africa – so popular that they occupy their own, unofficial category of wine, called "GSM."
It's mid-September 2018 here in Lodi; and so, what better time to talk about these varieties, which are sitting out in the vineyards as we speak – the dark grape clusters plumping out with sugar?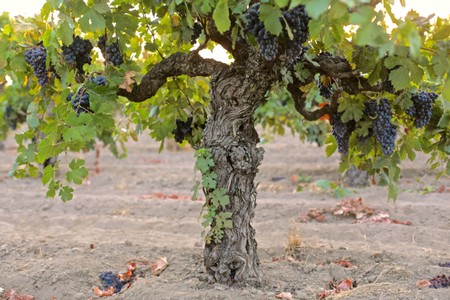 As it were, the Cinsaut from Lodi's historic, 25-acre Bechthold Vineyard (planted in 1886) was picked during the first week of September. Cinsaut always ripens first (in fact, more often in August). All the other varieties – Grenache, Syrah, Mourvèdre as well as Carignan – are in their final ripening stages; most likely to be picked during the second half of September, if not early October (Mother Nature having as much of a say as growers and vintners).
GSMs exist for the same reasons why, say, John, Paul, George and Ringo created such a mania: Because the sum can be incredible, as good as the individual parts may be. Syrah is the most perfumed of the varieties – with a nose commonly related to violet, with black cherry or blackberry, and often sweet peppercorn-like, rotundone related spice – and produces a wine on the full bodied side, with good, meaty tannin and intrinsically bright, fruit lifting acidity.
The tannin in Grenache, by comparison, is softer, rounder, pliant; its fruit qualities falling on the red cherry/strawberry side, often with a peppery spice of its own. Like Syrah, Mourvèdre produces a stronger tannin wine; giving a beefy texture to go along with darker berry fruit; although its fruit concentration can often approach cassis (i.e. like blackcurrant liqueur). When you combine all three varieties together, you get a red wine that is round, supple, and at the same time densely textured with tannin. The blended aromas can suggest black as well as red berries, tinged with cooking spice veering towards pepper, sometimes anise, mace or even juniper.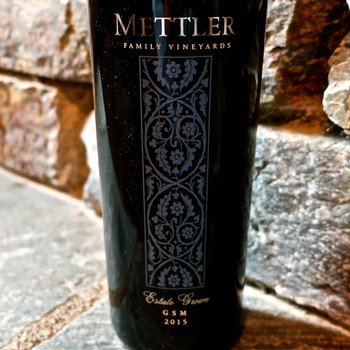 To wit: The 2015 Mettler Family Vineyards Lodi Estate GSM ($28) is classically proportioned (40% Grenache/36% Mourvèdre/24% Syrah), with a floral nose mixing red, black and well as blue fruits; with firm, meaty qualities complimented by subtle smokiness from French oak aging.
The 2014 Fields Family Lodi Vin du Sol ($25), on the other hand, is a slightly different, Syrah driven style of GSM (50% Syrah/25% Grenache/25% Mourvèdre). Nonetheless, its nose is also floral with black cherry, almost strawberryish fruit qualities; with an interesting juxtaposition of zippy acidity and firm, meaty tannin, lending a fairly sinewy, lean, lanky handle to the fruit sensations on the palate.
During the first week of September, Mettler Family Vineyards allowed us to collect cluster samples of Grenache and Mourvèdre from their estate plantings surrounding their tasting room on E. Harney Lane; as well as Syrah from their vineyard on Brandt Rd, planted along Bear Creek. This made for an interesting comparison next to a Cinsaut cluster clipped from the Bechthold Vineyard: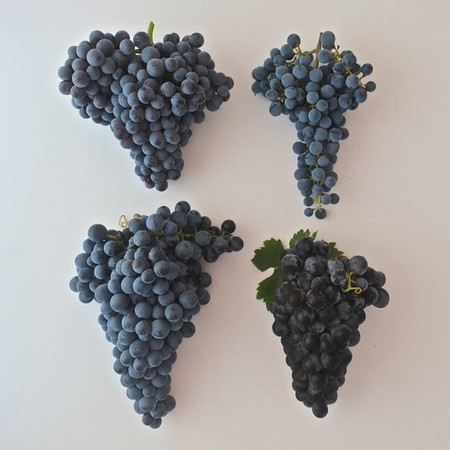 Our own remarks on each of these grapes, including some interesting tidbits of information:
Grenache noir (a.k.a. Garnacha)
Everywhere it is grown – in its point of origin in Northern Spain, throughout Southern France as well as in the Southern Rhône Valley (where it dominates red blends in Châteauneuf-du-Pape, Gigondas and Côtes du Rhône AOC wines), Australia as well as the West Coast of the U.S. – Grenache is a generously weighted, wing-shouldered, more or less rectangular cluster with fairly large berries of moderately thick skin.
Yet this grape produces softer tannin red wines; even at its firmest, giving a rounded, plump, fruit-forward feel. It is highly favored in GSM blends precisely because it lends a supple quality to go with a plethora of red fruit qualities.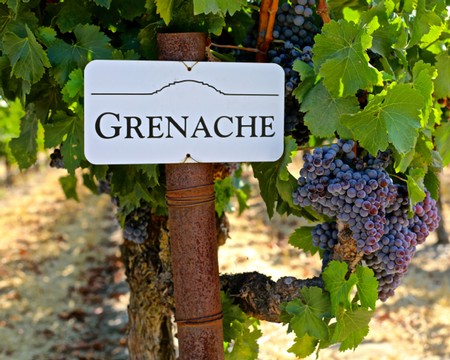 Interestingly, Grenache was among the large mix of Vitis vinifera (i.e. European family of wine grapes) cultivars imported from East Coast nurseries and circulated throughout California between the 1860s and 1880s; but it never caught on to the extent of varieties such as Zinfandel, Carignan, or even Cabernet Sauvignon; despite its workhorse reputation in France and Spain. The oldest existing plantings in Lodi date back to the 1940s; but most of the Grenache/Garnacha in Lodi vineyards today were planted in the late 1990s or after, in slightly slower response to the 1980s "Rhône Rangers" movement than what was done with grapes like Syrah and Viognier.
All the same, as a stand-alone varietal Grenache can make a beautifully perfumed red; particularly in Lodi, where for some reason the grape produces emphatically spicy wines, redolent with black pepper, and sometimes clove or mace (especially those by McCay Cellars and Bokisch Vineyards).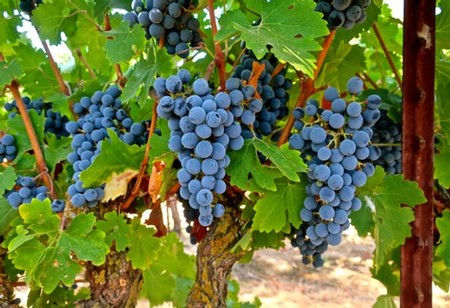 Syrah (a.k.a. Shiraz)
While hanging on a looser, longer stemmed, lower weight cluster, the slightly oval shaped berries of Syrah have a higher skin/seed-to-juice ratio, resulting in red wines that are significantly firmer in tannin than Grenache; which contributes to a bigger, more voluminous feel, especially when grape ripeness tops 15% alcohol ranges (not uncommon in regions like Santa Barbara, Paso Robles, Columbia Valley or even Southern Oregon and British Columbia).
Like Grenache and Petite Sirah/Durif (the latter, a 19th century cross of Syrah and Peloursin), Syrah is a spice variety – exhibiting varying degrees of peppercorn nuances – although its aroma tends to be more floral, often violet-like, on top of a varying range of fruit qualities (cherry, plum, blackberry, blueberry). When combined with toasted notes of French oak (as it often is), the aromas can begin to take on game/meaty, feral, often bacon-like qualities; and spice notes can veer towards anise, occasionally fennel sausage or even incense or sandalwood.
Historically, Syrah is among the older varieties of Vitis vinifera; thought to have been cultivated in the vicinity of France's Rhône-Alpes at least by the end of the third century (towards the waning days of the Roman Empire). More recent DNA studies indicate that the grape is a natural (i.e. wild-occurring) cross of Dureza and Mondeuse blanche.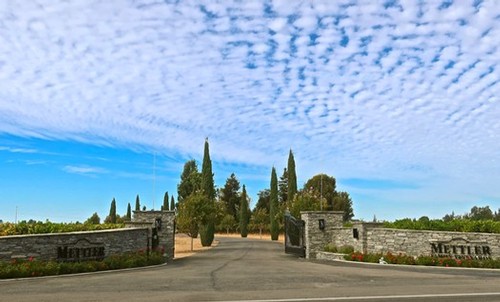 The Australian wine industry dates its first plantings of Syrah (or Shiraz, as it is called there) to 1832. California's oldest existing planting of significance is probably the Gibson Block, dating back to 1919; in Mendocino's McDowell Valley, where a classic block of "mixed blacks" was planted with a significant proportion of Syrah, along with Petite Sirah, Peloursin, Grenache and other grapes.
Credit is given to Joseph Phelps Vineyards in Napa Valley for producing the first modern day commercial varietal bottling of Syrah in 1974; sourced from a small block planted by the old Christian Brothers Winery in 1959. Another modern day pioneer, Estrella River Winery, planted Syrah in Paso Robles in 1975; and during the early 1980s, Santa Barbara's Qupé Wine Cellars was among the first in California to establish the grape as a premium varietal of commanding prestige.
As in other West Coast wine regions, there was quite a bit of Syrah planted in Lodi during the 1990s in anticipation of a consumer "craze" that never emerged. Consequently, much of Lodi's Syrah has since been pulled up or grafted over; although wineries like Michael David, Klinker Brick and (on a smaller scale) Fields Family Wines continue to cultivate a good amount of Lodi grown Syrah for the simple reason that it has proven equal to the intensity, spice and depth of Syrahs in other West Coast appellations.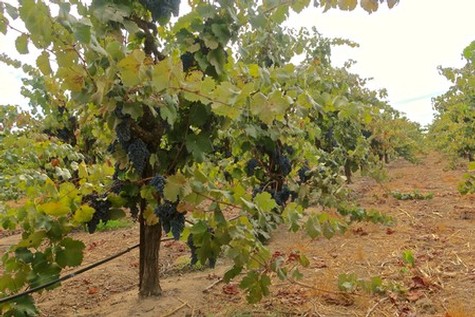 Mourvèdre (a.k.a. Mataró; Monastrell)
The Mettler Family grown Mourvèdre sample is more generously sized than what is usually found in classic European regions; such as Northern Spain (where the grape is thought to have been cultivated for over 2,000 years), Southern France (particularly Provence's Bandol AOC), and Southern Rhône Valley's Châteauneuf-du-Pape. Still, typical of the grape, it is a fairly weighty, conical, winged cluster of compact, deep colored, thick skinned grapes; conducive to red wines with sturdy tannin and good acid structuring, with dark-toned fruit qualities enhanced by generous phenolic content.
When combined with Syrah and Grenache, Mourvèdre contributes tannin substance and dense texturing to blends. When bottled as a varietal or dominant grape (as in Bandol, where red wines are 50% to 90% Mourvèdre), the subtle complexities of the grape are allowed to shine: Amalgamations of concentrated berry or brambly blackberry/blackcurrant/mulberry, with scrubby nuances (like resiny herbs or anise), red meat and sometimes raw tobacco sensations, backed up by the variety's typical tannin texturing.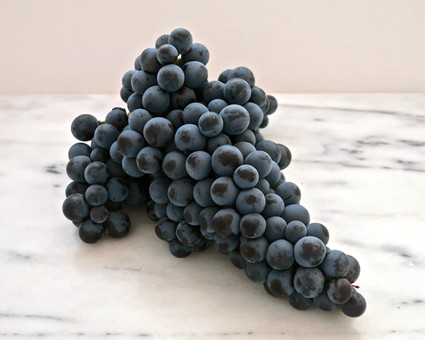 These sensory qualities are, in fact, what you find in various proportions in California grown Mourvèdres; especially those originally planted by Portuguese emigrants in the Delhi sand soils and wind whipped Bay Area climate of Contra Costa County (terroir seemingly tailor-made for thick skinned Mourvèdre – or Mataró, as the Portuguese called it), in vineyards dating as far back as the 1890s.
Similar to Grenache/Garnacha, Mourvèdre has also done well in Lodi's Bay Area-influenced Mediterranean climate, and in multiple soils; including the deep sandy loams of Mokelumne River, the gravelly red clay slopes of Clements Hills, and most recently, in the river rock inundated clay hillsides of Sloughhouse (look for Bokisch Vineyards' first vintage of Sheldon Hills Monastrell, which is a wham-bam elucidation of the grape).
Among bottlings available now: The 2015 Mettler Family Vineyards Lodi Mourvèdre ($29) is a full bodied, broad, beefy wine, with aromas suggesting plummy black fruit, black licorice and cedarwood-ish oak. The 2015 Fields Family Bokides Vineyard Lodi Mourvèdre ($25) is brighter in cherry and cassis-like notes; less oak influenced and not as big on the palate as the Mettler Family bottling (14.1% vs. 15.5% alcohol), but with a one-two punch of toothsome tannin and zesty acidity arming the electrical fruit with a dense, gripping feel.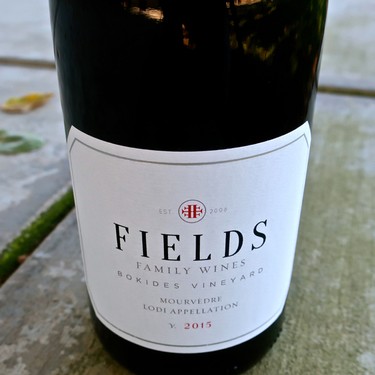 Cinsaut (a.k.a. Cinsault; Black Malvoisie)
As you might glean through Cinsaut's medium-sized, rounded cluster morphology, and large, balloon-ish berries, there is almost something of a table grape quality to this variety. In fact, for much of the past 100 years the 25 acres in Lodi's Bechthold Vineyard (planted in 1886) was packed for the table grape market under a synonym, Black Malvoisie.
Since 2004, however, the Bechthold Vineyard has been in huge demand as a source of grapes for pure, 100% varietal reds or rosés (although Bonny Doon Vineyard has been using it in their Rhône style red blends). The Cinsaut grape's deep colored, purplish-black skin is low in tannin, but still produces very flavorful, soft, pliant wines with pronounced fragrances suggesting strawberry, cherry or rhubarb, often with subtle baking pie spice notes.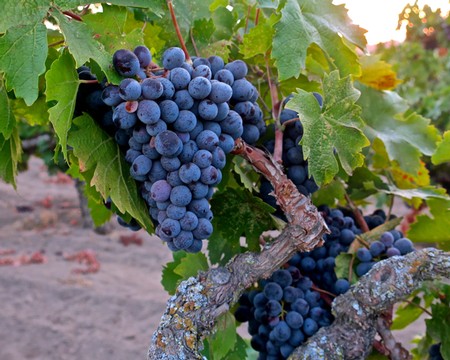 Cinsaut's traditional role in France has been as a component. In Châteauneuf-du-Pape, for instance, it is one of 18 grapes allowed in blends. While its role is minor – typically in 4%, 5% proportions – it is nonetheless valued for what it brings to the table. The qualities that make it a soft, fragrant, charming red wine, as it were, are also ideal for dry rosés; even if, in classic Southern French rosès, Cinsaut is typically blended with Grenache, Mourvèdre, and/or occasionally Carignan.
Other little known facts: Up until the mid-1960s, Cinsaut was the major grape of South Africa; and even today, it remains one of the most widely planted grapes in Morocco, as well as Tunisia, Algeria and Lebanon. In short, Cinsaut loves the warm climate wine regions like that of the Mediterranean Basin. It only stands to reason why it has done phenomenally well in Lodi's Mediterranean climate.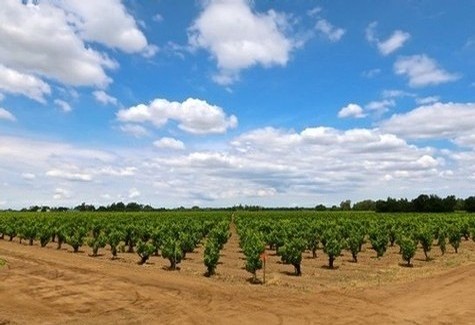 Comments