Letters from Lodi
An insightful and objective look at viticulture and winemaking from the Lodi
Appellation and the growers and vintners behind these crafts. Told from the
perspective of multi-award winning wine journalist, Randy Caparoso.

September 27, 2018 | Randy Caparoso
Snapshot of the black skinned Portuguese grapes of Lodi's Silvaspoons Vineyards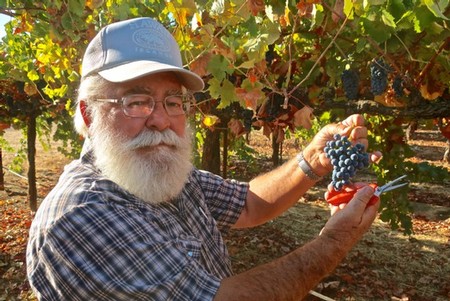 Like thousands of other Americans of Portuguese descent, Ron Silva – owner/grower of Lodi's Silvaspoons Vineyards, east of Hwy. 99 located between Elk Grove and Galt – is a cattleman (Portuguese-Americans own about 46% of the dairies in California, which produce more than half of the state's milk).
Mr. Silva is also the largest grower of Portuguese grapes – particularly the varieties that go into the production of the famous sweet, fortified reds known as Port, grown in Portugal's Douro Valley – in the U.S.
Like most of the Portuguese-Americans in California, Silva's parents and grandparents originally came out of the Azores Islands – the archipelago off the coast of Portugal which has always offered limited resources and economic opportunities to its island residents – and settled in either Hawaii (initially to work on 5-year sugar cane labor contracts, starting in 1877) or the Bay Area, particularly San Leandro (Alameda County) on the eastern shores of the San Francisco Bay.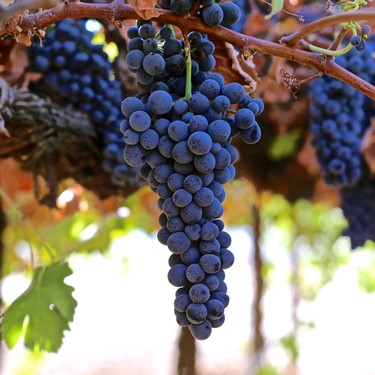 Standing among his rows of vines, Mr. Silva explained: "When you look all around you can clearly see why so many Portuguese came directly to California – even those who were working and living in Hawaii first. The California coast looks just like the coast of Portugal. And when you go a little further inland, into Sacramento or San Joaquin Valley, the climate is just like the interior of Portugal. It's a warm, dry Port climate, perfect for Portuguese grapes."
The facts and figures back up the first-hand experience of Silva's family. Since the 1840s, California has been home to the largest population of Portuguese emigrants in the United States: according to the most recent figures, over 346,000 Portuguese-Americans living in the coastal areas, from Sacramento Valley to the Bay Area, Central Valley and San Diego (Massachusetts has the second largest Portuguese-American population, just under 300,000).
Adds Silva, who has traveled back and forth between California and his ancestral home in the Azores several times: "I started growing Portuguese grapes because of my Portuguese heritage. But I wouldn't have done it if this area (the Alta Mesa sub-AVA of Lodi) didn't also remind me of Portugal. You look at the soil, the weather and temperatures, and you would think you were in Portugal, except for the lack of tile roof houses you see all over Portugal."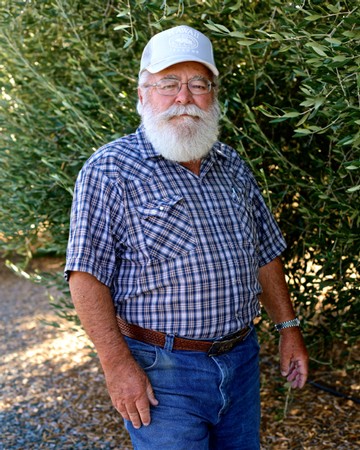 When making the transition from cattle to grapes, Mr. Silva also had the benefit of something of a viticultural mentor: the late Tim Spencer, founder and original owner/winemaker of Lodi's St. Amant Winery (now operated by his son, Stuart Spencer). Spencer originally became interested in Portuguese grapes in the 1970s. The younger Spencer has always said, "(My father) was fond of saying, 'All wine would be Port, if it could.'" The Portuguese grapes that the Spencers originally planted in 1981, and then increased with replantings during the 1990s:
• Touriga Nacional
• Touriga Franca (a.k.a. Touriga Francesa)
• Tinta Cão
• Tinta Roriz (a.k.a. Tempranillo, Aragonês, Ull de Libre or Tinta del Pais)
• Alvarelhão
• Souzão
• Bastardo (a.k.a. Trousseau)
There is, for the record, a total of 64 different grapes actually permitted in Portugal's Douro Valley to produce Port (re this List of Port Grapes); but the six most commonly used grapes are Touriga Nacional, Touriga Franca, Tinta Roriz, Tinta Barroca, Tinta Cão and Tinta Amarela.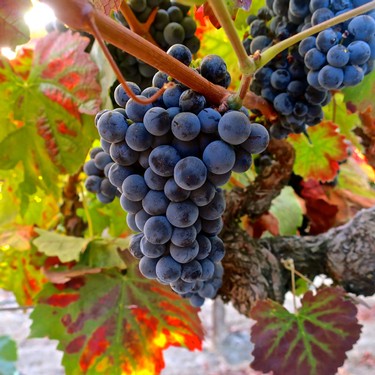 Says Mr. Silva: "I got my first 'recipe' for Port blending from Tim Spencer. The land was cleared and leveled in 1998, and in 2000 32 acres of these grapes were planted, in rows of 192 plants:
• Touriga Nacional (22 rows)
• Tinta Roriz (17 rows)
• Touriga Franca (8 rows)
• Tinta Cão (8 rows)
• Alvarelhão (8 rows)
• Souzão (4 rows)
"Then a little later, on our home ranch on Arno Rd. (a little less than a mile away from the original planting on Mingo Rd.), I added 5 rows of Trincadeira Preta (a.k.a. Tinta Amarela) – another important grape in Port production – with material I got from an E. & J. Gallo block."
The black skinned Portuguese grapes clipped from Silvaspoons Vineyards earlier this week: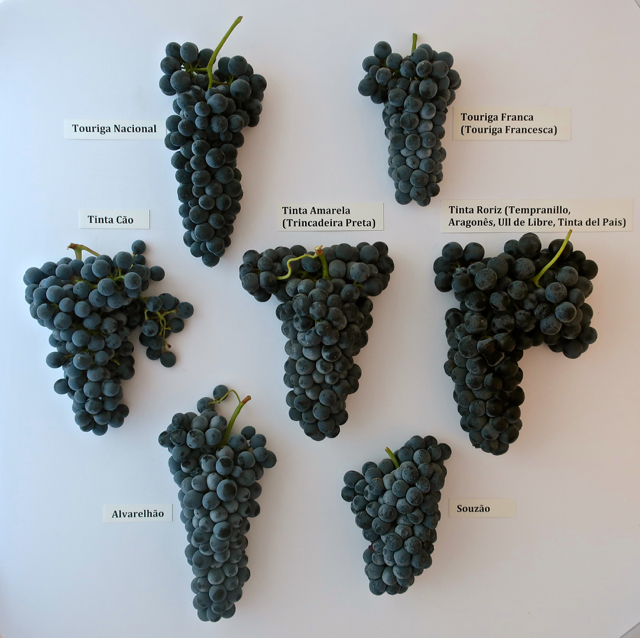 Adds Silva: "My original dream was to see California wineries taking percentages of all seven grapes to produce authentic Port style wine. It's been done on occasion, but as it turned out, most of the grapes have been going to various wineries to produce varietal red wines, rather than Port. Jeff Runquist in Amador County, for instance, has made numerous award-winning wines from Alvarelhão, Souzão, and Touriga Nacional. Ficklin Vineyards and Quady Winery down south (in Madera) use some of the grapes for their Port style wines."
Our remarks on the black skinned Port grapes planted in Silvaspoons Vineyards:
Touriga Nacional
The most important Port grape of all in terms of sheer quality. While the Touriga Nacional grape grows a vigorous canopy, it is a relatively low yielding vine; producing elongated, medium weight clusters of small-ish, dark bluish-black colored berries, high in tannin/phenolic content and very good acidity. The intense, fairly floral fruit qualities of the wine can have raspberry/cassis or blackcurrant fruit qualities, with suggestions of licorice and, often, bergamot orange or Earl Grey tea-like scents; but the overriding characteristic that the grape contributes to both Ports and blended table reds in both Portugal and the U.S. is a sinewy, rippling tannin muscle, meatiness and texturing.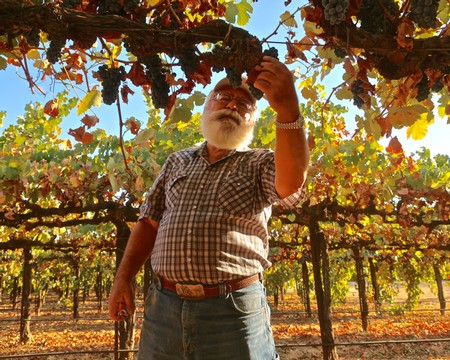 Touriga Franca (a.k.a. Touriga Francesa)
While technically known as Franca, in Portugal (and in Ron Silva's world) it is still more commonly known as "Francesa." It is also the most widely planted black skinned grape in the Douro Valley; thriving in the hot, dry climate of this river valley region. Yields are vigorous and dependable, but cluster sizes are always small and compact; yielding less concentrated fruit and phenolic qualities than its counterpart, Touriga Nacional. Yet red wines from Francesca can still be robust and richly colored, with floral, often violet-like notes on top of black fruit qualities. Blended with Touriga Nacional, it lends finesse, even a degree of delicacy, in terms of structure and feel. In California, Silvaspoons grown Francesca is blended with Touriga Nacional by wineries like Jeff Runquest and Fenestra to produce table reds called, simply, "Touriga."
Tinta Cão
A rounded, winged, pyramid shaped, small-to-medium weight grape said to have been cultivated in the Douro Valley since the 1500s, but in very small quantities due to its low yielding as well as late ripening habits. The thick-skinned clusters, however, are valued for its resistance to disease pressure and sunburn, and it can contribute aggressive, often astringent, tannin structure to both Port and table red blends, as well (according to Silva) as a tart cherry character of its own when allowed to be expressed as a stand-alone variety.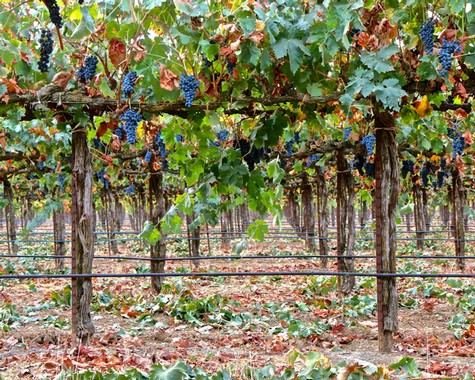 Tinta Amarela (a.k.a. Trincadeira Preta)
Unlike Tinta Cão, Tinta Amarela is susceptible to bunch rot, but is valued for the zesty acidity and slightly floral raspberry fruit and mildy herby/peppery spice qualities it can contribute as a blending component, even at moderate sugar/alcohol levels.
Tinta Roriz (a.k.a. Tempranillo, Aragonês, Ull de Libre or Tinta del Pais)
Tinta Roriz – also called Aragonês in Portugal – is known by a more than a dozen synonyms in Spain; although primarily as Tempranillo, derived from the Spanish word temprano, for "early." In fact, the grape's early ripening trait is one of the reasons it is highly favored in the Iberian Peninsula – some 88% of the world's Tempranillo is grown in Spain, and another 8% in Portugal. The cultivar thrives in Lodi's Alta Mesa AVA for the same reasons it thrives in Portugal and Spain: it loves a hot, dry climate.
It is also a favorite because cluster weights are fairly generous; producing large, round, fairly thick skinned berries of moderate color yet savory flavors expressing a range of fruit (plum, cherry/strawberry, sometimes blackberry), a red meat (sometimes "animal") quality, and suggestions of masculine notes like leather and tobacco, more often than not couched in firm yet rounded tannin/phenolic structuring. Hence, its popular use as a blending component in both the Port and table red wines of Portugal.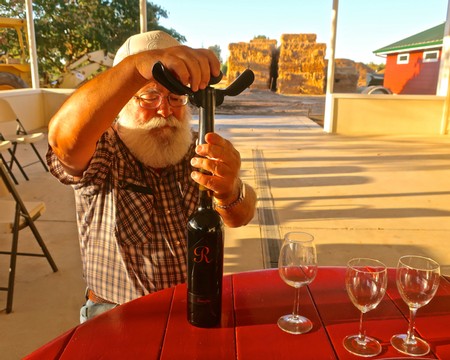 Alvarelhão
While not considered a primary grape in the Douro Valley, Alvarelhão has thrived in Lodi's Alta Mesa AVA; its cylindrical, medium sized clusters and berries producing varietal reds of moderate tannin, a full body, and generous aromas and flavors suggesting Bing cherry and often boysenberry or strawberry jam, plus a slightly pepperminty/leafy green herbiness.
Souzão
Silva describes red wines fashioned from Souzão's round, compact, small-ish clusters as a "secret weapon" when used as a blending grape because of its vibrant, high acid, deep color, fairly sturdy tannin and often raisiny-rich fruit (akin to strawberry glazed with caramelized brown sugar in varietal bottlings by producers like Jeff Runquist, as well as in the old Paul Masson "Rare Souzão Ports" of yesteryears). However, Silva allows that this has never been important grape in the Douro Valley because of the rustic, sometimes coarse, quality of the wine. Says Silva, "Souzão can be very useful because it boosts the color and bumps up the flavor of other varietals" – a trick, in fact, Lodi's Ripken Vineyards has craftily employed with Pinot noir and other varietal bottlings, utilizing their own plantings of Souzão.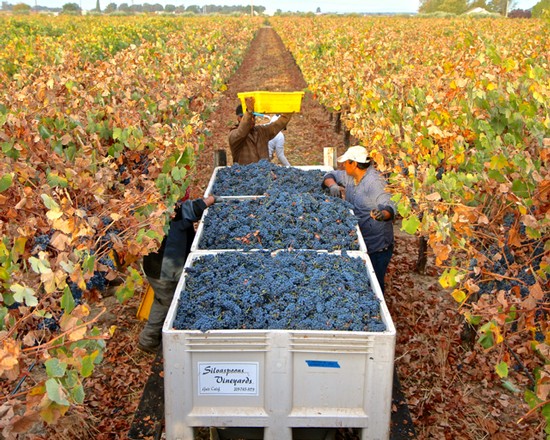 Comments