Letters from Lodi
An insightful and objective look at viticulture and winemaking from the Lodi
Appellation and the growers and vintners behind these crafts. Told from the
perspective of multi-award winning wine journalist, Randy Caparoso.

September 22, 2015 | Randy Caparoso
What top sommeliers are saying about Lodi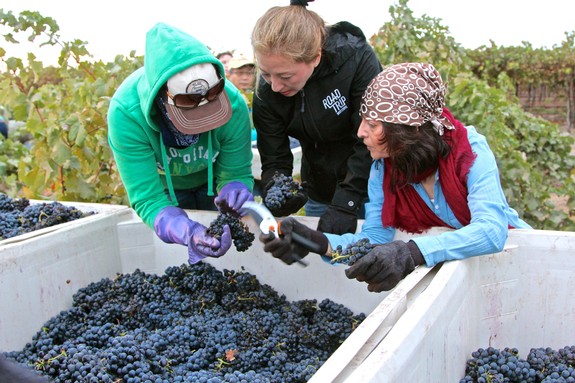 In Mohr-Fry Ranch, Honolulu sommelier Ivy Nagayma (center) and Elk Grove's Marie Mertz (right) being shown how to field-sort Zinfandel
These wines deserve to be in the same league with any region, any varietal, on the world wine stage. - David Kristiansen (Lead Sommelier, The Lodge at Pebble Beach)
What do sommeliers think about Lodi wines? Up until recently, probably not much, since the idea of artisanal style Lodi grown wine is still a relatively new concept, for wine professionals and consumers alike. Sommeliers are just beginning to hear about this as well, despite the fact that there is very little about the world of fine wines that today's average sommelier doesn't know about.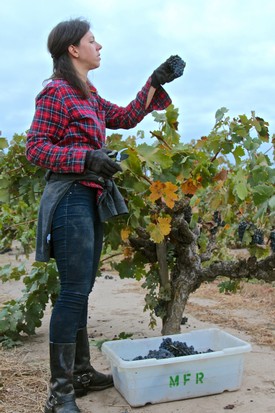 Last week the Lodi Winegrape Commission collaborated with The SOMM Journal magazine to bring together 28 sommeliers from across the country for three days to study the latest things going on here in Lodi wine country. They stayed at the Wine & Roses Hotel, but didn't really get to enjoy this local luxury resort's digs all that much: they were up by 5:00 or 6:00 each morning to walk out into the vineyards, sampling Lodi's wines and farm-to-table fare deep all afternoon and deep into the night, not hitting the sack until 11:00 PM or close to midnight.
Afterwards these sommeliers had some interesting things to say about the Lodi wine region; but first, you may be asking, what the heck is a sommelier, besides a word that is hard to pronounce? It is soh-mel-YAY, incidentally. The only real tricky part is enunciating the L at the end of the second syllable. For many Americans, even in the wine business, sounding out the entire word is so troublesome, it is now commonly shortened to just "somm." It's great to be in America, where linguistic laziness is acceptable.
Sommeliers, in the pure sense of the term, are wine professionals who work in restaurants, and select the wines that people drink. They not just serve wine to people dining out, they also lead and educate their wait staffs on the fine art of recommending and presenting bottles to restaurant guests. Since this type of job infers a level of expertise, working sommeliers are invariably people who live, breathe, eat, sleep, study and think about wine. Wine, wine, wine.
Therefore a typical sommelier's idea of vacation is busmanly – they'd rather spend their time-off in famous vineyards and wineries rather than Vegas or the Bahamas. Seeing that wine is one of the world's most delicious, and certainly food-friendliest, inebriations, the life of a sommelier is a happy one. Oh, they mate and dabble in other little things like the rest of us. But sommeliers almost by definition start off as wine lovers – wine lovers who deliberately choose to earn a living doing what they enjoy most. Who can blame them?
40 or so years ago a spokesman for French Champagne named Robert Gourdin used to travel across the U.S. telling wine lovers that the word sommelier is based upon the Greek root for som, or "body." The original sommeliers, Gourdin would gleefully say, worked in royal courts of Europe during the Dark Ages, when poison was a common method of career advancement. Sommeliers drank their masters' wines first – hence, living (or dying) as sacrificial "bodies."
These days the history of the sommelier profession is told in more pedestrian terms: since it is a French word originally derived from saumalier – translated as "pack animal driver" – it is now thought that the profession merely evolved from officials who were in charge of wagon wheeled transportation of supplies, presumably of food and drink. Since, for many centuries, it was safer to drink wine than water in the more congested European cities, "drink" was synonymous with wine.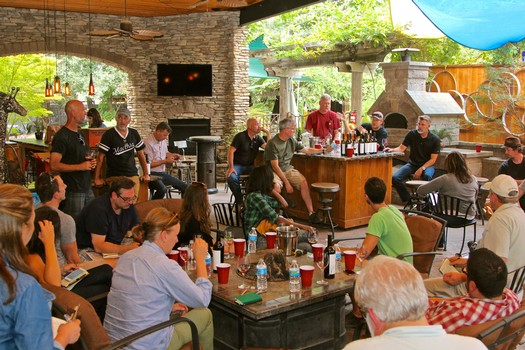 At Macchia winery, sommeliers enthralled by presentation of Lodi Native Zinfandel project
Sacrificial bodies, pack animal drivers, no matter: today's sommeliers live out their studious, wrist wearying professions on posh restaurant floors. It is not uncommon for a sommelier to know far more about the wines of the world than winemakers, since most winemakers' sphere of expertise tends to be confined to their own vineyards or wine regions. A Napa Valley winemaker, for instance, knows everything there is to know about Napa Valley grown Cabernet Sauvignon, while knowing very little about, say, Savennières from France, Würzgarten from Germany, or Assyrtiko from Greece.
Sommeliers, on the other hand, can talk long into the night about Savennières, Würzgarten or Assyrtiko. They are, in other words, today's ultimate wine geeks, as well they should be.
Ah, but this is where a typical sommelier's knowledge often fall short: most of them know a lot about wine, which they experience within the four walls of their restaurants or absorb vicariously through books, magazines or online sources. But being actual working stiffs like the rest of us, they rarely get to go out and spend actual quality time walking through vineyards or laboring in wineries like your typical grape grower or winemaker.
This is why last week's Lodi Harvest SOMM Camp – as it was called by The SOMM Journal and LoCA – was so interesting. We had our visiting sommeliers up at the crack of dawn, picking and sorting grapes in vineyards, punching down fermenting wine vats, and death-marching through rows and rows of dusty vineyards, communing with actual grapes and vines, not pages in books.
It had been over six years since the last large group of working sommeliers tromped through the Lodi Viticultural Area. 2015's group came from local markets – Los Angeles, San Francisco, San Diego, Orange County, etc. – as well as from places as far flung as Honolulu, Chicago, Las Vegas, Denver, Minneapolis, Chesterfield (MO) and Elkhart Lake (WI).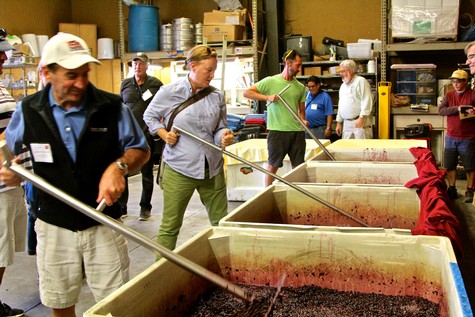 Sommeliers practicing Zinfandel punch-downs at Macchia winery: Randall Berteo MS, Kristina Bustamante CS, CSW, and Seth Wilson
So one week after, what have our visiting sommeliers been saying about their Lodi experience? In some of their own words...
Randall Bertao - Master Sommelier & General Manager, Los Altos Golf & Country Club (Los Altos, CA):
When I was invited me to the SOMM Camp in Lodi I didn't hesitate to accept. But you may be saying to yourself: "Lodi? Isn't that in the Central Valley where it's too hot for quality wine?" Wrong... I left the South Bay on a Sunday afternoon after a week where most of California had experienced three-digit temperatures. Didn't even take a jacket, I was so confident it would be sweltering hot.
My first big surprise was how cool it was; 50s to 70s most of my three days there. What I experienced was surprise number two. We tasted a lot of wine from some very dedicated producers who were working hard NOT to make bigger and bigger wines; but instead, wines from extremely interesting varieties and old vine Zinfandel with elegance and balance. Though there are still plenty of richly flavored and heavily oaked wines (as after all, our market craves them), the real work going on is working with grape varieties that are lesser known in the U.S., coming from European wine regions with similar climates, and taking Zinfandel back to its roots (pardon the pun).
For me the highlight was the Lodi Native Zinfandel tasting – outside of the 6:00 AM field harvesting, "working" alongside the professional picking crew (in Mohr-Fry Ranch) who graciously tolerated our intrusion. The idea behind the Lodi Native project is to make wines from the best vineyards with no manipulation. Without going into detailed tasting notes, I have to say the wines were impressive. Most were medium colored, had pretty floral notes and were bright red fruited (raspberries/cherries) and often exhibited earthy and savory elements. These, to me, were pure expressions of the Zinfandel grape.
The take-away? Do not underestimate Lodi, as they are beginning to produce some truly interesting wines; and remember, they produce 24% of California's total harvest each year! Their grapes and wines find their way into a lot of bottles consumers are already drinking. Now they just need to recognize them as "Lodi" instead of California.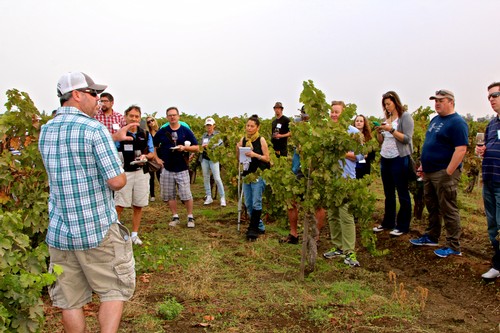 At the historic Bechthold Vineyard, Michael David's Kevin Phillips talks about organic farming of 129-year-old Cinsaut vines
Marie Mertz – Chef/Owner, Todo un Poco (Elk Grove, CA):
I knew that my perception of Lodi was going to change during our reception on the first night, when I tasted the Cinsault Rosé by Onesta. Like many of the others, my preconception was that Lodi's wines are full bodied, high in alcohol and extremely fruity; and after my first sip of this bone dry, soft, light and lush rosé with such bright natural acidity, I was convinced that I was about to embark on a road full of surprises – the types of wine that pair perfectly with the cuisine (fusing Mexican, Italian and other culinary cultures) of my restaurant.
Robin Puricelli – Wine Director, Dolphin Bay Resort (Shell Beach, CA):
This visit was amazing. I loved the wines, especially because they break the stereotype image that Lodi is a hot, dry region producing big, extracted, jammy wines. Instead we found really pretty, exciting wines with real elegance and finesse – an elegance and finesse, especially with Zinfandel, that you never really experience in other regions. Plus, there are all the other interesting varietals now being produced in Lodi. Kudos to the families that have stuck it out here, since the nineteenth century; and especially to those who have kept their old Zinfandel plantings, resisting the temptation to do the easy thing, plant Cabernet Sauvignon and call it a day.
Mary Thompson – Wine & Restaurant Operations Director, The Line Hotel (Los Angeles, CA):
Winemakers in Lodi today are super-weird. Why? They don't seem to be discouraged by preconceived notions of their own region – that Lodi is too hot, that their wines are too ripe. They're willing to leave old 1-ton or half-ton per acre vineyards in the ground, and challenge each other to make great wine from them. That's super-cool – gets us really excited... like vineyards with over 50 grape varieties in them, which we saw. We met winemakers who are more passionate about their small lots of Lodi Native Zinfandel than their bigger commercial production. They are doing things because it's fun, and because they can. We don't see nearly as much of that adventurous spirit, and flexibility, in other regions, and that's what going to turn more sommeliers on.
Lodi is the underdog region that has been quietly supplying grapes to all of the big boys for many years. The area is primed and ready to establish itself as the serious wine region that it is, but without taking itself too seriously!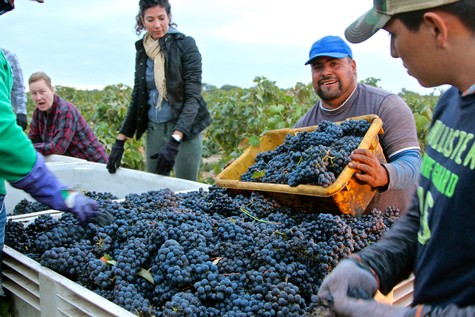 Sommeliers field-sorting 71-year-old Mohr-Fry Ranch Zinfandel
Lannon Rust – Wine Director, Thomas Hill Organics (Paso Robles, CA):
For me the highlight of the trip was tasting through the Native Lodi Zinfandels and hearing the winemakers talk about why they love the region and how special these heritage Zinfandel vines are. This project showcases the true fruit expression coming from these vineyards. The Bechthold Vineyard Cinsaut planting was also truly special as well – few appellations in the world have a vineyard that special, being the oldest if not the oldest Cinsaut planting in the world. Standing among the Bechthold Vineyard vines gave me goose bumps, as I thought about the blood and sweat that had been poured into these vines for over 100 years, and still being done today.
Naureen Zaim – Sommelier, Eveleigh (Los Angeles, CA):
What I found to be super-cool about Lodi is that winegrowers here seriously don't give an f— about what other regions may be doing. They do whatever they like. They want to make Spanish wine, they grow Spanish grapes. They want to make Portuguese wine, or are enamored by German wines, they grow Portuguese and German grapes. And why not? Lodi is very New World in that they have the luxury to do what they want, take risks, dream up their own blends. They're able to do that because, in this grape growing region, they can!
Jacylyn Stuart – Owner/Sommelier, Vintage Elkhart Lake (Elkhart Lake, WI):
Since getting back home from Lodi, people to whom I have mentioned this trip have been floored when I tell them that I walked through vineyards planted to Portuguese, German, and Spanish grapes. Even more impressive was the camaraderie and friendly competitiveness among the growers and vintners. Everyone seemed like old friends, genuinely enjoying being in the business they are in, extremely supportive of each other while aspiring to be better. Many are rooted in their family's long history in Lodi, but are also looking forward to what they can add to their family legacies.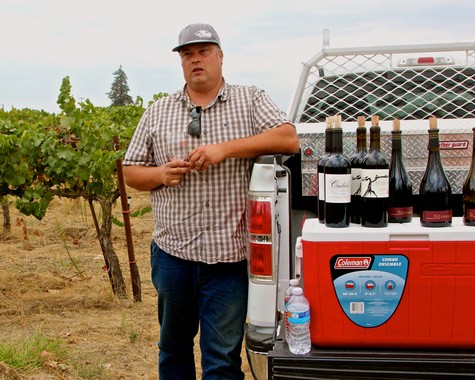 Turley Wine Cellars' Tegan Passalacqua presented Zinfandels from his 100-year-old Kirschenmann Vineyard
Seth Wilson – Sommelier, The Boarding House (Chicago, IL):
The Lodi SOMM Camp offered us a rare insider's glimpse into both traditional and trailblazing winemaking. We got to experience first-hand how this appellation is coming into its own, crafting their unique gems that should no longer be hidden behind California's wine labels. The sheer energy that's evident in Lodi's multi-generational winemaking families is represented clearly in the confidence and playfulness exhibited in a palate of esoteric varietals being successfully grown, and the wine styles that many of these ancestors' great-grandchildren are developing on their own.
Lodi is coming to playful fruition in the wine world by exposing vineyard and terroir characteristics that were once buried by cellar techniques and in blends. The likes of winemakers such as the founders of the Lodi Native project, or Jillian Johnson of Onesta (a word for "honesty"), are shaking the foundation of how the wine world perceives this appellation. I am looking forward to even more exciting works from Lodi in the future!
Chuck Herrold – Beverage Director, Loews Coronado Bay Resort (Coronado, CA)
My best memory of Lodi was the Lodi Native winemakers. The preconceived notion of Lodi Zinfandel having overripe heavy fruit extraction gave way to delicate almost "pretty" wines, expressing vineyards and delicate winemaker touches. Pretty wines from Lodi? Yes! It was just as amazing to spend a day with Markus Bokisch, checking out the terroirs in five of the seven Lodi AVAs. If Napa is the machine that drives California viticulture, then Lodi represents the research and development that shows us what California is fully capable of producing. Winemaking with so many varieties (i.e. Touriga Nacional, Kerner, Bacchus, Verdejo, Albariño, Tempranillo...) can involve much trial and error, but what I saw were triumphs rather than failures. There is implicit trust and admiration among these great farmers and winemakers. It can only make me smile when I think of these talented people, who share ideas and passions in search of mutual success.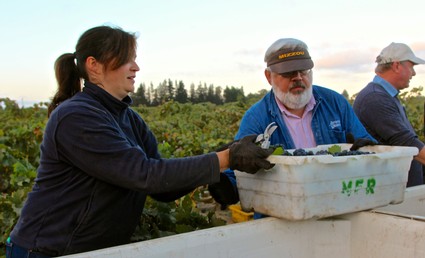 Wisconsin's Jaclyn Stuart and Missouri's Glenn Bardgett CS, CSW in Mohr-Fry Ranch's 71-year-old Zinfandel block
Troy Grenstiner CS - Wine Director, Tom Colicchio's Craftsteak (Las Vegas, NV):
Before my visit I wasn't aware of Lodi's long heritage and tradition of stewardship among families, going back many generations. Even more amazing was walking through their ancient vineyards. The sheer depth and breadth of the grapes grown here is staggering - an experience that I won't forget.
Jordan Villareal CS – Sommelier, The Hobbit (Orange, CA):
I left Lodi with a new perspective on the region as a whole. It was amazing to learn about all the different grapes and farming practices applied in the appellation. There was no better way to get a true sense of region than kicking the dirt, picking grapes, punching down and tasting wine with the people who make Lodi what it is. One of my favorite experiences was learning about the Lodi Native project, which forever changed my perception of Lodi Zinfandel. These were delicate, light, complex showing finesse and beauty so refreshing to see. The commitment of the farmers and winemakers have to produce unadulterated, terroir driven wines is truly commendable.
David Kristiansen – Lead Sommelier, The Lodge at Pebble Beach (Pebble Beach, CA):
I must admit that I was one of those people with a predetermined notion of Lodi before coming here; expecting dark, overripe Zinfandel, bearing the modern trifecta of ripe jammy fruit, high-octane alcohol and too much oak. Now I'm embarrassed by that pre-SOMM Camp mentality.
There were many memorable moments for me. One of our first stops, at Wegat Vineyard, was a "wow" moment – feeling the cool breeze blowing in from the Delta and standing on that sandy soil while tasting surprisingly elegant Zinfandels that had bright red fruit, savory herbal and secondary spice notes, balanced by a refreshing (and unexpected) elevated natural acidity. Tasting the Lodi Native project Zinfandels was even more enlightening – a wild idea that turned into a beauty, showcasing beautiful old vineyards crafted by "new school" winemakers, producing truly classy, delicious interpretations of California Zinfandel. These wines deserve to be in the same league with any region, any varietal, on the world wine stage.
The long, tenacious history of farming by headstrong growers of sites such as Bechthold, Kirschenmann, Soucie –these vineyards and growers qualify as national treasures! Still, there was more; like Bokisch's Graciano, Verdejo, and their own Tizona Zinfandel from Kirschenmann Vineyard. Onesta's crisp, light, delicious Grenache Blanc. Borra's Barbera, a wine whose fresh dried red fruit, floral and herbal notes reminded me of Elio Altare's classic Italian Barbera. With winemakers already beginning to dial in the techniques to coax out the finest potential in each vineyard and each grape, the future of Lodi wines is extremely bright!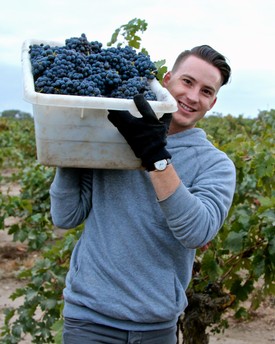 Orange County sommelier Jordan Villareal bringing in the Mohr-Ranch Zinfandel
Juan Carlos Ruiz – Sommelier, Mandarin Oriental (Las Vegas, NV):
As soon as I got to Lodi I realized how little I knew about the region. I remembered reading in the Guild Of Sommeliers study books words like hot, dry, Zinfandel, ripe, and oak. Lodi and LOCA changed those misconceptions the moment we were greeted with some sparkling wine at the Lodi Visitor Center.
What I found when talking to everyone in Lodi was passion. The history is fascinating. The books talk about the history of wine in the U.S. with very little mention of Lodi; when in fact, Lodi has some of the oldest vines still producing fruit in the world. Having the opportunity to talk to multi-generational growers while tasting the wine they are now producing while standing in their vineyard was very special. Hearing the folks like the LangeTwins Family talk about how they are taking steps today in sustainable winegrowing so that future generations are set up for success was eye-opening and refreshing.
Also memorable for me was the Noma Ranch site, from where the Macchia "Outrageous" Zinfandel is produced . The vines on this site are low to the ground, growing on a patch of land surrounded by industrial buildings. The passion that (Macchia winemaker/owner) Tim Holdener showed while explaining why he likes the fruit from there was really cool. As Lodi continues to grow and more and more vineyards are at risk of being sold and ripped out, wines like the Lodi Native project Zinfandels continue to show that Lodi can produce some very balanced and elegant wines from these old vines. It motivates me personally as well – now I am inspired to begin planning and preparing for future generations of my own family.
Scott Reesman AIS, CMS – Sommelier, The Lobster Restaurant (Santa Monica, CA):
We tasted a lot of great examples of Lodi Zinfandel that were surprisingly balanced and didn't feel like the high-alcohol "fruit bombs" synonymous with Lodi's past reputation. A highlight was the Lodi Native project – Zinfandels that were truly expressive of vineyard sites rather than personal winemaking styles. While it must have been difficult for the winemakers to restrain themselves from using oak, cultured yeasts, or other winemaking practices they have become accustomed to using, the results were very special and unique. Wines like Ryan Sherman's 2013 Lodi Native Stampede Vineyard stood out for me because it was unmistakably "Zinfandel," yet also reminded me of (French) Burgundy – something more manicured, with true finesse.
Then there were the other highlights, like surprisingly great white wines made from German varieties. Bokisch, with their Spanish grapes and wines, was another favorite stop – our lunch of Addy's paella (in Bokisch's Las Cerezas Vineyard) added up to one of the most memorable and educational wine country trips I have ever experienced!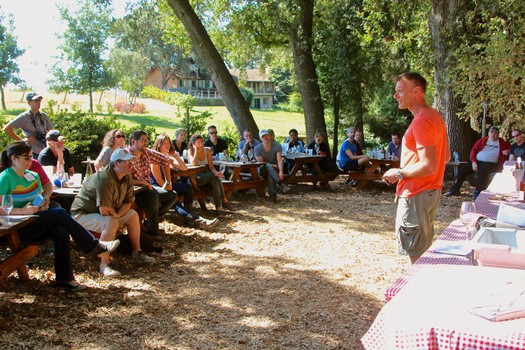 in Mokelumne Glen Vineyard, Borra Vineyards' Markus Niggli talks about Lodi whites made from German and Austrian grapes
Timothy O'Neal – Wine Director, Cavé Vin Restaurant (Minneapolis, MN):
It was eye-opening to find wines of so much lightness and finesse – the opposite of what not just sommeliers but, probably moreso, most consumers think about Lodi, as being a hot region, making heavy, overblown wines. They certainly grow a lot more grape varieties than what I ever would have imagined – it was so much fun to see all the experimental plantings of German and Austrian grapes, lending a sort of dreamy vacation sort of work/thing to our visit. I felt honored to experience that.
Glenn Bardgett CS, CSW – Wine Director, Annie Gunn's & Smoke House Market (Chesterfield, MO):
The important part for me, whenever I visit a region looking to make wine business decisions, is forming relationships. To me, the best way to learn about an area is learning about the people. We did exactly that during the course of our three days in Lodi – an incredible wine region with a lot of incredible people!
A few more photos of the 2015 Lodi Harvest SOMM Camp: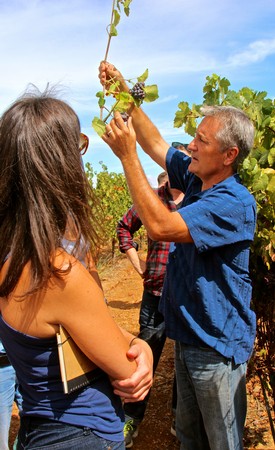 In Vista Luna Vineyard, Markus Bokisch demonstrates shoot tip growth of Borden Ranch AVA Pinot Gris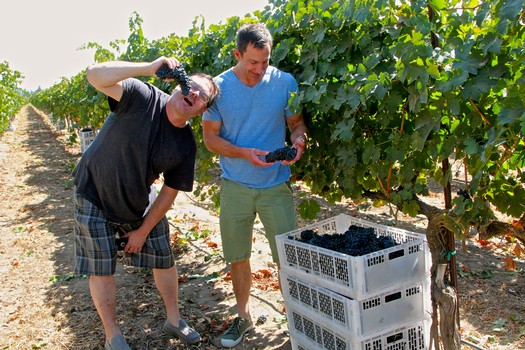 Denver sommeliers Todd Rocchio and Davin Teta enjoying fruits of Mettler Family's just-picked Petite Sirah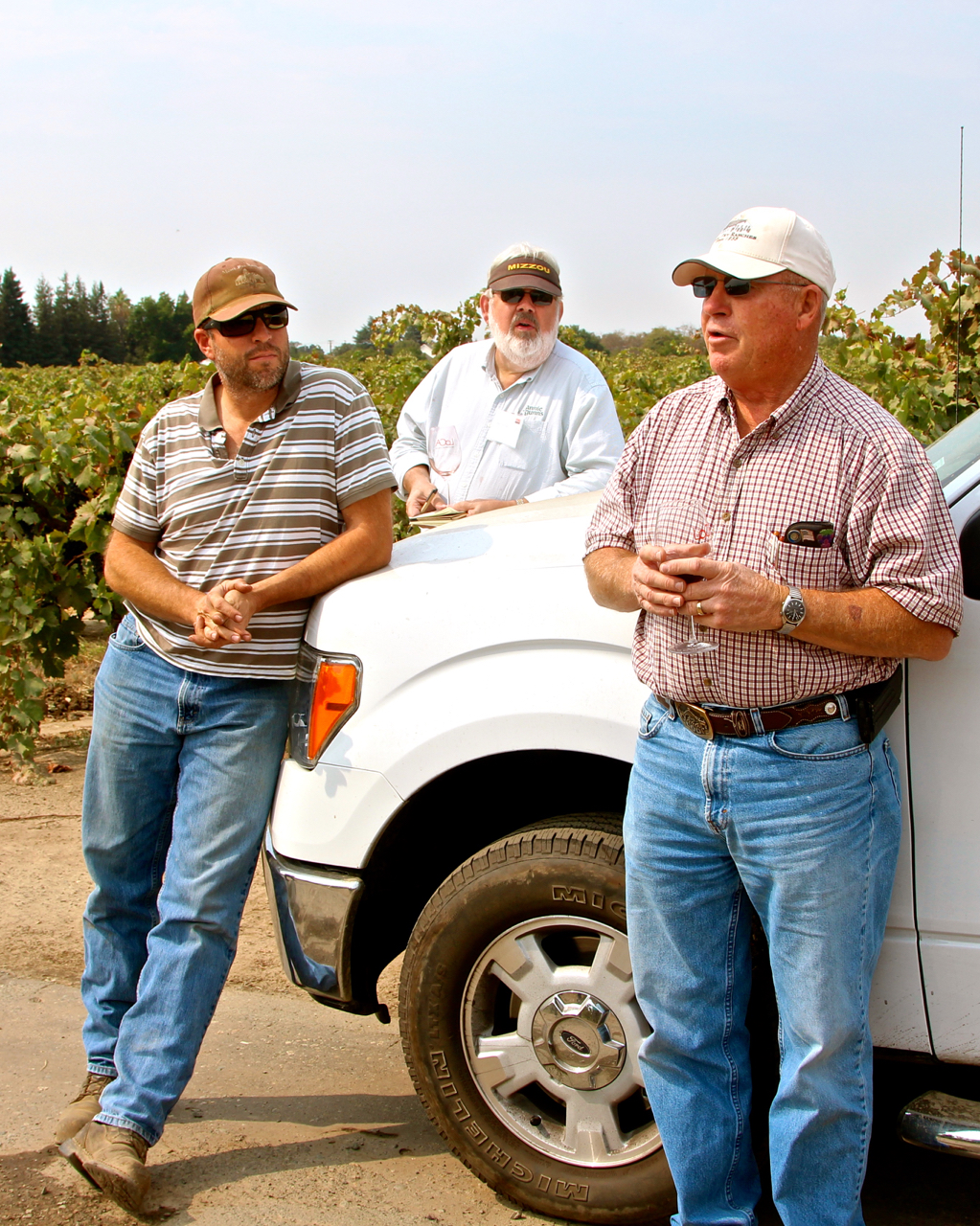 Mohr-Fry Ranch's Jerry and Bruce Fry (with Missouri sommelier Glenn Bardgett CS, CSW in middle)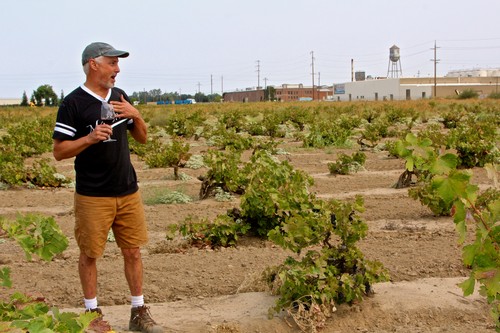 Macchia's Tim Holdener among miniscule, dry farmed +100-year-old Noma Ranch Zinfandel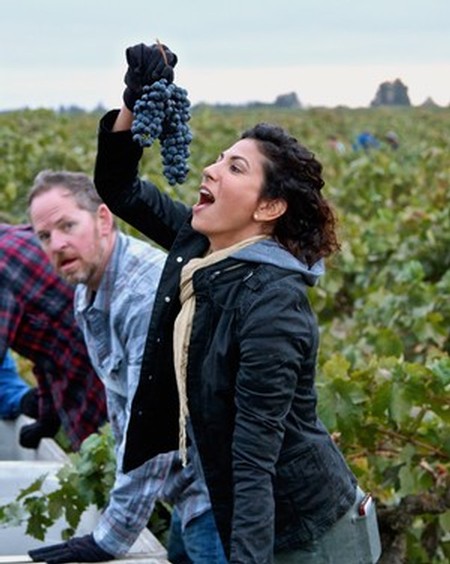 Los Angeles sommelier Naureen Zaim can't resist trying her Zinfandel in unfermented form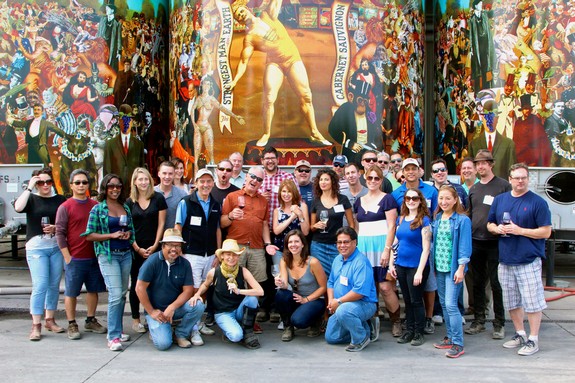 Sommeliers gather around Michael David's David Phillips and The SOMM Journal publisher Meridith May (center) in front of the winery's "Freakshow" tanks
Comments