Letters from Lodi
An insightful and objective look at viticulture and winemaking from the Lodi
Appellation and the growers and vintners behind these crafts. Told from the
perspective of multi-award winning wine journalist, Randy Caparoso.

September 10, 2015 | Randy Caparoso
Ripken picks Sagrantino, another road-less-travelled grape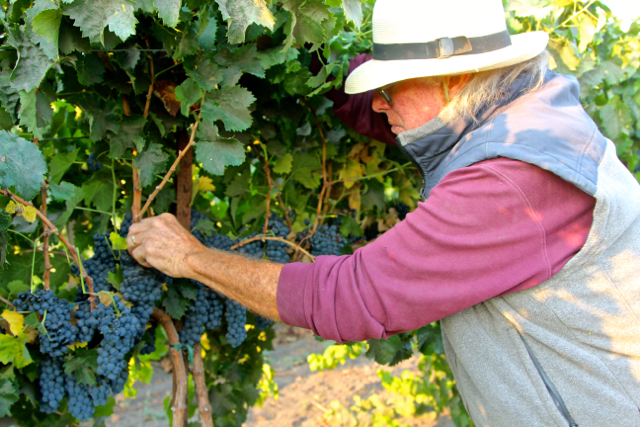 Richard "Rip" Ripken sampling his newly planted Sagrantino grapes
Early this morning (Thursday, September 10), Richard "Rip" Ripken was out in his 400-acre Guard Road Ranch picking his first crop of a grape called Sagrantino.
Sagrantino, you say? Yes, this is a very rare grape in California; growing in only four other vineyards in the state, as far as we know, and probably adding up to barely an acre, all-told.
Mr. Ripken owns Ripken Vineyards and Winery, and his Guard Road Ranch is located along the far western edge of the Lodi Viticultural Area, west of I-5, 19 feet below the Delta water line. He planted just 120 plants of Sagrantino; a black skinned grape that is relatively rare even in its native home in Central Italy's Umbria region.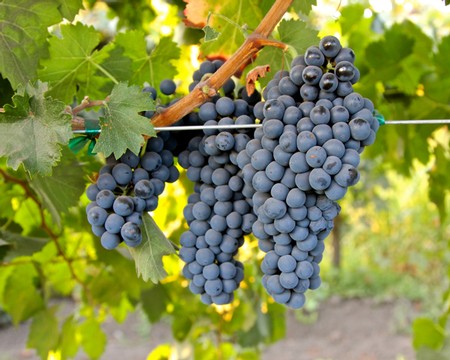 Sagrantino grapes in Ripken Vineyards' Guard Road Ranch
Vino Italiano (Clarkson Potter, 2005), a book penned by Joseph Bastianich and David Lynch, estimates that only between 250 and 400 acres (sketchy information, but you get the point) of the grape are planted around the town of Montefalco. Sagrantino di Montefalco, however, has been ranked as an Italian DOCG (the country's highest quality classification) since 1992.
"Very few people have heard of Sagrantino," says Mr. Ripken, "but I say, let's take the road less travelled and give it a try – I'm tired of the same ol' grapes, Cabernet and Chardonnay!" Ripken has long been a friend to unappreciated, wayward wine grapes. He is known to cultivate nearly 50 different varieties at a time in his vineyards (now adding up to over 1,000 planted acres); from Bastardo (a.k.a. Trousseau) to Montepulciano d'Abruzzo, Carmine to Trinquedeira Preta (a.k.a. Tinta Amarela).
Ripken's first encounter with Sagrantino occurred in 2012, when he and his wife Nancy took a leisurely busman's holiday through Umbria. "Travelling with Richard takes a lot of patience," Mrs. Ripken tells us. "You have to be prepared to stop at every hill and wait while he climbs up to take a look at another vineyard." Adds Mr. Ripken, "Every day we went to another hilltop town – we got good at picking terrace restaurants to have lunch or dinner.
"Most of the time in Umbria, we drank Sagrantino di Montefalco at our stops because it was just so unique – a big, dark, gutsy tannin wine. Whenever we ordered a bottle the first they would do was take away the regular wine glasses and bring out the biggest wine glasses. They would say, 'for a big wine you have to have a big glass.'"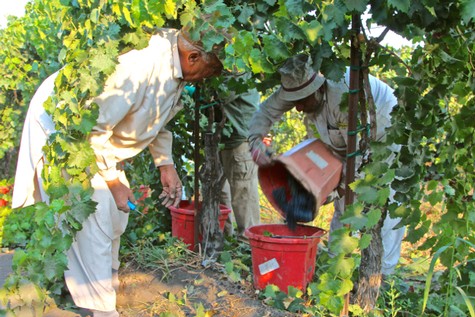 Sagrantino harvest in Ripken Vineyards' Guard Road Ranch
As soon as he returned from their trip to Umbria, Mr. Ripken ordered cuttings of Sagrantino from U.C. Davis' Foundation Plant Services and field-grafted them on to existing Zinfandel plantings. This week's 2015 pick was the plants' first harvest.
Out in Ripken's Guard Road Ranch we tasted the Sagrantino grapes as they were being picked: cylindrical shaped bunches of fairly small, thick-skinned berries, with fully ripened sugar readings at 25° Brix. What was particularly noticeable was the fairly large, crunchy, slightly bitter seeds: a combination which helps you understand why Sagrantino is considered the most high-tannin grape in the world; producing wines that are even thicker than Cabernet Sauvignon, Tannat, Nebbiolo, Gaglioppo, and other red wines known for their full tannin structures.
But Schwarzeneggaran body and tannin is exactly why Sagrantino di Montefalco is prized by its relatively few aficionados outside of Italy. This red wine, as it were, also tends to be almost gooey rich in fruit qualities; evincing black licorice, dried berries, and earth toned nuances varying from truffle to black chocolate or chicory-coffee.
Says Mr. Ripken, "I don't know exactly how our Sagrantino will turn out, but we'll know soon enough." After destemming about a half-ton of the grapes into an open-top macro-bin, the wine will be fermented with manual punch-downs. "We'll work the cap, but will try to be gentle to minimize excess tannin extraction," says Ripken.
"We know what Sagrantino is like in Italy. With our soils and climate, I have a feeling we'll be able to produce something comparable. If anything, we know it will be 'different' from anything else in California!"
A few more shots of Ripken Vineyards' 2015 Sagrantino harvest: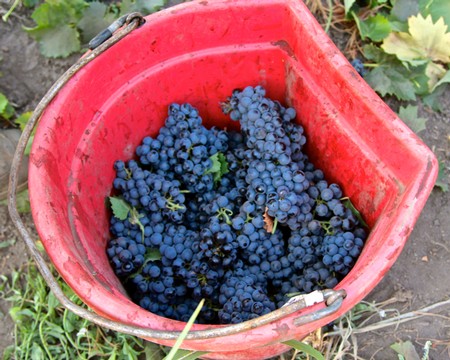 Just harvested Ripken Vineyards Sagrantino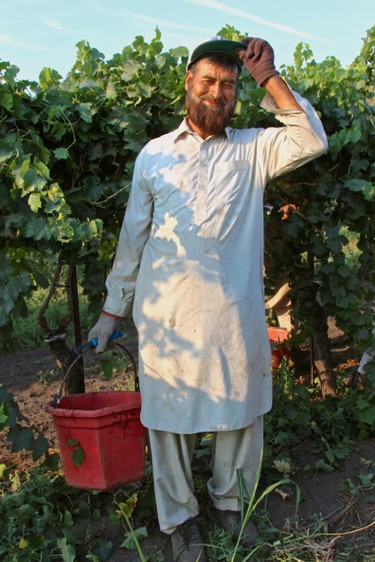 Ripken Vineyards grape picker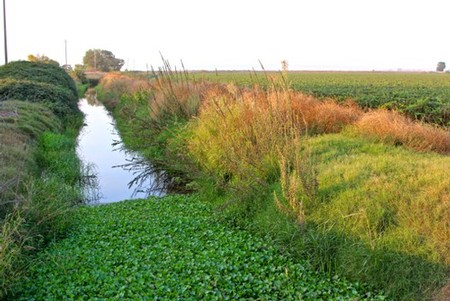 Delta waterway alongside Ripken Vineyards' Guard Road Ranch on Lodi's far west side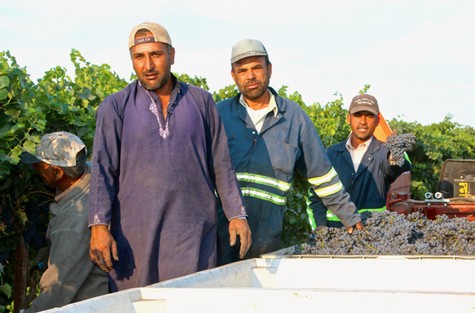 Ripken Vineyards pickers in Guard Road Ranch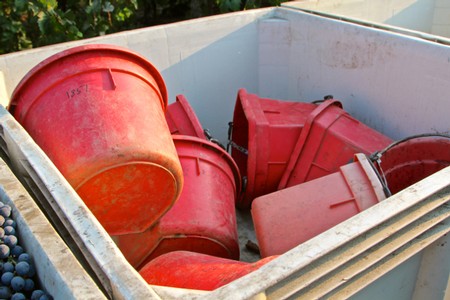 Picking buckets in Ripken Vineyards macro-bin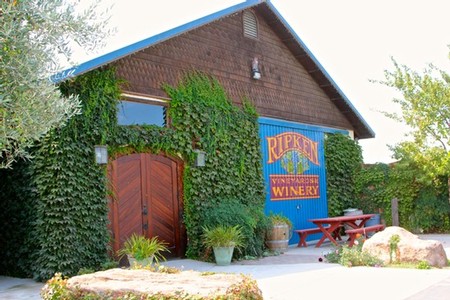 Ripken Vineyards & Winery tasting room
Comments