Letters from Lodi
An insightful and objective look at viticulture and winemaking from the Lodi
Appellation and the growers and vintners behind these crafts. Told from the
perspective of multi-award winning wine journalist, Randy Caparoso.

September 4, 2015 | Randy Caparoso
Photo-log of 2015 Lodi wine grape harvest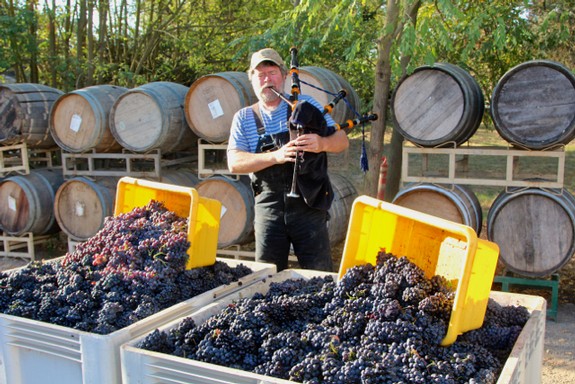 Winemaker Greg La Follette (Sonoma's La Follette Wines), blessing 2015 Zinfandel harvest from Royal Tee Vineyard (planted on Lodi's west side in 1889) with a bagpipe rendition of "Scotland the Brave" (to listen, visit Heralding Lodi's 2015 Zinfandel Harvest)
It's exhausting, but you never tire of it: the yearly grand spectacle of the wine harvest in Lodi wine country.
It's the time of year of bleary-eyed winemakers awakening at 5:00 in the morning for 6:00 AM pickings, then going another 14, 16 hours, if not pulling all-nighters, to get the grapes hauled to the winery, destemmed or pressed, into the fermenting tanks or barrels, and then monitoring the progress as more and more grapes come in as the day drags on into night.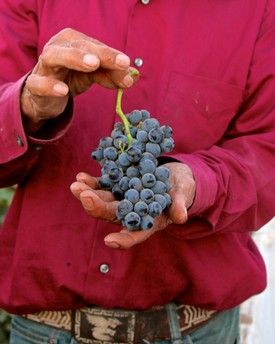 Yeah, they kill themselves for a month or two, but they're only so willing because you get only one crack at this each year. Think of it: you may be a grizzled, old, veteran winemaker with 30 years of experience. But that means you've made wine, basically, just 30 times. It's not like beer, or milking cows, when you get to ply your trade over and over again throughout the year. Wine harvests are one-shot, do-or-die affairs.
Yet winemakers will freely admit that the "real work" is actually done in the fields. The talent and resources of a grower, and the quality of each vineyard's terroir - the sum-total of climate, topography, and location, location, location favoring the ripening of grapes - are what ultimately determine the quality and character of each wine. That old saying "wine is made in the vineyard" is not a quaint sentiment, but a statement of fact.
The farmer is "the man," but without a doubt, the yeoman's work is done by our grape pickers. It is true that over 90% of grapes in Lodi - easily the largest winegrowing region (in terms of acres of wine grapes) in America - are picked by machine. Harvesters that straddle over rows of trellised vines and liberate grapes from their cluster stems mechanically. But thousands of acres are still picked by hand - many of these vineyards trellised, but especially head-trained vines (like free-standing "bushes"), which is still the favored way of growing Zinfandel Head-trained old Zinfandel plants cannot be machine-picked - they must be harvested by hand - and Lodi, remember, is California's King of ancient vine Zinfandel (crushing over 40% of the state's total Zinfandel crop each year).
The pickers in the field are like Olympian long-distance athletes: moving at break-neck speed (most get paid by the tonnage), filling trays topping off at 40 lbs. each and lugging them to gondolas or hitched-up macro-bins, repeating the activity hundreds of times for hours and hours on end, from chilly dark mornings through blisteringly hot, blazing afternoons. In Lodi, this work is done primarily by seasoned multi-crop field workers; many of them migrant, although many of them year-round residents who do the specialized, skilled work of cultivating vines and vineyard properties 365 days a year. They do the work, as everyone knows, that most people couldn't or wouldn't do, as hard as they try.
Here's to our heroic vineyard laborers and grape pickers, as essential to top quality wine as our artistic winemakers and industrious farmers! And so here is a a photo-log of some of our favorite images taken so far in 2015...
Our first shot... lady pickers (women make up as much as half, and sometimes more, of today's picking crews) in Mohr-Fry Ranches, picking Zinfandel in the famed 114-year-old Marian's Vineyard, going entirely to St. Amant Winery: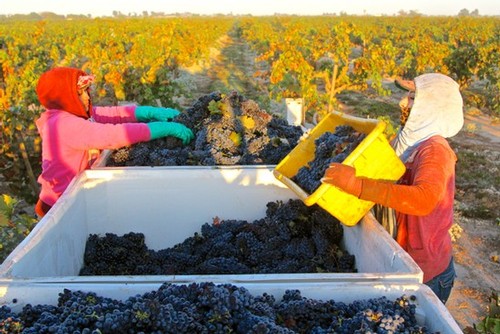 Like an old man with a cane... majestic, twisted ancient vine Zinfandel in Fry family's Marian's Vineyard - a benchmark Lodi growth - originally planted on its own rootstock in 1901: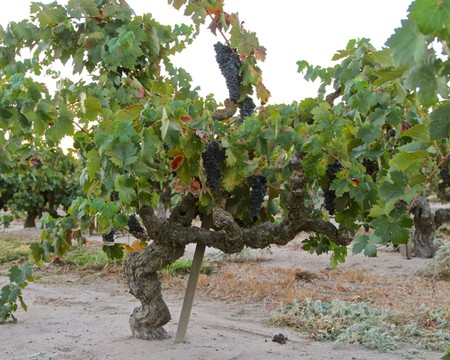 The Mohr-Fry Ranches viticultural crew picking Marian's Vineyard at 7 AM on September 4: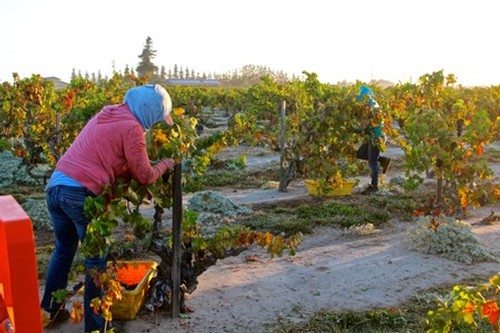 Yeowoman's work - imagining lifting 40-lb. lugs of Zinfandel, picking them up from the ground, walking 10-30 feet and lifting them into field macro-bins... hundreds of times a day... awesome...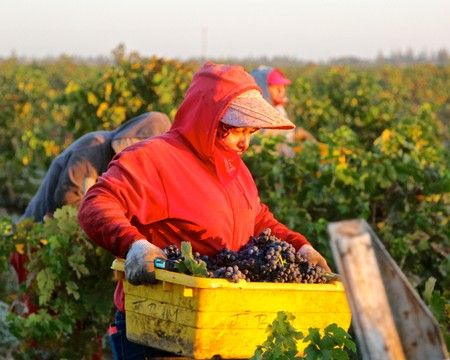 Field-sorting (picking out leaves and less-than-perfect clusters) in Mohr-Fry Ranches' Marian's Vineyard: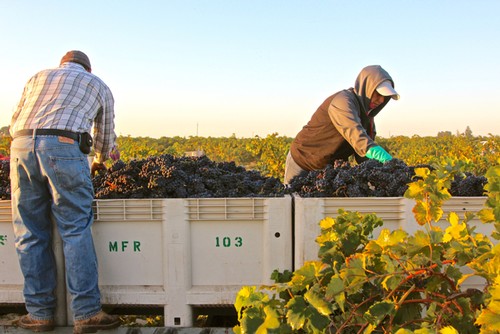 Dawn's early light behind perfect Zinfandel clusters in Mohr-Fry Ranches' historic, 114-year-old Marian's Vineyard: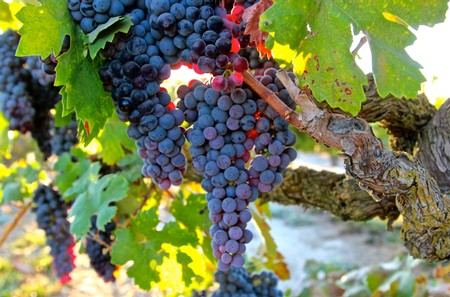 In Marian's Vineyard... once each 2-ton load of macro-bins are filled to the top, tractors are rotated bringing another 4 empty macro-bins, while the filled bins are trucked over to St. Amant Winery, 10 minutes away: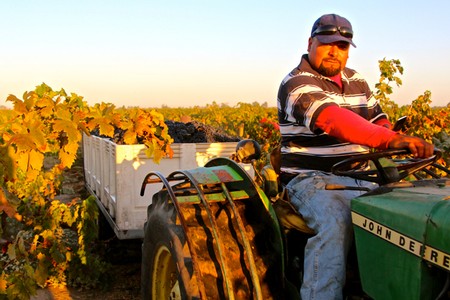 Marian's Vineyard 2015 Zinfandel in the field, as fresh, zesty and luscious as it looks: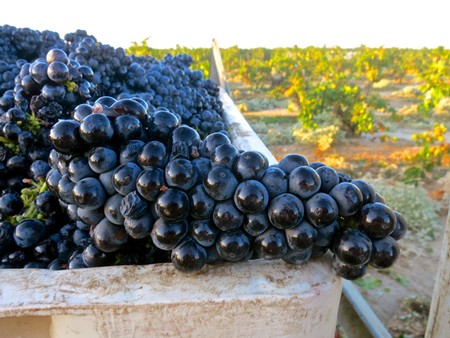 Rustic clapboard white-washed barn, nursery and aging bearded palm amidst head trained ancient vines in Mohr-Fry Ranches: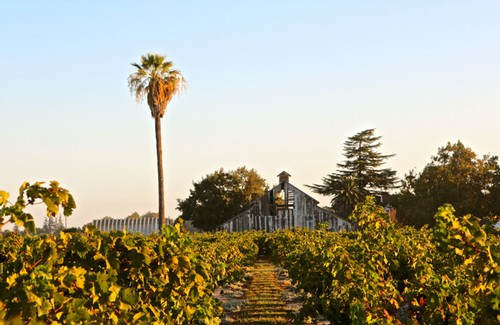 Typical of vines over 100 years old, this virile, venerable Marian's Vineyard Zinfandel's trunk has become hollowed and gnarled, while going stronger than an Eveready battery...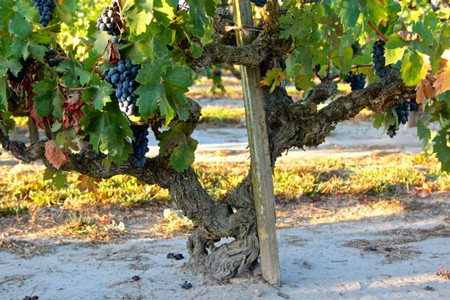 In Jessie's Grove Winery's Royal Tee Vineyard - Lodi's oldest continuously farmed Zinfandel growth (originally planted in 1889), a tractor and its haul of macro-bins kick up a mini-dust storm of the fine, deep (at least 30-50-ft. in depth), porous Tokay sandy loam, defining Lodi's Mokelumne River AVA:
Beautiful cluster of Zinfandel in Lodi's ancient Royal Tee Vineyard, picked this past September 2nd: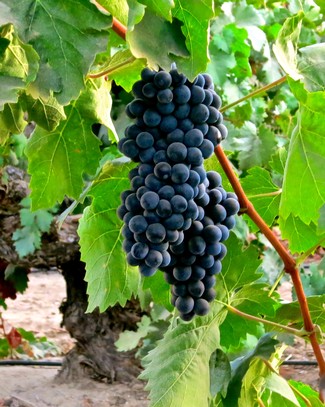 Man vs. ancient vine... Jessie's Grove Winery Owner/Grower Greg Burns (who stands 6-ft. tall), taking the measure of one of the grand old Tokay vines originally planted by his great grandfather Joseph Spenker in 1889: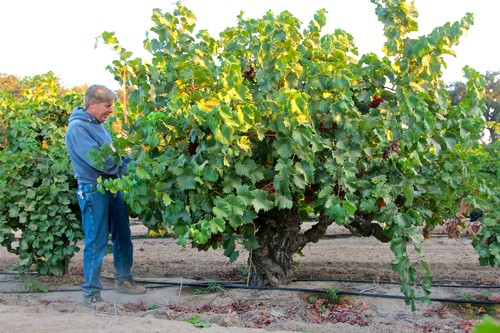 Well worn hands snipping off less-than-perfect part of a Zinfandel cluster in the Royal Tee Vineyard: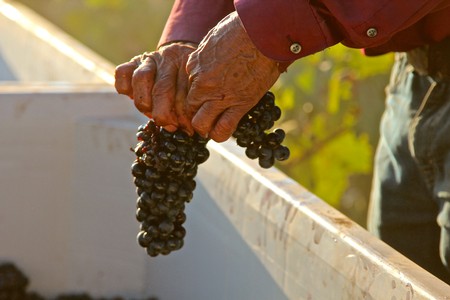 Royal Tee Vineyard owner/grower Greg Burns (left) goes over the type of Zinfandel clusters preferred by wnemaker Greg La Follette (owner of Sonoma Coast's La Follette Wines), who will be vinifying these grapes for the Lodi Native project: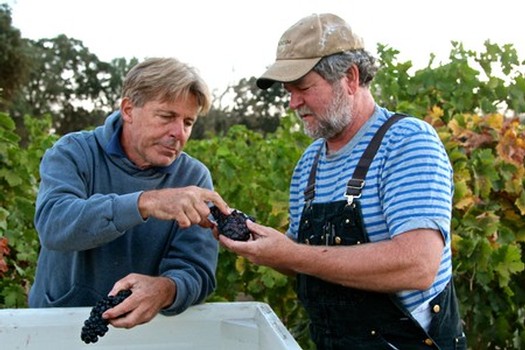 Just-picked clusters of Royal Tee Vineyard Zinfandel, glistening in the early morning sun: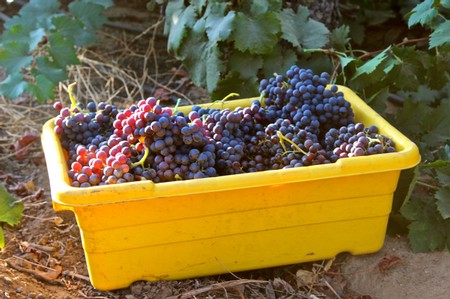 These sumptuous, stunning Flame Tokay grapes (once Lodi's most widely planted grape, primarily for the table grape market) were picked as part of the Royal Tee Vineyard "field mix" of mostly Zinfandel (at least 80%) along with Carignan, Mission and Black Prince grapes:
In Royal Tee Vineyard, picker adding Flame Tokay into the macro-bins of Zinfandel, which will go into a co-fermented lot (according to the original design of the vineyard, planted by Joseph Spenker in 1889):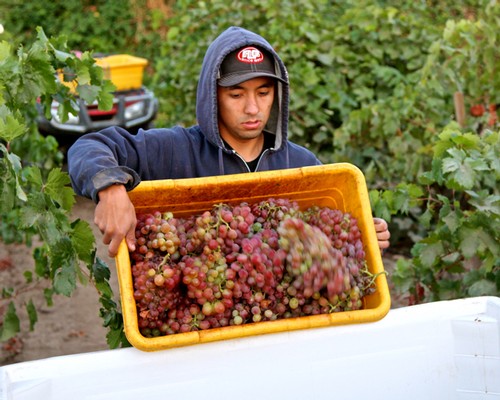 Up-close-and-personal peek at Zinfandel in macro-bins, glowing in the early morning sun in Royal Tee Vineyard: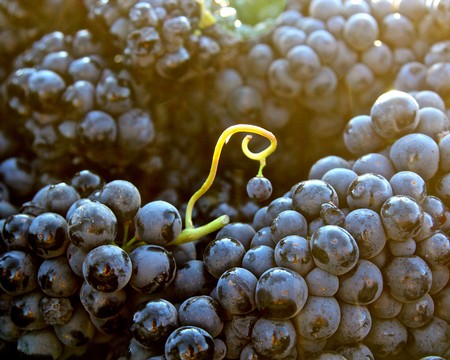 In Royal Tee Vineyard... this field sorter is smelling the grapes he suspects has a little bit of acetobacter (a natural but undesirable bacteria)... if he smells a hint of a tell-tale vinegar scent, he tosses the cluster to the ground...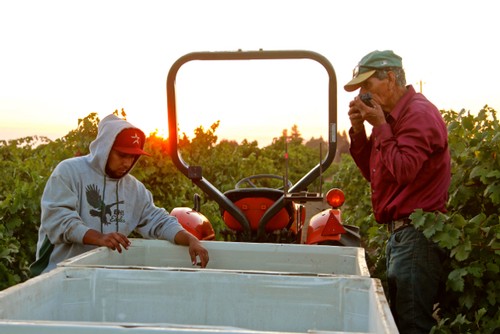 Rejected Zinfandel, tossed to the side in Royal Tee Vineyard:
In Royal Tee Vineyard, typically large, loose clusters of the historic Mission grape, interplanted among the Zinfandel (and going into the field-mix Lodi Native blend):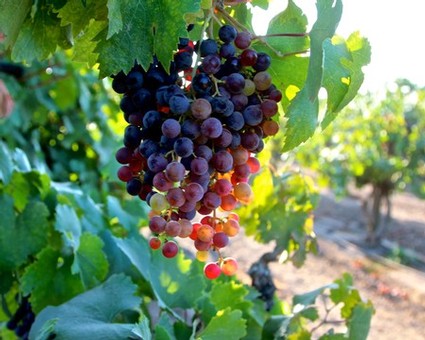 Incoming macro-bins of Marian's Vineyard Zinfandel at Lodi's St. Amant Winery: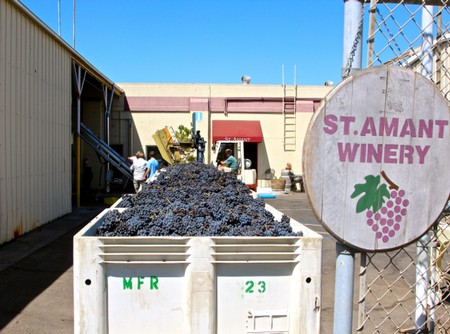 St. Amant owner/winemaker Stuart Spencer (on left) forklifting Marian's Vineyard Zinfandel into the hopper leading to the sorting belt and destemmer/crusher: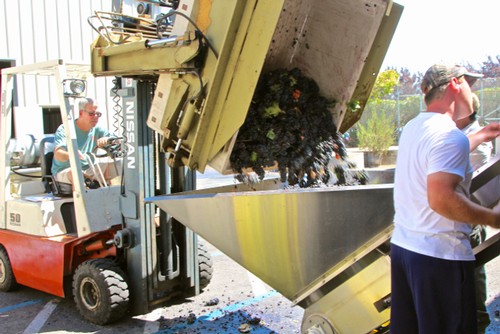 At St. Amant Winery, Marian's Vineyard Zinfandel clusters is sorted on the narrow belt headed up and dropped into a destemmer/crusher: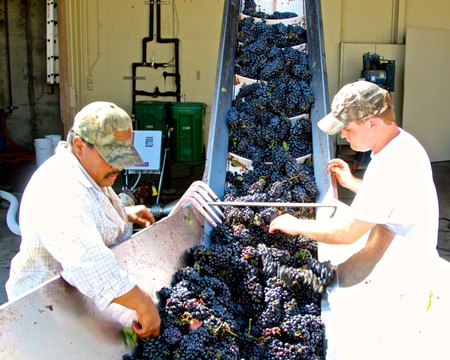 At St. Amant Winery, the augur moving destemmed grapes on towards a fermentor: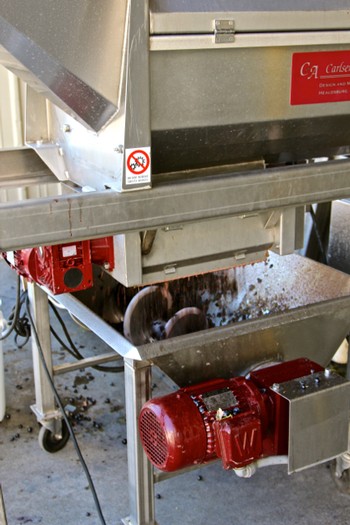 At Harney Lane Winery, winemaker Chad Joseph laboriously hand-sorts through each and every incoming grape cluster... proving once and for all that the winemaking profession is more than just sitting around eating cheese and crackers: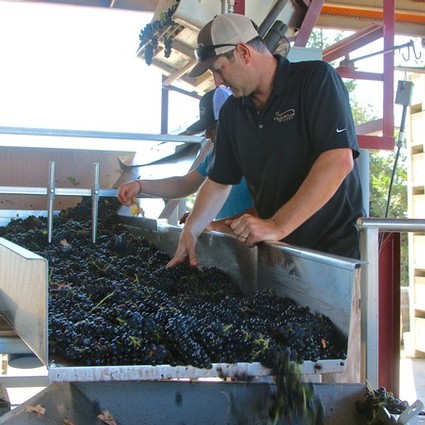 At Harney Lane Winery, the brilliant, clear, deep color of fermenting estate grown Lizzy James Vineyard Zinfandel during a tank pump-over (done to mix the rising cap of grape skins in with the juice during the fermentation process), boding extremely well for the 2015 vintage: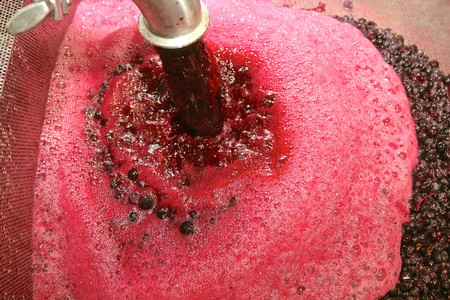 Extremely happy winemaker... Harney Lane's Chad Joseph thrilled with the juicy, dense taste of the fermenting 2015 Lizzy James Vineyard Zinfandel: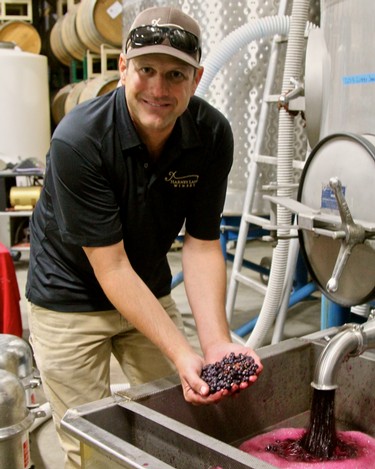 At Bokisch Vineyards' winery, located on the east side of Lodi (near Lockeford, in the Clements Hills sub-AVA), winemaker Elyse Egan-Perry is monitoring the gentle pneumatic pressing of just-picked Albarino grapes (which, unlike red wines, are fermented without skins):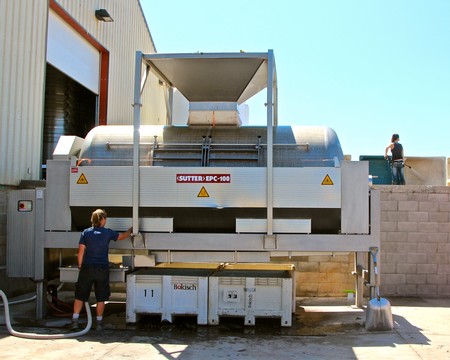 At Bokisch Vineyards winery, red wine barrels that have just been steam-cleaned are drying in the sun, waiting to be filled by 2015 red wines once they are done fermenting, with the rolling hills of Bokisch's spectacular Terra Alta Vineyard in the backdrop: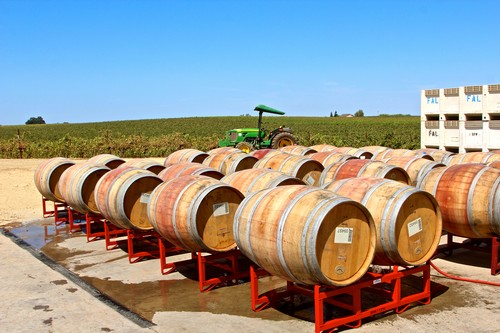 At m2 Wines winery, just-fermented and pressed Zinfandel is being pumped into American oak barrels: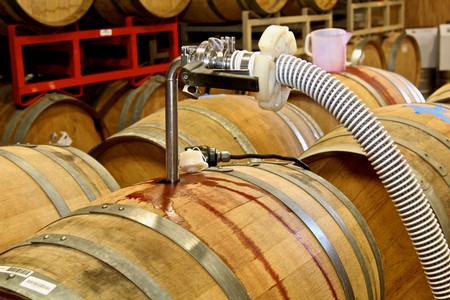 8 AM this past Tuesday (September 2)... Royal Tee Vineyard, winemaker Greg La Follette packs up his 3 just-picked macro-bins of Zinfandel (just over a ton and a half of grapes) in his Dodge truck, which he is driving straight over to his winery in Sebastopol where the grapes will be immediately destemmed, and the whole berries going into a "cold soak" for a few days, before being warmed up to start a native yeast fermentation: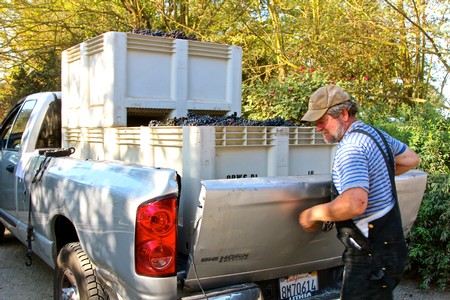 Something we never get tired looking at... beautifully pristine and delicious fruit in Lodi's oldest Zinfandel planting (Royal Tee Vineyard):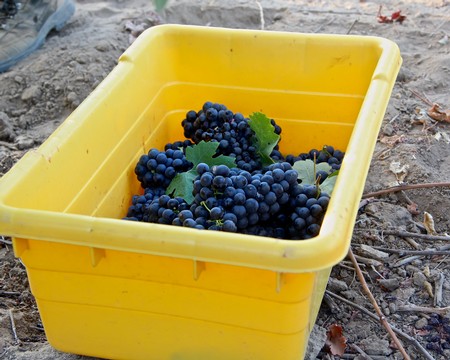 Lodi wine country farewell... winemaker Greg La Follette with his wife Mara La Follette, stopping by next door to pay tribute to the Bechthold Vineyard (Cinsaut vines planted in 1886 - Lodi's absolute oldest, and most revered, vines), which he believes should always be approached "on one's knees, with hat off"...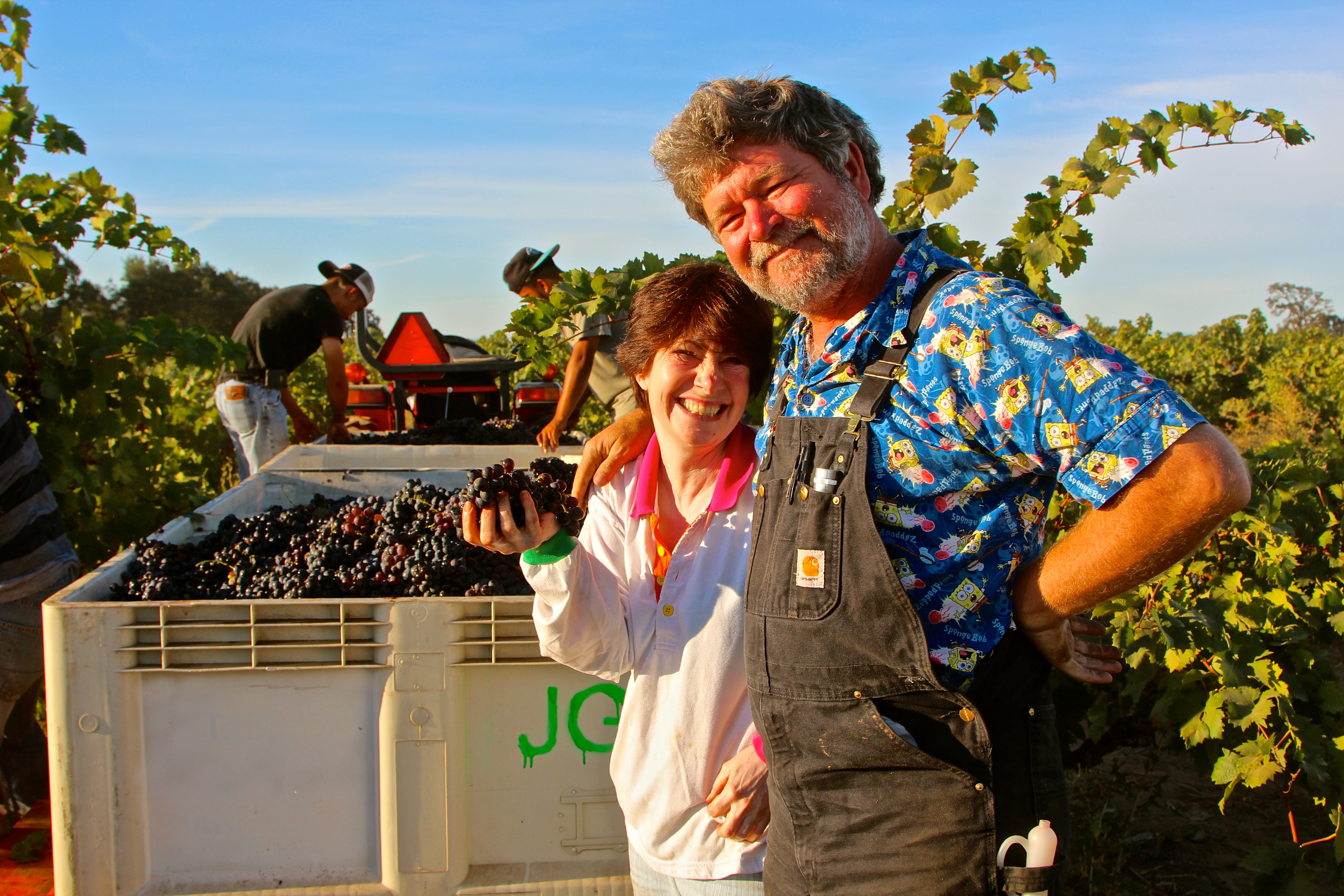 Comments