Letters from Lodi
An insightful and objective look at viticulture and winemaking from the Lodi
Appellation and the growers and vintners behind these crafts. Told from the
perspective of multi-award winning wine journalist, Randy Caparoso.

June 29, 2021 | Randy Caparoso
Oak barrels, part 2 — historical usage up until modern times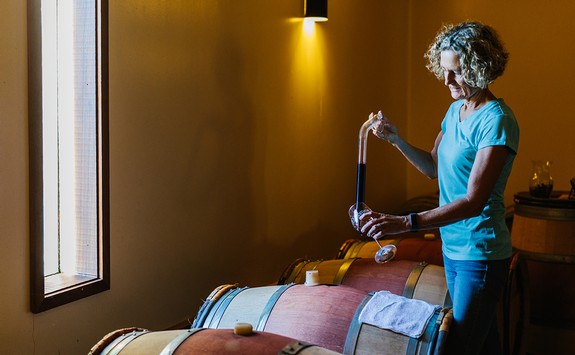 Oak barrel protocols at Lodi's first artisanal winery
In 1978, after working for Robert Mondavi Winery for 16 years, David Lucas established Lodi's second small, independent winery, and the region's first to focus exclusively on wines crafted in a traditional French style. Which meant the usage of strictly French oak barrels.
Mr. Lucas' first bottling was a 1978 Zinfandel grown entirely on his own winery estate, which he began calling ZinStar Vineyard (first planted in 1933) a few years later. Explains Lucas: "I picked the grapes at a lower Brix (i.e., sugar reading) because I never wanted to make a high alcohol wine, and from the beginning, I aged my Zinfandel in French oak — not because I was trying to make a Bordeaux or Burgundy style wine, but because I wanted to make the best Zinfandel I could."
Oak barrels were just as important to Lucas' wife, Heather Pyle Lucas, who also worked for Robert Mondavi Winery for 16 years, primarily as a reserve program winemaker. Pyle Lucas came on board The Lucas Winery in 1997, and the first major project of her own was the production of a Chardonnay fermented and aged entirely in French oak barrels. For Pyle Lucas, this was the only way to craft a premium Chardonnay, as good as any in California. Her goal, however, has always been to highlight the fresh, fruit-driven character of Lodi-grown fruit, and she believes it takes French oak barrels to do it.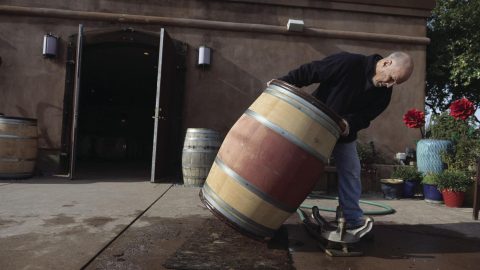 Proof, as it's always said, has been in the pudding. Like her husband's original Zinfandels, Pyle Lucas' Chardonnays have been known to age for well over 10 or 15 years in the bottle. It's not simply that they last that long, but the fact that they are measurably improved by this long-term maturation: a 20-year-old Lodi wine by Lucas tastes much better than a 5- or 10-year-old Lucas wine (please see our posts, Why a 10-15-year-old Lucas Chardonnay is just beginning to spread its gold-tinted wings, and Do Zinfandels age?). By utilizing oak barrels to achieve both freshness and longevity in their wines, in fact, they have simply been following time-honored ways of achieving optimal quality — methods that were well established in European wine regions since the 1600s, and which helped launch California's own modern-day quality revolution, starting in the 1950s.
Here is an accounting of the historical precedents upon which Lodi's The Lucas Winery forged its own style...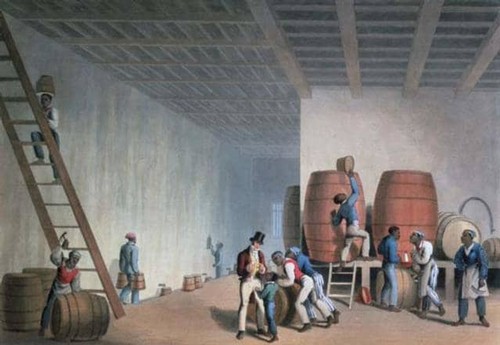 Oak barrels used for fortified wines and spirits
There are historical records of distilled spirits being happily consumed in Europe as far back as the thirteenth century. But up until the 1500s, most whiskeys made from grains, or brandies made from distilled wine, were typically consumed fresh from the still, without any wood aging. During the 1600s, shippers such as the Dutch East India Company began transporting brandies from France's Cognac and Armagnac regions in oak casks. Following ocean voyages and the prolonged process of warehousing and merchant exchanges, by the time these spirits were consumed, they were spending at least three or four months, or longer, in oak casks. The fact that they tasted much better following the voyage than before did not go unnoticed. Very much an accidental discovery.
A turning point, also taking place in the 1600s, was when British and Dutch shippers began transporting distilled spirits called Arrack — made from palm wine, rice cakes, or coconut flowers in countries like India, Sri Lanka, and Indonesia — which became highly sought because of their intense yet subtle flavors, much of it as the result of aging in wooden casks for at least 9 or 12 months, which was the time it took to ship over to Europe, and accounting for time spent sitting in ports along the way.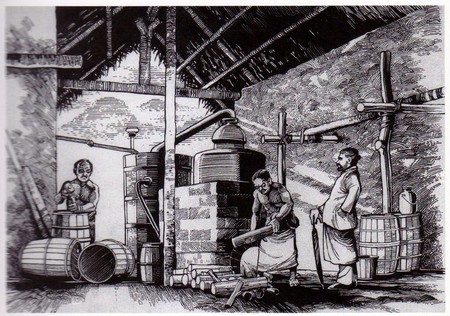 Around the same time, rums produced in the Caribbean underwent long periods of maturation while being shipped across the Atlantic in casks, aging at least 3 or 4 months before being consumed; and vice-versa, whiskeys produced in Scotland and Ireland were spending just as long a time in wood while being shipped to the Americas.
Hence, by the 1700s, the benefits of long-term aging in oak barrels were widely known. The aging of fortified wines like Sherry and Port, and spirits such as Cognac, Armagnac, and Rum, began to evolve into a fine and precisely defined art. The Scots began aging their Scotch whiskey in used Sherry casks in the 1800s, and since the 1940s the finest Scotch has been aged in American oak casks (borrowing the Spanish tradition of aging Sherry in 500-liter casks made from American oak, which began in the 1500s).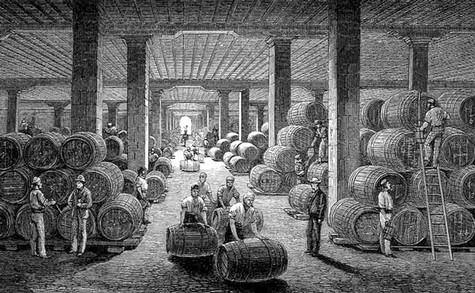 1876 illustration of 500-liter Sherry casks being moved for shipment. Sherry Wines.
Kentucky's Bourbon whiskey emerged as a unique and identifiable spirit in the late 1800s, appreciated for its smoky, sweet-toned flavor attributed directly to oak barrels that were charred over fire much more aggressively than what is done for Scotch or Cognac barrels. The darkest Rums, made from sugarcane, emerged as products of long-term aging (5, 7, or more years) in the most heavily charred barrels.
The Brits, who were the heaviest consumers and investors in Portugal's wine industry, also began to appreciate the "accidental" benefits of oak aging when they began fortifying the red wines grown in the Douro Valley to make them strong enough to withstand the long trip to England. When finished, the sweet, 18% to 20%-alcohol wines were packed in barrels (up to 550 liters in size), which were transported down the Douro River to the city of Porto on the coast, where they were shipped off to England.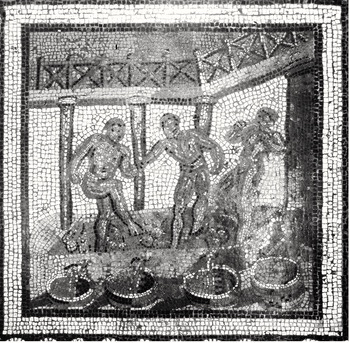 Refinement of barrel aging for wine
The use of barrels is intertwined with the evolution of wine growing throughout Europe over the past 2,000 years. The Romans, who certainly did not invent viticulture and winemaking (which date back thousands of years earlier throughout the Mediterranean), played a key role, particularly as a consequence of conquests of regions like Southern France, Bordeaux, Burgundy, the Loire Valley, and the colder climate river regions of Germany where it was possible to ripen grapes. These were the parts of Europe where wine cultures were not strongly established until the 1st century or after.
Recognizing the practical wisdom of cultivating indigenous grapes better adapted to their environment, the Romans did not attempt to plant grapes of Italian or Greek origin in conquered regions like Gaul (which included present-day France and part of Northern Italy), Germany, or Spain. Recent DNA studies indicate that grapes like Pinot noir, Cabernet Franc (a parent grape of both Cabernet Sauvignon and Merlot) and Syrah in France, and Tempranillo and Grenache in Spain, are all native to their respective regions; notwithstanding disputed speculation that Gouais blanc, an obscure parent grape of Chardonnay said to have originated in Croatia, may have been introduced to the Gauls by the third-century Roman emperor Marcus Aurelius Probus (some ampelographers believe Gouais blanc originated somewhere in the vicinity of present-day Austria).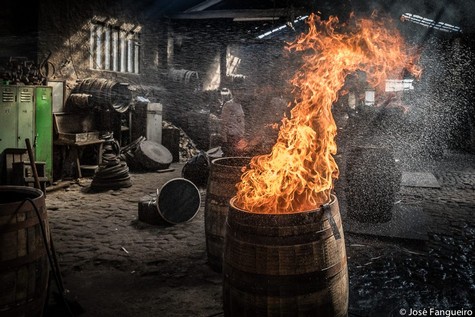 Following the fall of the Roman Empire (in the fifth century) and throughout the Middle Ages (up until the late 15th century), wine was traditionally stored and transported in wooden barrels. The English were the biggest consumers of red wines grown and produced in France's Bordeaux, particularly following the marriage of Henry Plantagenet and Aliénor d'Aquitaine in 1152. In fact, by the 1799s, the identification of distinct vineyards and appellations in the widely planted Bordeaux region (formerly established in the Official Classification of 1855) is attributed directly to the demands of over five centuries of commercial trade with England.
A significant change occurred after 1615 when King James I decreed that timber in English forests should serve only to produce warships. This had an impact on glass-makers, who began firing up their furnaces to higher temperatures with charcoal rather than wood, which enabled them to produce stronger, more durable glass. One direct result was a burgeoning wine bottle industry. In regions like Bordeaux and Burgundy in France, and Port in Portugal, vintners soon began to transfer finished wines directly into bottles; and up until the 1900s, wine was shipped in both bottles and barrels.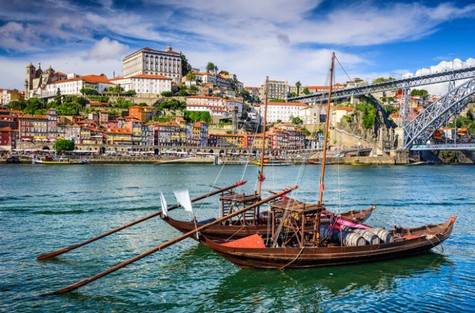 The barrel, however, remained the focus of quality and stylistic decisions increasingly weighed by vintners to meet the demands of merchants and consumers. Even after they began to bottle their Port in the late 1700s, the English learned to appreciate delineations of Port wines from the finest years (Vintage Port, aged for about 2 years in barrels before bottling) or blended and aged from multiple multiple vintages (Late Bottled Vintage Port aged for 4 to 6 years, and Tawny Ports aged for as long as 10 to 40 years), all benefiting from formerly defined usages of oak barrels.
When it came to the red wines of Bordeaux, which the English called "claret," the tradition of aging wine in barrels prior to bottling — long enough to attain a round, smooth taste through the oxidative process and with subtle (not overpowering) flavors of oak, but without altering the fresh fruit qualities of the wine itself — became more and more of an exacting craft.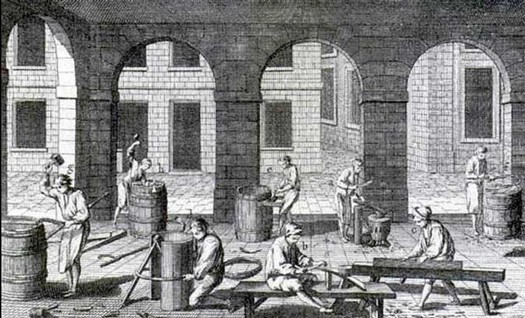 In a 2017 GuildSomm article, it was remarked:
An interesting side note is that Hungarian and Baltic oak was historically regarded as being the highest in quality, especially by the Bordelais. When the Napoleonic Wars of the early 1800s interrupted trade with the north, Bordeaux was forced to turn to French oak. In a famous letter of 1811, the then-director of Château Latour complained that Baltic oak was increasingly difficult to acquire, bemoaning, "We shall soon have to…make do with what is here, even though the English don't like it."
By the mid-1800s the Rioja region in Spain also developed a thriving export market for its red wines, made primarily from the Tempranillo grape. Influenced by practices learned in France's Bordeaux region, Rioja producers were typically aging their red wines in 225-liter oak barrels; only, owing to Spain's longstanding ties to the Americas, the oak used was sourced exclusively from American white oak forests. To this day, perhaps no other wines in the world are as well defined by exacting prescriptions for oak and bottle aging. By enforced law in Rioja, red wines are classified either as Crianza (minimum of 1 year in barrel, 2 years before release), Reserva (minimum of 1 year in barrel, 3 years before release), or Gran Reserva (minimum of 2 years in barrel, 5 years before release).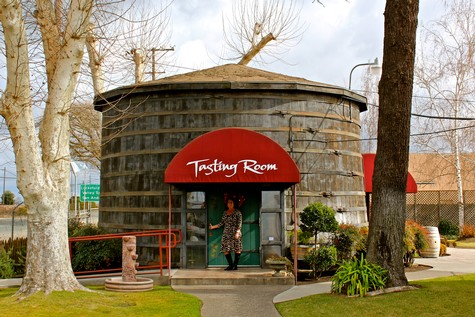 California's barrel-driven revolution
Here in the U.S., of course, the wine market has been dominated by the California industry since the 1960s. In the 1960s, the standard practice in most California wineries was to ferment white and red wines in temperature-controlled stainless steel tanks. White wines went directly to bottle from tank, and red wines were typically aged in large, upright redwood tanks, typically crafted from old-growth California forests (a practice largely halted after the 1970s).
Louis M. Martini Winery and Charles Krug Winery in Napa Valley, Sebastiani Vineyards in Sonoma Valley, Wente Brothers in Livermore Valley, and Parducci Wine Cellars in Mendocino were all examples of popular brands that made use of redwood tanks ranging from 500 to over 20,000 or 50,000 gallons in size. Because redwood tanks could be utilized for decades, and even over a century (at Wente since its founding in 1883, Sebastiani since 1904, Parducci since 1932, Louis M. Martini since 1933), the purpose of this extra-large cooperage was to smooth out the tannin structures of red wines without imparting any flavor suggesting wood at all.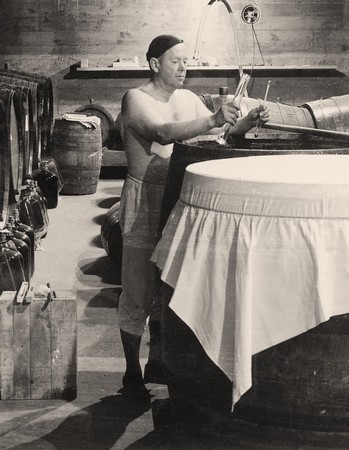 The movement towards small, 225- or 228-liter (or 55- or 60-gallon) barrels, whether made in the U.S. or France, came in dribs and drabs. One of the first baby steps was taken by a maverick in Santa Cruz Mountains named Martin Ray, who in the 1940s began fermenting Chardonnay in authentic, 228-liter barrels from Burgundy in France. Ray's production was minuscule — his bottlings falling into the hands of only a few dozen customers on his direct mailing list.
A bigger impact was made by Beaulieu Vineyard, a far more widely known brand founded in 1900. When the legendary André Tchelistcheff, a winemaker of Russian lineage but trained in France and Czechoslovakia, arrived in Napa Valley in 1938, he was duly impressed by the quality of Beaulieu's 1936 Cabernet Sauvignon, bottled as Georges de Latour Private Reserve (named after the winery's founder). While Monsieur de Latour himself was originally French, the only barrels available to him at the time were American — essentially the same type of 55-gallon barrels used to age Bourbon whiskey.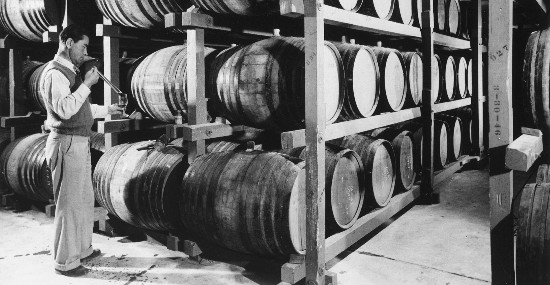 Nonetheless, the Beaulieu Private Reserve remained an American industry standard all the way up to the 1970s, despite the fact that American whiskey barrels have always been known to exert a much stronger taste of oak (vanilla with discernibly sweet/green flavors of coconut and dill) than those of French oak barrels — due to the fundamental difference in white oak species (Quercus alba vs. the Quercus petraea used in the finest French oak) as well as in the production process (American oak barrels are traditionally steamed and heavily charred, whereas French barrels are slowly shaped over open fires, imparting a far more subtle "toast").
To avoid the burnt, caramelized taste of Bourbon, however, Tchelistcheff special-ordered his American oak barrels uncharred (before being used, the raw American oak barrels would need to be rinsed in hot soda ash several times to get rid of the green taste of the oak, and then with citric acid to get rid of the taste of soda ash). The sweet and herby flavor of American oak remained part of the Beaulieu signature all the way up to the early 1990s when the winery finally made the transition to French oak barrels. Even today, American oak barrels are strongly favored by Zinfandel specialists — one Lodi producer has described aging Zinfandel in French oak as being like "putting lipstick on John Wayne" — and a handful of prestigious Cabernet Sauvignon producers, such as Ridge Vineyards and Silver Oak Cellars, still age their reds exclusively in American oak.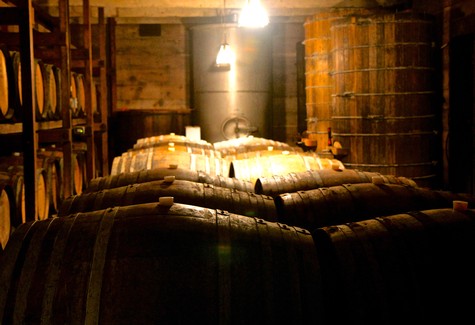 In the 1977 book by Robert Benson, Great Winemakers of California, Ridge winemaker Paul Draper remarked that Ridge's movement to American oak, or Quercus alba, came as a result of comparisons of "the best French oak for parallel experiments." Elaborated Draper:
One of my closest friends in Bordeaux had done his thesis on oak aging and had depended greatly on a French study from around the turn of the century that had used the best oak available, which at the time came from Latvia, Germany, Yugoslavia, France, and the United States. These were long-term studies, done by making two barrels of wine in each oak at six different châteaux. The very highest ratings came from the Baltic, that is, first from Riga in Latvia and second from Stettin, now in Poland, and third from Lübeck in Germany. And following those came the American oak, then the Yugoslavian oak, and last of all the French oak. And this was done by French oenologists in Bordeaux.
What goes unsaid, however, is the basis upon which oak barrels were rated at the turn of the last century. What is known today is that barrels made from Quercus petraea, grown in oak forests in France, are now considered to be the world's finest — perhaps for a subtlety imparted to wines that were less appreciated 100 years ago.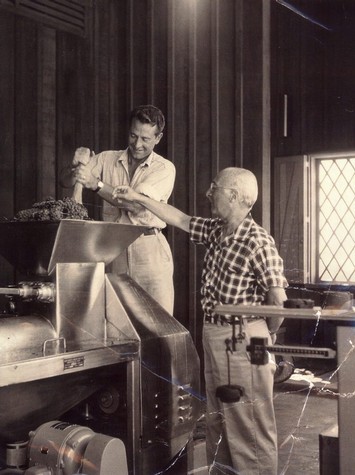 Hence, the outsized influence of small artisanal producers at the start of California's modern era was based largely upon the employment of specifically French oak. Stony Hill Vineyard (founded in 1952) established this Napa Valley hillside estate's cult-like status by fermenting and aging Chardonnays in 60- and 130-gallon French oak barrels. Only, to minimize the taste of oak, Stony Hill continuously reused their barrels, for as long as 30, 40, or 50 years. On Sonoma Valley's Moon Mountain, on the other hand, Hanzell Vineyards (founded 1957) set a trend of fermenting Chardonnay in stainless steel tanks and aging in new French oak barrels, demonstrating an eye-opening richness and intensity enhanced by the toasty, vanillin qualities contributed directly by the wood. For many connoisseurs of the day, it was the oak — even more than the special vineyard and the state-of-the-art stainless steel fermentation — that almost magically set this wine apart from other California white wines.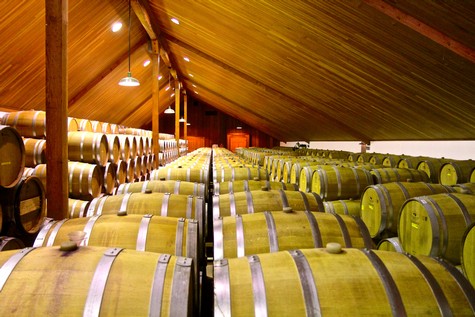 On a remote Pinnacles mountaintop in Monterey County, a tiny estate called Chalone Vineyard was founded in 1961 on the premise that traditional Burgundian practices — fermenting and aging Chardonnay in French oak barrels, and aging Pinot noir in French oak — were the key to achieving more distinctive varietal profiles. Chalone, in fact, produced one of the five Chardonnays that were featured in the now-famous 1976 Judgement of Paris, in which French judges rated California wines higher than wines from some of France's most prestigious estates. All of the California Chardonnays in this event — the 1973 Chateau Montelena (fermented in steel, aged in French oak), 1974 Chalone (fermented and aged in French oak), 1973 Spring Mountain (fermented in steel, aged in French oak), 1972 Freemark Abbey (steel fermented, aged in steel as well as French oak), and 1973 David Bruce (steel fermented, all French oak aged) — could be described as opulent, powerfully oaked styles of Chardonnay (in fact, probably over the top by today's standards) capturing the attention of wine lovers everywhere, and exerting a landmark influence on the rest of the American wine industry
Lavishing oak complexities on red wines made from varieties like Cabernet Sauvignon, Pinot Noir or Zinfandel is one thing — black-skinned grapes have a greater capacity for absorbing oak tannin and flavors — but achieving a semblance of elegance in oak-enriched white wines was still a challenge. By the end of the 1970s, Robert Mondavi Winery's experimental lots of barrel fermented and aged Chardonnays and Fumé Blancs, going into the brand's Reserve bottlings, were beginning to yield finely textured sensory qualities despite pungent smoky/toasty/vanillin aromas. Chateau St. Jean's line of vineyard-designate Chardonnays was also influential — demonstrating the holistic benefits of traditional Burgundian methodology, which combines barrel fermentation (resulting in more harmonious oak qualities), malolactic fermentation (i.e., conversion of sharp malic acid into milder lactic acid) and bâttonage (stirring of lees, or spent yeast cells, which also helps to alleviate "fat" or "buttery" sensations associated with lactic acid).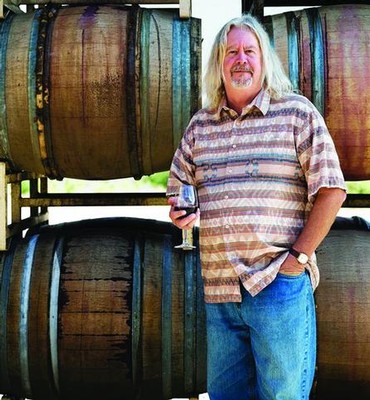 In the early 1980s, it was off to the races for California's leaders in barrel-influenced styles of white wines. Acacia Winery and Kistler Vineyards were justifiably acclaimed for Chardonnays achieving an exquisite balance despite full, fleshy mouthfeels and a preponderance of new oak. The barrel-fermented Chardonnays of Au Bon Climat, on the other hand, consistently layered remarkably subtle oak nuances into more of a svelte, acid-driven profile reflecting cooler climate Santa Barbara terroirs, and Matanzas Creek Winery achieved a similar, and perhaps trickier, effect with oak enhanced Sonoma County Sauvignon Blanc.
At that point, you could say, the American wine industry's modern-day quality revolution was unleashed, along with an absolute explosion of vineyard acreage and wine production; and eventual mastery, and standardized use, of oak barrels, played a huge part in it.
Our next blog post: Oak barrels, part 3 — French and American silviculture and oak seasoning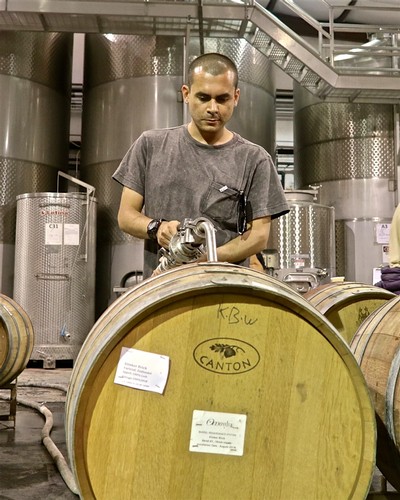 Comments