Letters from Lodi
An insightful and objective look at viticulture and winemaking from the Lodi
Appellation and the growers and vintners behind these crafts. Told from the
perspective of multi-award winning wine journalist, Randy Caparoso.

June 7, 2021 | Randy Caparoso
Stoking the June fires with kamado grills and Zinfandel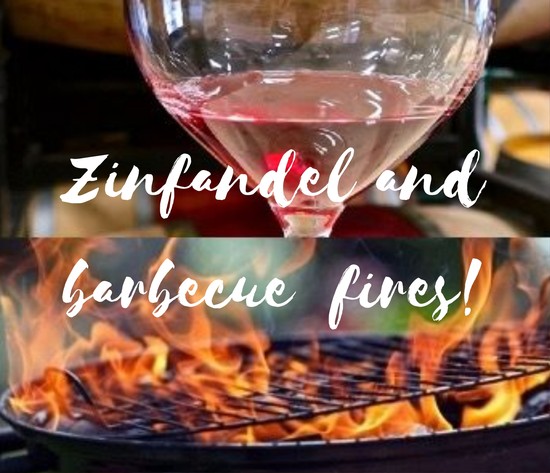 The first lily of June opens its red mouth...
And moves on to equally lusty phraseology with
... The green will never
again be so green, so purely and lushly

new, grass lifting its wheaty seedheads
into the wind. rich fresh wine
of June, we stagger into you smeared
with pollen, overcome...
Of course, early June is also a culinary season. That is, barbecue grills are eased out on their squeaky, rusty wheels, dust covers pulled off and spiders brushed away; fires are lit and smoke is in the air, cueing our senses for the grilled meats and chunky vegetables to come, along with chilled salads soaked in sweet/sharp vinaigrettes or dolled up with fruit like blood orange or quivering mounds of soft-ripened white cheese. The palate, like our kitchen knives, is whetted.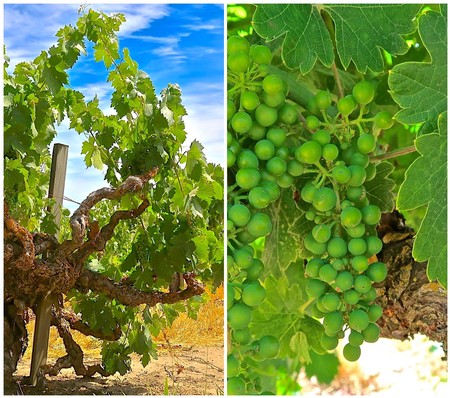 So here's a personal tale involving my father, who passed away a few years ago. He was not a "giant" of a man. He was a small, quiet one, although with a penchant for classically awful dad jokes. I was the fourth of his seven kids.
I think of the old man around this time of year because I associate him with the huge array of foods that he turned out from his old-fashioned, egg-shaped clay hibachi that he had purchased in Japan (when stationed there in the Air Force during the early 1960s), called the kamado — a slightly smaller precursor, with fewer bells and whistles, to the ceramic cookers now better known as Big Green Egg. As a kid, I always thought that the yearly unveiling of the kamado was very cool because it looked just like a giant grenade (ka-boom!). Even though it never exploded, to the disappointment of my imagination, kamado cookery was my dad's métier — his ticket to the culinary Olympics if there ever was one.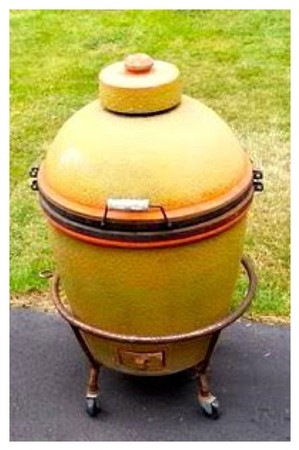 I associate Thanksgiving, for instance, with the kamado, because that was when everyone looked forward to the lusciously moist, tender, smoky turkey my dad always slo-o-ow roasted in his kamado. Never any dry, run-of-the-mill oven-baked turkeys for us. When I became a young, wine-imbibing adult, I enjoyed the perfection of many a fine, smoky, French oak-aged California Chardonnay with that turkey, chased by glasses of supple Merlot or velvety Pinot noir to go with his signature homemade stuffing of sage-scented bread stuffing, the usual cranberry, and sweet yams.
At Christmas, the kamado was put to other uses, like ham punctured with cloves and pineapple. Since we were Hawaiian Islanders, Christmas also meant steamed white rice and macaroni-mayo salad served right alongside the mashed potatoes made with whole sticks of butter, Julia Child style. There were also blood-red, palpitating strips of sashimi, from the finest tuna (i.e. Hawaiian 'ahi) in the world.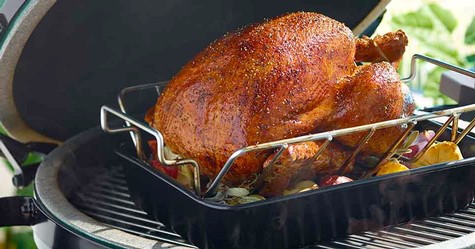 There might also be Filipino-style pancit (noodles) and lumpia (golden fried pork spring rolls) with sweet-sour chili spiced dips. Huli (Hawaiian rock salted, mildly marinated, and "turned," also on the smoky kamado) style halves of chicken. Finished with refreshing servings of Jell-O with fruit cocktail and cottage cheese.
In the spring (and come to think of it, all the way through Christmas), Caparoso Sr.'s pièce de resistance was, by universal acclaim, his kalbi (i.e., Korean) style barbecued beef short ribs. There is not a drop of Korean blood in the Caparoso family, but I've never tasted a Korean version of beef short ribs that was better. Incidentally, my dad also usually charred pork spare ribs in the kamado right alongside the short ribs — I swear, so that he could always tell the same old dad joke, "Would you care for more?... we have ribs to spare."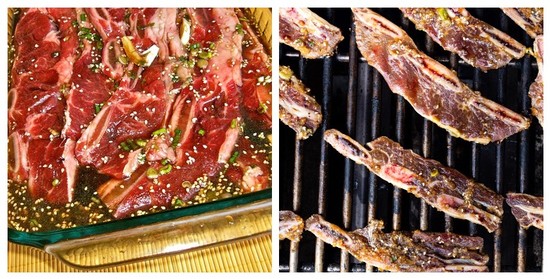 When it comes to kalbi, it's the marinade as much as the cooking apparatus that makes for perfection. My dad's was an unerring balance of sweet/salty/umami sensations (soy sauce, sesame seeds, and alliums are loaded with the savory taste associated with umami), with subtle hints of garlic and ginger, all of which needs to balance with the caramelized char and smokiness from the kamado. When you get that right in Kalbi, you always end up eating more pounds of it than anticipated, the same way that you can seemingly drink gallons of a perfect wine (and very little of a terrible one).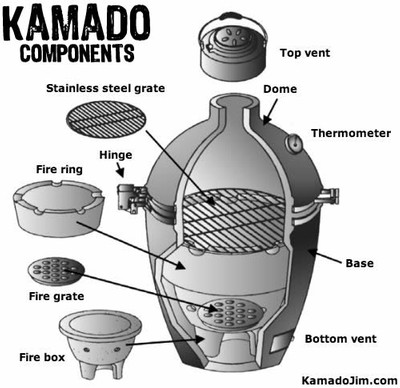 Diagram courtesy of The Kamado Evangelist.
I'm not going to pretend that my recipe below comes close to my dad's standards. I'm not a cooking demon like he was; and besides, I confess to not owning a kamado (I use an "ordinary" Weber like most people). My father threw together his marinade by feel, usually while whistling. Maybe that's the problem — I can't even whistle.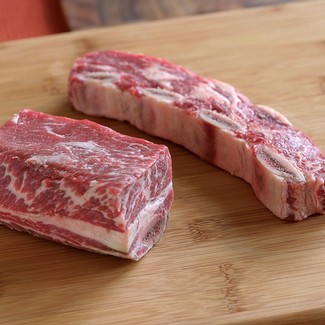 Neither did my father use the more traditional, or authentic, style of kalbi meat, which calls for thinly butterflied (or "flanken") strips of short ribs that sear almost instantly on a grill. He did it more "Hawaiian" style, calling for thicker cuts (a ½ inch or more) that can be charcoal or wood-grilled in such a way that a juicy pinkishness can be left in the center. Thicker cuts also cook slower, attaining a better balance of smokiness and caramelized (but never burnt) char on the outside. He probably threw in a little more ginger and garlic than a Korean might do (ginger is more of a Japanese thing). I occasionally saw him throw a bottle of beer into the marinade — an old technique for loosening connecting fibers and tenderizing beef. Whatever it was, his was a Trencherman's version of Kalbi.
I was, if you will, a connoisseur of wines by the time I was 18, and a full-time working sommelier (starting in fancy-schmancy French restaurants, where our uniform was a tuxedo) by age 21. You might assume that I drank grand crus Bordeaux or equally grand Pinot noir with kalbi ribs, but here's what I always knew of as a matter of a priori (meaning, to go by the French, "it stands before reason"): Zinfandel is the world's greatest wine for kalbi, and for just about all barbecued meats for that matter (whether it's Szechuan spiced baby backs, Texas smoked beef, Mexican carnitas, classic Memphis dry rubbed pork, or local Lockeford sausages).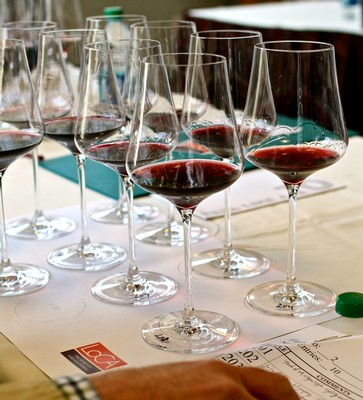 Yes, "other" red wines will do (Petite Sirah, for instance, can work, but it often has more bitter tannin or oakiness than necessary for barbecued meats). So really, it's Zinfandel that you can depend upon for the consistent zestiness, just the right amount of phenolic stuffing, and the effortless sweetness of wild berry sensations that can ease into the caramelized notes of marinated or spice-seasoned meats cooked on a grill or in a kamado like a hand in glove. I knew that as a 21-year-old sommelier, and I still know it as a 60-something-year-old-know-it-all.
My Father's Kalbi
Or as best as I can recall, serving 6 to 8:
4-5 pounds of beef short ribs, English cut (thick)
2 cups soy sauce (for a milder, less salty marinade, use Hawai`i's Aloha brand)
1 cup white sugar
¼ cup sesame oil
4-6 garlic cloves (roughly chopped or minced)
1 teaspoon fresh ginger (chopped or minced)
3-4 stalks green onions (sliced)
1 tablespoon toasted sesame seeds
Salt and pepper to taste (or about ¼ teaspoon each)
Place ribs in Pyrex or Tupperware deep enough to marinate. Mix all ingredients in a pan and warm until the sugar melts, then cool. Pour marinade over ribs, reserving ½ cup on the side, cover the container, and place in refrigerator for at least 4 hours (or overnight), turning occasionally to make sure all ribs are entirely marinated. Grill the ribs, moderating the flames and turning two or three times to avoid sugar burning; brushing with reserved marinade.
Tastes best with steamed white rice, macaroni-mayo salad, grilled greens of your choice, and bottles of California Zinfandel (for a good rundown on current Lodi-grown styles, please see our post How to delineate the proliferating styles of Lodi Zinfandel).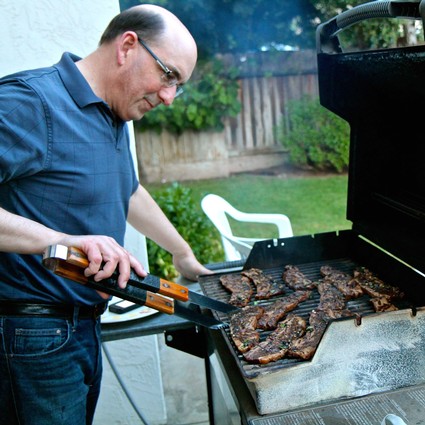 Comments