Letters from Lodi
An insightful and objective look at viticulture and winemaking from the Lodi
Appellation and the growers and vintners behind these crafts. Told from the
perspective of multi-award winning wine journalist, Randy Caparoso.

June 3, 2021 | Randy Caparoso
Will Grenache blanc become Lodi's Chardonnay someday soon?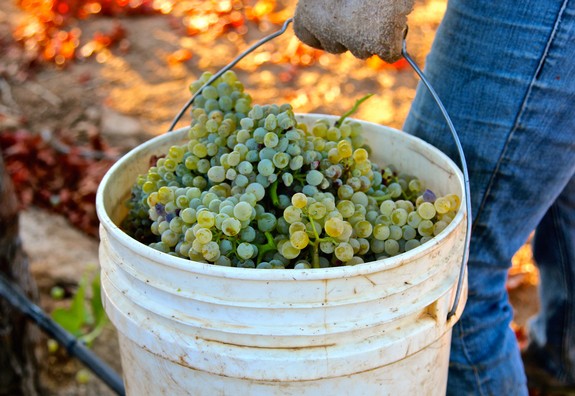 The misbegotten grape
Grenache blanc, the golden-green tinted clonal variation of the black-skinned Grenache noir, is the little grape that could. The best word to describe its track record, or fairly recent success, in the Lodi region just may be "unlikely." Why? Mostly because no one ever expected much out of this grape in the first place.
The high priestess of wine literature, for instance, is the U.K.'s Jancis Robinson, MW. She has described Grenache Blanc as "discreetly important" in the vast wine regions of Southern France and north-eastern Spain. But the most positive thing she has said about the grape is that it is "light-berried [not exactly sure what that means since we don't use that terminology in the U.S.]... producing full-bodied, sometimes rather flabby wines which can oxidize easily, although careful winemaking can make attractively scented wines for early drinking." This, if anything, is a polite way of saying that Grenache Blanc makes lousy wines.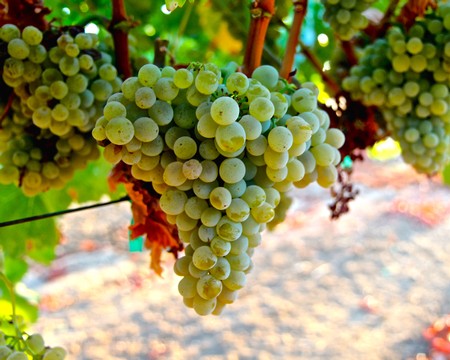 Randall Grahm, the founder of Bonny Doon Vineyard and the original "Rhône Ranger," can be considered one of California's leading authorities, if not biggest cheerleader, when it comes to Grenache blanc. Yet Mr. Grahm has never focused on a pure, unadulterated Grenache blanc. His schtick, if anything, has been barrel fermented and French oak-aged Grenache blanc, generously blended with other grapes (usually Roussanne, Vermentino, and/or Piquepoul), which he has bottled as Le Cigare Blanc.
Don't get me wrong, the Le Cigare Blancs have been fabulous wines — pungent, multi-layered, impeccably balanced — but they have never been 100% expressions of Grenache Blanc. What they might represent is the "careful winemaking" that Robinson refers to — more of an expression of a winemaker's vision (or, in Grahm's case, his id or personal compulsions) than of the grape itself. Whatever the case, Grahm has never had enough faith in the grape itself to let it stand alone without the crutches of French oak and other (or more "important") varieties such as Roussanne.

Unlikely breakthroughs and international plaudits
Late last year, as it were, we gave props to Lodi's Klinker Brick's 100% varietal, stainless steel finished 2019 Grenache Blanc which made Wine Spectator magazine's list of "Top 100" wines of 2020. It's important to note that out of this publication's 100 choices, only 22 of the wines were from the U.S. In other words, Klinker Brick's Grenache Blanc managed to sneak into the list of last year's 22 top American wines, out of the kazillion other wines grown and produced in the U.S.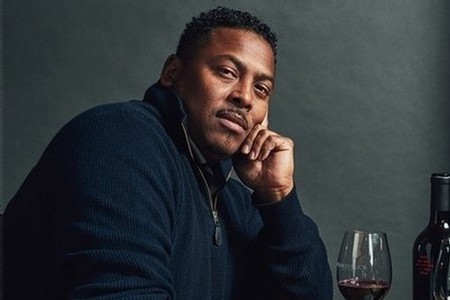 When asked about what this achievement means, Klinker Brick winemaker Joseph Smith said, "It's a little surreal to think that a white wine from 'little old Lodi' can make a list filled with all the titans in the international wine industry. What's even stranger is the fact that it's a white wine, not a red, because just a few years ago no one even thought that Lodi could produce such a fine white wine and a very delicate one at that."
It is pertinent to add that not only is the Klinker Brick Grenache Blanc a light, lacy, refreshingly delicate, and perfectly dry white wine, but it is also filled brimming with fragrances and flavors suggesting fresh citrus and mouth-watering, high-season white peach. There is, really, nothing that this wine lacks on a sensory level that would suggest that anything about it is incomplete, even with the hands-off, 100% varietal/stainless steel treatment administered by Mr. Smith. This is Grenache Blanc at its "best."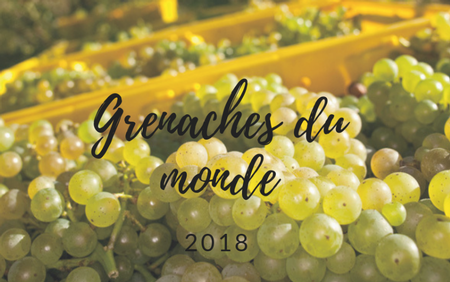 The international plaudits garnered by the Bokisch Vineyards Vista Luna Vineyard Garnacha Blanca may be even more impressive: Gold medals in Europe's Grenaches du Monde International Competition in both 2019 and 2018. As of this date, these are the only American wines to have captured Golds in this yearly prestigious judging, involving over 800 wines coming primarily from France, Spain, Italy, and South Africa (although to top it all off, Bokisch Vineyards captured a Gold in the 2020 Grenaches du Monde for its red wine, their Terra Alta Vineyard Garnacha).
Bokisch Vineyards owner/grower Markus Bokisch has a good 20 or so vintages of 100% Grenache blanc — which he calls Garnacha Blanca, in accordance with his brand's Spain-inspired identity (even though his Grenache blanc plant material was culled by Bokisch from Rasteau in the Southern Rhône) — under his belt. Consequently, Bokisch has arrived at more exacting means of coaxing out the varietal qualities intrinsic to the grape in Lodi's environment.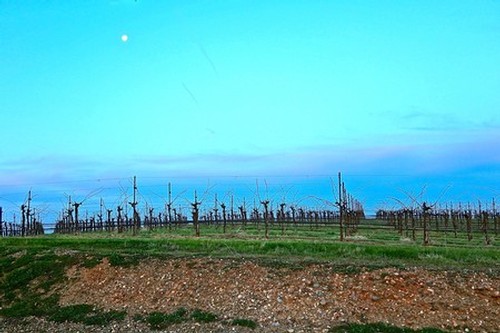 According to Mr. Bokisch, "Grenache blanc ripens so well in Lodi, we get physiological ripeness when picking at 22° or, at the most, 22.5° Brix" — referring to grape sugar readings that result in approximately 13% alcohol, which is very "light" (or "delicate") by the standards of today's commercial wines. Adds Bokisch, "At that point, all the flavor components are there — delicious citrus and lemon qualities, some white flower, a little anise, and a touch of malic acid that gives you a McIntosh apple-like quality — while the grapes retain a wonderful acidity. We also know from experience, that if we wait an extra week and sugars get higher, all that beauty can be masked by higher alcohol, and the [resulting] wine can get 'hot.'"
In reference to the grape's natural adaptation to Lodi's dry, ceaselessly bright, peak summer days, Bokisch says, "Grenache blanc can be a sugar-making machine, with its big, shiny leaves. We also always remember to leave one vine unpicked, because when you let a little bit of the fruit get up to about 26° Brix, it's like delicious 'candy on the vine,' when picked as a table grape!"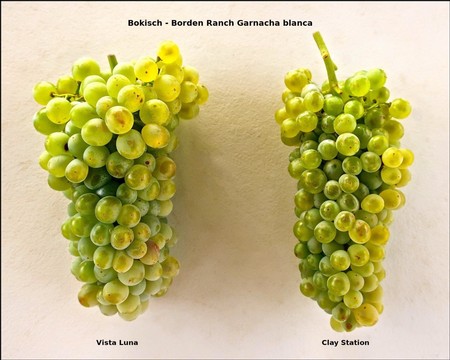 Unlike Klinker Brick's Grenache Blanc, which is grown by Ripken Vineyards in the flat, peat-rich, moon-dusty soils of the Delta just west of Interstate 5, the Bokisch plantings are in the rocky, reddish, volcanic slopes of Borden Ranch, one of Lodi's more northerly, east side sub-appellations. Says Mr. Bokisch, "These vines are grown in depleted soils, which we farm at one cluster per shoot, clipping off the shoulders of each cluster to get a smaller bunch and to avoid stacking on the vine, which helps us get more balanced fruit and acidity.
"In the winery, about 75% of the wine is fermented in steel, and the rest is fermented in neutral French [i.e., white oak] and Acacia wood barrels. We love the Acacia because it heightens the jasmine/white flower aspects of the grape. But it has to be previously used barrels because the flavor of new oak or Acacia will ruin the wine. The idea is to get just the micro-oxidative benefits of wood, which contribute a slightly fleshy, glycerol-like texture that balances out the steelier, minerally qualities you naturally get from Grenache blanc grown in Lodi."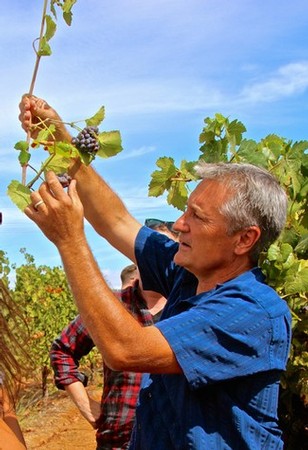 Lodi's steelier styles and diurnal factors
While the Grenache blanc bottlings of Klinker Brick and Bokisch Vineyards have been a little more flush in floral fruit intensity, the bottlings of two of Lodi's brands, McCay Cellars and Fields Family Wines, have fallen more on the steelier side of the varietal spectrum, whether by design or happenstance. That is to say, more acid-driven, giving the wines more of a sharp and linear edginess on the palate. These are sensations that appeal to a smaller yet growing number of consumers, who value lightness, tartness, and dryness over a fatter, easier fruitiness. Most certainly, the exact opposite of the "flabby," "full-bodied" qualities that Jancis Robinson would lead students of the grape to assume are inevitable in all iterations of the varietal.
According to McCay Cellars owner/grower/winemaker Mike McCay, "When we describe our wine as 'steely,' for us, this is not by design. This is simply what we get from our grapes, which are grown by Kevin Delu in the hills of the northern part of Lodi, where the Sloughhouse, Alta Mesa, and Borden Ranch appellations converge. Our Grenache blanc is produced entirely in steel tanks, so what you get is the authentic expression of the grape, grown in this particular vineyard.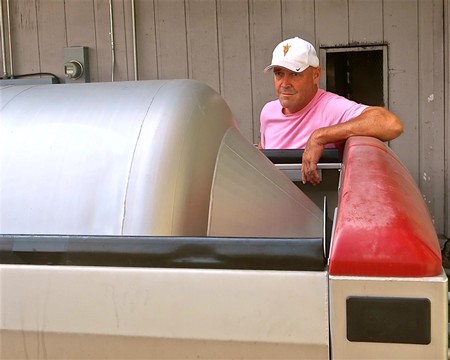 "I'd say that Grenache Blanc is very easy to grow in Lodi because of one thing — climate. Our Mediterranean climate is the same that you find in Southern France, the Rhône Valley, and north-east Spain, where the grape originated. Over there it's known to produce fat, flabby wines that are low in acidity, but not so in Lodi. Our style of Grenache blanc is quite high in acidity, with lots of floral, citrus, and tropical fruit. The reason for that is because we get cool nights — cooler than what you might find in Southern France — on top of the nice, warm days that the grape loves."
McCay's particular hypothesis, in fact, is backed up by comparisons of diurnal swings typifying, say, regions in Provence with that of Lodi and Napa Valley. The following chart is a comparison of average high (day) and low (night) temperatures in March, when grapevines typically begin to bud out, as well as in August, at the peak of summer when grapes are nearly ready to pick. This comparison utilizes readings in the major cities in Provence's two largest winegrowing regions, Côtes de Provence (more coastal) and Coteaux d'Aix-en-Provence (located further inland):

The biggest difference between California and Provence temperatures is that, during peak summer months, highs are higher and lows are lower in places like Napa Valley and Lodi. Hence, the almost unexpected ability of Lodi producers to fashion 100% pure, Grenache blanc-based whites possessing both pungent varietal character and edgy natural acidity.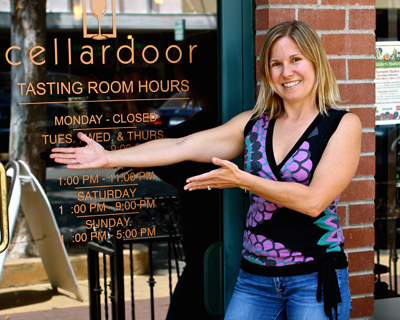 In a similar vein to McCay's, the Onesta Wines Clay Station Vineyard Grenache Blanc endeavors to be as faithful to the grape as possible, sourced from a vineyard (farmed by Bokisch Vineyards) very close to the Delu planting, marked by similarly depleted, reddish, rocky slopes. Onesta owner/winemaker Jillian Johnson DeLeon captures the lithe, steely profile of the grape through 100% stainless steel fermentation, although about six months of aging in contact with lees (i.e., spent yeast cells) add a sleek texture and perceptible minerality to go along with the lemon/citrus freshness — right up the alley for fans of crisper, cleaner, lighter and adroitly restrained styles of white wines.
Although Ryan Sherman, Fields Family Wines co-owner/winemaker, also produced rapier styles of Grenache blanc sourced from Kevin Delu's vineyard up until 2016, since 2017 Sherman has been working exclusively with fruit grown in the Fields Family estate located in the sandy soils of Lodi's Mokeumne River AVA. Despite the soil differences, however, Sherman has retained the steely knife-edged personality of the varietal — particularly in comparison to the more fruit-focused styles of Klinker Brick and Bokisch — through winemaking decisions and machinations, as is his wont. Says Sherman, "We definitely watch pH (i.e., measure of the strength of acidity) more than anything, versus sugars. We usually do several picks, the first one at barely over 20° Brix, and going up to about 21.5°" — sugar levels almost sure to result in tart-edged styles, closer to 12% or 12.5% in alcohol.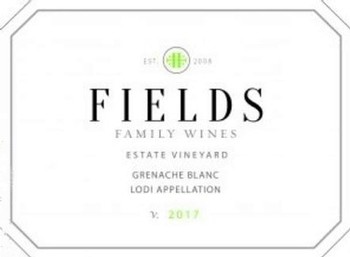 "In the winery," adds Sherman, "we press more solids and play around with skin contact time — destemming on skins for maybe 12 hours and then pressing. Fermentation is in very old, neutral Burgundy barrels, which enhances the steely/mineral character, before going back into stainless steel prior to bottling. I think the skin contact helps out with the phenolic and textural components, and in the long run will help us achieve the age-ability, versus near-term generosity, we are looking for." The bottom line for Sherman, though, is that he has the raw material — Grenache blanc coming off the vine with more than ample acidity and fruit intensity — to pull off this chosen style, mostly courtesy of Mokelumne River-Lodi terroir.
Terroir-driven fluidity
Within the context of Lodi's Mokelumne River, it has been fascinating to observe the progression of Grenache blanc grown in the Acquiesce Winery & Vineyards estate, which is also dominated by the phenomenally deep, sandy loam soils associated with the appellation. Owner/grower/winemaker Sue Tipton says, "Grenache blanc was the first grape that we planted in 2008" — referring to the fact that she now cultivates five other white wine grapes associated with the Rhône Valley (Viognier, Roussanne, Piquepoul, Bourboulenc, and Clairette blanche), plus some Grenache noir for dry rosé production. "When we planted it, I think there were only about 300 acres of Grenache Blanc in the entire state. Today, the acreage has just about doubled, which says something exciting about this varietal.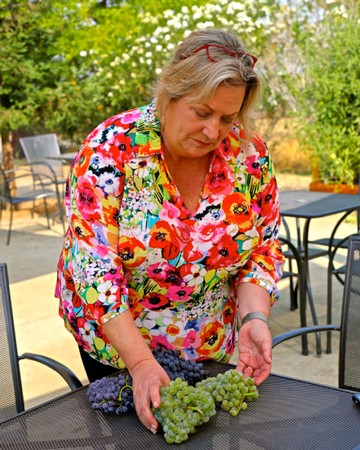 "Grenache blanc is our signature varietal, representing almost a third of our vineyard, which currently totals 10.5 acres [as we speak, Tipton is just about to plant 5 more acres of multiple 'Rhône' grapes]. We make about 500 cases of Grenache Blanc as a single varietal each year, which easily sells out within months. Some of our Grenache blanc is used as the major component in our Belle Blanc [Grenache blanc/Viognier/Roussanne] and Ingénue (Grenache blanc/Clairette blanche/Bourboulenc/Piquepoul] blends, and we've also produced an occasional Sparkling Grenache Blanc [in 2016 and 2018]."
The Acquiesce style of varietal Grenache Blanc — fashioned exclusively in stainless steel tanks, eschewing any type of barrel — tautly balances the grape's fragrant fruit profile with crisp acidity and a refreshing sense of lightness. Says Tipton, "We get a floral, violet fragrance in our Grenache Blanc, and it also exudes green apple and pear with a white pepper spice. It always has a great mid-palate and crisp acidic finish. It's an awesome food wine that pairs beautifully with seafood, salads, sushi, chicken, cream sauces, and spicy Asian and Mexican foods. I call this wine the 'red wine lover's conversion white' [Acquiesce pointedly produces no red wines] since they tend to gravitate toward this wine, potentially because it is a variant of Grenache noir and has a long mid-palate and tannic structure on the finish as red wine does."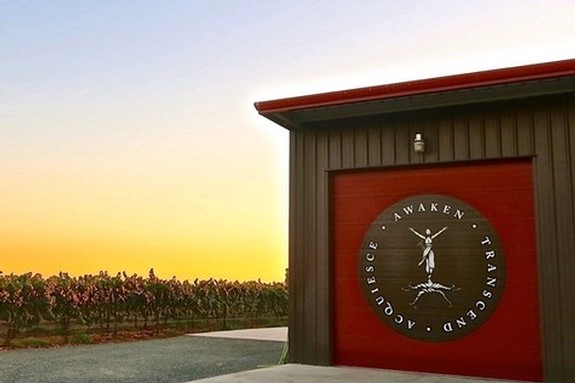 Proof, as in other Lodi-grown varietal bottlings, has been in the pudding. As Tipton puts it, "Our customers love our Grenache Blanc. But our wines made from this grape have also been awarded numerous Double Gold and Gold medals throughout the years as a single varietal, as a sparkling wine, and as blends."
Adds Markus Bokisch, "There may be some credence to the opinion that Grenache blanc may be the most suitable white wine grape for Lodi, similar to what you might say about the Grenache noir grape when talking about all the red wine varieties we have planted here."
Consumer awareness of Grenache Blanc, especially in comparison to more established varietals like Chardonnay and Sauvignon Blanc, may still be far from earth-shattering, and it may always remain the same. But in terms of what is most naturally suited to Lodi's climate and soils, there may not be a more better grape than Grenache blanc. That much is crystal clear — at least going by what we are already tasting and thus can be confirmed, in bottles and glasses, which is where it always counts the most.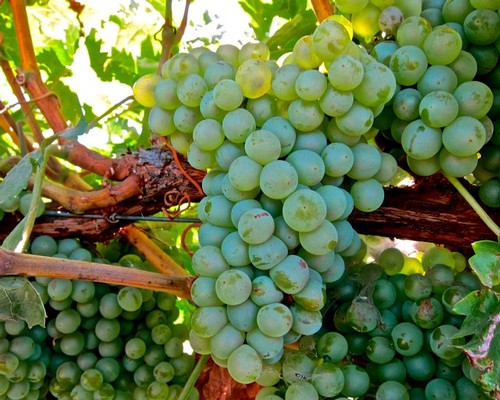 Comments