Letters from Lodi
An insightful and objective look at viticulture and winemaking from the Lodi
Appellation and the growers and vintners behind these crafts. Told from the
perspective of multi-award winning wine journalist, Randy Caparoso.

August 14, 2019 | Randy Caparoso
Harney Lane's new Scottsdale Vineyard Chardonnay signals a progression towards more *Lodi* styles of wine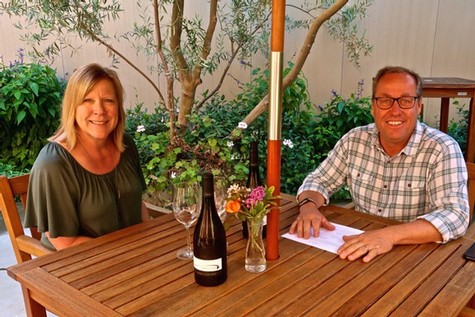 It's happening, slowly but surely: Lodi grown Chardonnay that tastes like it comes from... Lodi!
The newly released 2018 Harney Lane Winery Scottsdale Vineyard Lodi Chardonnay ($28) represents a resounding step in that direction, and it's delicious despite not following in the fuller bodied, round, soft, fleshy and lusciously fruited and creamy oaked style that many Chardonnay lovers prefer (Harney Lane Winery's "regular" Lodi Chardonnay, as a matter of fact, follows that formula, and it's also delicious for that style of wine).
Instead, this new bottling – the winery's first-ever vineyard-designate bottling from this estate owned property, located on the east side of Lodi's Mokelumne River AVA, where the soil is the deepest and sandiest in the appellation – is, according to co-owner Jorja Lerner, "a cleaner, crisper wine, more about the fruit than the influence of oak." Jorja's husband, co-owner/grower Kyle Lerner, describes the wine as being a "less broad shouldered style than most Chardonnays, including our own Harney Lane Chardonnay."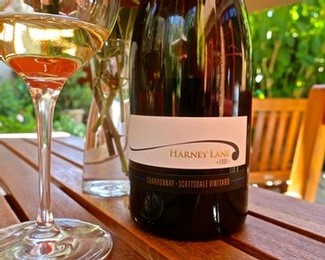 What makes the Harney Lane Scottsdale Vineyard Chardonnay very "Lodi?" Pristinely bright, nearly unadorned, sun-kissed fruit – citrusy crisp around the edges, and soft and silky in the middle, like a Lodi summer. Diving a little deeper: The wine exudes a subtle mix of lemon and briny minerality in the nose, with just a drop of vanilla, coming together in a medium-full body (14.1% alcohol) with a notably lip smacking lemon/citrus/green apple qualities – adding up to a slim, svelte and silky, gentle or feminine feel, as opposed to most California Chardonnays which tend to smack you around with a wham-bam-thank-you-ma'am.
Kyle credits Jorja for picking out the distinctive qualities coming out of their Scottsdale Vineyard (named for its location along Lodi's Scottsdale Rd.); telling us: "Out of the seven components usually going into our home ranch Chardonnay, Scottsdale always stood out, almost in a league of its own. Over the past few years we've felt that we have really been honing in our style of Chardonnay, and along with that starting to get a real feel or understanding of a sense of place in each vineyard. The Scottsdale Chardonnay is a wine built more along the lines of what the vineyard wants to produce, rather than the usual type of Chardonnay which is largely crafted and shaped by a winemaker's decisions."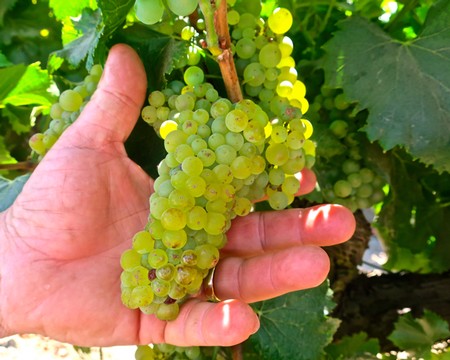 What is the significance of this style of Chardonnay?
Chardonnay, it is often said, is a tabula rasa: a blank slate for vintners to make anything they want from it. There is good and bad about that. The good part is that consumers get what they want. You prefer a soft, round, tropical fruity style of Chardonnay with buttery or creamy oak sensations cushioning the palate? In sun soaked California, it's easy as pie to produce a Chardonnay exactly like that.
Or do you prefer an opposite style – a sharper edged, lighter Chardonnay, with tart acidity, low key fruit qualities and almost no or zero oak flavors? That's possible, too, almost everywhere the grape is grown.
Many traditionalists and connoisseurs of the grape, on the other hand, do not prefer a Chardonnay based white wine that is made to please one consumer segment or another. They prefer a Chardonnay to taste like where it comes from – a region, or specific vineyard, where the wine is grown.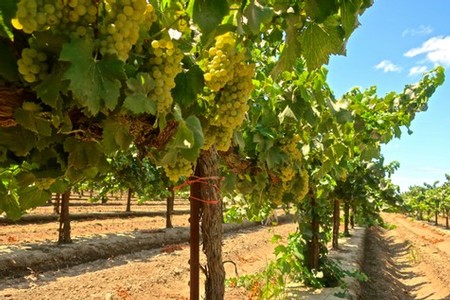 The spiritual home of this style, not surprisingly, is where the grape probably originated and evolved – in the Burgundy region of France. Because, for example, the Chablis region has the coldest climate in Burgundy, and grapes are grown on lean, white-chalky slopes, the white wines of Chablis are typically lean, tart and minerally, considerably lighter and less fruity than whites grown in other parts of Burgundy.
In Burgundy regions like Meursault and Puligny-Montrachet, increased sunlight yields Chardonnay based whites that are fuller in body, with fleshier fruit qualities mixed with mineral and citrus nuances. In places like Mâcon and Pouilly-Fuissé, the feel is light to medium bodied, not as tart as Chablis and less intense in fruit than Meursault or Puligny-Montrachet, but still wonderful to drink.
It's because of these regional distinctions that the French have never bottled their wines as "Chardonnay." They call them Chablis, Meursault, Puligny-Montrachet, Mâcon or Pouilly-Fuissé, etc. Why? Frankly, because French vignerons simply don't believe that the Chardonnay grape should be anyone's tabula rasa. It should be a wine that tastes like where it comes from, and that's why they sell it that way – by the name of its respective appellation or specific vineyard, with no mention of a varietal on the label.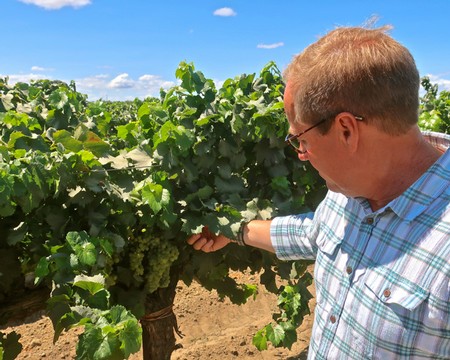 The added benefit of finding a newfound freedom in crafting a wine that tastes less like "Chardonnay" than the vineyard it comes from, says Jorja, is that "the Scottsdale is naturally more of a 'food wine' whereas our regular home ranch Chardonnay might be more like a meal in itself, and I prefer a wine that goes better with food."
To emphasize the natural qualities of Scottsdale grown Chardonnay, says Mr. Lerner, "In the winery we treat this wine more like we do an Albariño. We hand picked and allowed the grapes to soak in its own juices and extract flavor and structural components from the skins before whole cluster pressing. Instead of barrel fermenting, we ferment cold in stainless steel tanks, which allows us to capture the volatility that typically blows off in barrels.
"Then we age it only in neutral French oak barrels (i.e. barrels that have been previously used enough times that it does not impart significant 'oak' flavors). We keep it on the lees (i.e. in contact with spent yeast cells), but we don't stir them (to avoid softer or 'buttery' sensations); and to keep as much of the natural acidity as possible, we don't introduce any bacteria to start malolactic fermentation, which results in brighter acidity and a leaner feel on the palate."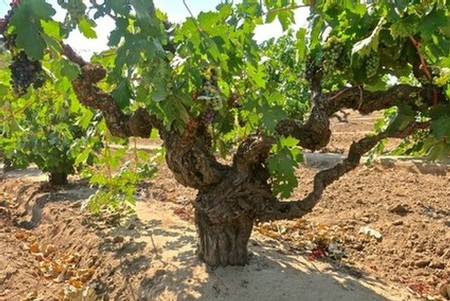 Of course, what really makes this Chardonnay distinctive is the vineyard, not so much what's done in the winery. Explains Mr. Lerner: "It's all one big mystery – all we know is that Scottsdale Vineyard gives us something totally unique and site-specific. The vineyard has 15 acres of Chardonnay and 2 and a half acres of old vine Zinfandel (bottled as Harney Lane's Scottsdale Vineyard Zinfandel), growing right alongside the train tracks that runs through the (City of) Lodi. Maybe it's the rumbling of the train that shakes the ground that gives the grapes their special character. But for years Zinfandel from this site was known for its distinctive blueberry flavor that you don't find in any other Zinfandel site, and so it was always called the 'blueberry block.'
"The Chardonnay, which was planted on trellis from an unspecified clone some time in the late 1980s by the vineyard's previous owner (the late Alan Kirschenmann), is as unique as the wines it produces. It's a steady-Eddie, giving us 4 to 5 tons (per acre) year-in and year-out. It also has old school furrow irrigation. I could put it on drip irrigation like our home estate, but my thinking is, why mess with it, the vines are happy. The vineyard wants to do its own thing, and I'm not going to stop it."
Adds Mr. Lerner: "I like the situation we're in as a winery. The Scottsdale Chardonnay is a natural progression because our mindset has never been about imitating the wines from other regions. We realized when we got started, in 2006, that to survive as a grape growing family in Lodi we have to produce our own wines. It's working because we've grown to 9,000 cases (yearly), nearly 100% of that sold direct-to-consumer. And I think we'll continue to be successful as long as we take advantage of the fact that we can be 100% estate grown, so we can be more consistent, and we can produce the styles of wines you can only find in Lodi."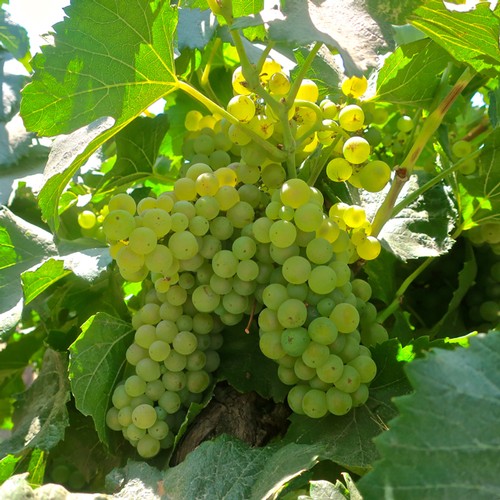 Comments
Commenting has been turned off.