Letters from Lodi
An insightful and objective look at viticulture and winemaking from the Lodi
Appellation and the growers and vintners behind these crafts. Told from the
perspective of multi-award winning wine journalist, Randy Caparoso.

August 21, 2019 | Randy Caparoso
Where to find some of the marked heritage vineyards of Lodi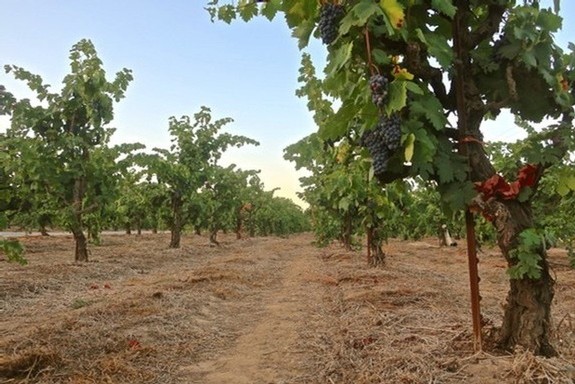 Most of the Lodi's growing legion of wine fans have come to know the top brands. Names such as Michael David Winery, Klinker Brick Winery, LangeTwins Family Winery & Vineyards, and Mettler Family Vineyards have been making waves from coast to coast, not to mention in Alaska and Hawaii. Largely within the local market, smaller brands brands such as Harney Lane Winery, Oak Farm Vineyards, McCay Cellars, Acquiesce Winery, the tiny Fields Family Wines or the long established The Lucas Winery have been carving out their own modest sized niche in very limited or no outside markets at all.
Nonetheless, hardly any of these Lodi wine lovers – even those who take the time to visit and explore Lodi wine country – have any real idea of exactly where the vineyards sourced by these wineries are located. Lodi is a sea of vines – far more vineyards than anywhere else in the U.S. – yet the whereabouts of these vineyards have been practically a secret.
Which makes sense, considering the fact that Lodi winegrowers have traditionally been a secretive lot. Their vineyards have never been marked by signs along the road, nor are they found on maps. The reason, as with all things, has been economical: with many of the best vineyards locked into long term winery contracts – some of these agreements lasting generations – there has been no reason to "advertise" locations. In fact, many of Lodi's best old growths were, for many years, never even been given names.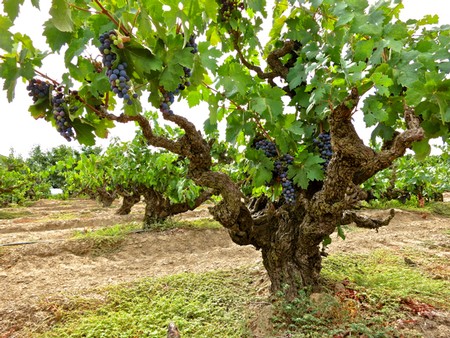 But times they are a-changin'. For one, over the past 25 years a good number of multi-generational Lodi farming families have started their wineries, which tends to awaken marketing instincts. Harney Lane Winery's Kyle Lerner, speaking for one branch of the Mettler family (farming as Mettler & Son – the "son" being the late, great George Mettler) that has been in Lodi since 1899, recently told us: "It's been a matter of survival... We realized that if we want to remain farmers in Lodi we'd have to start producing our own wine, and we knew that if we were successful at it we can make five times more on grapes by turning it into a finished product."
By way of example: Zinfandel, Lodi's most enduring heritage grape, has recently become a prickly subject among the old timers. There is still far more old vine Zinfandel – and by "old vine," we mean vines planted prior to the California wine industry's "modern" era, which started in the second half of the 1960s – grown in Lodi than in any other part of the state. Over 17,000 acres of the grape. But that's over a thousand fewer acres of Zinfandel grown in Lodi ten years ago.
Wineries big, small and medium-sized have been dropping Zinfandel contracts left and right. The consumer has been growing out of fruity White Zinfandel, and now the market Lodi growers find themselves competing to supply is in premium priced red Zinfandels, generally priced $18 and up. The growers who have been unable find a market for these grapes have had no choice but to pull out their old vines, as painful as it may be.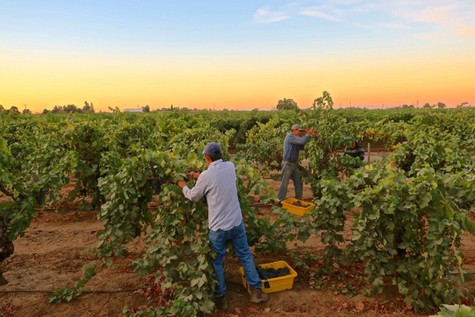 Hence, the appearance, slowly but surely, of more and more bottlings bearing specific vineyard designations; and along with that, a handful a signs going up around Lodi wine country actually marking where these vineyards are to be found. Lodi growers are suddenly discovering the value of marketing, or "advertising." Especially those who are now more eager to enter the premium wine grape market (something the winegrowing industry calls premiumization, re our recent post Premiumization of Lodi grapes and wines)
The cool part for visitors to Lodi wine country today is that they can now see some of those signs and find some of these vineyards, and by doing so, get a better idea of what makes Lodi Lodi. There's nothing like seeing the vines, and stepping on the dirt, that are behind those wonderful Lodi wines. When you can get acquainted with vineyards you can't help but gain a better feel for the wines these vines produce.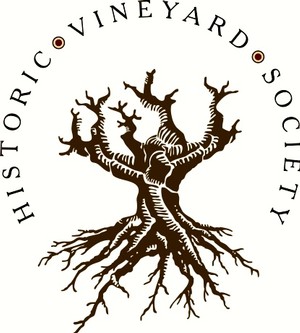 And one thing of which there is no doubt: It is always a remarkable occasion to stand next an old vine that was originally planted in the late 1800s or early 1900s – when men like Grover Cleveland, William McKinley, Teddy Roosevelt, or William Howard Taft were president, or before or around the time the Wrights took off on their first flight at Kitty Hawk (1903).
A growing number of these Lodi vineyards are marked by signs associated with the Historic Vineyard Society, a nonprofit organization founded be a small group of vintners determined to find pro-active ways of preserving many of California's oldest, most historic plantings. The thinking being: The more attention, and thus value, placed on specific old vine vineyards, the less likely they'll be pulled out for the usual reason, which is basically no one wanting to pay enough for the grapes to keep the farming of these vines cost-effective.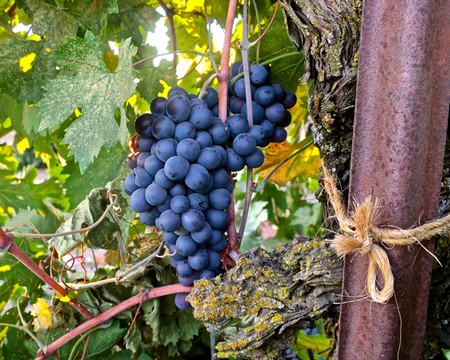 To see a list and descriptions of these vineyards registered by the Historic Vineyard Society located in Lodi and throughout the rest of California, be sure to visit the HVS Web site.
If you're willing and able to seek out some of these valued Lodi vineyards, please keep in mind the basic old vine vineyard etiquette: You may look at old vines and snap a lot of pictures, but be respectful of the plants, the farmers and the properties. Never walk into the vineyards – especially since, when vines are over 50 or even 100 years old, their arms can break off with the slightest bump – and be especially mindful of traffic (in the country most speed limits are a hair-raising 55 MPH).
Most of Lodi's oldest and most venerated vineyards, alas, are not accessible. For instance, the two oldest – Bechthold Vineyard (planted to Cinsaut in 1886) and Jessie's Grove's Royal Tee Vineyard (a Zinfandel field mix planted in 1889) – are embedded in vineyard blocks away from normal traffic. Rous Vineyard (one of Lodi's oldest Zinfandel plantings on St. George rootstock, planted in 1909) and Soucie Vineyard (own-rooted Zinfandel planted in 1916) are on gated private properties; and many others remain, simply, unmarked.
But there are, however, a few little friends to whom it is now possible to say hello, at least from a repectful periphery: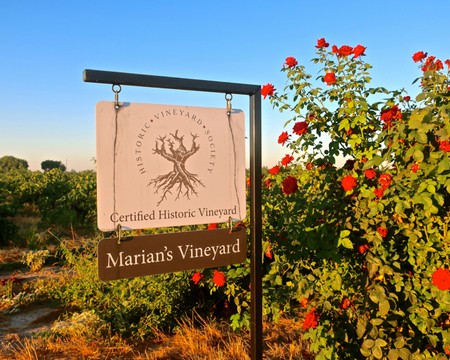 Marian's Vineyard Zinfandel
The Historic Vineyard Society sign for this landmark vineyard – often called the "mother of old vines" by the local cognoscente – is found towards the south end of the larger Mohr-Fry Ranches property at 12609 West Ln., south of the urbanized City of Lodi (and across West Ln. from the Deshmesh Darbar Sikh Temple). The Fry family owns and farms this block consisting of 8.3 acres of whirling, twisting, almost other-worldly looking spur-pruned vines, originally planted by the Mettler family on their own (or "wild") rootstocks back in 1901.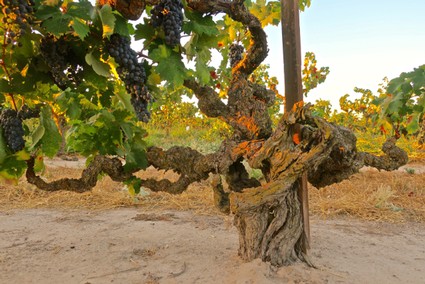 The Frys readily credit the third party certified LODI RULES for Sustainable Winegrowing for helping vineyards like Marian's continue to yield healthy crops of highest quality fruit after over 119 years, and they fully expect future generations to be doing the same over the next 100 years.
Vineyard-designate Marian's Vineyard Zinfandels are bottled under the St. Amant Winery as well as Lodi Native labels – the latter, indicative of a style driven by native yeast fermentation and strictly neutral oak cooperage (i.e. "hands-off," or more "natural" winemaking). The wines are as phenomenal as these old vines, as well they should be.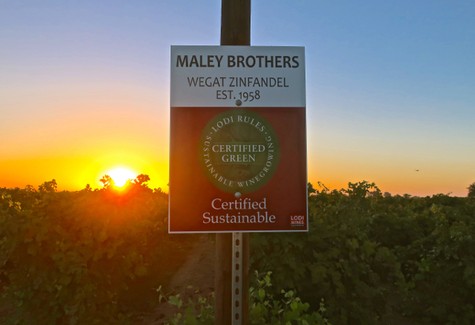 Wegat Vineyard Zinfandel
The spur-pruned, layered head trained vines of Wegat Vineyard can be found on the east side of N. Ray Rd. just over a quarter-mile north of W. Turner Rd. Wegat Vineyard yields what is considered to be quintessential west-side Zinfandel; distinguished by flowery, red-towards-blue berried fruit qualities underlined by signature loamy/earthy undertones, and rounded, plush texturing.
This isn't one of the oldest of Lodi's heritage plantings, but it is one of the most admired. Planted on St. George rootstock by the Maley family in 1958 on dairy land once farmed by the Wegats, this 21-acre vineyard is the "crown jewel" of the 330 acres farmed by the Maley family, who are close cousins of Michael David Winery's Phillips family (all descendants of Andrew Harshner, who began homesteading on Lodi's west side in 1869). Today, Wegat is farmed by Todd Maley, the son of Joseph Maley who first established the Maley Bros. wine brand with his late brother Louis.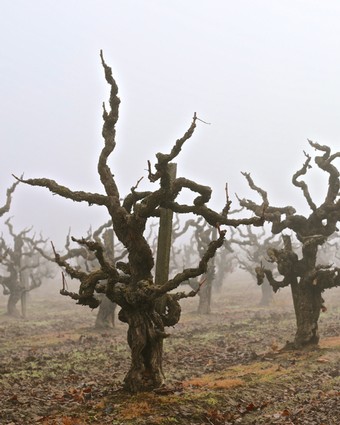 According to Joe Maley, the plant material utilized for this vineyard was originally taken from an Acampo vineyard (located on the east side of the Mokelumne River-Lodi AVA); a selection prized by wineries such as m2 Wines, Oak Farm Vineyards, and Macchia Wines (bottled as "Voluptuous") for its consistently loose, even sized, fairly small berried clusters. The purest version of Wegat Vineyard Zinfandel, however, is produced and bottled by the Maley family themselves under a Lodi Native label – meaning, it is crafted with minimal intervention, native yeast fermentation, and strictly neutral oak aging to express as much of the lush yet intriguingly earthy character natural to the vineyard as possible.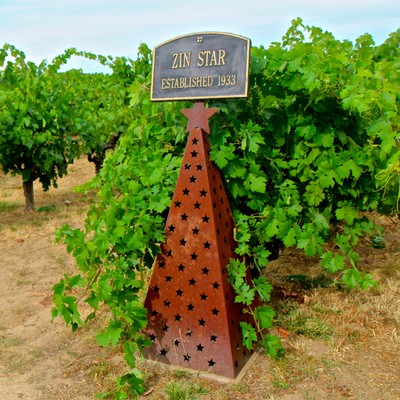 ZinStar Vineyard Zinfandel
ZinStar is the estate vineyard of The Lucas Winery, located at 18196 Davis Rd. on the west side of Lodi's Mokelumne River AVA. The winery is open to the public Wednesdays through Sundays, and the striking pyramidal sign for the ZinStar Vineyard is found at the edge of the vineyard right behind the tasting room, along with signs indicating that the property is grown 100% organically with CCOF certification.
This, in fact, is the source of the first vineyard-designate estate bottlings in Lodi's history, starting with the 1978 vintage, and the wine has been bottled every year ever since by founder/owner/grower David Lucas, although the farming and winemaking is now handled by Mr. Lucas' wife, Heather Pyle (like Lucas, a longtime former employee of Robert Mondavi Winery from back in the "glory days"). Mitra Lucas, David's daughter, now serves as the winery GM.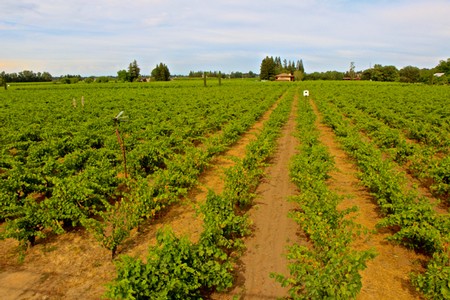 ZinStar is modestly sized: 3.5 acres of head trained Zinfandel planted on its own roots in 1933. Stylistically, ZinStar Vineyard Zinfandels can be described as an essence of the Lodi style: medium bodied with rounded, elegantly composed tannins and zesty natural acidity. The wine consistently avoids an excess of alcohol or the overripe "jammy" quality so common to the varietal all over the state, yet it is lush and fragrant and, invariably, distinctively earth toned, enhanced by a fine, understated veneer of French oak (as opposed to the rawer quality of American oak more typical of California Zinfandels).
Longtime Lodi Zinfandel lovers, in fact, have always likened ZinStars to a "Burgundian" style, if there ever was such a thing among California Zinfandels, and past vintages have an established track record of improving over 10 or even 20 years in the bottle (re one of our recent blogs, Do Zinfandels age?)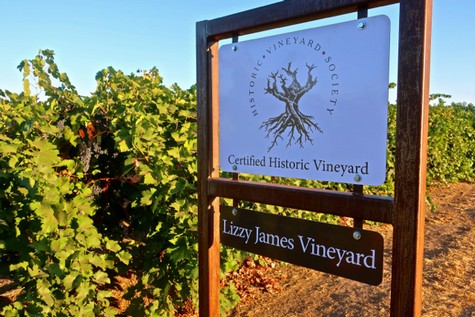 Lizzy James Vineyard Zinfandel
One of the first things you notice about this 20-acre growth located along Alpine Rd. – about a quarter mile south of Hwy. 12 E./Victor Rd. – is that it sits on a patch of ground that is far more beach-sandy than it is loamy. Lizzy James Vineyard is farmed and produced by one of the many branches of Lodi's Mettler family, who also own the acclaimed Harney Lane Winery.
Coming from probably the single sandiest site in the entire Mokelumne River AVA, wines from this vineyard epitomize what locals often call the "east side" style of Lodi Zinfandel: wines that are consistently svelte and medium-full bodied rather than big or "fat," with ringingly floral notes of cherry/raspberry fruit and spiced black tea scents, and buoyed by a combination of balancing acidity and moderate tannin.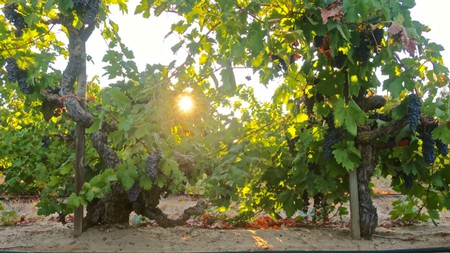 When you look closely at the vines in Lizzy James Vineyard, you'll also notice an interplanting of lower-to-the-ground, gobelet (i.e. "goblet") or umbrella-shaped vines originally planted on their own roots in 1904. In between all of these gnarly, ancient vines are younger vines, planted in the late 1970s/early 1980s, that are trained in a taller, layered spur-pruned style technically called a "vertical cordon."
It is the combination of these two types of vines that probably contributes to the unique profile of Lizzy James Zinfandels: essentially, exceptionally bright, high toned red fruit couched in a structure that is neither "big" nor "light," neither "soft" nor "dense," and neither excessive nor restrained. You could call it a "balanced" style of Zinfandel, or even a "Goldilocks" ("just right"); but ultimately, it is just plain "Lizzy James," which is memorably delicious.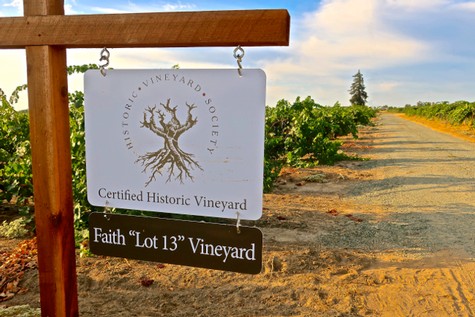 Lot 13 Vineyard Zinfandel
While Lot 13 Vineyard and McCay Cellars owner/grower/winemaker Mike McCay is as marketing savvy as any vintner, finding his 10-acre Lot 13 Vineyard is a little like a treasure hunt, but you might enjoy the search. You will find the Historic Vineyard Society sign for Lot 13 Vineyard on a dirt road about 40 feet south from where Schmiedt Rd. deadends, west of Bruella Rd. on the east side of the City of Lodi, and just north of the little community of Victor (population 293).
The HVS sign sits between a small block of younger, trellised Tempranillo (in fact, Lot 13 Vineyard Tempranillo is always one of the finest Tempranillos grown in all of California) and the ancient, head trained Zinfandel vines, planted in 1915 on their own rootstocks.
Mr. McCay, in fact, describes finding long neglected old vine plantings like these, and raising their profiles as vineyard-designate bottlings, as like discovering "hidden treasures." To quote McCay, "Lodi is like an archeologist's dream filled with hidden gems waiting to be uncovered right under our feet... vineyards that, for decades, have been disappearing into the 100-ton fermenters of the big boys."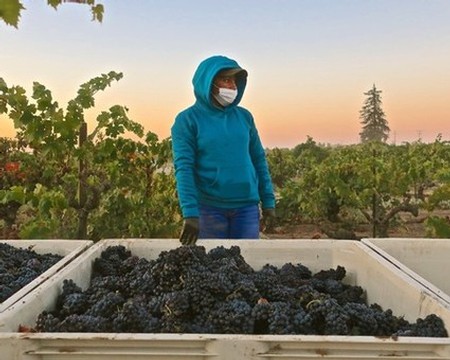 The property was only acquired by Mr. McCay in 2013 from Sandy Kirschenmann, and named for the original lot number (13) found on a 1906 Colonial Green Track plot map. McCay typically does two separate bottlings from this vineyard: one bottled under a McCay Cellars "Faith" label, and the other under the auspices of the Lodi Native project. While both are native yeast fermented, the Faith bottling may see a tiny bit of new French oak, whereas all Lodi Native Zinfandels are required to see only neutral wood – the better to taste the natural qualities of the fruit, or terroir.
Another fascinating part about this site is that it is located in an oxbow-bend of the Mokelumne River, where vineyards are surrounded by water on three sides. Hence, Mr. McCay often calls this little part of Lodi's east side "The Peninsula." This is where you'll find not just some of the deepest, sandiest soils in Lodi – although pits dug under Lot 13 Vineyard has also revealed streaks of limestone running through the property – but also, not coincidentally, one of the largest concentration of old vine Zinfandel in the entire appellation.
This, historically, is where you find Zinfandels that have survived after over 100 years, and for good reason: because they produced fabulous wine, and because these vines have been well loved and highly valued all these years.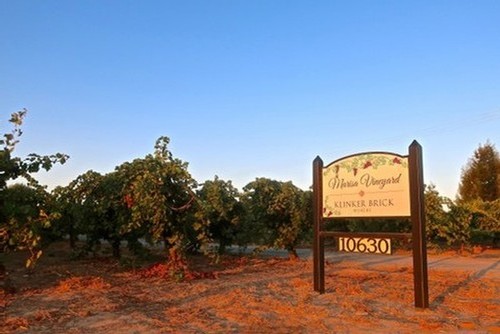 Marisa Vineyard Zinfandel
Virtually all of Klinker Brick Winery's vineyards are located on Lodi's east side. This is where many of the same families of mostly German descent settled during the 1890s, and this is where many of them remain today.
Located along Victor Rd./E. Hwy 12 immediately east of Manor Ln., Marisa Vineyard is Klinker Brick's only vineyard-designate Zinfandel bottling because of unique attributes. First, the site itself sits at the eastern corner of what some local growers have taken to call the "Victor Triangle," centered around the little town of Victor. Victor is where you find the deepest, fluffiest, sandiest soils in Lodi's Mokelumne River AVA, with a direct correlation to some of the most floral, refined, gentle and silky styles of Zinfandel, with distinctively red berry/raspberry, sometimes cassis-like perfumes, lacking the pungent earthiness of Zinfandels typical of Lodi's west side.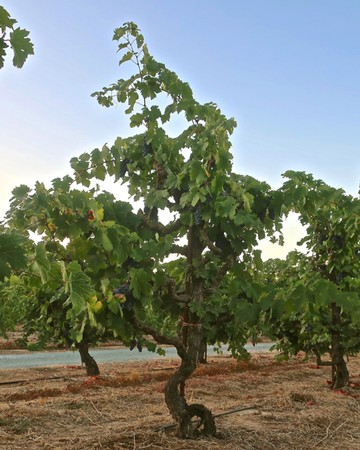 Do not, in other words, expect a Klinker Brick Marisa Vineyard Zinfandel to be "big" or "opulent." Instead, you should expect something refined and restrained, yet zesty and firmly structured. Something unique unto itself.
One of the other interesting aspects of Marisa is that the vineyard itself is a 50/50 split of own-rooted and Flame Tokay rooted vines (the latter half, grafted over to Zinfandel during the late 1980s), all originally planted in the mid-1920s. In other words, this vineyard is like a living history of Lodi itself – harking back to the days (lasting most of the past century) when Tokay, a pink skinned seeded table grape, was Lodi's most widely planted variety, with Zinfandel playing second fiddle. Or, you can say, when Zinfandel was Tokay's "queen," while the latter ruled the roost.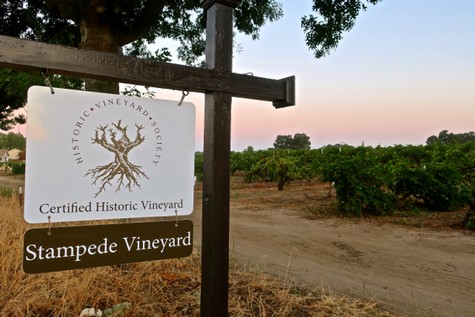 Stampede Vineyard Zinfandel
Stampede Vineyard is easy enough to find: As you drive out to through the town of Clements, east of the City of Lodi, simply look for the big Clements Stampede Rodeo sign at 19813 Hwy. 88.
The Historic Vineyard Society has registered this vineyard because it consists of own-rooted spur-pruned vines first planted in 1928 and 1934, and later expanded in 1942, by J.J. Zechmeister and C.H. Süss on what was once a southern embankment of the Mokelumne River. It is the proximity to the river that makes this site dominated by Kingdon and Tokay fine sandy loam soils – ideal for own-rooted Zinfandel! – rather than the shallow, red clay soils typical of most of the Clements Hills-Lodi AVA.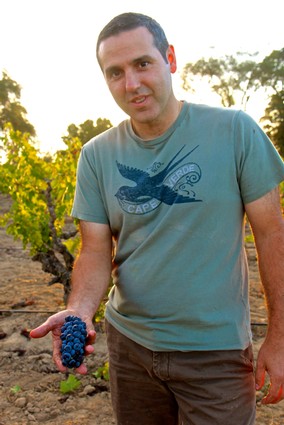 Stampede's head trained Zinfandel vines are mixed with smatterings of Mission and Mourvèdre grapes. When Jeff and John Perlegos took over the ownership and farming of this 22-acre property six years ago, they found a long neglected vineyard virtually buried under Johnson grass taller than the old vines. But through hardscrabble grit and grind, they uncovered a growth that is now producing some of the most distinctive Zinfandels in the entire state – particularly gleaned through the vineyard-designate bottlings by Lodi's Fields Family Wines and the Napa based Maître de Chai label.
If anything, Stampede Vineyard Zinfandels possess a firm acid/tannin edge while retaining a roundness as well as red fruit (cherry/raspberry) fragrances typical of most Lodi grown Zinfandels. It wouldn't be inaccurate to describe it as a combination of the more structured style of Zinfandels grown in nearby Amador County and the fruit-forward styles typical of most Lodi grown Zinfandel. The idea is that vineyards like Stampede are utterly unique in this entire world of wines – and as such, more than worthy of their status as one of California's most historic sites.
Comments