Letters from Lodi
An insightful and objective look at viticulture and winemaking from the Lodi
Appellation and the growers and vintners behind these crafts. Told from the
perspective of multi-award winning wine journalist, Randy Caparoso.

August 19, 2019 | Randy Caparoso
Spenker Winery's amazing new farmstead goat cheeses add immensely to Lodi's culinary community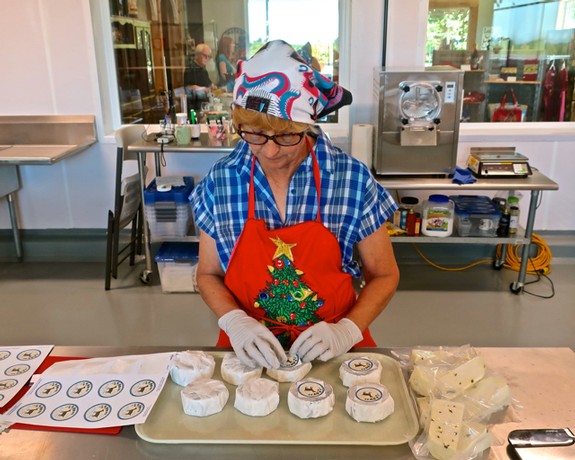 "I loved cheese," explained Bettyann Spenker to a captive crowd of visitors to her Spenker Family Winery & Artisan Creamery," but I was never a cheese expert. But I was a winemaker, so I thought, why not? I taught myself to be a cheesemaker."
Two weekends ago the Spenker family's combination winegrowing/cheesemaking barn finally opened for business, well over a year after their 24 or so "working" goats of multiple breeds, plus their ever-growing brood of kids, got their own new, comfy barn. And when we say "family," we mean family: Right now the entire operation is run by Bettyann with her grape growing husband Chuck (a third generation Lodi farmer) manning the wine counter, popping open the bottles, while daughter Kate (the graphic artist/designer in the family) handles the cheese samples and other-daughter Sarah does most of the talking and pouring while ringing up the brisk sales.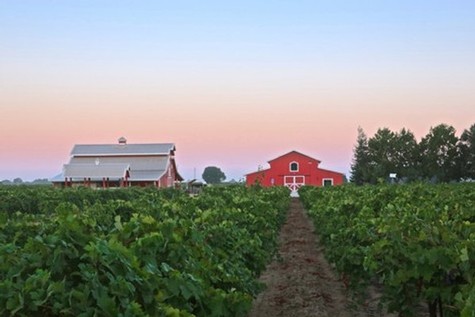 But judging from last Saturday's crowds of wine and cheese lovers pouring in right after the doors opened at noon (the winery/creamery is open to the public only on Saturdays/Sundays), the Spenker family may soon need some outside help. And of course, the Lodi grown cheeses are selling out... fast.
"It's funny," said Sarah, " we finally got our license to make and sell cheese on July 25, which we found out the day-after was National Wine & Cheese Day. Next year for sure we'll celebrate it, along with our first anniversary!"
During their second weekend the Spenkers were offering tastings of 4 of their farmstead (meaning, their handcrafted cheeses are made strictly from milk from goats living on the property) artisan goat cheeses (i.e. chèvre) for a $5 tasting fee, although they were offering 5 for sale. A tasting of 6 Spenker Family wines is available for a $10 tasting fee (waived with purchases).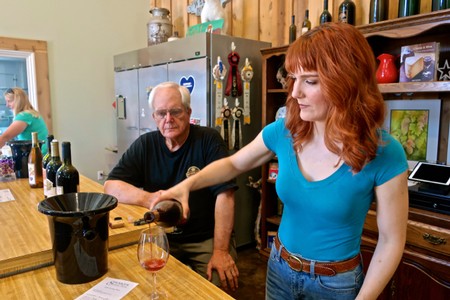 Explained Sarah, "Right now we are selling our young cheeses – three kinds of chèvres, a jalapeño queso, and a 'blooming rind' (i.e. ash coated). Maybe in about a month we will have some aged cheeses ready for sale. We don't have any aged cheeses right now because we just got licensed, and it takes a few weeks to produce aged cheeses."
Chuck added, "Cheese is a lot like wine – the fresh cheeses are lighter, and the aged cheeses have more body and flavor and continue to age and develop, also like wine. A lot of people don't think about it, but cheeses are also similar to wines in terms of temperatures, which can make a difference. Fresh cheeses, like young white wines, are best enjoyed somewhat cold; but like well aged red wines, when you let aged cheeses come to room temperature, the flavors deepen considerably."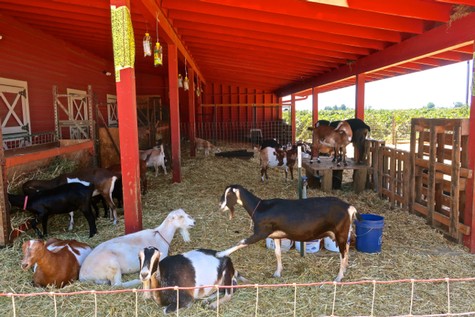 But with a nod to the real cheese "expert" in the family, Chuck adds, "Bettyann may correct me on that, but that's what I think at least!"
Like other west side Lodi wineries, when you come to Spenker Family Farm you should expect to find very round, smooth, easy drinking reds with a distinctive loamy/earthiness to them. The recently released 2014 Spenker Lodi Zinfandel ($35) – the Spenkers believe in giving their reds extra aging in the bottle and American oak barrels, although their wines are far from "oaky" tasting – is a real star right now, in respect to that smooth, earthy, somewhat rustic style.
Although the Spenker ranch dates back to 1902, the family wines are currently made from the classic, small, gobelet (i.e. head trained) style "bushes" surrounding their red barns, planted just over 15 years ago (to learn more about this increasingly expensive style viticulture, please see our recent post, The past, present and future uses of head trained vines in Lodi).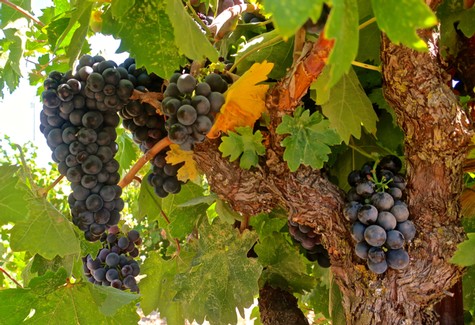 There is also a fuller bodied yet round and zesty 2013 Spenker Lodi Petite Sirah ($38), which mixes suggestions of cocoa and pepper spices with dark berry flavors. There is also a disarmingly charming, soft and mildly sweet 2015 Spenker Lodi Morning Glory ($18) made from the Muscat of Alexandria grape, giving the wine a luscious, golden raisin-like color and flavor.
But make no mistake, the real stars of a visit to Spenker Family Farm right now are the cheeses, and they are dreamy good. A sampling:
Spenker Family Simply Salted Chèvre – The family's "base" goat cheese, which is pure and refreshing in its mildly tangy, salty, grassy/earthy creaminess. Sarah Spenker recommends this with snacks like avocado on toast or bagels, although this wine would be amazing with a zesty, zingy, bone dry Lodi grown Sauvignon blanc (among our most recent recommendations: those of Peltier Winery or LangeTwins Family's new Jahant Woods 01 vineyard-designate bottling).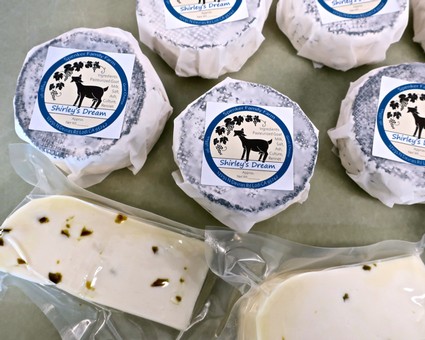 Spenker Family Tomato Pesto Chèvre – While airy-light and creamy, the infusion of "Italianate" flavors give this cheese a more filling quality, perfect as a spread on a cracker or, better yet (according to Sarah) slathered over freshly grilled or baked salmon. A chèvre like this is also transformed into a "red wine" cheese, albeit a red with a combination of zesty acidity (to balance the goat milk's natural tartness) and rounded, moderate tannin – Lodi grown wines such as Avivo's or Sorelle Winery's Sangiovese, LangeTwins Family's River Ranch Vineyard Montepulciano, or Oak Farm Vineyards' Barbera come to mind. Other wine regions may grow red wines with sturdier tannin and weight; but when it comes to soft yet deep flavored cheeses like this, the soft tannin styles of Lodi reds are a distinct advantage.
Spenker Family Herbes de Provence Chèvre – This cheese is pungent with the herby/licorice sensations of rosemary, thyme, savory, fennel, basil, lavender and marjoram. Sarah Spenker strongly suggests a good, dry style rosé, of which there is aplenty grown in Lodi, crafted from seemingly everything from Grenache to Zinfandel, including Syrah, Mourvèdre, Cinsaut, Carignan, Barbera, Cabernet Sauvignon, Merlot, Pinot noir, Sangiovese, Tempranillo and even Aglianico (re our detailed notes on recommendations in our recently posted Everything's coming up rosés in Lodi).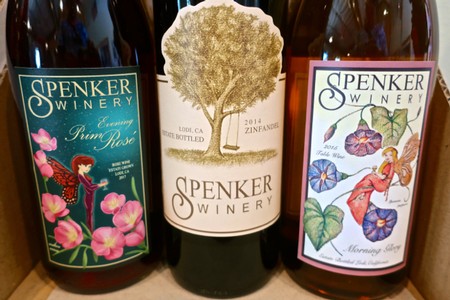 Spenker Family Jalapeño Goat Queso – This is a springy, medium-soft cheese with a mild and milky creaminess that completely takes out the edge and heat from the jalapeño peppers. The soft creamy character keeps this an ideal white wine cheese – preferably a white with just moderate acidity, such as a Chardonnay or one of Lodi's specialty Vermentino varietal bottlings, although another great idea is one of the more unusual, unoaked yet deep flavored varietals crafted by Acquiesce Winery (particularly their Bourboulenc, Clairette blanche or Rhône style white blend called Ingénue).
Spenker Family Shirley's Dream – This gray ash-coated, soft, creamy cheese, sentimentally named after Bettyann's first goat, is undoubtedly the family's most complex tasting cheese right now. The ash, explains Bettyann, "causes the cheese to soften from the outside-in, and also neutralizes the acid of the goats milk somewhat." The result is an exhilarating mix of salty/minerally/earthy/sharp yet silky/creamy sensations. We can see this cheese going amazingly with a svelte, fleshy, mature white wine, such as a 5 to 10-year-old Chardonnay or even Riesling. All the same, the irresistibly soft, lush, musky fruitiness of the Spenkers' Morning Glory is just restrained enough in residual sugar to mingle nicely with the salty creaminess of the cheese.
Kudos to the Spenker family for adding immensely to Lodi's growing culinary community!
A few more fun images of the action you can find each weekend at Spenker Family Farm...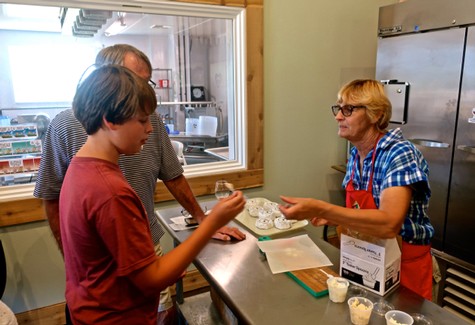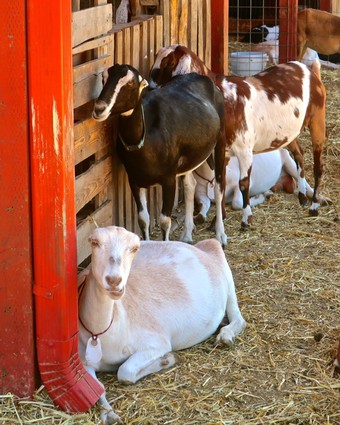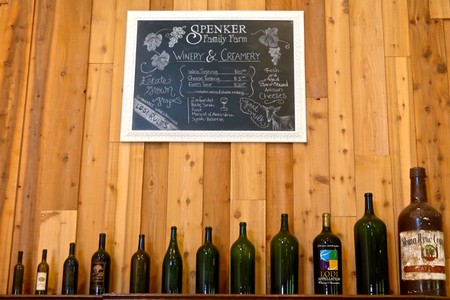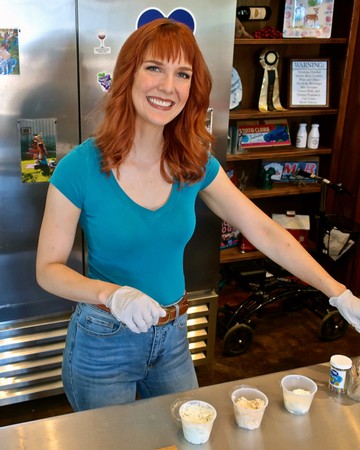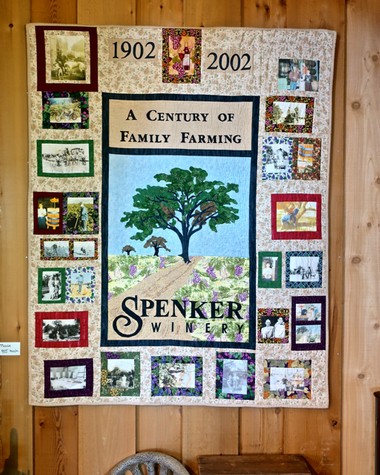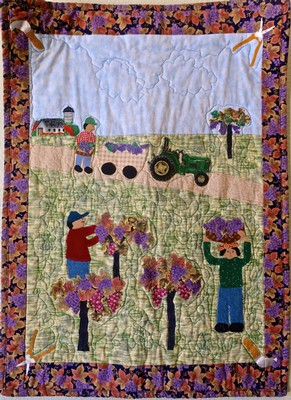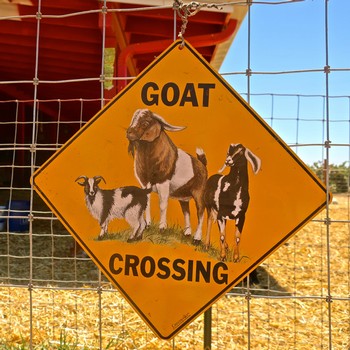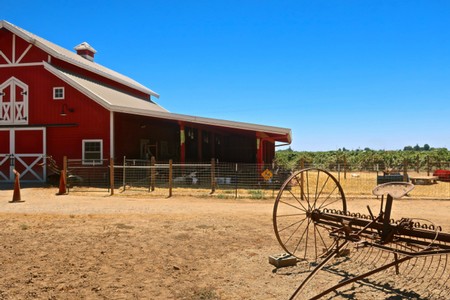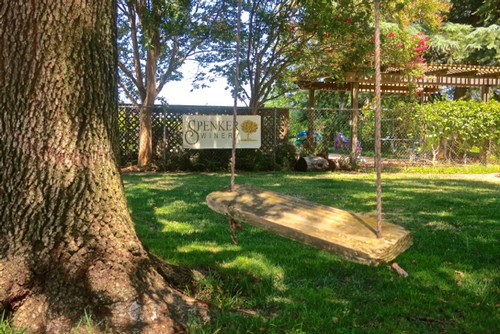 Comments