Letters from Lodi
An insightful and objective look at viticulture and winemaking from the Lodi
Appellation and the growers and vintners behind these crafts. Told from the
perspective of multi-award winning wine journalist, Randy Caparoso.

June 22, 2015 | Randy Caparoso
PRIE Vineyards joins Lodi's community of small, artisanal wineries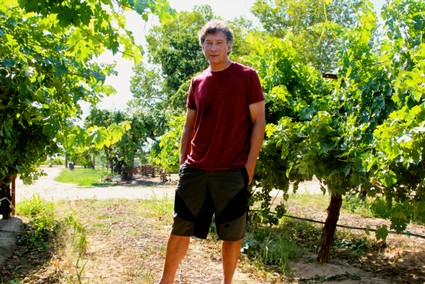 PRIE Vineyards co-owner/winemaker John Gash in his Cabernet Sauvignon estate planting
The Lodi Viticultural Area's latest artisanal wine producer, PRIE Vineyards, quietly opened its tasting room at 15628 N. Alpine Rd. (practically across the street from Klinker Brick Winery's tasting room), this past April.
Owners John and Lisa Gash may be newbies – "home" winemakers since 2005, and commercial winemakers since 2011 – but they are dead-serious about their winegrowing operation; having invested in an 8.5-acre vineyard previously planted to Cabernet Sauvignon, surrounding their low-key winery facilities designed for a maximum yearly production of 2000 cases.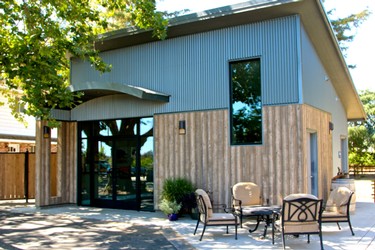 PRIE Vineyards winery and barrel room
When you drive along N. Alpine Rd. on Lodi's east-side, you drive past vineyard homes primarily occupied by one branch of the Mettler family or another. "It has taken us almost three years to get to this point," says John Gash, who still commutes and works in the Bay Area tech industry during the week.
"When Lisa and I first decided to get into the wine industry we were still living and working in Livermore. Our first vintage, 2011, consisted primarily of grapes from Livermore, but we also began with Zinfandel from Lodi's Soucie Vineyard, largely because we liked what Layne Montgomery has been doing with the vineyard at m2 Wines."
The 2011 PRIE Lodi Zinfandel ($27) – currently available for tasting and purchase during PRIE's tasting room hours every Saturday/Sunday (11 AM-5 PM) – has indeed come out nicely. Lush in the nose with richly ripened fruit tinged with baking spices and sweet oak; and a zesty, medium-full body and velvet texturing enhanced by more than two years (32 months) in American oak barrels. Mr. Gash himself describes this wine as "classical old vine Lodi," which it is.
"We were so pleased with how the 2011 Zinfandel turned out," adds Mr. Gash, "that we began seriously looking into moving to Lodi in 2012. We loved the environment and laid-back culture of Lodi. It has a beautiful little Downtown area, and the vineyards and small wineries have a genuine feel – everything fits, without that commercialized buzz all too common to other wine regions.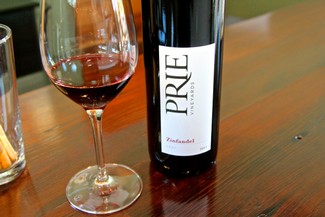 "We could also see that Lodi has great grapes not yet fully discovered by the rest of the world. It seems headed in the right direction, and we could easily see ourselves being a part of that."
With the help of Ryan Sherman – the co-owner/winemaker of Fields Family Wines, who also holds down a day job as a Lodi area realtor – the Gashs were guided to a 10-acre property owned by Clifford and Barbara Mettler; and with that, a vision of becoming a boutique Lodi wine estate, specializing in Cabernet Sauvignon. Sherman recommended the talents of architect Gerardo Espinosa – the Project Manager of WMB Architects based in Stockton, and also the winemaker/partner of Lodi's Viñedos Aurora vineyards and winery – and everything seemed to come together for the Gashs.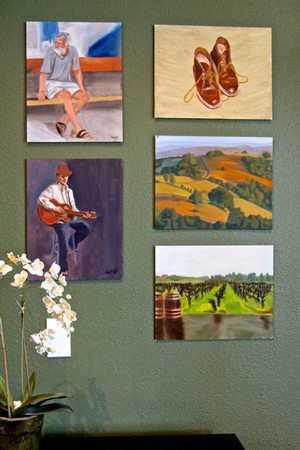 Says Mr. Gash, "As a winemaker himself, it was so much easier for Gerardo to translate our verbal ideas into an architectural design. So far we have converted two small structures from a deconstructed barn and horse stables (there are plans for a third small building on the vineyard property). One is for our barrels and winemaking staging area, and the other is our tasting room. Gerardo understood our wish for 'small rooms' to achieve the feeling of a 'small vineyard' estate.' There are large roll-up doors so that we can bring the outdoors in; and the use of wood to get a feel of handcrafted wine, rather than an industrial one."
The cozy, understated, integrated feel of a "vineyard/farm/winery" that you get when walking into the PRIE tasting room is enhanced by small original paintings done by Lisa Gash, who is studying for her Masters of Fine Arts at Academy of Art University in San Francisco. "Lisa is eventually hoping to start 'Painting In the Vineyard'-type activities here at the winery," says Mr. Gash.
It was Ms. Gash, in fact, who was the original instigator behind the couple's foray into winemaking. She tells us, "It started when I took a weekend class in winemaking offered by Thomas Coyne in 2005. He also sold grapes to home winemakers, so I started making wine at home for us. After five years of bringing the wine to share with friends and the inevitable, 'why don't you open your own winery?' questions, John decided that it sounded like a great idea. That's when he started putting things in motion."
Continues Ms. Gash, "When we saw the property on Alpine Road, we knew we couldn't have found a better location. The vineyard is planted to Cabernet Sauvignon, to which we just grafted about a ½ acre to Cabernet Franc and another ½ acre to Petit Verdot. We made our first estate Cabernet Sauvignon in 2013, which is still in the barrel.
"We plan to continue our Soucie Zinfandel program. We've sourced Petite Sirah from Jason Eels (vineyard manager of the Mettler Family's Arbor Vineyards), and Petit Verdot from Barbera Huecksteadt's Hux Vineyards. We've also sourced Carignan from Jessie's Grove and Merlot from Mr. Schatz (owner/grower of Peltier Station and Mokelumne Rim Vineyards) last year."
With this type of energy, devotion and sensibility, we should expect big things from this small specialty vineyard/winery estate!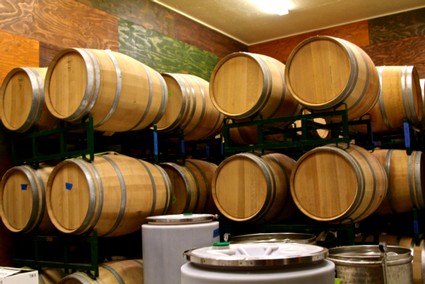 PRIE Vineyards barrel room
Comments