Letters from Lodi
An insightful and objective look at viticulture and winemaking from the Lodi
Appellation and the growers and vintners behind these crafts. Told from the
perspective of multi-award winning wine journalist, Randy Caparoso.

June 11, 2015 | Randy Caparoso
Why cool kids are lovin' Lodi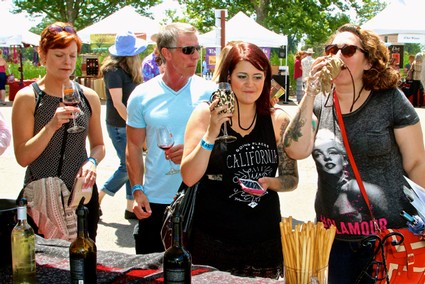 Wine lovers at 2015 Lodi ZinFest
Recently, folks at local wineries have been reporting a growing influx of wine lovers of a different stripe. They've been coming in from major cities – San Francisco, L.A., Dallas, Chicago, New York, Vancouver – after reading about it in national magazines or the blogosphere, or catching a taste of it in a few bottles that say "Lodi." Sleek women in citified heels (awkward for walking between the rows of grapevines for selfies), and guys in goatees and/or hipster hats.
Have Lodi wines and the Lodi Viticultural Region suddenly – or should we say finally – attained a "coolness" factor?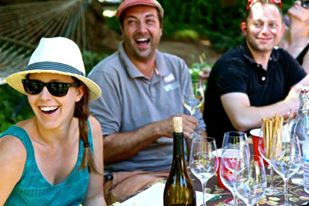 Visitors lovin' the Lodi wine country life
It's a matter of both history and current state of affairs: Lodi still exists primarily to supply grapes to the country's biggest wine producers. Companies like E. & J. Gallo Winery, which is based in Modesto. E. & J. Gallo, of course, sources grapes in nearly every wine region in California in order to produce some 60 million-plus cases of wine each year, under a multitude of labels.
The number of wineries with a mailing address in Lodi has only recently reached 80. Hallelujah. By comparison, there are over 120 wineries in Walla Walla Valley, which has about 1,200 acres of planted wine grapes. Paso Robles cultivates about 26,000 acres of grapes, and is now home to over 200 wineries.
Lodi has over 110,000 acres of wine grapes – easily, the largest single wine region in the U.S. in terms of plantings of classic European Vitis vinifera. We're working on the homegrown, boutique-y winery part.
Yet apart from Woodbridge by Robert Mondavi and Michael David Winery, the average yearly production of Lodi's wineries is less than 10,000 cases. Lodi, it seems, is also the largest "small" wine region in the U.S.
If anything, Lodi grown wines are beginning to attract the attention of lovers of premium quality wine with enough common sense to know premium quality when they taste it – not by what they've heard. There is still a stigma attached to the fact that Lodi supplies grapes to big wineries. But think of it this way: Up until 30 years ago, wineries like E. & J. Gallo used to take over half of the grapes grown in regions like Napa Valley and Sonoma County. It wasn't because Napa Valley and Sonoma County weren't great places to grow wine. It was because these are fantastic places.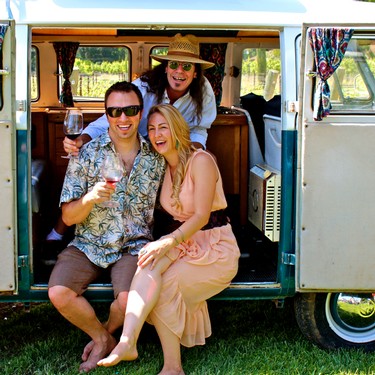 Vineyard bus in Bokisch Ranches' Las Cerezas Vineyard
Lodi is also attracting attention because many consumers are finally able to see through the misconception that Lodi is a "hot climate" region. In terms of "heat summation" – the method of measuring growing season temperatures originally devised by U.C. Davis – Lodi's average is in "Region III," occasionally dipping into upper "Region II." This is approximately the same as the upper sections of Napa Valley, the eastern sides of Sonoma County, inland Mendocino, Paso Robles, the eastern half of Santa Barbara's Santa Ynez Valley, and much of the Sierra Foothills.
Bad raps die hard, but eventually the smart consumers are able to cut through the poop and appreciate any good wine region for what it is, not by how it compares to other regions. Lodi is not the same as the north end of Napa Valley, Paso Robles or the Sierra Foothills; and vice-versa. The quality and characteristics in the taste of wines are always a summation of topography (soil, slope, elevation, et al.) and tradition (i.e. history of human input) as much as climate, and each region has its own complex of conditions that makes its wines unique.
Which is why people love fine wine – it is so much a part of its terroir.
Smart consumers know that because of the Lodi AVA's comparatively narrow diurnal swings – in the Delta region, nighttime lows are not as low, and daytime highs are not as high, as in most of California's coastal wine regions – Lodi grown wines tend to end up with a softer, gentler quality. Red wines are not quite as hard in tannin, and white wines not quite as sharp in acidity.
Yet because of its moderated Mediterranean climate, Lodi grown wines can still attain a remarkable intensity of aroma and flavor, with their own, kinder, gentler sense of balance.
One thing Zinfandel lovers in particular have noticed: It is a myth that Lodi grows a riper, higher alcohol style of Zinfandel. If anything, Sonoma County – long considered a classic home for Zinfandel (although far more Zinfandel is grown in Lodi) – grows Zinfandels with higher average alcohols, more raisiny fruitiness, and also a more tannic edge.
Not that there is anything wrong with Sonoma style Zinfandel, which is a beautiful thing in itself. It's just that if you want a softer, finer, more feminine (if you will) style of Zinfandel, you are more likely to find it in Lodi. As Popeye once said, "I yam what I yam, and that's all that I yam."
We believe that this, among other things, is a major reason why Lodi has suddenly become "cool." These new, smart Lodi wine lovers are starting to appreciate Lodi for what it is; not for how it compares to other regions, or going by any of the misconceptions that have somehow clouded the picture in the past.
"Oh lord," John Fogerty famously sang, "I'm stuck in Lodi again." Fogerty, however, never slept in Lodi – he just used the name because it fit nicely into a memorable song. The "cool kid" wine lovers know this, too: That the wines grown in Lodi today are not like what grandpa and grandma drank. They're not going to fall for the Kool-Aid.
Man, it's good to be "stuck" on Lodi!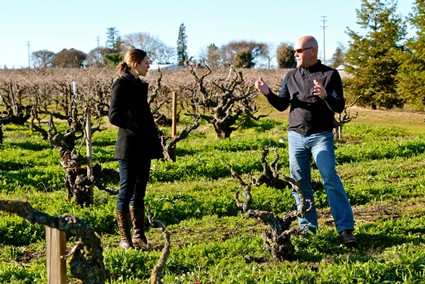 momofuku New York sommelier Jordan Salcito visiting Lodi winegrower Mike McCay
Comments