Letters from Lodi
An insightful and objective look at viticulture and winemaking from the Lodi
Appellation and the growers and vintners behind these crafts. Told from the
perspective of multi-award winning wine journalist, Randy Caparoso.

June 9, 2015 | Randy Caparoso
Lodi Grenache reds rated among the finest in California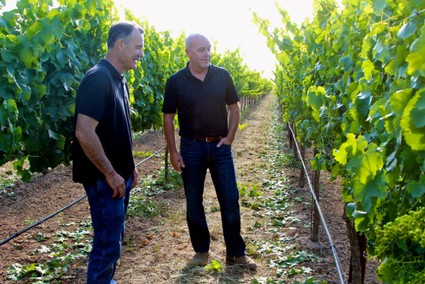 Lodi grower Phil Abba and McCay Cellars winemaker/owner Mike McCay in Abba Vineyard
Some things just creep up on you – like the unsuspected appeal of red wines made from the black skinned Grenache grape. Especially those grown in Lodi.
Earlier in the month we endeavored to take a measure of varietal bottlings of Lodi grown Grenache; gathering 15 of the finest examples grown and produced in California for a "blind" tasting. Meaning, the bottles were poured from paper sacks, their identities unknown to the tasters, which included three of Lodi's most respected vintners: Markus Bokisch of Bokisch Vineyards, Chad Joseph of Harney Lane Winery and Oak Farm Vineyards (plus three more Lodi based wineries), and Michael McCay of McCay Cellars.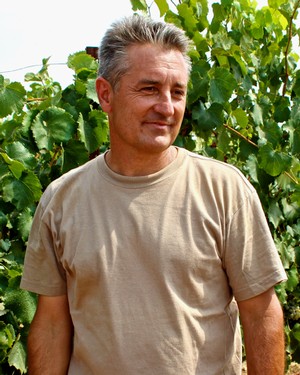 Bokisch Vineyards owner/grower Markus Bokisch
In among the wines were the 2012 Bokisch Terra Alta Vineyard Clements Hills-Lodi Garnacha (Bokisch grows a clonal variant of the Grenache grape from Spain) and the 2012 McCay Cellars Lodi Grenache; which we compared to Grenache reds grown in Sonoma Valley, Mendocino, Paso Robles, Santa Clara, Santa Barbara, Amador County and El Dorado. The results were surprising.
But before we get into that, a little background: Although, in California, Grenache does not produce varietal reds that are nearly as popular as, say, Cabernet Sauvignon, Merlot or Pinot Noir, the grape itself is one of the most widely planted in the world.
Prodigious quantities of Grenache, for instance, are planted in every nook and cranny of Southern France – some 250,000 acres of it – where it is the dominant grape in both red wines (usually blended with Syrah, Mourvèdre and Carignan) and a vast ocean of rosés produced each year. Grenache is almost as popular in Spain, where the grape probably originated, going into both everyday and prestige reds such as Priorat, and also a sea of pink rosado (often blended with Tempranillo).
The Grenache grape found something of a heyday in California during the 1960s and 1970s, when it was employed by wineries such as Almadén Vineyards to make soft, fruity rosés, sold primarily by the "jug." Planted acres of Grenache began to decline once consumers moved on to 750-ml. bottles of varietals such as Chardonnay, Cabernet Sauvignon and White Zinfandel.
Acreage of California Grenache bottomed out about 10 years ago, but recently it's made a mild comeback. As of 2013, total acreage stands at 6,137 (according to the USDA's National Agricultural Statistics Service), with smidgens of new plantings in places like Monterey and Paso Robles. This puts it slightly ahead of Barbera; but still far less than grapes like Cabernet Sauvignon (over 86,000 acres), Merlot (over 45,000 acres), Zinfandel (48,000+), Pinot Noir (41,000+) and Syrah (19,000+).
During the 1980s and 1990s – when the "Rhône Ranger" movement began to gain traction – California grown Grenache was used primarily in its traditional role as a red wine blender with Syrah and Mourvèdre – what the Australians began calling "GSM."
But lately a few specialty wineries have taken to producing Grenache as a pure (100%) or nearly pure (over 90% or 95%) varietal red; choosing to highlight the grape's naturally gentle, fragrant quality, and its subtle complexity of red berryish fruit (often suggesting cherry, strawberry or raspberry) tinged with spice (black pepper or brown kitchen spices).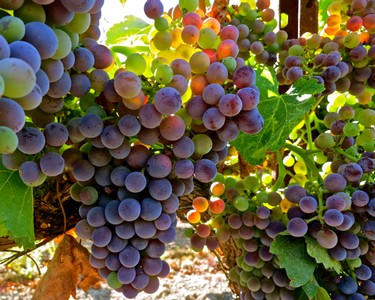 Garnacha clusters during veraison in Bokisch Ranches
This recent transition, of course, has been made possible only by a subtle change in consumer tastes for lighter, subtler wines. They are still a minority, but for many of today's wine aficionados, a wine need no longer be "big" or "powerful" to be impressive. For Grenache, it is a matter of no longer needing the aromatic intensity of Syrah or tannin structure of Mourvèdre to be considered "complete." It's a mental thing, as much a shift in taste: the more you appreciate delicacy as a quality, the more you appreciate varietal Grenache!
McCay Cellars' Michael McCay has been fond of describing Grenache as "Lodi's Pinot Noir." McCay is alluding to the Lodi AVA's Mediterranean climate – which is the natural environment for Grenache (but not so much for Pinot Noir, which reaches a height in colder climate regions) – as well as to the finely perfumed, mildly spiced, Pinot Noir-like qualities of the varietal.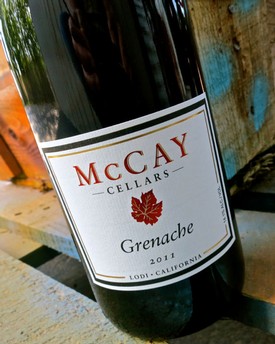 Last year, as it were, the San Francisco Chronicle headlined a story on Grenache's recent "star turn," describing the varietal as "the perfect Mediterranean grape" while proclaiming, "Now is the moment to embrace one of California wine's great successes." 20 years ago, there was no way anyone would use words like "star" or "great" in the same sentence as Grenache. Utilizing Star Wars lingo, we sense a "strong disturbance in the Force" – or rather, those with say in the wine world.
So what did our Lodi winemakers sense in their blind tasting of California's top Grenaches?
First, none of our Lodi winemakers recognized their own wines in this blind tasting. This means they were not predisposed towards Lodi grown wines while evaluating and, in the end, picking out their favorite Grenaches in this tasting.
Not only were our expert winemakers unable to identify the Lodi Grenaches among the others, following the discussion and final evaluation of the wines, they were shocked to discover that the Grenache everyone lauded as being the most distinctive, the spiciest, the most richly aromatic as well as the most structured wine in tannin and acidity was, in fact, grown in Lodi – the 2012 McCay Cellars Lodi Grenache.
Lodi's 2012 Bokisch Terra Alta Vineyard Garnacha was also praised for its bright, floral, strawberry-like perfume and soft, zesty feel on the palate. Chad Joseph and Mr. McCay felt that the Bokisch Garnacha exhibited fruit-forward, easy-going qualities associated with warm climate regions; but no more so than the Grenaches in this tasting coming from the Sierra Foothills, Mendocino, Santa Clara or Santa Barbara.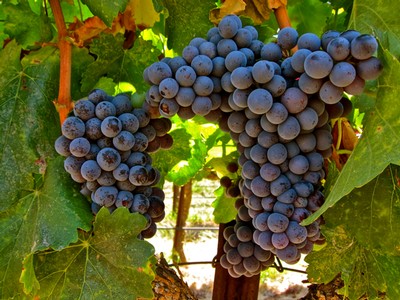 Garnacha Rioja Baja grapes in Bokisch's Terra Alta Vineyard
Our tasting notes on the Bokisch and McCay Grenache bottlings;
2012 Bokisch Vineyards, Terra Alta Vineyard Clements Hills-Lodi Garnacha ($23) – Notably refined, zesty, yet soft, rounded strawberryish qualities – described as "bright" and "lifted" by Chad Joseph – augmented by interesting leafy-green complexities; these gentle yet exuberant sensations stretching gracefully across the palate.
2012 McCay Cellars, Lodi Grenache ($28) – From trellised vines in Phil Abba's meticulously farmed Abba Vineyard, located on the east side of Lodi's Mokelumne River AVA; notably the most pungent, perfumed, sweet black peppercorn spiced (veering towards Pinot Noir-like peppermint) Grenache in the tasting, with Old Worldish whiffs of earthy loaminess; soft, round, fairly fleshy, with a mouth-watering zip. Mr. Bokisch described its nose as "Santa Rosa plum and strawberry," while Mr. Joseph noted its "mineral texture" and "strawberry jam." The other five wines rated among the "top 3" by our winemaker/tasters:
2013 A Tribute to Grace, Santa Barbara Highlands Vineyard Grenache (about $50)
2012 Baiocchi Wines, Sharon's Vineyard Fair Play (El Dorado) Grenache ($39)
2012 Epoch Estate Wines, Paso Robles Sensibility (about $50)
2010 Harrison Clarke Vineyard, Ballard Canyon-Santa Ynez Valley (Santa Barbara) Grenache ($55)
2011 Harrison Clarke Vineyard, Ballard Canyon-Santa Ynez Valley (Santa Barbara) Grenache ($32)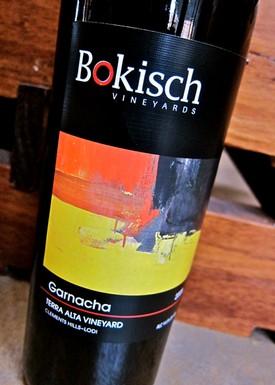 And alphabetical order, the rest of the Grenache bottlings in this blind tasting; each and every one, a deliciously fine wine in its own fashion:
2013 A Tribute to Grace, Shake Ridge Ranch Amador County Grenache (about $50)
2013 A Tribute to Grace, Besson Vineyard Santa Clara Grenache (about $50)
2013 Beckmen Vineyards, Purisima Mountain Vineyard-Block Eight Ballard Canyon (Santa Barbara) Grenache ($52)
2012 Big Basin Vineyards, Coastview Vineyard Monterey County Grenache ($44)
2014 Neyers Vineyards, Rossi Ranch Sonoma Valley Grenache ($35)
2012 Skinner Vineyards, Estate Grown El Dorado Grenache (about $30)
2013 Skinner Vineyards, El Dorado Grenache ($26)
2012 Testa Vineyards, Mendocino County Grenache ($30)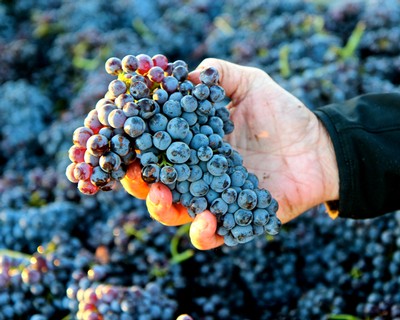 2014 McCay Cellars Grenache harvest
Comments