Letters from Lodi
An insightful and objective look at viticulture and winemaking from the Lodi
Appellation and the growers and vintners behind these crafts. Told from the
perspective of multi-award winning wine journalist, Randy Caparoso.

August 20, 2020 | Randy Caparoso
Strong case for Lodi terroir (part 3) — soil and topography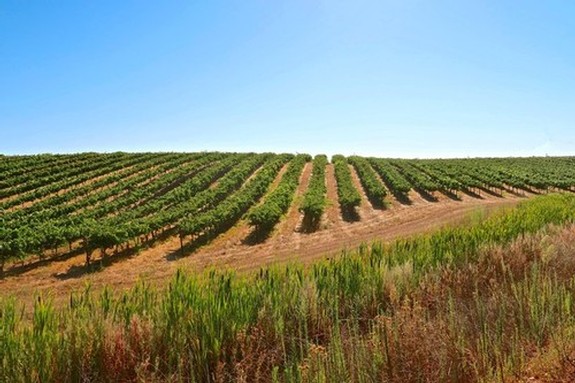 When the petition submitted to the federal government proposing the establishment of a Lodi AVA was submitted in 1982, it was noted that the viticultural area historically known as Lodi consisted of approximately 39,000 acres of vineyards and 15 bonded wineries. Today those numbers are up to just over 100,000 acres of planted vineyards, and 85 wineries.
In the 1986 Federal Register document acknowledging the final approval of the Lodi AVA, the appellation is described as "an inland area that is comprised mainly of alluvial fan, flood plain lands, and lower and higher terrace lands."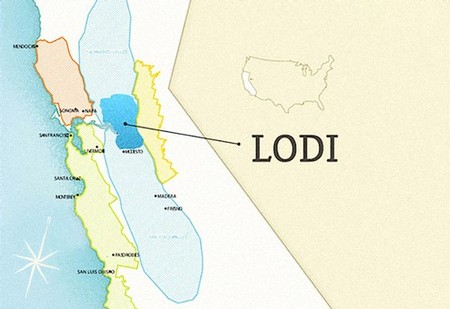 In 2002 a second petition was approved, effectively expanding the Lodi AVA on its west and south sides by 93,500 acres. In this petition, the climate of the additional areas was described as having "the same moderating influences of the Sacramento Delta (i.e. Sacramento-San Joaquin River Delta) winds that define the current boundaries."
It is, in fact, the sum total of the region's natural environmental attributes that define the Lodi AVA and contributes equally unique sensory attributes to the wines — particularly, a clarity of fresh fruit expressions across the board, no matter what the grape variety (and in Lodi, there are over 100 of them grown).
When all is said in done, the reason why Lodi has become America's largest winegrowing region is that wine grapes grow well here. Something that is, simply, a matter of terroir, or natural factors giving resulting wines their "sense of place."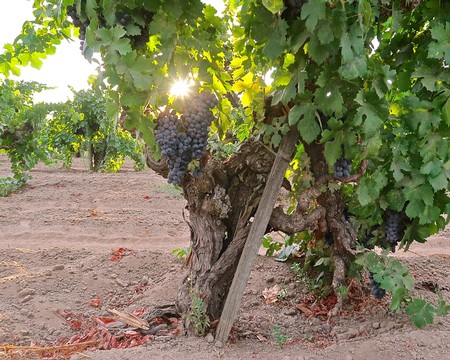 Three Predominant Soils
The Delta-influenced Mediterranean climate of Lodi's watershed terroir is complimented by classic well-drained soils ranging from deep sandy loam soils to shallow sandy clay loam terraces and rolling hillsides of gravelly or cobbled clay — optimizing the type of vine health that has enabled the region to cultivate thousands of acres of old (over 50 years) to ancient (over 100 years) vine plantings, most of it on their own (i.e. ungrafted) rootstocks.
In 2006, the TTB (Alcohol and Tobacco Tax and Trade Bureau) approved the usage of seven new American Viticultural Areas, all falling within the broader Lodi AVA: Alta Mesa, Borden Ranch, Clements Hills, Cosumnes River, Jahant, Mokelumne River and Sloughhouse.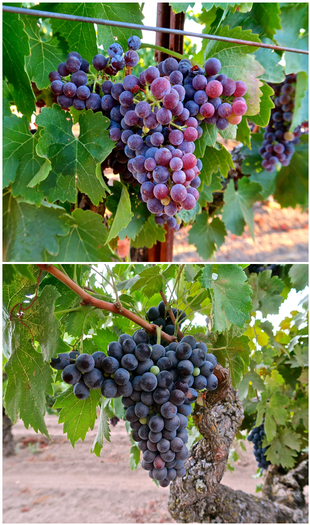 Climatically, all seven of these nested AVAs are defined by Lodi's Mediterranean climate, marked largely by Region IV Winkler scale growing degree-days, and consistent growing season diurnal shifts (i.e. night temperatures dipping into the lower 50°s) — factors that are conducive to fresh, natural acid balances in grapes, and tantamount to why Lodi became such a widely planted wine region.
There are, of course, distinguishing attributes to each of the seven Lodi sub-appellations, and these are largely soil and topography related. Like any wine region, these differentiations are complex; but in the case of Lodi, they can be broken down into three major soil types:
• Tokay Series — deep sandy loam (found in Mokelumne River AVA)
• Redding Series — gravelly or cobbled clay soils (Clements Hills, Borden Ranch, and Sloughhouse AVAs)
• San Joaquin Series — sandy clay loam with shallow hardpan (Jahant, Cosumnes River, and Alta Mesa AVAs)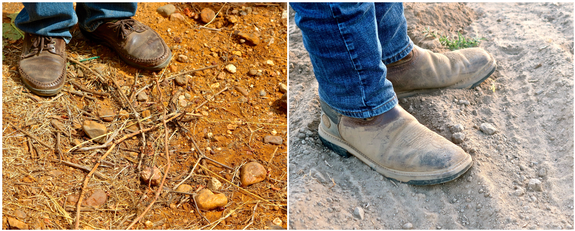 Tokay Sandy Loam Soil (Mokelumne River)
The historic farmlands surrounding the City of Lodi are largely less than 100-ft. above sea level, situated between the lower foothills of the Sierra Nevada mountain range to the east, and the lower elevation, freshwater marshland of the Sacramento-San Joaquin River Delta and Carquinez Strait to the immediate west. The farmlands in the far western edge of the Lodi AVA lie below sea level, falling in the Delta area, where the drained wetlands are defined by rich, peaty alluvial soils (there is substantial acreage of grapes like Chardonnay, Pinot noir, and Viognier planted in the Delta area, all west of Interstate 5).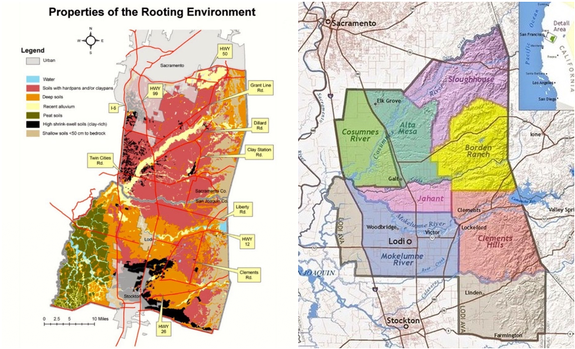 By the time the nested AVA of Mokelumne River was officially recognized in 2006, the agricultural zone surrounding Lodi had been known for well over a century for its deep, rich, fine, talcum powder-like alluvial soil — as much as 90-ft. deep — classified as Tokay sandy loam. This fertile valley soil is complimented by the same dry Mediterranean climate, and warm seasonal temperatures, and diurnal shifts, typifying most of the California coast between Santa Barbara and Sonoma.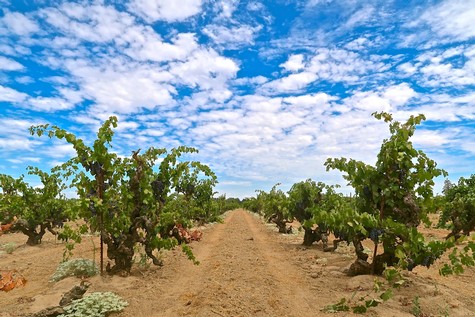 In fact, most American AVAs are not defined by nearly as much of a consistency of topography (10 to 85-ft. elevation flats, with less than 2% slopes) and single soil type as the Mokelumne River appellation surrounding the City of Lodi. Whereas most American wine regions consist of a multiplicity of soils, slopes, and elevations, in the Mokelumne River AVA there are no steep mountains or significant hills, and no rocks or even gravel: just this well-drained mix of decomposed granite (derived from the base rock of the Sierra Nevada, eroded away by constant river action) and sediment washed down from the mountains, starting in the Miocene period (some 20 million years ago) when the San Joaquin Valley was still an inland sea, although most of the soil farmed in the Mokelumne River appellation today is less than 25,000 years old.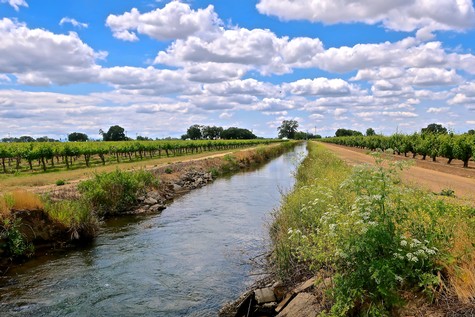 Just a few feet below the surface of the valley floor in the vicinity of the Mokelumne River is an enormous aquifer of water, which made early farming of a succession of major crops in this rich sandy loam that much easier, although winter flooding prior to the 1963 completion of the Camanche Dam and Mokelumne River reservoir, east of Lodi, was not uncommon.
Much of the Lodi AVA's reputation for gentle, fragrant, fruit-forward wines are a byproduct of the rich yet exceptionally well-drained sandy loam soils surrounding the City of Lodi. This is where Lodi's farming pioneers in the 1800s and early 1900s staked their claims because it was the easiest and most economical place to plant vineyards — for varieties like Zinfandel, Flame Tokay, Cinsaut or Carignan, literally a matter of sticking a cutting into the ground to let it take root on its own. Many of the historic vineyards are still highly productive, contributing to Lodi's image as an "old vine" region (although well over 95% of Lodi's vineyards are less than 40 years old).
Today the Mokelumne River AVA's 42,000 or so acres of wine grapes constitute just over 40% of Lodi's entire planted acreage.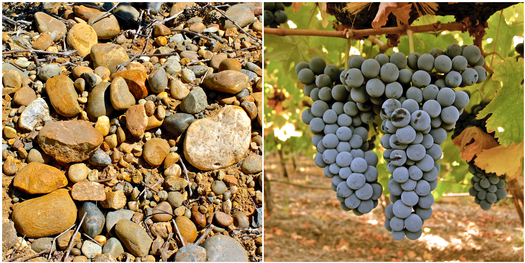 Sloughhouse-Lodi's cobbled clay and Cabernet Franc (Ironstone's Teichert Ranch), one of the Bordeaux grapes that excel in the older, clay soils of this hillside region
Redding Clay Soils (Clements Hills, Borden Ranch, and Sloughhouse)
In significant contrast to Mokelumne River is Clements Hills, located just east of the City of Lodi and the tiny one-saloon town of Victor. As you drive into this appellation even a casual observer notices how the topography suddenly transitions from flat ground into rolling hills of 150 to 400 ft. elevation. Soils become a visibly red (or yellowish red) clay loam of volcanic origin, which are gravelly or cobbled, and less vigorous on the hilltops; notwithstanding tiny pockets of sandy clay loam closer to where the Mokelumne River winds through the hills (particularly along CA Hwy. 88 between the towns of Lockeford and Clements).
Also in contrast to the Mokelumne River's 25,000-year-old soils, these Redding series soils are generally in the neighborhood of 250,000 to over 500,000 years old.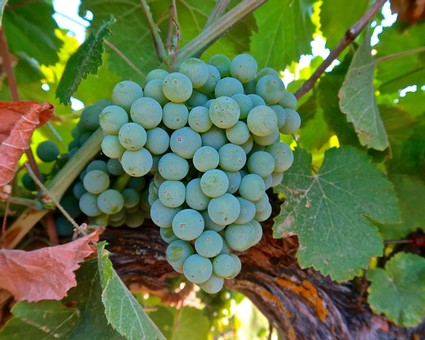 The favorable resemblance of these soils to much of California's North Coast was not lost to Lodi growers such as Keith Watts, Bokisch Vineyards' Markus Bokisch, Delicato Family Wines' Indelicato family, John and Ralph Graffigna, Kevin Delu, Round Valley Ranches' Jonathan Wetmore as well as Brad and Randy Lange of LangeTwins Family when they first began planting wine grapes in these hilly areas in the late 1980s and '90s.
In respect to red wines, such as high-demand Cabernet Sauvignon, clay soils offer the potential for deeper (in terms of color, aromas, and flavors), more densely phenolic (i.e. tannin and other sensations contributing to mouth-feel) styles of wine — in distinct contrast to the more gentle, flowery styles of wine that tend to be produced in the fine sandy loam soils of Lodi's historic Mokelumne River AVA.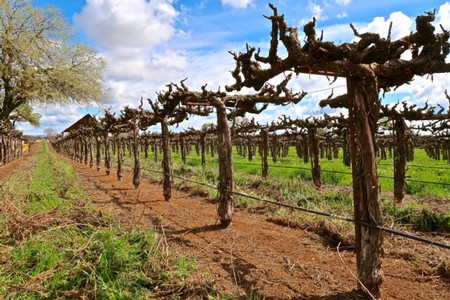 Delicato Family Wines Vineyard Manager Bud Bradley has described these hilly, lower elevation appellations along the eastern edge of the broader Lodi AVA as the Sierra Nevada "toe-hills." Besides distinctive soil series, these foothill-type terroirs are also characterized by a subtle variation of the Mediterranean climate defining the Lodi in general.
Markus Bokisch has also cited slight differences in diurnal temperature patterns. In an Appellation America interview, Bokisch explained: "... the warm days concentrate the flavors of the wines and serve to balance the tannin. Another characteristic that is often overlooked is that the Clements Hills enjoy some of the coolest nights of any Lodi AVA, which allows the grapes to retain their acidity and also provides further balance to the robust tannic and flavor profiles."
Consequently, much of the growth of the Lodi winegrowing industry — consisting of about 42,000 acres of planted wine grapes in 1986 when the Lodi AVA was officially recognized, shooting up to over 100,000 acres by 2016 — has been in the east side Lodi appellations of Clements Hills, Borden Ranch, and Sloughhouse primarily defined by these older, clay-based hillside soils.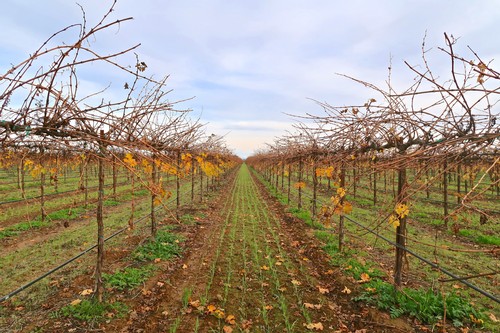 San Joaquin Series Soils (Jahant, Cosumnes River, and Alta Mesa)
The distinguishing common denominator shared by the Jahant, Cosumnes River, and Alta Mesa AVAs — sandwiched between the Sacramento-San Joaquin River Delta to the west and the lower foothill appellations of Clements Hills, Borden Ranch, and Sloughhouse to the east — are their variations of the official California state soil (since 1997) classified in the San Joaquin series. San Joaquin soils are characteristic of the lower elevation (generally below 100 ft.), terraced, shallow-topsoil, and floodplain topography predominant in much of Northern San Joaquin Valley and Sacramento Valley.
In this soil series, the surface layer is commonly a reddish to yellowish brown, partial sand/clay loam 2 to 6-(at the most)-feet in depth, formed above a cemented clay or sandstone hardpan that restricts root and water penetration. While very useful for irrigated crops such as wheat, rice, fruit, and nut orchards, and ranching, historically these areas were not as favored for deeper-rooted grape crops as the Mokelumne River area surrounding the City of Lodi with its far deeper (as much as 90-feet), more porous and vigorous Tokay series soils.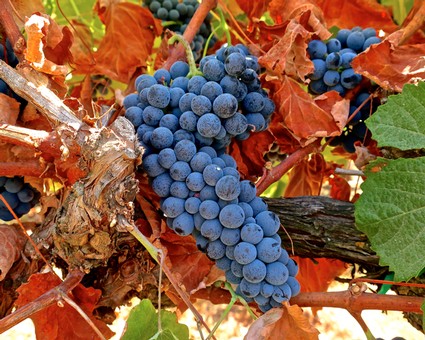 The transition between the deep sandy loams of the Mokelumne River AVA and the shallower loams of the Jahant AVA has always been traced by Peltier Rd. running east-west, north of the City of Lodi, and north of the winding Mokelumne River where it crosses W. Peltier Rd. between N. Davis and N. Lower Sacramento Roads.
Starting in the 1980s, longtime Lodi farming families such as the Langes and Schatzs, plus newer arrivals like Netherlands-born Pieter den Hartog and second-generation Portuguese-American Ron Silva (Silvaspoons Vineyards), began to make use of deep ripping equipment to break up hardpans and plant wine grapes extensively. This enabled them to establish deeper loam surfaces of increased vigor, mixed with finer textured subsoils just above and below the hardpans to increase a clay content that is particularly ideal for the formation of phenolic content important to the quality of high-demand varieties such as Cabernet Sauvignon and Merlot.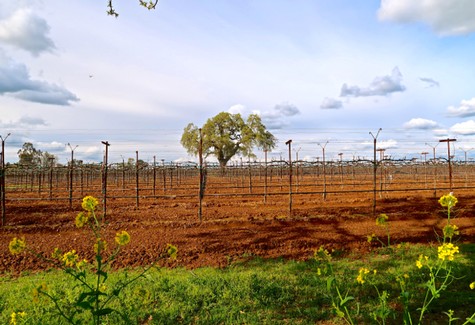 In the Storie, Index cited in the 2005 petition submitted to the TTB to establish Lodi's seven nested AVAs, the soil vigor of the Jahant, Cosumnes River, and Alta Mesa areas were rated in the 24-40 range — less vigorous than the soil in Mokelumne River (rated 80-95), but more vigorous than the hillside areas of Clements Hills, Borden Ranch and Sloughhouse (rated 15-30).
It is in these San Joaquin soils that Lodi has greatly expanded its range of grape varieties over the past 35 years. The aforementioned Bordeaux grapes (i.e. red wine varieties as well as Sauvignon blanc) do exceptionally well in these sandy clay loams. Mediterranean varieties ranging from Vermentino to black-skinned Italian grapes (such as Nero d'Avola and Montepulciano) have also been flourishing, while Portuguese cultivars (such as Verdelho, Touriga Nacional, and Alvarelhão) have been producing award-winning wines with sensory distinctions increasingly associated with "Lodi" diversity... and "Lodi" terroir.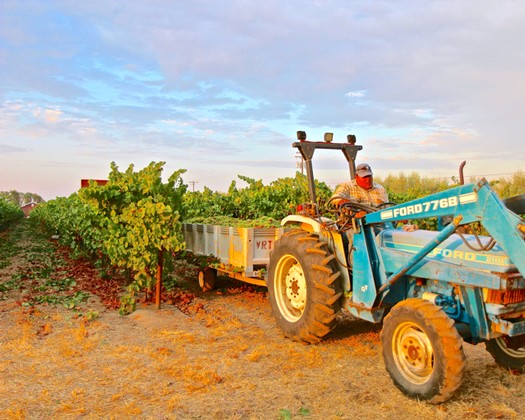 Comments