Letters from Lodi
An insightful and objective look at viticulture and winemaking from the Lodi
Appellation and the growers and vintners behind these crafts. Told from the
perspective of multi-award winning wine journalist, Randy Caparoso.

June 18, 2020 | Randy Caparoso
A history of Lodi winegrowing, part 7 — the Mokelumne River Viticultural Area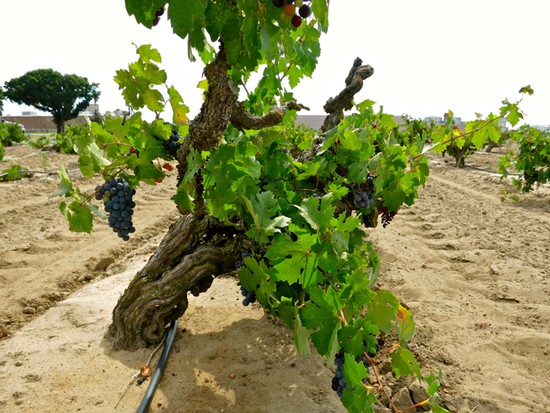 Continued from: A History of Lodi winegrowing, part 6 — Lodi begets seven nested AVAs
The Storie Index Clearly Defining Lodi's Seven Sub-Appellations
When drawing up their 2005 proposal for seven new nested sub-AVAs to submit to the TTB, the growers and vintners representing the LAVA (Lodi American Viticultural Areas) Steering Committee also included a Storie Index chart, illustrating the differences between the growing regions based upon soil vigor and production capacity. Storie Index classifications were originally developed in the 1930s by R. Earl Storie at the University of California, and have served as a method of determining the suitability of agricultural products to regions, as well as a means of economic valuation.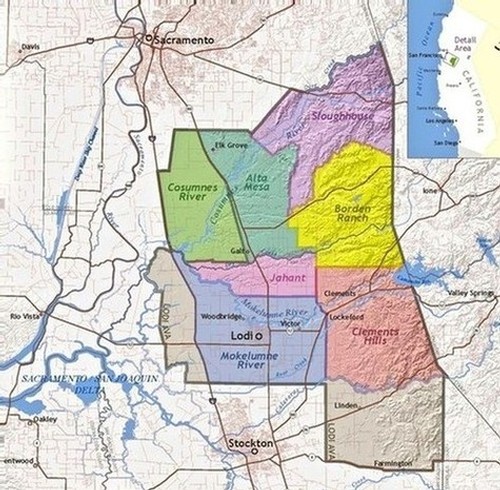 The general features of each proposed AVA summarized by the LAVA Steering Committee in the original petition, which included comparisons of growing season temperatures and Storie Index ratings of soil vigor: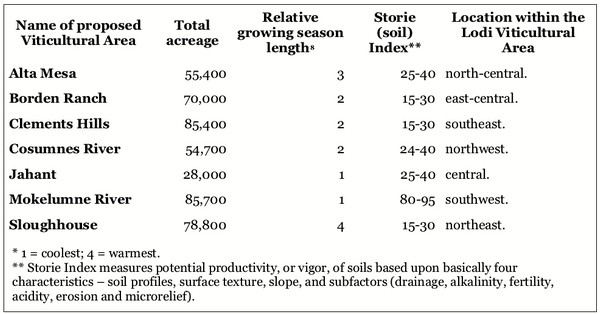 The Mokelumne River Viticultural Area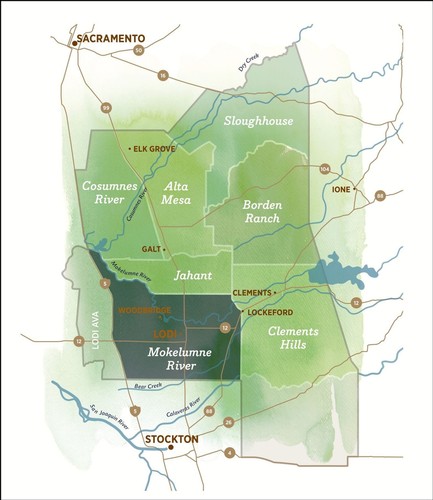 As indicated in the Storie Index, the Mokelumne River is Lodi's largest AVA and is also defined by easily the most vigorous soil among the other seven sub-AVAs while also sharing the "coolest" (on average) growing season with the Jahant AVA to the immediate north. Both Mokelumne River and Jahant are located near the western edge of the broader Lodi AVA, closest to the Sacramento-San Joaquin River Delta (the far western edge of the Lodi AVA actually falls within the Delta).
A summary of the appellation's distinguishing attributes:
• Consists of 85,700 acres and over 42,000 acres of planted wine grapes; bordered on the west side by Interstate 5, which also marks a dividing line before elevations dip below sea level west of the freeway (the gray areas falling within the Lodi AVA west of I-5 are at zero to minus-20' elevations, kept dry by the Delta's complex network of levees and waterways).
• This AVA — which houses almost all of Lodi's wine production facilities (rare exceptions include LangeTwins Family Winery located in Jahant and Bokisch Vineyards in Clements Hills) — is centered around the City of Lodi (population 68,000), and also encompasses the census-designated communities of Woodbridge, Acampo and Victor.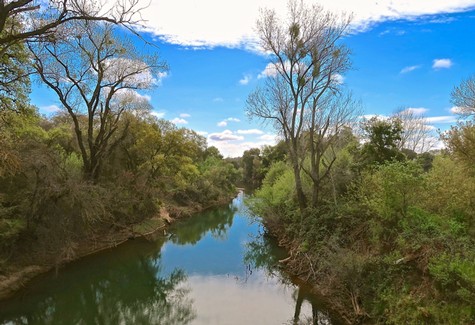 • Named for the river (i.e. Mokelumne River) that flows from the Sierra Nevada through the AVA, originally derived from a rough translation of the Native American (Miwok) name for the area as "the place of the fish net" (Mokelumne was also the name of the community established during the 1840s on the south bank of the river, which was changed to Lodi in 1864 and incorporated as the City of Lodi in 1906).
• Mokelumne River is the historic source of Lodi's oldest vines; much of its own rooted, head-trained Zinfandel, Carignan, and Alicante Bouschet (including Lodi's oldest planting, the Bechthold Vineyard Cinsaut, planted in 1886 as "Black Malvoisie"), sitting alongside a larger proportion of more recent, trellised, continuously replanted vineyards.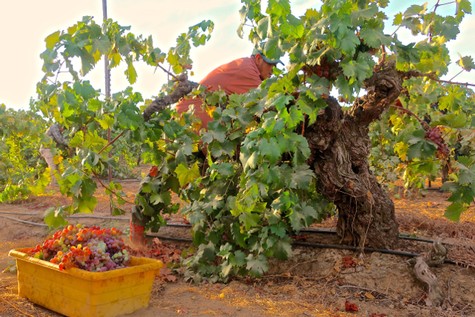 • Since the mid-1980s, Flame Tokay — a seeded table grape that once reigned as Mokelumne River-Lodi's dominant grape crop — has largely disappeared; clinging to life in tiny front-yard parcels as little more than curiosities (although, recently, Tokay has been produced as a table wine and fortified wine by a couple of small producers).
• This region includes the lower Mokelumne River to its confluence with the Cosumnes River at the northwest corner of the AVA, and is one of Lodi's cooler climate terroirs; its Mediterranean climate moderated by Delta breezes flowing in directly from the Bay Area and Carquinez Strait to the immediate west.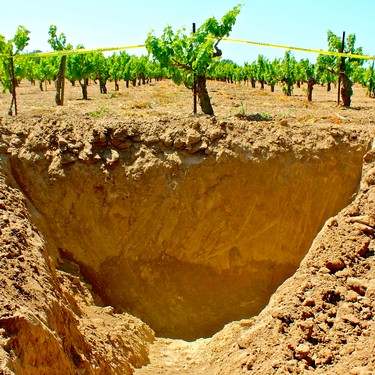 • Defined by a fairly flat topography with elevations from 10' to 85'; consisting of deep (up to 50') alluvial fan deposits of largely young (25,000 years old) Tokay Series sandy loam with high organic content, no immediate hardpan, and slight variations (generally more porous loamy sand east of California Hwy. 99, and loamier sand with slightly more water holding capacity west of the highway and closer to the Delta).
• These optimal soil attributes — plus historically, a higher water table prior to the completion of the Camanche Dam at the eastern edge of San Joaquin County in 1964 (enabling dry farming through much of Lodi's early agricultural history) — were the reasons why this part of California Grape District 11 (i.e. San Joaquin County north of CA Hwy. 4 and Sacramento County south of Interstate 50) was the first to be extensively farmed; dominated by wheat and watermelon towards the late 1800s, followed by own-rooted grape vines (mostly Tokay as a table grape and Zinfandel as a wine grape) by the turn of the 20th century.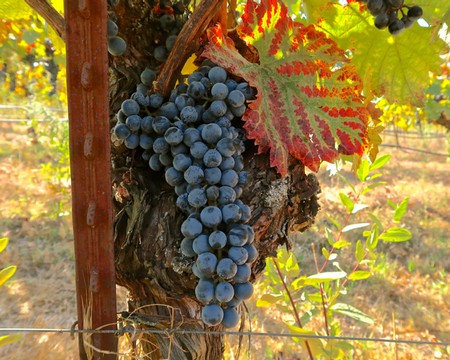 • This terroir has proven conducive to both red and white wine grapes (close to 100 different varieties grown commercially); including many of the classic French, Italian, and Spanish grapes, and even a good number of German cultivars.
• Excellent examples of Mokelumne River grown white wines include Harney Lane Winery Albariño, Acquiesce Vineyard Grenache Blanc, Acquiesce Vineyard Viognier, Mensch (by Covenant Wines) Roussanne, Bokisch Vineyards Las Cerezas Vineyard Albariño, Sidebar Cellars Kerner, Markus Wine Co. Mokelumne Glen Vineyards Nativo (Kerner/Riesling/Bacchus), Oak Farm Vineyards Sauvignon Blanc, and Michael David Winery Chardonnay.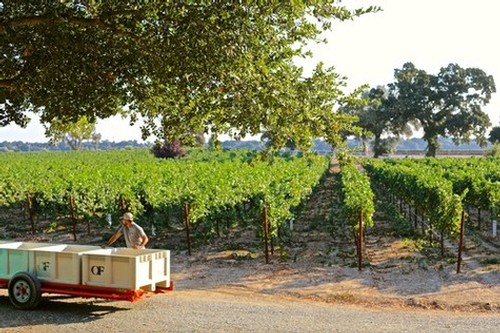 • Excellent examples of Mokelumne River grown red wines include McCay Cellars Abba Vineyard Grenache, Klinker Brick Winery Farrah Syrah, Harney Lane Winery Petite Sirah, Bokisch Vineyards Las Cerezas Vineyard Graciano, Fields Family Wines Lot 13 Vineyard Tempranillo, St. Amant Marian's Vineyard Zinfandel, Oak Farm Vineyards Barbera, Peltier Winery Schatz Family Reserve Teroldego, Hatton Daniels Wine Cellars Mokelumne Glen Vineyard Zweigelt, Paskett Winery Charbono, PRIE Vineyards Mokelumne Glen Vineyards Dornfelder, Mettler Family Vineyards Pinotage, Prieta Loma Winery Bodo's Blend (Pinotage/Petite Sirah), Maley Bros. Merlot, Inkblot (by Michael David Winery) Cabernet Franc, and Rapture (by Michael David Winery) Cabernet Sauvignon.
Next week: Lodi's Clements Hills, Borden Ranch, and Sloughhouse Viticultural Areas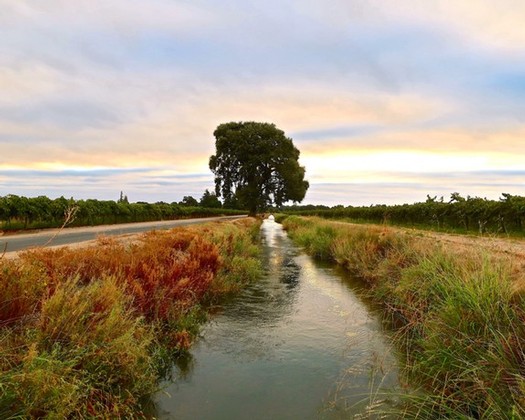 Comments