Letters from Lodi
An insightful and objective look at viticulture and winemaking from the Lodi
Appellation and the growers and vintners behind these crafts. Told from the
perspective of multi-award winning wine journalist, Randy Caparoso.

June 25, 2020 | Randy Caparoso
A history of Lodi winegrowing, part 8 — Lodi's Clements Hills, Borden Ranch and Sloughhouse Viticultural Areas

Continued from: A History of Lodi winegrowing, part 7 — the Mokelumne River Viticultural Area
The Lodi Winegrowing Industry's Expansion Into Hillside Appellations
There are reasons why growers and winemakers look upon Lodi as a sum of different parts — hence, the 2005 establishment of seven nested AVAs.
Most of Lodi's growth as a wine region over the past 25 years has been outside the original area surrounding the City of Lodi, which is defined by an extremely deep sandy loam (i.e. Tokay series) soil on a visibly flat, lower elevation (0 to 150-ft.) plain. This historic area — where the vast majority of Lodi's old or ancient vine plantings (50 to over 100 years old) are located — is officially recognized as the Mokelumne River AVA.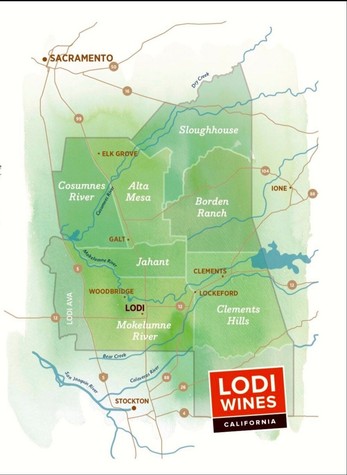 In significant contrast to Mokelumne River is Clements Hills, located just east of the City of Lodi and the tiny one-saloon town of Victor. As you drive into this appellation even a casual observer notices how the topography suddenly transitions from flat ground into rolling hills of 150 to 400 ft. elevation. Soils become a visibly red (or yellowish red) clay loam of volcanic origin, which are gravelly or cobbled, and less vigorous on the hilltops; notwithstanding tiny pockets of sandy clay loam closer to where the Mokelumne River winds through the hills (particularly along CA Hwy. 88 between the towns of Lockeford and Clements).
There are similar types of clay soils found throughout Sonoma County, Napa Valley, as well as in Mendocino and Lake Counties; in fact, this soil series is officially classified as Redding series gravelly loam because of its concentration in Tehama County, just south of Redding in Northern California, occupying the northern reaches of California's Central Valley.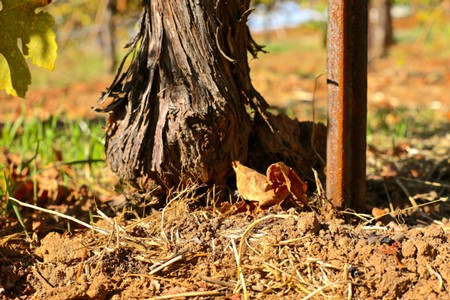 The favorable resemblance of these soils to much of California's North Coast was not lost to Lodi growers such as Keith Watts, Bokisch Vineyards' Markus Bokisch, Delicato Family Wines' Indelicato family, John and Ralph Graffigna, Kevin Delu, Round Valley Ranches' Jonathan Wetmore as well as Brad and Randy Lange of LangeTwins Family Winery & Vineyards when they first began planting wine grapes in these hilly areas in the late 1980s and '90s.
In respect to red wines, such as high-demand Cabernet Sauvignon, clay soils offer the potential for deeper (in terms of color, aromas, and flavors), more densely phenolic (i.e. tannin and other sensations contributing to mouth-feel) styles of wine — in distinct contrast to the more gentle, flowery styles of wine that tend to be produced in the fine sandy loam soils of Lodi's historic Mokelumne River AVA.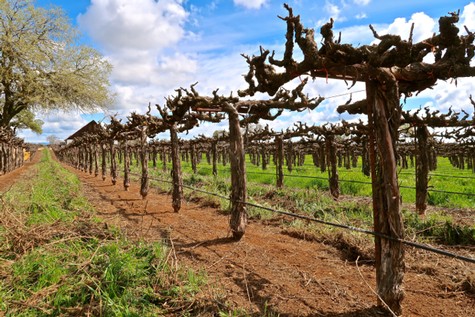 Delicato Family Wines Vineyard Manager Bud Bradley has described these hilly, lower elevation appellations along the eastern edge of the broader Lodi AVA as the Sierra Nevada "to hills." Besides distinctive soil series, these foothill-type terroirs are also characterized by a subtle variation of the Mediterranean climate defining the Lodi in general. Markus Bokisch has cited slight differences in diurnal temperature patterns. In an Appellation America interview, Bokisch explained: "... the warm days concentrate the flavors of the wines and serve to balance the tannin. Another characteristic that is often overlooked is that the Clements Hills enjoy some of the coolest nights of any Lodi AVA, which allows the grapes to retain their acidity and also provides further balance to the robust tannic and flavor profiles."
Consequently, much of the growth of the Lodi winegrowing industry — consisting of about 42,000 acres of planted wine grapes in 1986 when the Lodi AVA was officially recognized, shooting up to closer to 110,000 acres by 2016 — has been in these eastern hillside appellations.
The lowdown on these three nested AVAs: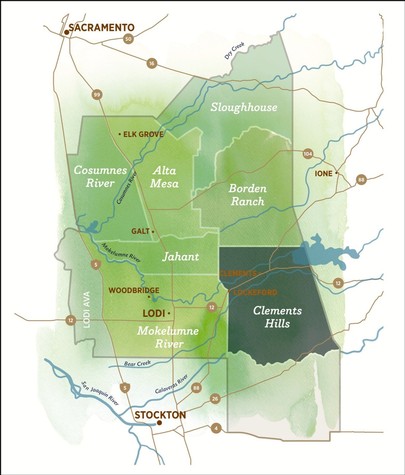 Clements Hills AVA
• South-east side AVA located entirely within San Joaquin County; comprising 85,400 acres, and the largest planting of wine grapes (21,700 acres) outside of Mokelumne River.
• Named for the census-designated community of Clements located in the northern part of the AVA; founded by Thomas Clements in 1857, and thereafter became combined with the area's hilly terrain to coin the common local parlance, "Clements Hills."
• The AVA's rolling and rounded hillside topography sits on elevations ranging from 100' to 450'; bisected at the north end by the Mokelumne River, flowing down from the Sierra Nevada.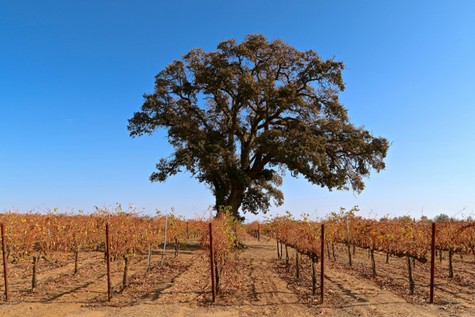 • Climate is warmer (by yearly averages of 100 growing degree-days) and wetter than AVAs to the immediate west (Mokelumne River and Jahant), while receiving slightly more cooling influence compared with other east-side AVAs (Borden Ranch and Sloughhouse). Consequently, as in Lodi's other two east-side AVAs, this area experiences slightly wider diurnal swings (warmer during the day, cooler at night) during the growing season.
• More varied topography than other AVAs; with slopes and terrace tops providing a diversity of microclimates and aspects, consisting of older soils (at least 250,000 years old) and volcanic sediments creating a natural woodland environment.
• These older soils in the Redding (primarily), Cometa, Yellowlark, and Montepellier series are of generally low vigor, ranging from brown and reddish-orange to yellow loams, clay loams, and clays on deeper soil strata of granitic and volcanic clasts; with higher water holding capacity than the cobbled slopes in the Borden Ranch AVA to the north, but less than the sandy-loamy soils in the Mokelumne River AVA to the west.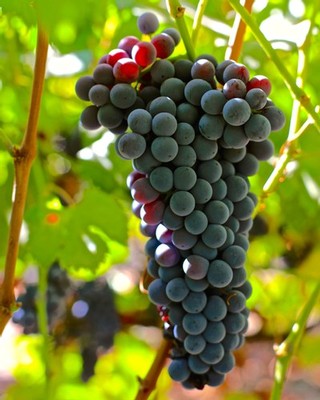 • There are also much younger (25,000 years), fine sandy loams located primarily along the southern embankment of the Mokelumne River towards the north end of the AVA between the CDPs of Lockeford and Clements; deep enough to accommodate own-rooted, old vine Zinfandel dating as far back as the 1920s.
• The AVA's clay loams away from the Mokelumne River have proven well suited to red varieties (Cabernet Sauvignon, Merlot, Petit Verdot, Malbec, Primitivo/Zinfandel, Barbera, Petite Sirah, Nebbiolo), Rhône grapes (Syrah, Mourvèdre, Grenache, Grenache blanc), Spanish varieties (Albariño, Tempranillo, Graciano, and red and white selections of Garnacha), as well as Chardonnay, Sauvignon blanc, and a little Piquepoul.
• Excellent examples of Clements Hills grown wines include Uncharted (by Holman Cellars) Picpoul, Bokisch Vineyards Terra Alta Vineyard Albariño, Cochon (by Odisea Wine Company) Grenache Blanc, Bokisch Vineyards Terra Alta Vineyard Garnacha, Tizona (by Bokisch Vineyards) Rasteau Row (Garnacha/Syrah/Monastrell), Fields Family Wines Stampede Vineyard Zinfandel, Tizona (by Bokisch Vineyards) Süss Vineyard Zinfandel, m2 Wines Anaya Vineyards Petite Sirah, and Hunters Oak Vineyard Cabernet Sauvignon.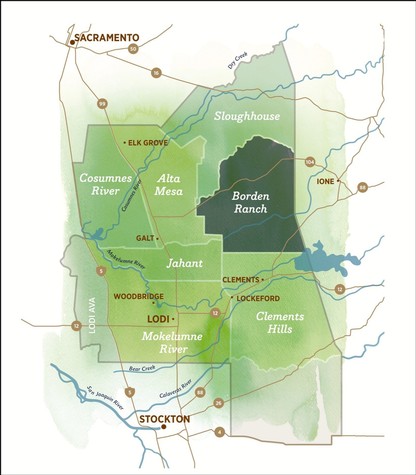 Borden Ranch AVA
• An east side AVA located just south of Deer Creek Hills; bisected by Dry Creek just south of the center, with land in both Sacramento and San Joaquin Counties.
• Comprising 70,000 acres, with over 12,000 acres of planted grapes.
• The evidence for the commonly used name submitted to the TTB cited the founding of Borden Ranch in 1864 by Ivey Lewis Borden, which became a well-known breeding ranch for thoroughbred racing horses and Hereford cattle.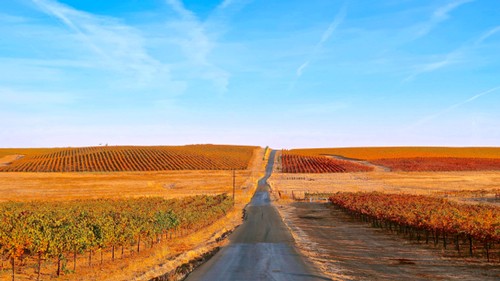 • A natural prairie mound environment with high ridges (73' elevation on the west end, up to 520' at the eastern edge); warmer and wetter than AVAs to the west (Alta Mesa and Cosumnes River), while receiving more wind than adjoining east side AVAs (Sloughhouse and Clements Hills).
• Hillside soils include very old (from 125,000 to 700,000 years) volcanic mudflow and alluvial stream deposits from Laguna Creek and Dry Creek, dominated by metamorphic cobble, stony clay pan, and clay loam soils.
• Clay-content Durixeralf soils — which include Redding, Hicksville, Corning, and Yellowlark Series soils — combine with high winds (resulting from Delta breezes from the west and cold air drainage from the Sierra Foothills to the east) to create a high irrigation deficit and evapotranspiration conditions, further restricting vine vigor.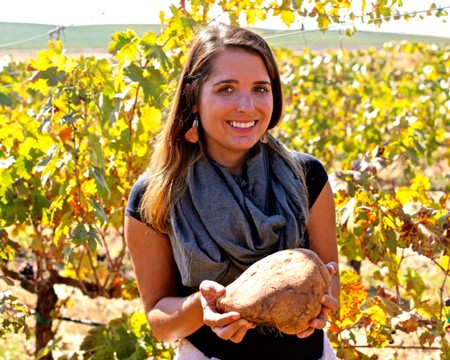 • The area's hillside topography also offers multiple slope aspects and exposures; favoring a predominance of red wine varieties that are enhanced by elevated phenolic content (particularly anthocyanin and tannin) such as Cabernet Sauvignon, Merlot, Malbec, Petit Verdot, Syrah, Petite Sirah, and Primitivo/Zinfandel; although quite a bit of Chardonnay, Pinot Grigio, Sauvignon blanc and alternative whites (Verdejo, Verdelho, Garnacha Blanca) are also doing well here.
• Excellent examples of Borden Ranch-grown wines include Bokisch Vineyards Clay Station Vineyard Verdejo, Bokisch Vineyards Vista Luna Vineyard Garnacha Blanca, Onesta Wines Clay Station Vineyard Grenache Blanc, Leaf and Vine Winery Vista Luna Vineyard Albariño, Neyers Vineyards Vista Luna Vineyards Zinfandel, McManis Family Vineyards Cabernet Sauvignon, and Noble Vines (by Delicato Family Wines) Clay Station Vineyard "337" Cabernet Sauvignon.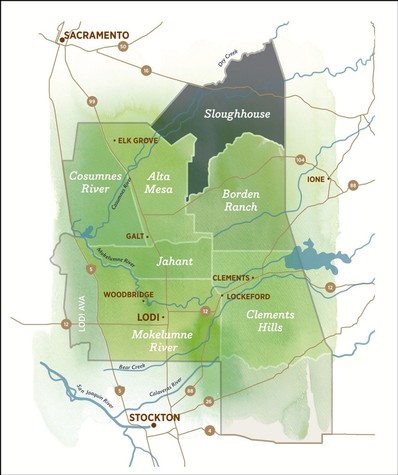 Sloughhouse AVA
• Located entirely within Sacramento County at the northeast corner of the Lodi AVA; comprising 78,800 acres with about 8,000 acres of planted grapes.
• Named after the unincorporated community in the area named Sloughhouse, founded by Jared Sheldon in the 1850s; originally serving as a hotel, inn, and stagecoach station along a slough of the Cosumnes River (hence the name, "Slough House," historically applied to other markers in the area), and now registered as California Historic Landmark 575.
• A higher (for Lodi) elevation, naturally woodland environment; generally over 100' and reaching 590' near borders of El Dorado and Amador County lines, in the lower Foothills of the Sierra Nevada.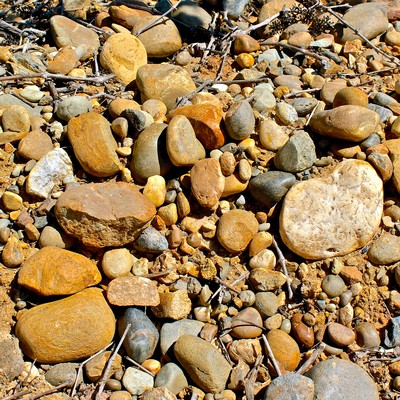 • Soils consist of older (500,000 years), lower vigor alluvial fans; much of it depleted reddish-orange, volcanic gravelly loam in the Redding series, as well as Corning, Pentz, and Hadlesville soils (all of lower vigor); with both sandier loams and increased river rock slopes on the hilltops in the vicinity of Deer Creek and Cosumnes River skirting the AVA's north edge.
• Cooler winters result in later bud break (up to two weeks) than the rest of the Lodi AVA; and during the growing season, this region experiences both the warmest day and coolest night temperatures (adding up to averages of 200 total degree-days more on the Winkler Scale than Alta Mesa to the west, and 300 more degree-days than Borden Ranch and Clements Hills to the south); plus Lodi's highest annual precipitation (23 inches) and, unlike Lodi AVAs to the west, very little fog.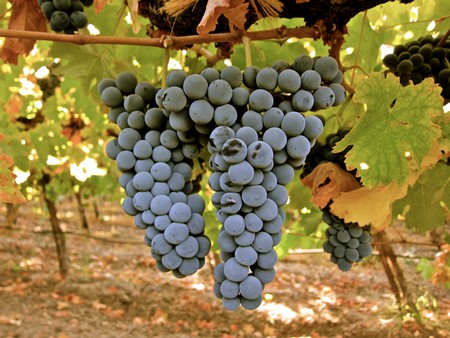 • Red varieties are common here (particularly Cabernet Sauvignon, Cabernet Franc, Merlot, Petit Verdot, Petite Sirah, Primitivo/Zinfandel, Grenache, Mourvèdre, Tannat, Teroldego), although there are extensive plantings of Chardonnay and Sauvignon blanc, as well as Muscat varieties.
• Excellent examples of Sloughhouse-grown wines include Ironstone Vineyards Petite Sirah, Ironstone Vineyards Cabernet Franc, and Bokisch Vineyards Sheldon Hills Vineyard Monastrell.
Next week: Lodi's Jahant, Cosumnes River, and Alta Mesa Viticultural Areas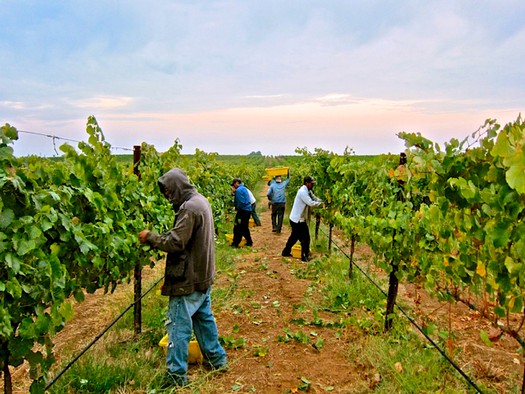 Comments