Letters from Lodi
An insightful and objective look at viticulture and winemaking from the Lodi
Appellation and the growers and vintners behind these crafts. Told from the
perspective of multi-award winning wine journalist, Randy Caparoso.

July 2, 2020 | Randy Caparoso
A history of Lodi winegrowing, part 9 — Lodi's Jahant, Cosumnes River and Alta Mesa Viticultural Areas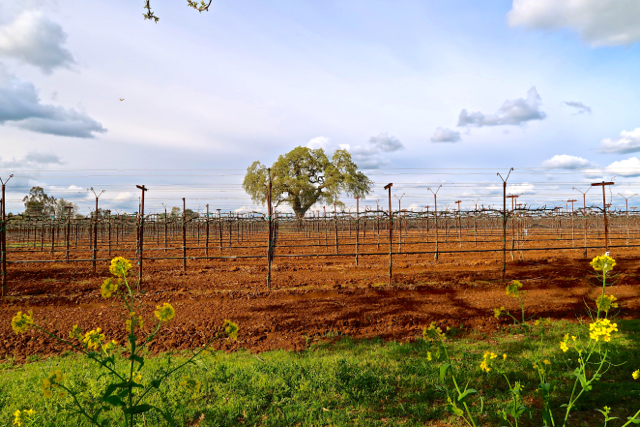 Continued from: A history of Lodi winegrowing, part 8 — Lodi's Clements Hills, Borden Ranch and Sloughhouse Viticultural Areas
San Joaquin Series Soil
The distinguishing common denominator shared by the Jahant, Cosumnes River and Alta Mesa AVAs — sandwiched between the Sacramento-San Joaquin River Delta to the west and the lower foothill appellations of Clements Hills, Borden Ranch and Sloughhouse to the east — is their variations of the official California state soil (since 1997) classified in the San Joaquin series. San Joaquin soils are characteristic of the lower elevation (generally below 100-ft.), terraced, shallow-topsoil, floodplain topography predominant in much of Northern San Joaquin Valley and Sacramento Valley.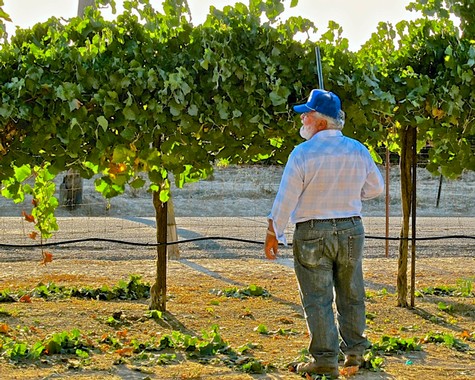 A summary of the benefits and features of soils falling within the range of the San Joaquin series:
• The surface layer is commonly a reddish to yellowish brown, partial sand/clay loam 2 to 6-(at the most)-feet in depth, formed above a cemented clay or sandstone hardpan that restricts root and water penetration.
• While very useful for irrigated crops such as wheat, rice, fruit and nut orchards and ranching, historically these areas were not as favored for deeper rooted grape crops as the Mokelumne River area surrounding the City of Lodi with its far deeper (as much as 90-feet), more porous and vigorous alluvial sandy loam, falling in the Tokay series.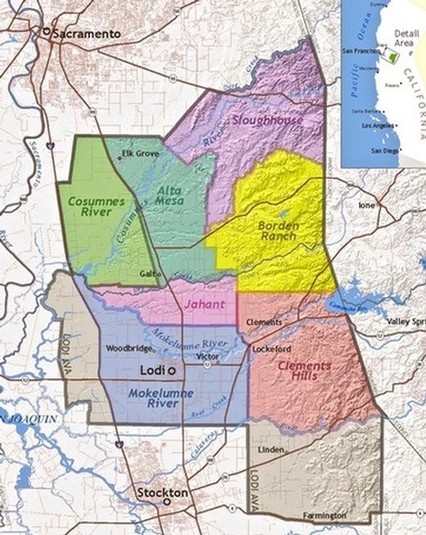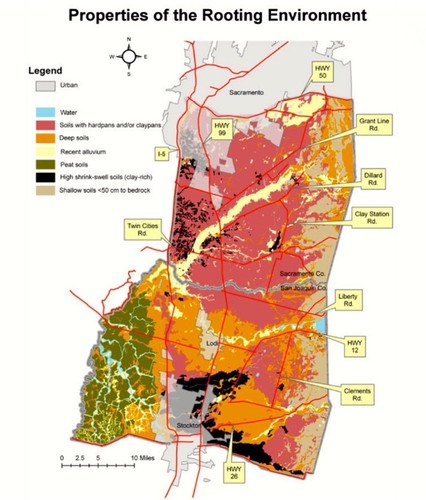 • The transition between the deep sandy loams of the Mokelumne River AVA and the shallower loams of the Jahant AVA has always been traced by Peltier Rd. running east-west, north of the City of Lodi, and north of the winding Mokelumne River where it crosses W. Peltier Rd. between N. Davis and N. Lower Sacramento Roads.
• Starting in the 1980s, longtime Lodi farming families such as the Langes and Schatz, and newer arrivals like Netherlands-born Pieter den Hartog, began to make use of deep ripping equipment to break up hardpans and plant wine grapes extensively. This enabled them to establish deeper loam surfaces of increased vigor, mixed with finer textured subsoils just above and below the hardpans to increase a clay content that is particularly ideal for the formation of phenolic content important to the quality of high-demand varieties such as Cabernet Sauvignon and Merlot.
• In the Storie Index cited in the 2005 petition submitted to the TTB to establish Lodi's seven nested AVAs, the soil vigor of the Jahant, Cosumnes River and Alta Mesa areas were rated in the 24-40 range — less vigorous than the soil in Mokelumne River (rated 80-95), but more vigorous than the hillside areas of Clements Hills, Borden Ranch and Sloughhouse (rated 15-30).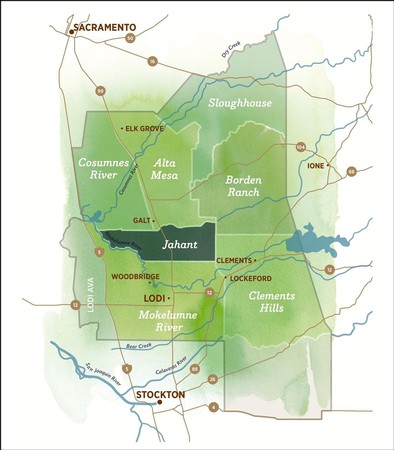 Jahant AVA
• Geographically the smallest of Lodi's seven AVAs — comprising 28,000 acres, with 9,000 planted acres — extending west-east in the center of the Lodi AVA, bordered by Dry Creek and Peltier Road to the north and south, and located mostly in San Joaquin County.
• Name derived from Peter Jahant who, with several brothers, first settled in the area in the vicinity of Acampo during the 1850s; thereafter, lending the family name to numerous local landmarks (Jahant Slough, Jahant Rd., Jahant Equestrian Center, and several Jahant Vineyards).
• This AVA is marked by erosion in relatively flat topography with fairly consistent 10' to 80' elevations.
• Sits on highly desiccated river terraces and old floodplain deposits; consisting primarily of shallow, pinkish sandy clay loam in the San Joaquin series on an indurated duripan; generally sandier at the surface with older, cemented, root restrictive layers at the sub-surface, with a few sections of deeper sandy loam.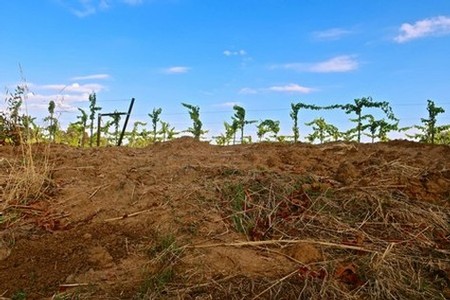 • Climate is similar to Mokelumne River AVA to the immediate south, but receives more cold air drainage and entrapment with vineyard pockets that are even cooler than most parts of Mokelumne River.
• Has lower precipitation than east side AVAs (Sloughhouse, Borden Ranch and Clements Hills); but more Delta fog influence, hence the coolest growing seasons on average (along with the Mokelumne River AVA) of the seven Lodi AVAs.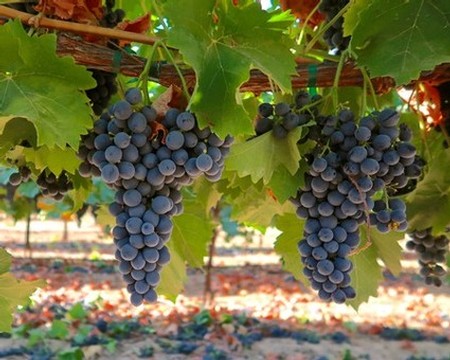 • White varieties (Chardonnay, Viognier, Sauvignon blanc) have been extensively planted over the past 25 years, although black skinned skinned grapes (Cabernet Sauvignon, Merlot, Petit Verdot, Primitivo/Zinfandel, Carignan, Petite Sirah, Barbera, Sangiovese, Tempranillo, Teroldego, Montepulciano, Nero d'Avola) are also performing well.
• Excellent examples of Jahant grown wines include LangeTwins Family Vineyards Sangiovese Rosé, LangeTwins Family Vineyards "Musqué Clone" Sauvignon Blanc, LangeTwins Family Vineyards Montepulciano, LangeTwins Family Vineyards Teroldego, Bokisch Vineyards Liberty Oaks Vineyard Tempranillo, Oak Farm Vineyards Hohenreider Vineyard Zinfandel, and St. Amant Winery Barbera.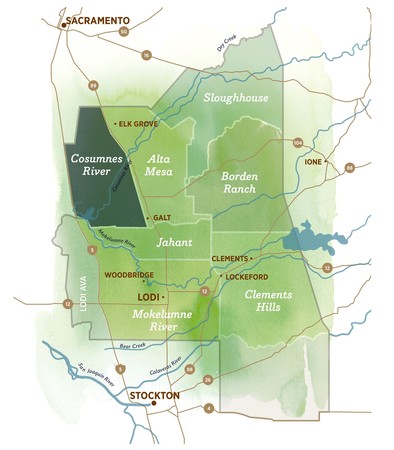 Cosumnes River AVA
• Located mostly in Sacramento County; consisting of 54,700 acres, with the smallest amount of planted wine grapes (about 3,500 acres) of Lodi's seven sub-AVAs; bordered on the west and east sides by Interstate 5 and California Hwy. 99.
• Named for the Cosumnes River which flows down from the Sierra Nevada to join with the Mokelumne River to mark the southwest corner of the AVA, between Walnut Grove and Thornton; and also, in the vicinity, the 1,450-acre Cosumnes River Preserve.
• The AVA's immediate proximity to Delta fog and near-sea level elevations (5' to 48') make this one of Lodi's cooler climate appellationss (along with Mokelumne River and Jahant to the south).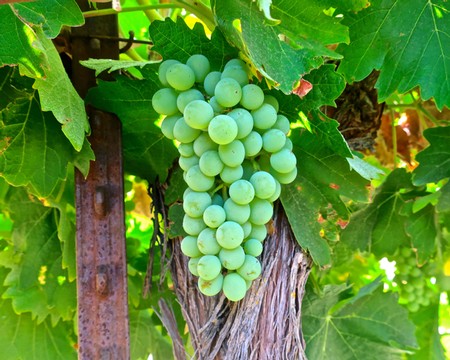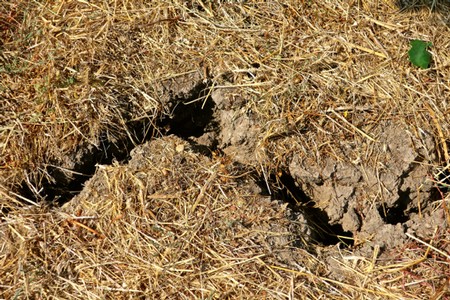 • Dominated by younger, organic, moderately fertile, silty, alluvial soils in lower areas consisting of floodplains, sloughs and wetlands; while intermediate age, reddish gravelly clay loam soils in the San Joaquin series (also classified as Abruptic Durixeralfs) with more water-holding capacity, but also a tendency to harden and compact at the surface during the dry summers, are found in the remaining 40% of the AVA.
• The cooler Delta influences of this west side AVA have proven exceptionally friendly to white wine varieties (particularly Chardonnay, Sauvignon blanc, Pinot grigio, Vermentino) as well as reds (Cabernet Sauvignon, Merlot, Syrah).
• Excellent examples of Cosumnes River grown wines include Peltier Winery "Black Diamond" Vermentino and Peltier Winery "Black Diamond" Sauvignon Blanc.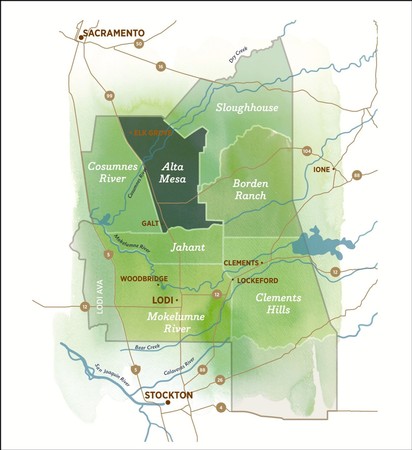 Alta Mesa AVA
• AVA consisting of 55,400 acres with about 5,300 acres of planted grapes.
• Located just east of the Cosumnes River AVA, north of Dry Creek, and falling completely within Sacramento County.
• Name comes from the Spanish phrase (alta mesa, or "high table") that the petition explained was commonly used by local ranchers, farmers and vintners for the area to describe the region's tabletop or mesa-like topography (ranging from 35' on the western edge to 135' in the east) and hence, numerous local landmarks such as Alta Mesa Rd., Alta Mesa Farm Bureau Hall (listed on the National Register of Historic Places), Alta Mesa Community Hall, Alta Mesa Fair, Alta Mesa Dairy, and Alta Mesa Gun Club.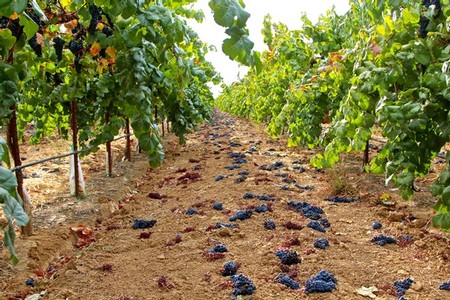 • Fairly flat topography of intermediate elevation river terraces and alluvial fan deposits built up by the American and Cosumnes Rivers; consisting primarily of dense, reddish, gravelly clay loam soils primarily in the San Joaquin series, with fairly shallow (2' to 5'), loose topsoil on fairly thick hardpan layers, requiring extensive deep ripping before planting.
• Prairie environment; climate influenced by Delta breeze, with less wind and marginally higher temperatures than the lower lying AVA (Cosumnes River) to the immediate west.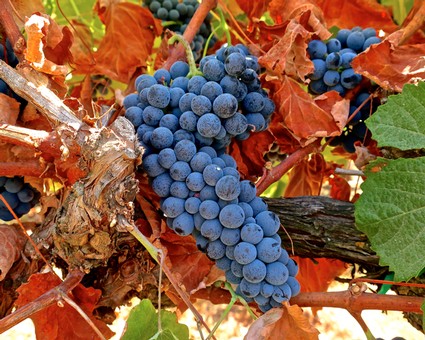 • Initial plantings relied heavily on standard red wine varieties (Cabernet Sauvignon, Merlot, Malbec, Syrah, Cabernet Franc, Primitivo/Zinfandel); then diversified to include a good number of alternative varieties (Verdelho, Vermentino, Albariño/Alvarinho, Grenache blanc, Moscato Giallo, Torrontés, Tannat, and black skinned Port grapes such as Touriga Nacional, Touriga Francesa, Tinta Roriz/Tempranillo, Tinta Cão, Souzão, Alvarelhão and Tinta Amarela).
• Excellent examples of Alta Mesa grown wines include Fields Family Wines Delu Vineyard Vermentino, Fenestra Winery Silvaspoons Vineyards Verdelho, Wise Villa Winery Torrontés, Uvaggio Primitivo, Jeff Runquist Silvaspoons Vineyards Touriga, Jeff Runquist Silvaspoons Vineyards Tannat, and PRIE Vineyards Silvaspoons Vineyards Mencía.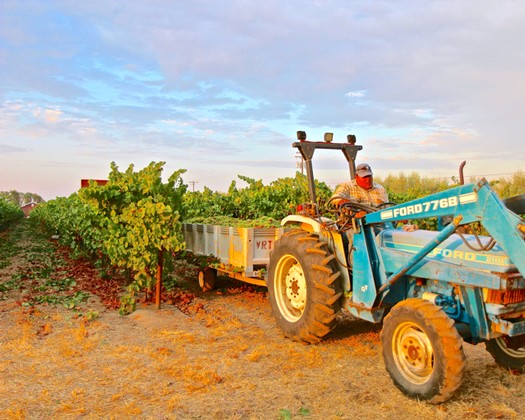 Comments