Letters from Lodi
An insightful and objective look at viticulture and winemaking from the Lodi
Appellation and the growers and vintners behind these crafts. Told from the
perspective of multi-award winning wine journalist, Randy Caparoso.

May 2, 2023 | Randy Caparoso
Monte Rio winemaker explains his puristic, terroir-driven approach to three Ancient Vines reds, from Lodi's oldest vineyards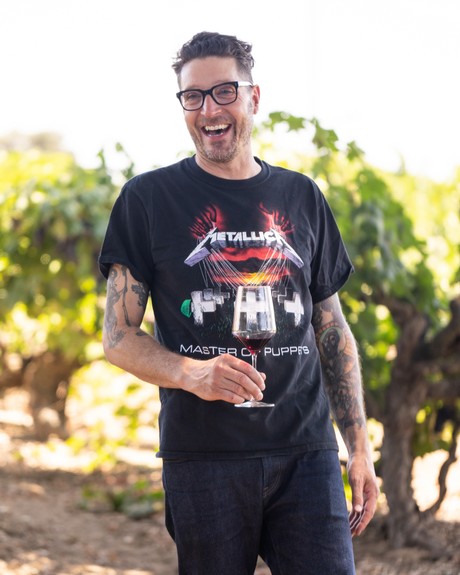 Monte Rio Cellars—a small, independent, handcraft label owned and operated by former longtime New York City sommelier Patrick Cappiello—has just released three Lodi grown wines he is calling his "Ancient Vines" series.
Many winemakers exaggerate. Cappiello does not. These three wines are absolutely "ancient" by most of the wine world's standards; all fashioned from the oldest vineyards of their grape type in the Lodi appellation, planted and cultivated on their own rootstocks by the S family:
• Bechthold Vineyard—Cinsaut grapes planted in 1886.
• Royal Tee Vineyard (called "Royal T" on the Monte Rio label)—Zinfandel, mixed with lesser amounts of Carignan, Mission, Flame Tokay, and Black Prince, planted all together in 1889.
• Spenker Ranch (identified as "Jessie's Grove" on the Monte Rio label)—Carignan planted in 1900.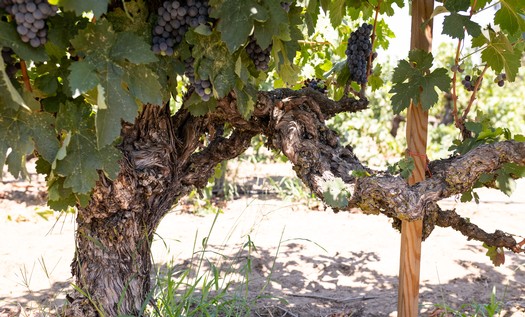 Grapes from these blocks have been previously produced by other vintners of notoriety. Greg La Follette of Marchelle Wines, for instance, currently crafts wines from all three vineyards; Tegan Passalacqua of Sandlands regularly sources from two of these vineyards. Bechthold Vineyard Cinsauts are bottled as both reds and rosés by at least a dozen wineries each year, many of them prestigious or "cool kid" brands. Old vine Carignan has recently been experiencing its own revival of sorts; the Spenker Ranch grapes go to wineries such as Neyers, Precedent, Marchelle, Sandlands, and locally, Jessie's Grove and PRIE.
What is interesting about the Monte Rio Cellars iterations is that all three wines are stamped by a house style very much in line with the tastes of a growing number of consumers harboring a taste for "alternative" wines. You could also use more specific terms by describing this growing taste as "natural," which is still a little controversial in the American wine industry (especially among conventional producers). Nonetheless, many consumers have become big fans of more natural styles of wine.
Winemakers working along these lines generally do their fermentations with native or "wild" yeast (i.e., yeasts already found on the skins of grapes, as opposed to cultured yeasts propagated in laboratories to activate specific attributes), and resulting wines see minimal intervention (a relative term that can be applied to multiple aspects of winemaking) during the rest of their handling in a winery.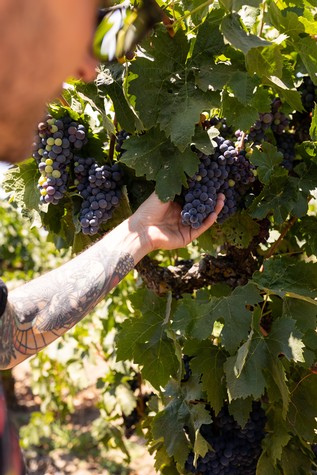 Every small, handcrafted winery tends to apply techniques or a thought process, that is peculiar to that winery, and Monte Rio is no exception. Accordingly, the three Monte Rio "Ancient Vines" wines have their own distinctive taste, slightly to radically different from that of other wineries that have produced wines from these exact same vineyards.
Mr. Cappiello may indeed be like a painter, who applies brushstrokes to a canvas in his own, unique way. All the same, he makes it very clear that the reason he follows a chosen methodology is to achieve as pure an expression of the grapes and vineyards as possible. It is not "all about the artist." The hip, operative term for this winemaking approach these days is terroir, the French word for "sense of place."
The idea is that Cappiello endeavors to put his own stamp on his wines, but that stamp is aimed towards making wines taste as much as possible like the vineyards they come from—in a sense, an artist bowing to Nature rather than Nature being shaped or distorted by an artist. Most American wineries would not dream of that because, well, they believe Nature is too unpredictable for commercial wine production. You can't produce wines with predictable attributes that consumers can depend upon. Ironically, this is precisely the reason why many (although still a distinct minority) American wine enthusiasts are turning away from more commercial wines.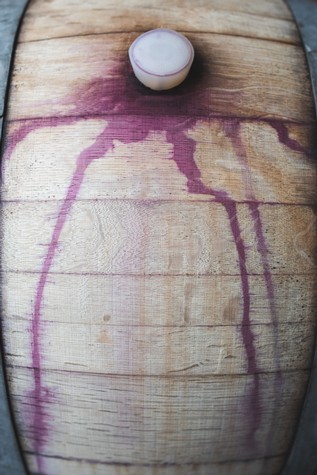 Submission to Nature is also the reason why Monte Rio never ages wines in new oak barrels. This is not a groundbreaking concept, Europeans (who tend to value region or vineyard-related expressions in wines more than Americans) have been doing this forever. All of Cappiello's reds are aged in very old barrels because the taste of new barrels can easily obscure the attributes of grapes or vineyard qualities in a wine. And if he uses barrels, it is almost always French oak barrels, because oak forests in France produce the most subtle-tasting barrels in the world (at least as far as the general consensus).
First, I'll share my notes on the wines, and then a question-and-answer exchange I recently had with Mr. Cappiello. This way, you'll get a sense of the wines, followed by an unvarnished perspective on their genesis from the winemaker's perspective, rather than further interpretations from me.
The Monte Rio Cellars Ancient Vines series:
2021 Monte Rio, Bechthold Vineyard Lodi Cinsaut ($29)—Bechthold Vineyard always produces a soft, sumptuous red wine with lots of kitchen spice tinging a typical strawberry/rhubarb fruit profile. Where Monte Rio's differs from other bottlings is the nose is atypically intense in its 100% varietal fruit profile—red berries taking on a perfumed, nostril tingling, violet-like intensity—while the spice notes veer more towards exotic ginger and black pepper than brown spices. Secondly, the wine is outwardly soft, but there is a solid core of firming tannin (i.e., phenolic content derived from skins, seeds, and stems) pulling together the medium-weight body; so the feel is not so much round as svelte, more like the muscled grace of a ballet dancer's leg than the cheeks of a cute, tubby child. Is this subjugation to "Nature?" Put it this way: When Cinsaut grapes ripen each summer in Bechthold Vineyard, they taste lush, juicy, and sweet in the vineyard, but there are also bitter undertones from the skins and seeds and slight sharpness from grape acidity. In a sense, the Monte Rio is a duplication of that experience.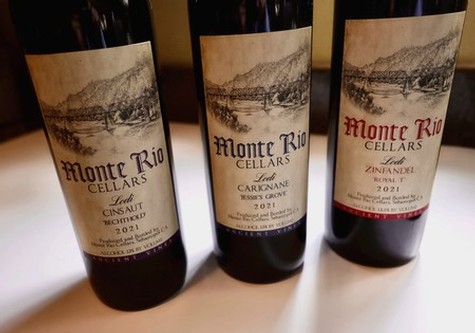 2021 Monte Rio, Jessie's Grove Lodi Carignan ($29)—Bright ruby red color and pure, soaring raspberry/cherry fruit fragrance underscored by a faint smidgen of earthy (like composted loam) qualities. The lightweight, medium-sized body (like the Cinsaut, just 13% alcohol) is notably zesty in acidity, giving the wine a perky, energetic, palate-popping feel. A wine that is almost obsessive in its objective of capturing a purity of old vine varietal fruit and earthiness emblematic of Lodi's Mokelumne River appellation (the latter quality, that is, comparable to many other wines grown in this part of Lodi).
2021 Monte Rio, Royal T Lodi Zinfandel ($29)—This label reads 13.5% alcohol, which is still very light by today's standard of "California Zinfandel," but compared to the other two Monte Rio reds in the Ancient Vines series, there is a slightly fuller sense of body and more lavish richness in the wine's respective varietal profile—gushy, gorgeous wild berry aromas (red berry, blackberry, touch of plumminess) and a subtle yet distinctively herby spice (mint leaves crushed with peppercorns), both qualities overlapping the earthiness expected out of a west side Lodi Zinfandel. Where this bottling also differs from the vast majority of California Zinfandels, including those of Lodi, is in its outwardly zesty acidity—giving a zingy, palate penetrating quality to the multifaceted fruit profile—notwithstanding a silky texture and solid core of medium tannin. Aside from the Monte Rio's typically 100% avoidance of oak character, it is this pointedly acid-driven quality, more than anything, that differentiates this Zinfandel from the rest of the crowded field of this varietal.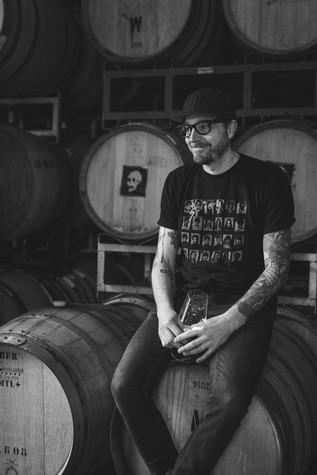 My talk with Mr. Cappiello:
R.C: I noticed that your Cinsaut, while fruit-forward, has a slightly firmer core of tannin than other popular Bechthold Cinsauts bottlings. Could you go into detail on its handling in the winery that might be different from what other vintners might be doing?
Cappiello: I'd say it's more whole cluster [i.e., no destemming of berries] fermentation. We let the wine go fully carbonic [i.e., carbonic maceration, an intracellular fermentation starting in each individual berry, initiated by the weight of grapes left to sit on each other] in a stainless steel tank, where it went untouched for almost 10 days.
Keep in mind that I spent much more time pushing carbonic in the Cinsaut than I do with other grapes and ferments. After the 10 days, I foot-crushed the intact grapes and then pumped them over daily for four additional days. Then I pressed it and allowed it to go double-dry in the tank [i.e., finishing with zero unfermented sugar], before barreling down to old French oak barrique. I racked it to the tank and returned it to the barrel one time during élevage [i.e., barrel aging process], about eight months, and bottled it two months later.
R.C.: I imagine the "Royal T" Zinfandel had its own complications because of the vineyard's mixed grape composition. Could you describe how the picking and vinification went for you? How did you handle the different grapes, and what might have you done that's different from what you've done with previous Zinfandels?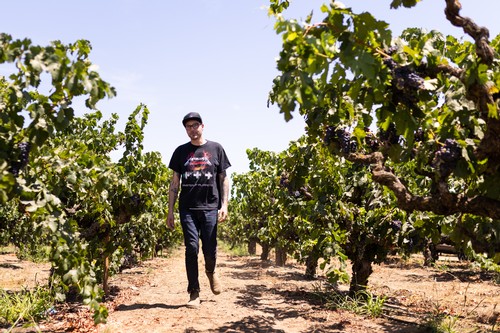 Cappiello: We got a tiny amount of everything grown in the vineyard, but it was predominantly Zinfandel—I'd say about 90%.
But we did get a good mix of the other heritage varieties in our pick, which were co-fermented. For fermentation, the grapes were brought to the winery whole cluster [i.e., stems left attached to berries] and dumped into an open-top stainless steel tank; then the tank was gassed and sealed with a lid. This began the spontaneous carbonic maceration which went on for about four days, and then the juice was pumped over in the morning and night for the next eight days.
On day 12 we foot-crushed the cap and did one more pump-over. At this point, we allowed two more days of maceration on the whole cluster with the open top just covered with a cloth sheet. On day 14, the free run was removed and we pressed the clusters and put them back into stainless steel. After the ferments were fully dry we put the wine into old French oak barrels.
R.C.: What was your winemaking approach to the Carignan?
Cappiello: The vinification on this lot was pretty much the exact same as what we did on the Royal T. Most of my wines are fermented this way. The method is inspired by Northern Rhône, producers such as Thierry Allemand and Jean Gonon. My belief is that by including whole clusters and starting with semi-carbonic maceration, we add freshness and elegance to the wines. The pump-overs and pigeage [i.e., punching down caps of skins, stems, and seeds rising to the top of vats during fermentation] add texture and grip to the wine, as well as help extend the maceration [hence, increasing aromatic fruit qualities].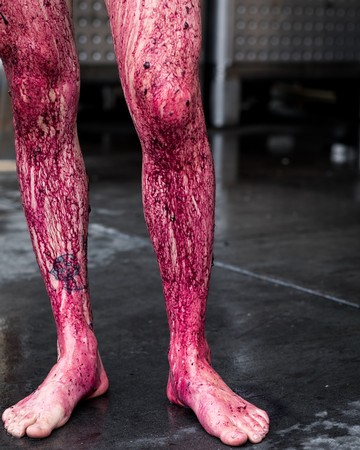 R.C.: About semi-carbonic fermentation, the foot-treading in your idea of pigeage, and constant pump-overs—exactly what are you hoping to accomplish with all these manual techniques? Are you looking for a certain style of wine, an emphasis on varietal character, a focus on terroir, or all of the above?
Cappiello: Great question! Yes, the goal is to give a pure platform to give the terroir and varietal characteristics more of a chance to shine through. These fermentations tend to go hot and quick, which amplifies the more savory and mineral characteristics as opposed to amplifying the fruit characteristics, which we already have in abundance since fruit qualities come naturally to California wines.
Because things start going dry quickly, one of our aims is to find ways to extend the maceration. The gentle start of pump-overs extracts small amounts of sugar from the clusters to keep feeding the ferment slowly. I often equate this to braising in cooking. Then the final pigeage gives a burst of new juice concentrated with the energy to extend those last few days. So I would say that the goal of all of this is to harness the energy of a fast carbonic start but to also build texture and deep flavor with the addition of juice through a controlled yet well-thought-out trajectory.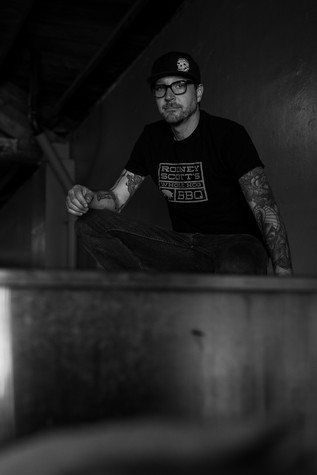 R.C.: Can you reflect a little bit about your feelings working with grapevines that are so old, with this type of long, long history? In fact, can you share personal thoughts on what you think about old or ancient vine viticulture (or cultures) in general?
Cappiello: It's obviously an honor to be a part-time steward of these extremely important vineyards. It's something that I take very seriously, and I truly realize the weight of this responsibility. My goal is to let each vineyard show through in my wines by using minimal intervention winemaking. My hope is that I am making the wines approachable with a classic style that leans towards food-friendliness.
Ancient vines are so important to the history of California, which obviously is the core culture of Monte Rio Cellars. This was the reason I started my journey to Lodi, and these extremely important vineyards are the reason I continue to be excited to work there.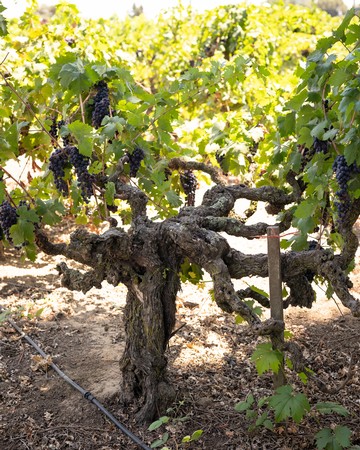 R.C.: In a similar fashion, do you have thoughts on how old vine wines such as those in your "Ancient Vines" series might be, or should be, applicable to the wine world in general, and especially to today's restaurant trade? As a longtime sommelier yourself, for instance, do you think that sommeliers in high-end restaurants might find them relevant? Or do you think they're still largely underappreciated by this particular group?
Cappiello: I would say there is a building interest in old vines with sommeliers, although there is always room for growth. The Bechthold is a great example of a vineyard that has gained some recognition, thanks to the work of great wineries like Turley, Sandlands, Birichino, Jessie's Grove, and so many others.
One of the great things about Lodi and these old vineyards is that there is a diverse group of people, all with different styles, making wines from them. As they continue to show these wines to merchants and sommeliers, I believe there will be even further education, creating greater interest in them.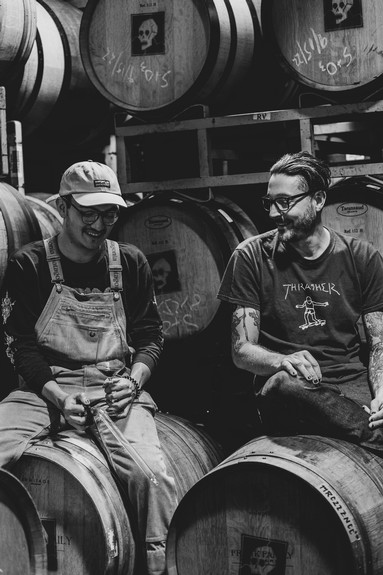 Comments