Letters from Lodi
An insightful and objective look at viticulture and winemaking from the Lodi
Appellation and the growers and vintners behind these crafts. Told from the
perspective of multi-award winning wine journalist, Randy Caparoso.

November 14, 2019 | Randy Caparoso
This weekend's 4th Annual Tour of Tempranillo celebrates the ease of growing this Spanish grape in Lodi terroirs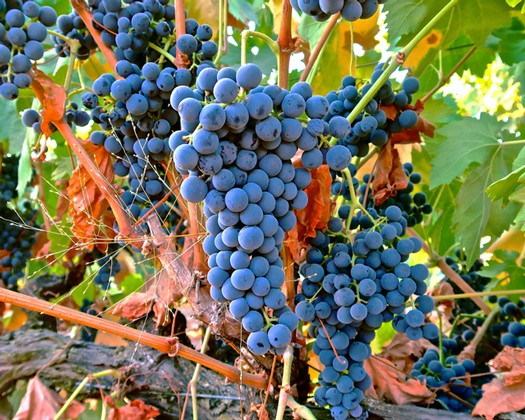 This weekend, November 15-17, 2019, 13 of Lodi's top Tempranillo producers are opening their doors for the fourth annual Lodi Tour of Tempranillo, in coordination with International Tempranillo Day (officially, today, November 14!) events taking place around the world.
Tempranillo is a varietal that has become increasingly identified with what makes Lodi unique. Sure, Zinfandel is still the region's heritage grape; but after Zinfandel, the red wine varietal sold by more Lodi wineries than any other is Tempranillo, primarily because it's what grows naturally well in the appellation's Mediterranean climate.
This is the plan for Lodi Tour of Tempranillo enthusiasts: Visit any one of the participating wineries to collect a complimentary guidebook, and off you go. Each winery will offer special tastings of Tempranillo and some special reserve wines only available at this event. And there will be a raffle -- the more wineries you visit, the greater your chances of winning.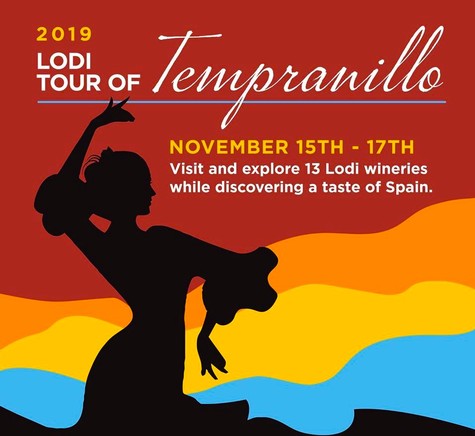 Share your vinous adventures with #LodiTourOfTempranillo, #InternationalTempranilloDay or #Tempranillo, and for more information visit lodispanishwinetour.com.
The participating Lodi Tour of Tempranillo wineries:
Bokisch Vineyards
d'Art Wines
Dancing Coyote Wines
Drava Wines
Fields Family Wines
Goodmills Family Winery
Harney Lane Winery
Heritage Oak Winery
McCay Cellars
McConnell Estates Winery
Riaza Wines
Ripken Vineyards & Winery
St. Amant Winery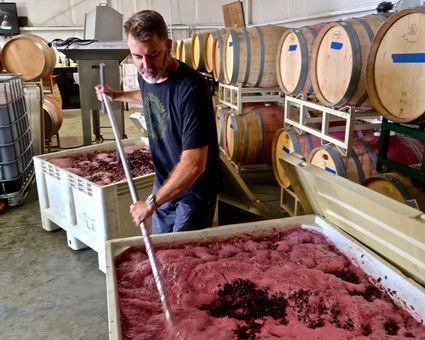 Read more about Lodi grown Tempranillo
Over the years on this blog site we've written many things about Tempranillo. A few snippets, to whet your wine-appetite for this weekend's exciting events:
Enjoy diverse styles of Lodi grown Tempranillo (November 1, 2017)
The taste of red wines made from the Tempranillo grape – native to Spain, and said to be cultivated there since the height of the Phoenician civilization, over 2,000 years ago – has always been elusive, particularly because it is so site-driven.
In Spain, for instance, the Tempranillo based reds of the famous Rioja region tend to be lean, lanky, red fruit scented, and invariably floral; whereas those of Ribera del Duero or Toro can be rounded, burlier, darker fruit scented, and meaty (sometimes tasting like the vinous equivalent of roasted red meat).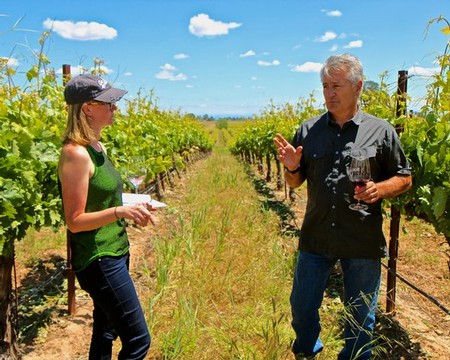 Needless to say, the variations found in Spain's individual sub-regions and vineyards are endless; but generally speaking, the pungent qualities of Spanish Tempranillos tend to be earthier (tobacco and compost sensations are not unusual) and less brightly fruited than, say, those of California and Oregon (there are over 40 producers of Tempranillo in Southern Oregon alone) – characteristics exacerbated (or enhanced, depending upon your point of view) by the Spanish wine industry's penchant for aging red wines in wood to the point of oxidation (which tends to dry out sensations in the nose and mouth) plus an almost unfathomable, prevalent obsession with American grown oak (which adds sweeter, more herby/dill-like qualities than, say, French oak). Stack a line-up of Spanish Tempranillos up against West Coast Tempranillos, and you would almost think these red wines are made from different grapes – the differences are so stark.
Although records show that Tempranillo was first introduced to California in 1888 and cultivated as Valdepeñas for most of the twentieth century, the grape never really caught on with the California wine industry during the first significant push towards premium varietal wines (in the 1960s and '70s). It would take at least a couple of decades before Americans – just beginning to learn what Cabernet Sauvignon, Pinot noir, and then Merlot and red Zinfandel are all about – were ready to fathom a varietal like Tempranillo.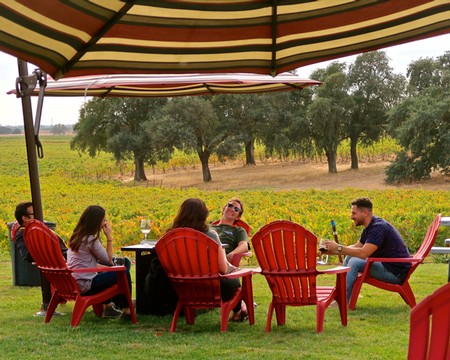 Thanks to the pioneering work of the Bokisch family in the mid-1990s, Tempranillo has become as frequently found a choice in Lodi tasting rooms as, say, Cabernet Sauvignon. Around the same time, Mitch Cosentino, the founder and original owner of Napa Valley's Cosentino Winery, persuaded Lodi's Alan Kirschenmann to graft over some trellised Zinfandel to Tempranillo on Schmiedt Road (east side of Lodi's Mokelumne River AVA), which for many years went into a wine Cosentino labeled as "THE Temp." The Kirschenmann planting is now owned and farmed by McCay Cellars' Mike McCay, and is identified as being part of McCay's Lot 13 Vineyard (going into the svelte yet meaty, red fruit scented Tempranillo bottlings by McCay, Fields Family Wines and m2 Wines).
The Bokischs' own Tempranillo plantings are located in three of Lodi's sub-appellations (a.k.a. AVAs)
• Las Cerezas Vineyard (with its classic, deep, porous yet high-vigor Mokelumne River AVA Tokay Series fine sandy loam, so conducive to old vine Zinfandel and the Flame Tokay once dominating the Lodi region).
• Liberty Oaks Vineyard (grown in the Jahant AVA's shallow, silty-gravelly reddish-brown clay loam classified in the San Joaquin Series).
• Terra Alta Vineyard (in the red, gravelly/cobbly Redding Series clay loam hillside topography typical of the Clements Hills AVA).
Although Bokisch Vineyards has been blending the fruit culled from their three different sites into one yearly bottling, their perennially award winning Tempranillos have come to epitomize the gentle, distinctively flowery characteristics of the varietal, in a fashion also consistent in virtually every other Lodi grown Tempranillo.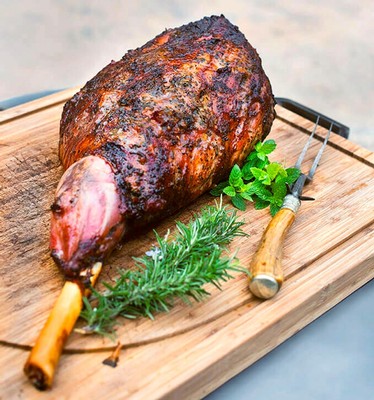 The Magic of Tempranillo with High Myoglobin Foods (November 1, 2016)
One of the phenomenal aspects of Tempranillo is that its varietal qualities – berry components encased in meaty texture, tobacco and earthy notes, and a gripping feeling of fullness without the burdensome baggage of hard tannin or excessive alcohol – are often subtle, almost elusive to the senses, when the wine is consumed on its own.
But when consumed with proteins, the varietal nuances can become dramatically delineated. Liz Bokisch, for instance, likes to suggest her Tempranillo with pork tenderloin or chicken mole; but you may find Tempranillo characteristics to be even more distinctive when tasted with high myoglobin proteins, found in the dark, rangy meats of muscle using animals such as lamb, venison, bison, goat, wild pig, goose, duck or squab.
Perhaps the most magic happens when Tempranillo based reds are served with lamb – lamb chops, roasted legs of lamb, almost any cut of lamb, cooked almost any way. Best yet, it doesn't have to be elaborate: as long as the gamey, grassy taste of lamb is involved, you'll experience one of the world's greatest wine and food matches when a good glass of Tempranillo is poured.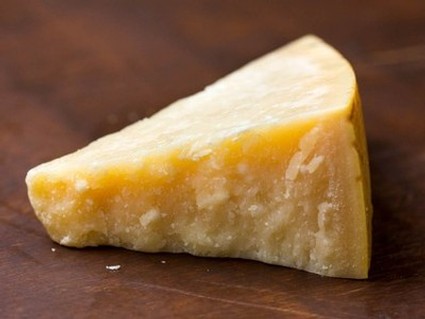 The following is a favorite "everyday" lamb recipe, which can be prepared from start to finish within 25 minutes. In this dish, the synergy between Tempranillo and lamb is amplified all the more by umami-rich (re our recent blog on Deconstructing umami) taste of Parmesan and the pungent herbiness of rosemary:
Parmesan Crusted Lamb Burgers
1 lb. ground lamb
½ cup panko (Japanese bread crumbs)
½ cup shredded Parmesan
½ teaspoon fine ground sea salt (or to taste)
½ teaspoon lemon pepper (or to taste)
½ teaspoon fine chopped rosemary
¼ teaspoon dried minced garlic (or to taste)
1 egg
olive oil
butter
Mix panko, Parmesan, salt, pepper, rosemary and garlic in flat bowl. Beat egg in small bowl. Form small, flat ground lamb patties; dip in egg and then coat with panko mix. Heat generous amount of olive oil in large frying skillet over medium-heat. Melt fat pad of butter into oil and sauté burgers; about 5 minutes on each side until pale pink inside, golden brown on outside.
Serving suggestions: Pour pan drippings over serving of favorite loose pasta (consider orzo or angel hair) or rice. For vegetable options, sauté spinach or zucchini with about a tablespoon of drippings; or fine chopped mushrooms, splashed with white wine or dry vermouth, then folded into pasta.
Note: for similar Tempranillo/food fireworks, ground lamb patties may be substituted by ground bison or grass fed beef; or else cutlets from any part of lamb.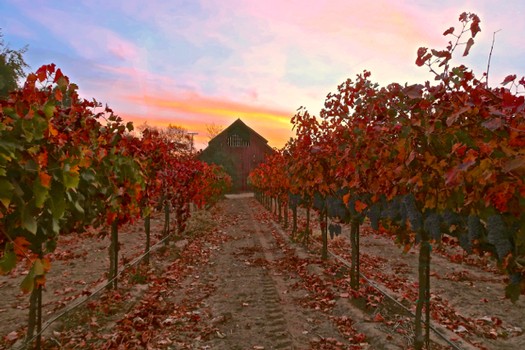 Comments