Letters from Lodi
An insightful and objective look at viticulture and winemaking from the Lodi
Appellation and the growers and vintners behind these crafts. Told from the
perspective of multi-award winning wine journalist, Randy Caparoso.

November 1, 2017 | Randy Caparoso
Explore diverse styles during Lodi Tour of Tempranillo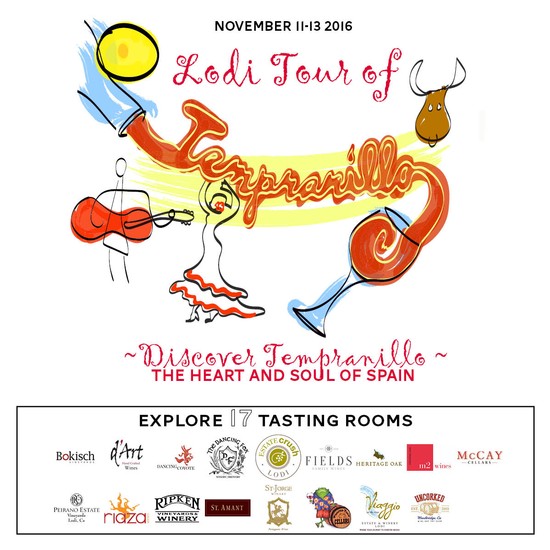 Are you ready for the second annual Lodi Tour of Tempranillo? On November 10, 11 and 12, thirteen Lodi wineries will celebrate International Tempranillo Day (officially, November 9, 2017) with barrel tastings, culinary treats, bonus discounts, and a raffle for a full case of Lodi Tempranillos. As with typical wine region drive-arounds, you can pick up your complimentary guidebook at any of the participating winery tasting rooms (see list at the end of this post) before setting out on your Tempranillo tasting adventure.
And of course, if you're not yet thoroughly familiar with Tempranillo, this is the perfect time and opportunity. So let's talk "Temp"...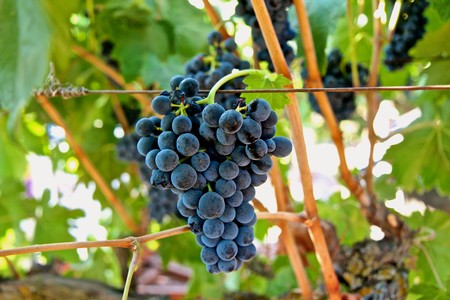 First, the fascinating thing about Tempranillo grown in Lodi is that
1. This Mediterranean grape has absolutely made itself at home in the Lodi Viticultural Area's Mediterranean climate (meaning, moderate, wet winters and warm, bone dry summers).
2. Tempranillo expresses itself in numerous ways, particularly in response to soil variations – and Lodi is divided into no less than seven sub-regions delineated by different soils and topographies.
The taste of red wines made from the Tempranillo grape – native to Spain, and said to be cultivated there since the height of the Phoenician civilization, over 2,000 years ago – has always been elusive, particularly because it is so site-driven.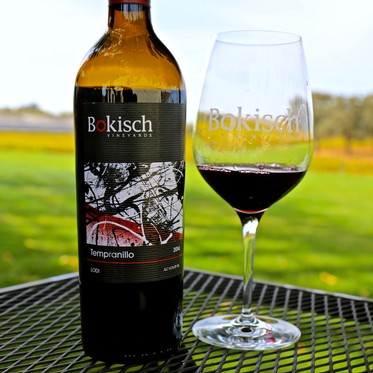 In Spain, for instance, the Tempranillo based reds of the famous Rioja region tend to be lean, lanky, red fruit scented, and invariably floral; whereas those of Ribera del Duero or Toro can be rounded, burlier, darker fruit scented, and meaty (sometimes tasting like the vinous equivalent of roasted red meat).
Needless to say, the variations found in Spain's individual sub-regions and vineyards are endless; but generally speaking, the pungent qualities of Spanish Tempranillos tend to be earthier (tobacco and compost sensations are not unusual) and less brightly fruited than, say, those of California and Oregon (there are over 40 producers of Tempranillo in Southern Oregon alone) – characteristics exacerbated (or enhanced, depending upon your point of view) by the Spanish wine industry's penchant for aging red wines in wood to the point of oxidation (which tends to dry out sensations in the nose and mouth) plus an almost unfathomable, prevalent obsession with American grown oak (which adds sweeter, more herby/dill-like qualities than, say, French oak).
Stack a line-up of Spanish Tempranillos next to West Coast Tempranillos, and you would almost think these red wines are made from different grapes – the differences are so stark.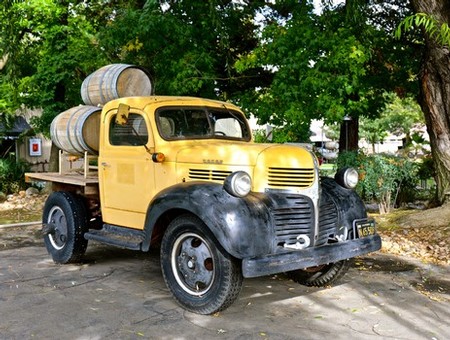 Although records show that Tempranillo was first introduced to California in 1888 and cultivated as Valdepeñas for most of the twentieth century, the grape never really caught on with the California wine industry during the first significant push towards premium varietal wines (in the 1960s and '70s). It would take at least a couple of decades before Americans – just beginning to learn what Cabernet Sauvignon, Pinot Noir, and then Merlot and red Zinfandel are all about – were ready to fathom a varietal like Tempranillo.
Thanks to the pioneering work of the Bokisch family in the mid-1990s, Tempranillo has become as frequently found a choice in Lodi tasting rooms as, say, Cabernet Sauvignon. Around the same time, Mitch Cosentino, the founder and original owner of Napa Valley's Cosentino Winery, persuaded Lodi's Alan Kirschenmann to graft over some trellised Zinfandel to Tempranillo on Schmiedt Road (east side of Lodi's Mokelumne River AVA), which for many years went into a wine Cosentino dubbed "The Temp." The Kirschenmann planting is now owned and farmed by McCay Cellars' Mike McCay, and is identified as being part of McCay's Lot 13 Vineyard (going into bottlings by McCay, Fields Family and m2).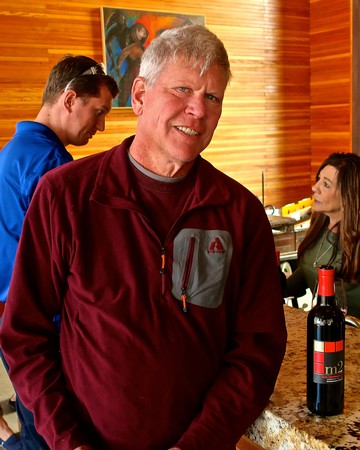 The Bokischs' own Tempranillo plantings are located in three of Lodi's sub-appellations:
• Las Cerezas Vineyard (with its classic, deep, porous Mokelumne River Tokay sandy loam, so conducive to old vine Zinfandel and the once-dominant Flame Tokay).
• Liberty Oaks Vineyard (grown in the Jahant AVA's silty-gravelly brown clay loam in the San Joaquin soil series).
• Terra Alta Vineyard (in the red, cobbled, Redding clay loam slopes of the Clements Hills AVA).
Although Bokisch Vineyards has been blending the fruit culled from their three different sites into one yearly bottling, their perennial award winning Tempranillos have come to epitomize the gentle, distinctively flowery characteristics of the varietal, in a fashion also consistent in virtually every other Lodi grown Tempranillo. Case in point: the 2014 Bokisch Vineyards Lodi Tempranillo ($23) is absolutely plush and "yummy" in red fruit qualities (suggesting cherry/raspberry/Santa Rosa plum), brightened by perky acidity, rounded tannin, and airy whiffs of sweet, understated oak.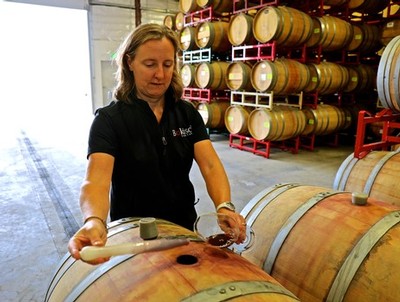 Bonus alert: Lodi Tour of Tempranillo participants will be able to experience a sneak preview of Bokisch Vineyards' 2014 Lodi Gran Reserva Tempranillo still aging in both 60-gallon barrels and 132-gallon puncheons (French and American oak), which will not even be released until late 2019 at the earliest. Our notes on four of Bokisch's slumbering 2014 Gran Reserva lots, which are already demonstrating the deepened qualities possible in extended wood aging:
Liberty Oaks Vineyard (American oak barrel) – Sweet, caramelized dark, plummy fruit; firm, tightly grained texturing and slight "greenwood" notes on the palate.
Liberty Oaks Vineyard (American oak puncheon) – Slightly sweeter fragrances with light herbaceousness (i.e. green leafiness); somewhat softer tannin giving more emphasis to sensation of crackling acidity.
Las Cerezas Vineyard (French oak puncheon) – Flowery and sweet vanillin notes over lush red fruit quality; zesty edge and finely delineated qualities on the palate.
Las Cerezas Vineyard (French oak barrel) – Bright, lush red fruit qualities (black cherry/strawberry); soft, plush feel and buoyant, zippy, bright, concentrated, laser focused red fruit sensations on the palate.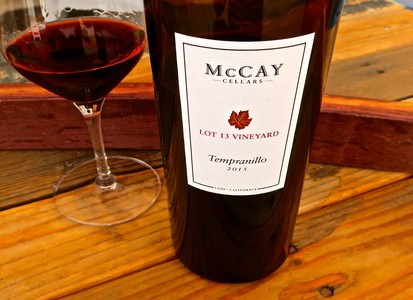 If anything, the ongoing evolution of Bokisch's 2014 Gran Reserva in wood – made from the exact same fruit going into their currently released "regular" bottling – is a graphic demonstration of the impact of winemaking on the varietal. You will find the same phenomenon in the three different wineries' bottlings sourced from the Lot 13 Vineyard. While all three of the following bottlings express the floral yet meaty style of Mokelumne River's sandy loam soil, each shows a distinct winemaker's touch:
2015 McCay Cellars, Lot 13 Vineyard Lodi Tempranillo ($28) – Lush, fragrant red fruit suggested cinnamon spiced strawberry and slivers of fennel and slightly organic notes; elegant, silky, polished feel to fine grained, medium-full body, with notes of black tea mingling with red fruit flavors.
2015 m2 Wines, Kirschenmann Vineyard Lodi Tempranillo ($28) – Winemaker/owner Layne Montgomery has continued to call McCay's Lot 13 "Kirschenmann," although this is not to be confused with the adjoining Kirschemann Vineyard owned and farmed by Turley's Tegan Passalacqua (known primarily for Zinfandel from 102-year old vines). This Tempranillo's lush fruit quality takes on an almost cassis-like (i.e. raspberry coulis-like) concentration with slightly green leafy notes reflecting American oak aging (in contrast to the McCay bottling, aged in neutral French oak). Firm medium tannins beef up a medium-full bodied feel, giving a chocolaty texturing to tobacco/herby red berry flavors.
2014 Fields Family, Lot 13 Vineyard Lodi Tempranillo ($28) – While a vintage older, there is a densely packed, medium-full weight to this bottling, despite moderate, rounded tannins. The nose is dark-plummy and floral (winemaker Ryan Sherman describes it as "dusty rose petal"), and the velvety, fleshy feel telegraphs a dark roast coffee richness on the palate.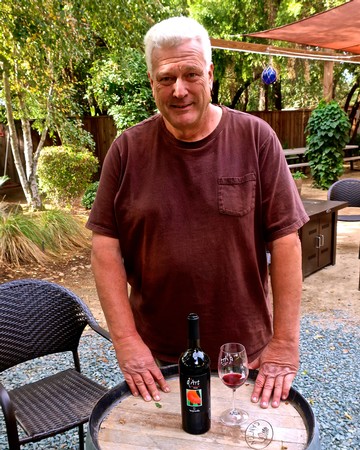 In a similar vein, d'Art Wines winemaker/owner Dave Dart is currently showing his own take on east side/Mokelumne River grown fruit, aged in French oak:
2015 d'Art, Lodi Tempranillo ($26) – Citrusy/pomegranate-like fruit tinged with rose petal and distinct peppery spice; zesty, medum-full bodied profile on the slim side, marked by gentle tannins and sleek, spiced red berry qualities towards the finish.
That said, the Lodi Tour of Tempranillo's list of participating wineries:
Bokisch Vineyards – 18921 Atkins Road, Lodi
Dancing Coyote Wines – 3125 E. Orange St., Acampo
d'Art Wines – 13299 Curry Ave., Lodi
Durst Winery & Estate – 10173 Acampo Rd., Acampo
Estate Crush – 2 W. Lockeford St., Lodi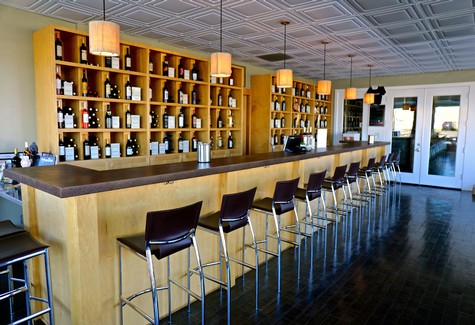 Fields Family Wines – 3803 E. Woodbridge Rd., Acampo
Heritage Oak Winery – 10112 E. Woodbridge Rd., Acampo
m2 Wines – 2900 E. Peltier Rd., Acampo
McCay Cellars – 1370 E. Turner Rd., Lodi
McConnell Estates Winery – 10686 W. Stockton Blvd., Elk Grove
Riaza Wines – 20 W. Elm St., Lodi
St. Amant Winery – 1 Winemaster Way, Suite 1, Lodi
Toasted Toad Cellars – 21 E. Elm St., Lodi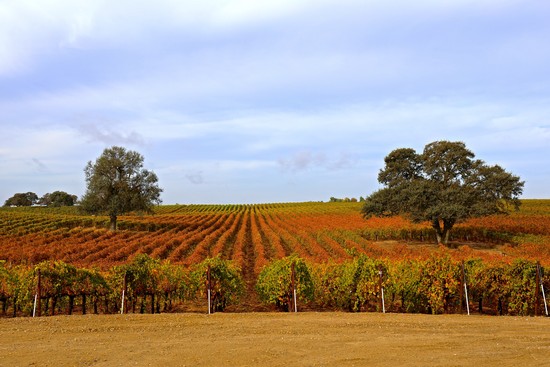 Comments