Letters from Lodi
An insightful and objective look at viticulture and winemaking from the Lodi
Appellation and the growers and vintners behind these crafts. Told from the
perspective of multi-award winning wine journalist, Randy Caparoso.

July 22, 2019 | Randy Caparoso
The Biodynamically grown Lodi wines of Avivo and Köppen-Geiger climate classifications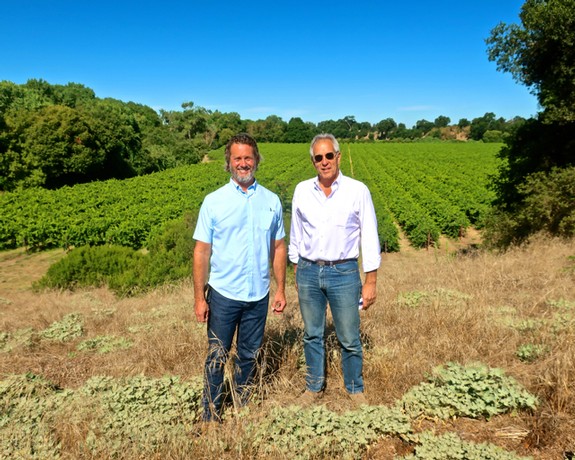 Bringing natural and Biodynamic principles to Lodi
"Grow what belongs here... be patient" is what you read on the Web site page explaining the farming philosophy of DaVero Farms & Winery, founded by Ridgely Evers and his wife Colleen McGlynn.
While DaVero Farms & Winery is located in the Healdsburg area of Sonoma County, there are connections to the Lodi Viticultural Area: Starting eight years ago with vintages of Vermentino sourced by Schatz Family Farms in the Cosumnes River-Lodi AVA, bottled under a sub-label called Avivo.
Since Lodi grower Rodney Schatz recently began pulling back on his Vermentino acreage, Mr. Evers has been sourcing his Avivo brand Vermentino from Vino Farms' Grand Vin Lands, now called The Bench Vineyard, located on a sandy loam riverside bench located in Lodi's Clements Hills AVA.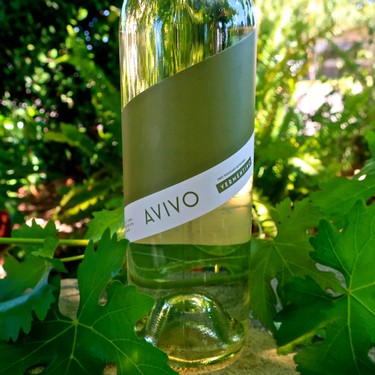 Since 2018 Evers has also been buying Sangiovese – the red wine grape native to Italy's Tuscany region – from Vino Farms' River's Edge Vineyard, located in an even deeper patch of fine loamy sand along Cherry Rd., just outside the mini-community of Victor in Lodi's Mokelumne River AVA.
As a buyer of Lodi grapes, Mr. Evers, who calls himself "Ridge," takes the same approach – exercising patience and focus on "what belongs" – that he does as a grower in Sonoma. Back in 1990 Evers began growing olives grown from cuttings culled from heirloom trees (some as old as 800 years) from Italy's Lucca area in Tuscany. Since Sonoma County is also wine country, Evers' interest invariably turned to wine grapes. He went about it, however, with the same sense of innovation and originality that he brought to olive farming and olive oil production: By ignoring what he calls "conventional wisdom about California grape growing."
"You know how I got started in the business, don't you?" Evers asked, when we met for breakfast earlier this month (July 2019) in Lodi's Phillips Farms Café. We didn't know the specifics, and so Evers filled us in: "My philosophy really goes back 50 years, in the late '60s, when I started writing code. In 1988 I joined Intuit, which was a small startup that eventually led to the creation of QuickBooks. Later I was the CEO of several technology companies before turning to what I really love – getting my hands into the dirt, and farming."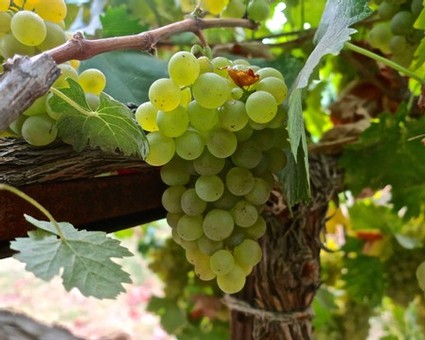 Evers, in a way of speaking, is accustomed to breaking new ground no matter what he turns his mind, or fingers, to. In the late 1990s his DaVero Farms olive oils began, as he puts it, "winning every award there is." The inspiration to grow and produce wine came in 1999 when he and Colleen were in Italy, where they were introduced to Sagrantino, an immensely full bodied varietal red wine native to the Umbria region.
Says Evers, "Around that same time I got my first significant insight, or what I call a 'dope-slapping moment,' when I got a look at a Köppen-Geiger map showing the climate classifications of the entire world. On the map I saw that the Mediterranean regions that grow olives, and the grapes I was most interested in, are classified as 'Csa,' where you find the classic Mediterranean climate marked by hot, dry summers. This area is also located at roughly the same latitude as Northern California. All of California's wine regions, in fact, are classified either as 'Csa' (Mediterranean climate with 'hot' summers) or 'Csb' (Mediterranean climate with 'warm' summers).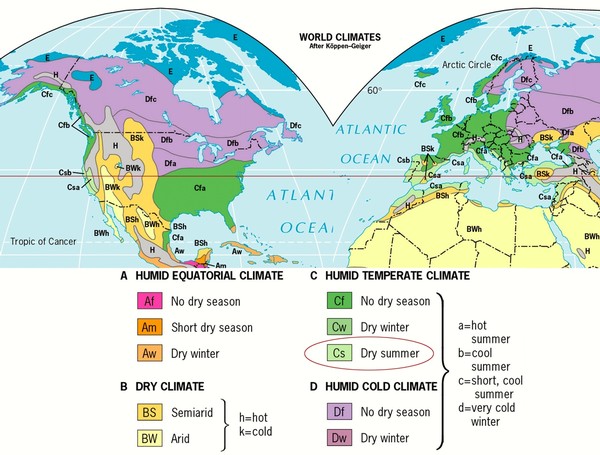 "Most of the wine regions of Northern Europe, on the other hand, are classified as 'Cfb,' which has a temperate oceanic climate with shorter summers and more humid weather. The native varieties of these regions are Bordeaux grapes like Cabernet Sauvignon and Merlot, and Burgundy grapes like Pinot noir and Chardonnay. In other words, the grapes that have become the most popular in California are grown in a climate that is not ideal for the grapes that are actually planted!"
Evers allows that grapes like Cabernet Sauvignon and Pinot noir do manage to produce high quality wine in California. But from his perspective, "The art of winemaking is not about ripening fruit, it's about ripening fruit at an optimal balance within its environment. Northern European grapes grown in Mediterranean climates produce excess vegetative growth, necessitating more severe hedging and fruit dropping, because the DNA of these plants is not naturally suited to the climate.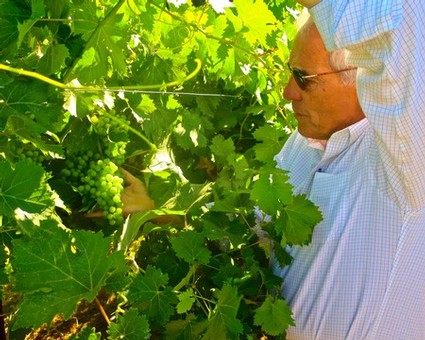 "On the other hand, when you grow Mediterranean varieties in Mediterranean climates everything falls into balance – we don't have as much of a constant battle limiting the growth of vines or stripping the ground of growth to eliminate competition with vines, which destroys the microbiology of soils. Ironically, though, much of what we know about cultivating even Mediterranean varieties in California comes from our knowledge of growing Cabernet Sauvignon and Chardonnay, which are far less of a natural fit."
Consequently, when Evers first began planting grapes on his Sonoma property in the early 2000s – needless to say, Mediterranean varieties such Barbera, Sagrantino, Sangiovese and Moscato – he also embraced Biodynamic principles. According to Evers, "The idea is to grow grapes in its best terroir, and making wine as naturally as possible." The DaVero philosophy," he tells us, "lives in an intersection of three principles...
• Climate appropriate grape varieties
• Regenerative farming (i.e. certified Biodynamic viticulture)
• Naturally made wine"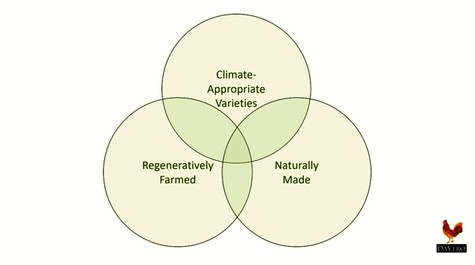 Adds Evers, "A grape has no idea where it's grown, but it knows what climate it's in. It starts with selecting the right grapes, and because the right grapes require fewer inputs and less water, this type of winegrowing can also be a tool to fight things like climate change."
Thus, when negotiating the purchase of Vermentino and Sangiovese grapes from Lodi, Evers has also required that they be grown Biodynamically, and he has been willing to pay for it. "The fantastic thing," says Evers, "is that Craig Ledbetter (Vino Farms VP/Partner), Chris Storm (Vino Farms Viticulturist) and Mike Harder (Vino Farms Vineyard Manager) have been all in on this, and they have been progressing towards their Biodynamic certification from Demeter USA."
Lodi plays a key role in Evers' business master plan. "Up until recently," he says, "DaVero has been selling estate grown wines 100% to club members because of their limited production. Lodi gives us the opportunity to scale price, packaging and production to grocery store sales with the same high quality level of grapes grown in the right place and in the right way. Our goal is to get to 100,000 cases with the help of Lodi grapes. My thinking is, if we're going to possibly impact climate change we have to do it with a scalability that also makes money."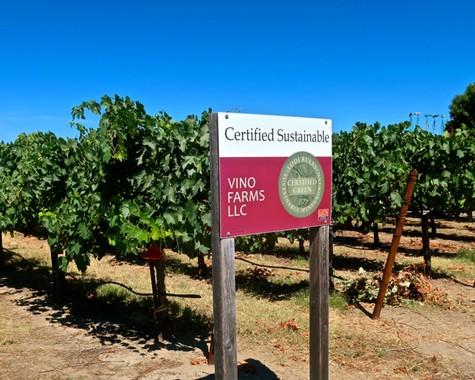 The Lodi grown wines of Avivo
"The first duty of a wine is to be delicious," says Mr. Evers, "which comes purely from the grapes – and the grapes we get from Lodi are as pure in quality as any grown in California."
Vino Farms' Mike Harder describes the challenge of adapting its farming to Biodynamic methods as "a fantastic opportunity... as growers we relish opportunity to set ourselves apart from the rest, and bring exposure to not only Lodi but also to the unique sites we farm."
Vino Farms, Harder reminds us, "has been a leader since the '90s in respect to IPM (i.e. Integrated Pest Management), and sustainability (re LODI RULES for Sustainable Winegrowing)." With Biodynamic farming, adds Harder, "Vino Farms looks to raise the bar insofar as our basic principles of land stewardship. This approach revolves around the thought that the vine, soil, air and water are all integrated and are dependent upon each other for success. If you buy into the notion that the soil is a living entity and that soil microbes and mycorrhizae (i.e. the root system fungus playing a key role in plant nutrition and soil health) are crucial to the well-being of the ecosystem, then in a sense you've already taken the first step towards adopting a Biodynamic approach."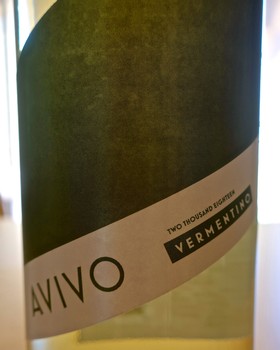 Evers' current vintage is the 2017 Avivo Schatz Family Farm Cosumnes River (Lodi) Vermentino ($18). The front label proudly states that the wine is "Naturally Made." No matter what you may feel about the admittedly unregulated term "natural," Avivo winemaker Dan Fitzgerald tells us that it is what it is: "Basically the grapes were 'shepherded' into the bottle… the wine gets a short skin contact/maceration before pressing, cold settling and being racked to neutral barrels, and primary fermentation is indigenous (i.e. utilizing yeasts found naturally on the grape skins)." The 2017 Vermentino's fragrance is honeyed, citrusy and stony, and its medium weight body is both silky and tart with a steely/minerally edginess, finishing bone dry and citrusy tart.
The soon-to-be-released 2018 Avivo The Bench Vineyard Clements Hills (Lodi) Vermentino ($18) kicks up the varietal character to an even higher dramatic notch: A citrus/lime scent is laced with a sweet, leafy-green herbiness suggesting lemon verbena and a whiff of passionfruit; while tart citrus skin sensations fill out a medium body that is steely dry and light feeling, finishing with a refreshing touch of lemon peel. Per the house style, the 2018 is native yeast fermented and strictly neutral barrel aged on lees, with minimal doses of sulfur dioxide following fermentation to preserve freshness.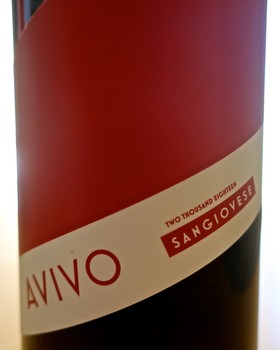 Despite being bottled less than a month ago, the 2018 Avivo River's Edge Vineyard Mokelumne River (Lodi) Sangiovese ($23) is already full of charm, with a compelling sense of bright, fresh immediacy going well beyond a sense of lightness in the body and feel. The ringing red cherry fruit quality of the Sangiovese grape in the nose is manifested in a medium body, soft in tannin and unfettered by intrusive oak or anything else not natural to the grapes. Notably zippy acidity lifts the fresh cherry fruit profile, leaving a silky textured, even keeled feel in the finish.
The Sangiovese's "Naturally Made" phraseology on the front label, according to Harder, is also there to tell the buyer that "the focus is 99% on the vineyard, planting the best varieties for the climate and soil, and Biodynamic farming assuring quality of both fruit and land." Like the Vermentino bottlings, the Sangiovese is a 100% varietal and the fermentation is strictly with indigenous yeast.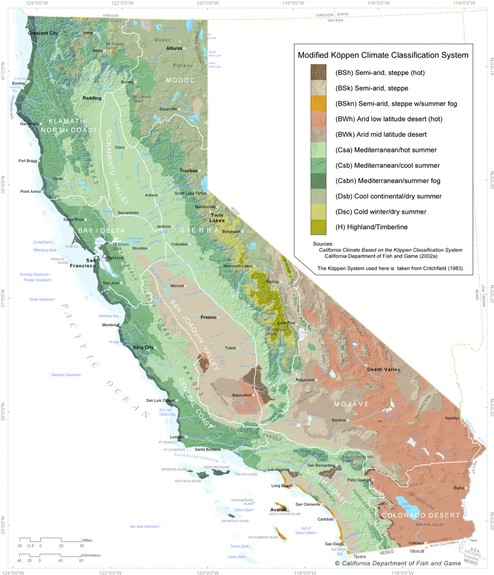 Understanding the Köppen-Geiger Climate Classifications
Since originally published in 1884, 1918 and 1936, the climate classifications devised by Wladimir Köppen and Rudolph Geiger have always entailed seasonal precipitation and temperature patterns within the context of vegetation growth natural to the given climate zones. Hence, in the current Köppen-Geiger classifications of California, the Mediterranean climate zones (Csa and Csb) pertinent to winegrowing are delineated geographically despite narrow differentiations in terms of actual climate and precipitation.
Wine growing regions such as Lodi and the Sierra Foothills (which includes Amador County and the El Dorado AVA) are classified as Csa regions (= hot summer/Mediterranean climate), whereas more coastal regions like Napa Valley, Sonoma County, Livermore Valley, Paso Robles and Santa Barbara are classified as Csb (= warm summer/Mediterranean climate).
What are the actual temperature ranges? According to the chart below, listing the Köppen Climate Classifications of major California wine regions found in weatherbase.com in order of highest to lowest year-round average temperatures, the differences between the Csa and Csb regions are on the narrow side:

What is striking is that there is a difference of only .6° F. in year-round averages between Lodi, Paso Robles, Healdsburg/Sonoma County, Livermore Valley and St. Helena/Napa Valley. The difference in average temperature during the warmest months among these same regions is 4.1°, although there is a difference of only .2° between Paso Robles classified as Csb and Lodi classified as Csa.
There are, however, significant differences in diurnal swings between Lodi and Paso Robles: During the month of July, nighttime temperatures in Paso Robles average 50.8°, whereas in Lodi July nighttime temperatures average 55.6° (re one our previous posts, Revising our assumptions and classifications of wine region climates).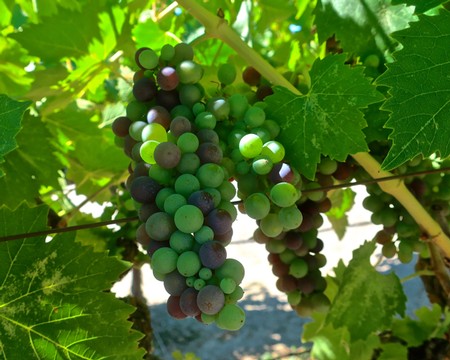 Of all the wine regions listed in the chart, Köppen-Geiger records show Lodi as having the lowest average winter temperature (45.7°) among the wine regions in this particular comparison. The warmest winter temperatures are found Santa Maria/Santa Barbara (51.1°), despite having the coolest year-round average temperature – part and parcel of Santa Barbara's immediate proximity, plus east-west valley configuration, to the Pacific Coast.
Wine grapes, as any grower of vintner will tell you, are particularly sensitive to weather events – the vagaries of vintages – which often trump average temperatures. In 2017, for instance, vineyards from Mendocino and Sonoma County all the way down to Santa Barbara experienced Labor Day (beginning of September) weekend heat spikes as high as +110°, forcing vintners to pick grapes, soaring in sugar readings, as fast as possible.
The official all-time record highs (according to Wikipedia pages) of various regions give you a good idea of the propensity of certain wine regions to regularly experience consecutive days of +100° temperatures. In the sampling below, Lodi's record high is not nearly high as that of other regions:

Temperature comparisons and climate classifications aside, Lodi is the most widely planted wine region in the U.S., adding up to nearly a fifth of what is grown in California: More acreage of wine grapes than Napa Valley and Sonoma County combined; and more than the entire states of Washington and Oregon combined, plus another 30%.
Much of what is currently grown in Lodi is the same as what is found elsewhere on the West Coast: Cabernet Sauvignon, Chardonnay, Merlot, Sauvignon blanc, Pinot noir and Pinot gris. It makes sense, however, that Lodi's most widely planted wine grape is Zinfandel, a variety that originated in Croatia and Southern Italy – both classified as Köppen-Geiger Csa regions (= hot summer/Mediterranean climate) – and thus has the intrinsic DNA of varieties that have evolved and adapted to this suitable environment.
Put it another way, the simplest explanation for why Lodi has the world's largest plantings of Zinfandel that have survived for over 50 to 100 years is probably this: Lodi's climate, and overall terroir, is the most natural possible for the grape. A rare case (at least in the New World) of long-standing commercial purposes coinciding with Mother Nature's.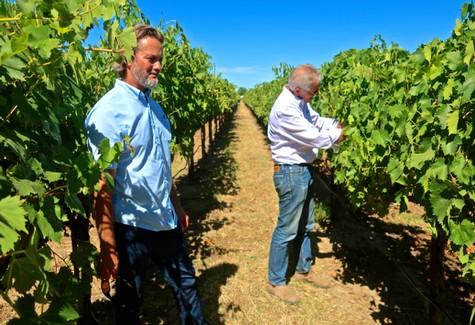 Which is why Lodi's recent expansion to other grapes of Mediterranean origin – beginning with the more historic plantings of Carignan, Grenache, Cinsaut, Petite Sirah and Barbera, to the recent proliferation of grapes like Vermentino and Verdelho, Aglianico and Dolcetto, Clairette blanche and Grenache blanc, Graciano and Teroldego, Montepulciano and Mencía, Piquepoul and Pinotage, Touriga and Torrontés, and dozens more – all seem like steps in the right direction.
Or as Ridge Evers summarizes it:
All across Europe, over the course of centuries, people have sought out the vines that make great wine in their climate... They grow what they grow, where they grow it, because it wants to be there. So we've chosen to trust those centuries of experimentation and focus on growing plants that come from a similar climate to ours.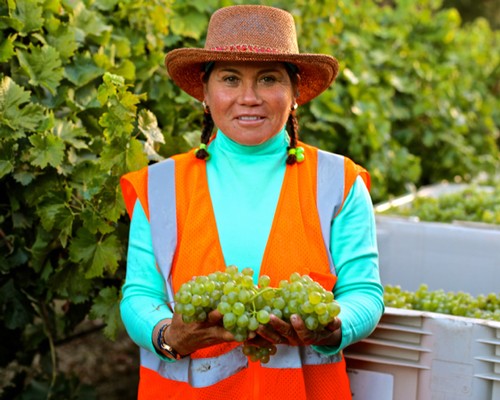 Comments