Letters from Lodi
An insightful and objective look at viticulture and winemaking from the Lodi
Appellation and the growers and vintners behind these crafts. Told from the
perspective of multi-award winning wine journalist, Randy Caparoso.

March 26, 2019 | Randy Caparoso
The "no-oak" rebellion at Lodi's Acquiesce (and history of barrel usage since ancient Roman days)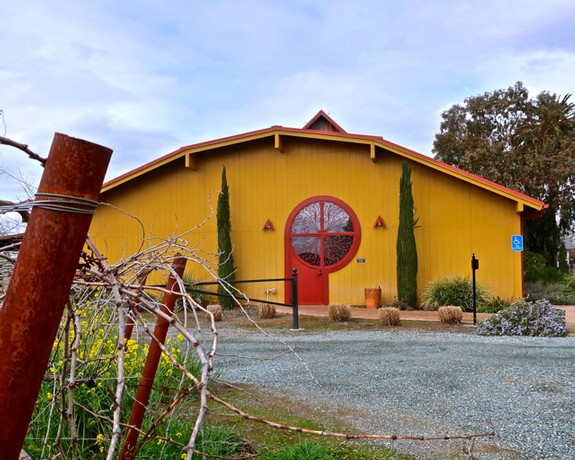 The re-opening of Acquiesce Winery's tasting room – which usually happens after about four months of a "winter slumber" – has become something of a yearly rite of spring for many a Lodi wine lover. Owners Sue and Rodney Tipton welcomed the first of their 2019 visitors and loyal club members just this past weekend (March 15-17).
Close followers of Acquiesce wines are very well aware of why the winery needs to shut down for a third of each year: because the wines – representing a fairly small production, 100% grown and produced in the Tiptons' own home vineyard – are virtually sold out by November of each year! That's what success will do for you.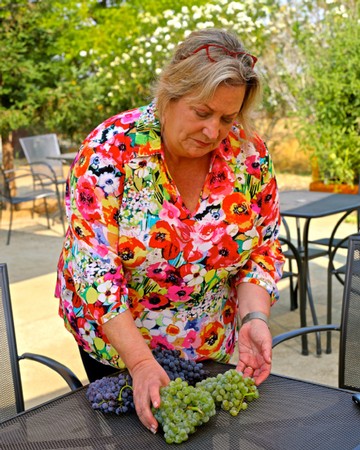 Still, what is an almost disquieting about the Acquiesce winery whenever you visit is this fact: there are no barrels. No showy or romantic chai (the French word for an above-ground storage room) emanating the sweet, rich, pungent aroma of red or white wines aging gracefully in finely veneered oak barrels that, for many a wine lover, is the most memorable part of any winery visit.
This is because when Sue Tipton first conceived of her brand some ten years ago, she envisioned estate grown wines produced entirely without barrels: wines fermented and kept for just a few weeks exclusively in stainless steel tanks prior to bottling. Plus, no red wines – just white wines, and one bone dry rosé. And if certain whites need extra time to round out any rough edges or develop some extra aromatic complexity – like Acquiesce's Roussanne (a notoriously "slow learner"), or their signature "Rhône style" blend called Belle Blanc (consisting of Grenache blanc, Roussanne and Viognier) – Tipton simply holds the wine back an extra 6 months or year. "Aging" is done strictly in the glass bottle.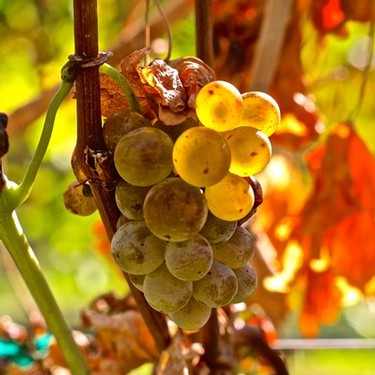 It is, in fact, the eschewing of oak that probably explains why Acquiesce's wines have been such a huge hit to begin with. While most vintners would not even think to produce a white wine without even a little bit of oak influence – whether in "neutral" (i.e. previously used) barrels to introduce the benefits of oxidation to a wine (wines have been aged in barrels for millenniums for the purpose of achieving smoother, balanced qualities resulting from the minute exposure to oxygen in large wood containers), or with newer barrels to add the creamy/vanillin and/or smoky/toasty flavor of oak that many consumers have come to love in their wines – Sue Tipton was determined to go the opposite route, and forge her own path or style. No barrels, no oaky wines.
Instead, Tipton is focused on maintaining a sharper, steely edged quality in her whites and rosé. She wants the focus to be on the pure, fresh fruit qualities of her grapes, as opposed to creamy, buttery or smoky flavors added by barrels. Whether you agree with this or not, the growing mob of Acquiesce aficionados cannot be wrong – they love it!
How (and why) oak became part of the American wine palate
The success of Lodi's Acquiese Winery gives pause to reflect on the recent evolution of American wine tastes. Gen X and Millennial wine lovers may not recall, but only a short time ago, just before the 1980s, the vast majority of California white wines were fermented and bottled without a lick of oak. The idea of a white wine aged in a barrel was considered "Old Country," maybe low-tech or a little hoity-toity, and certainly not necessary.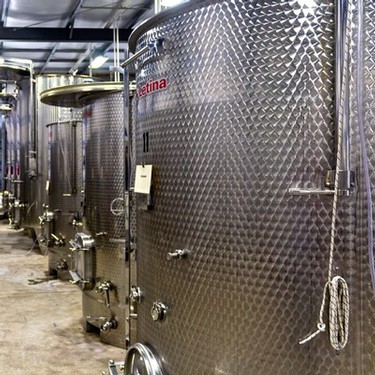 While Robert Mondavi Winery did begin experimenting with partial barrel fermentation and oak aging in their Fumé Blanc and Chardonnay programs in the late '60s, all the top wineries of the '60s and '70s– namely Charles Krug, Wente Brothers, Louis M. Martini, Beaulieu, Inglenook, Sebastiani, Almaden, Paul Masson, et al. – proudly emphasized fresh, purely steel fermented, un-oaked fruit qualities in their whites and rosés, and no one was the wiser. Of course, those were the days when fruity bottlings of Chenin blanc outsold Chardonnay (which was mistakenly called "Pinot Chardonnay" back in the day), and whites like "Johannisberg," "Sylvaner" or "Grey" Riesling were still extremely popular.
The ground shifted, old fogies may remember, when word leaked out about a "Judgement of Paris" in 1976, when a Chardonnay produced by a boutique sized Napa Valley winery called Chateau Montelena "bested" some of the finest white wines of France's Burgundy region (which are made from Chardonnay) in a blind tasting, involving French judges, no less (sacré bleu!). While fermented in stainless steel and then aged in French oak barrels, the Chateau Montelena Chardonnays of the '70s were extremely strong in oak flavors (in retrospect, too strong), despite the big, intensely tropical fruit flavors that the French judges probably found appealing.
There wasn't much Chardonnay grown in California at the time (there was far more acreage of grapes like Colombard and Chenin blanc, reflecting the prevailing taste for generic "Chablis" in the U.S.), but what happened in Paris in 1976 had a direct impact on what eventually happened in the mid-'80s, when wineries like Kendall-Jackson and Glen Ellen shrewdly took advantage of the growing interest in soft, full, creamy or "buttery" textured, tropical fruit scented white wines by coming out with Chardonnays accessibly priced at $4.99-$7.99. An unruly invasion of equally oaky/fruity, supermarket-friendly Chardonnays from Australia soon followed suit, and from there it became no surprise to see the proliferation of ultra-oaky $18-$40 "Rombauer" style Chardonnays seeping into the culture of entitled Boomers (not to mention untethered cougars) by the turn of the Millennium, when everyone thought that reliance on technology might turn clocks backwards.
And in a way it did, since the prevalence of oaky wines truly does hark back several millenniums, when oak barrels were first put to use by Romans, and then in emerging European countries, for the storage, transportation and aging of wines. It has been theorized that the art of coopering – involving the bending of damp wood staves over fire to craft a completely sealed container – was probably conceived soon after shipbuilders perfected the bending, shaping and binding of wood (an entire ship, impeccably crafted from cedar, was unearthed in the Great Pyramid of Giza, and dated back to the reign of King Cheops around 2,500 BC).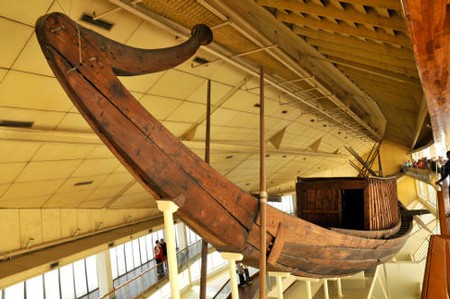 It is also known that the ancient Romans, who were industrious winegrowers (legionaries were partially paid with wine rations) transitioned from clay amphorae to oak barrels once they came, saw and conquered the Gauls, who cleverly stored their beer in wood. Over the course of the past 2,000 years, of course, wine production evolved into something of an art in the finest regions of France, Spain and Germany. So when you think of it, that fleeting period of time when American grown white wines were produced entirely without wood was more of a hiccup in the annals of wine history. The era of "Rombauer," and return to ravenous tastes for oak-aged wines, was perhaps inevitable.
So what, then, explains our own little "Acquiesce rebellion" again this wine ethos? Our theory: the recent over-use of oak in wine production. A growing number of consumers have grown tired of the taste of wood in their wines, which is understandable; especially since the taste of wood in a huge percentage of today's commercial wines is not even that real – it's more like "fake oak," and more and more people are conscientiously resisting the idea of anything "fake," artificial or inauthentic. What do we mean by that?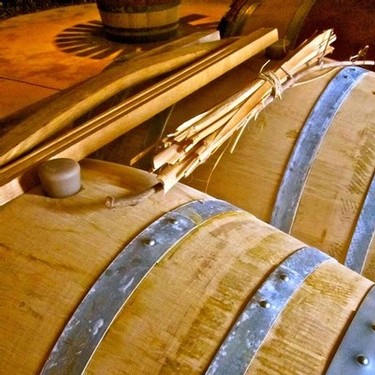 Let's start with this, by way of explanation: If you look up "barrel" in the voluminous Oxford Companion to Wine, you read that oak barrels started off as a convenient way to store wine; but since the advent of the bottled wine industry (around the time of Thomas Jefferson) the primary purpose of barrel aging has been to "encourage clarification and stabilization of wine in the most natural, if not necessarily the fastest, way... it also helps to deepen and stabilize color, to soften tannin, and to increase the complex of flavor compounds... (resulting) from the slow oxygenation of the wine."
As a byproduct of the oxygenation process in barrels, of course, wine invariably picks up the flavor of oak, especially when oak barrels are new enough impart a pronounced flavor resembling vanilla along with charred sensations derived directly from the inner surface of the wood, which is bent over fire during the barrel-making (or "toasting") process.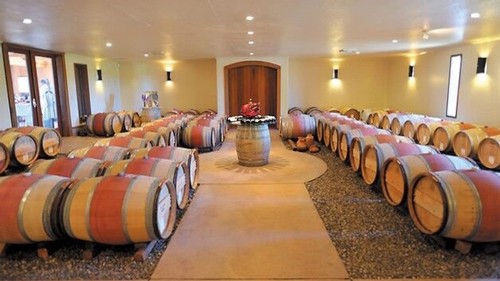 But guess what: well coopered barrels aren't cheap. In today's economy, where a handcrafted 59-gallon oak barrel from a premier production region like France costs a minimum of $800 apiece, it has become virtually impossible to produce a wine selling for less than $18 (and more than half the wines sold in the U.S. still retail for less than $10!) that has been aged in these barrels. In a 2015 issue of Wines & Vines (a leading wine industry periodical), Lodi winemaker Chad Joseph (of Oak Farm Vineyards, Harney Lane Winery, and others) broke down the math:
"If I age 59 gallons in that barrel, the wine will have an additional cost of $13.55 per gallon due to that barrel. If that wine makes up 25% of my blend, then I am looking at a cost of $3.39 per gallon (67 cents per bottle) for the cost of using 25% new French oak barrels in my blend... And that's just looking at the cost of the product, not the labor and warehouse costs associated with managing barrels."
On the other hand, Joseph goes on to explain, if he takes that same wine and keeps it in a stainless steel tank and simply adds the flavor of "oak" by dropping bags of oak pieces the size of beans or domino-sized chips into the vat, "the actual cost would be 12 cents per gallon (less than 3 cents per bottle)." Obviously, adds Joseph, it is much "easier to manage 1 tank of 60,000 gallons... than (the equivalent of) 1,000 barrels of the same lot."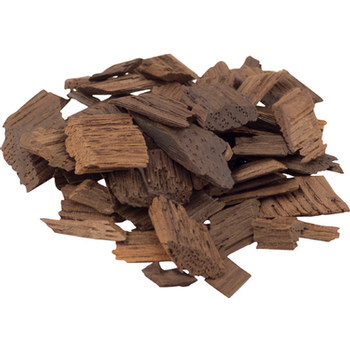 Hence, the common use of what Joseph calls "oak adjuncts," or "oak barrel alternatives" that now dominates the production of low to medium priced American wines. Never mind the quaint old idea of aging wines gracefully in barrels. Why bother with costly, bulky barrels when you can simply add the taste of "oak" in the form of toasted wood chips? Is this cheating, or "faking" – like Meg Ryan in When Harry Met Sally?
No matter. The reason why the use of oak chips is now common practice in the industry is, simply, because consumers are buying it. On the positive side, it is also the reason why wineries like McManis Family Vineyards, Ironstone Vineyards or Oak Ridge Winery, who source most of their grapes from their own vineyards in Lodi, have been able to grow to half-a-million-case productions over the past 20 years. It is because they, too, can produce good quality, "oak" influenced wines and sell them for less than $16 a bottle, without using a single barrel! (Although, of course, these same wineries are not be opposed to aging a smaller proportion of their wines in real barrels, which are usually sold in the $25 to $35 range).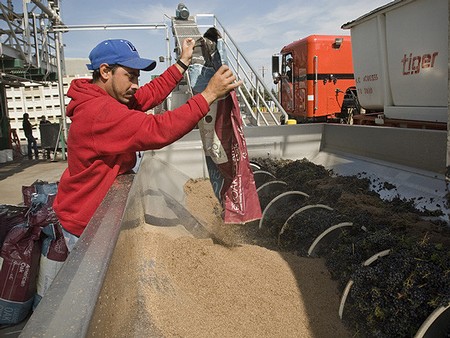 From this perspective, alternative oak products make complete sense. But at what point can it become a negative? Simplest answer: When you become a consumer who appreciates more "natural" sensory differentiations in your wines. Have you ever walked into a winery tasting room, for instance, and tasted Zinfandels sourced from different vineyards, and then maybe a Barbera, a Petite Sirah, a Tempranillo or Grenache, and walked away with the strong suspicion that all those wines tasted exactly alike?
That's because your instincts are correct. Zinfandels from different vineyards do begin to taste alike, and it can become difficult to distinguish a Barbera from a Petite Sirah, Tempranillo or Grenache, when wineries become reliant upon very specific winemaking methods to produce all their wines. Most commonly, it's the use of the same yeasts to inoculate fermentations, or the same barrel types to age all their wines. The distinctions become even more blurred when they utilize oak dusts or powders to bind phenolic content and achieve certain aromas, consistent colors or textures in fermenting wines, as well as oak chips or "innerstaves" (i.e. sticks inserted into barrels) to achieve specifically chosen flavors in wines across the board.
This is great, of course, for consumers who appreciate the dependability of a "house style" or brand "signatures" in the wines of their favorite producers. But it's not-so-good-news if you happen to be a consumer who likes a Barbera to taste very different from a Grenache, or a Zinfandel from one vineyard to be distinctly different from a Zinfandel from another vineyard in a way, it can be argued, that Mother Nature would have had it.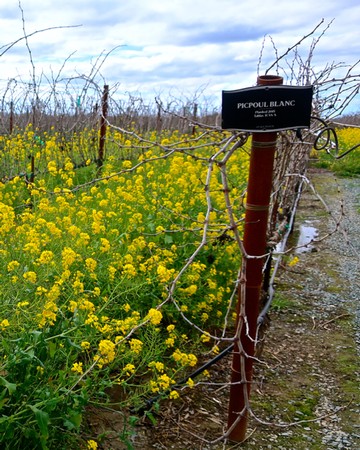 Acquiesce's opening 2019 line-up
Acquiesce, of course, completely skirts the question of oak sensations by kicking barrels and attendant oak products completely out of their winery. If you, too, have come to appreciate non-oaked styles of wines – or are just curious about what the fuss is all about – by all means, please find the time to drop by Acquiesce Winery (tasting room hours are Fridays-through-Sundays, 11 AM to 5 PM) to experience their wares and unfailing hospitality. But don't wait until next Thanksgiving, because by then they'll probably be sold out once again.
The following is our tasting notes on the current wines of Acquiesce (plus one wine scheduled for a July 2019 release), along with additional comments on the little "tastes" of food that the winery generously serves with each wine sample: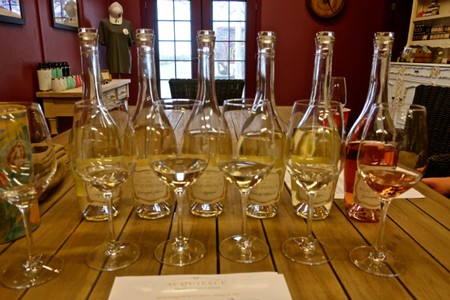 2018 Acquiesce, Lodi Picpoul Blanc ($28) – Fresh, crisp apple/pear aroma with lemon/citrus and faint violet scents; lean yet refreshingly crisp, light feeling, silky/fine textured qualities on palate. In the tasting room, this wine is served with a dab of green olive tapenade, which lends a "Mediterranean" feel to the experience of the wine – the herbiness of the olives mingling nicely with the wine's subtle violet and citrus-edged qualities.
2018 Acquiesce, Lodi Grenache Blanc ($26) – Predominantly floral/violet fragrance with tinge of green apple/pear and white pepper spice; zesty, airy feeling, light-medium bodied sensations which become steelier and less fruit focused when tasted with the violet artichoke cream that is served with the Grenache Blanc in the tasting room.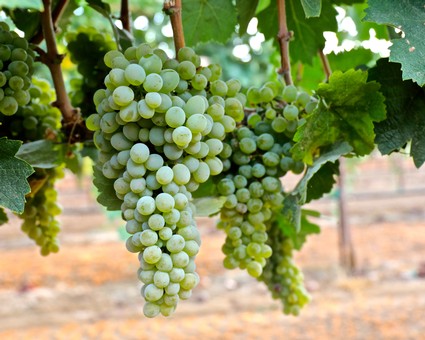 2018 Acquiesce, Lodi Clairette Blanche ($28) – It is interesting to find the licorice/fennel note found in the Ingénue pushing out in the nose of this varietal – a sensation that mingles with grapefruit, floral and mineral scents. The feel is medium-full, fairly dense and meaty with tannin/phenol (grape skin) qualities dominating in an emphatically dry, mineral focused (i.e. less emphasis on the citrus or floral fruit) middle and finish. Served with a "Greek goddess" dip that seems to take a little off the citrus edge of the fruit in this wine, while accenting the meaty/phenolic feel on the palate.

2018 Acquiesce, Lodi Viognier ($26) - "Fields" of lavender, ultra-intense and fragrant, with faint suggestions of peach and exotic/spiced flower notes; firm, medium full body, yet light and airy in the feel. Served with a sliver of manchego cheese dabbed with a mango chutney, which seems to add a spiced flower note that mingles nicely with the wine's pungent, lavendery character, while the mild sweetness of the chutney makes the Viognier taste drier.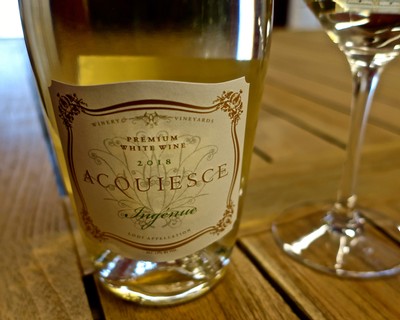 2018 Acquiesce, Lodi Grenache Rosé ($25) – Super-lush nose, redolent of strawberry/red cherry, with fainter whiffs of mineral/earth; medium-full body with a rounded, fleshy, pliant feel and texture. To some extent, the cherry pepper jelly served with this wine in the tasting room brings out the peppery/spice quality intrinsic in the varietal, while the sweetness of the jelly shifts focus on the wine's dryness and fleshiness.
2018 Acquiesce, Lodi Ingénue ($32) – A preview of a special, spanking new white wine blend (35% Grenache blanc/35% Clairette blanche/20% Bourboulenc/10% Piquepoul) slated for a July 2019 debut: Very high toned, exuberant nose of primarily minerals and fresh-cut fennel, with suggestions of lemon/citrus and spring/floral notes; medium-full body of moderate weight despite meaty, slightly dense, textured qualities, finishing with mineral and citrus notes in the mouth. Keep an eye out for this truly innovative, exciting wine!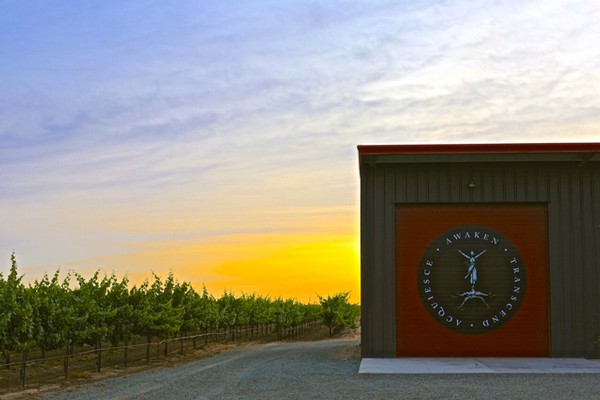 Comments