Letters from Lodi
An insightful and objective look at viticulture and winemaking from the Lodi
Appellation and the growers and vintners behind these crafts. Told from the
perspective of multi-award winning wine journalist, Randy Caparoso.

July 28, 2022 | Randy Caparoso
Ser's Bechthold Cinsaut adds mystique to Lodi's multi-generational wine culture
While in our last post, we talked about how old vines—which we define as plants over 50 years old (and in Lodi, many of them are over 75 or 100 years old)—are still largely unappreciated by most of the American wine-drinking public (see Learning to love Zinfandel and saving old vines in the process).
There is, however, a tiny faction of wine lovers who value old vines highly: These are the smaller-scale, artisanal, handcrafted wine producers, along with their followers. These vintners appreciate old vines because they recognize the distinctive sensory qualities marking each individual growth.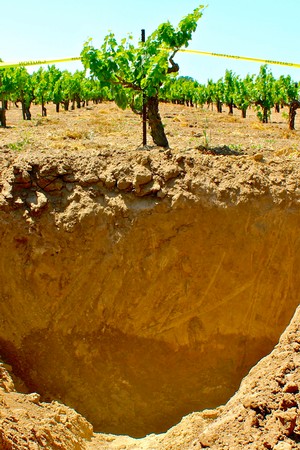 Vineyards reach "old vine" status, after all, only because they occupy ideal sites and the quality of their fruit warrants vineyard longevity. The advantage of advanced age is also deeper root systems and increased vascular flow in larger trunks and spurs, enhancing the consistency of grapevine growth vintage after vintage. Hence, vineyards that reach a certain age are more likely to express an individual "sense of place"—what wine aficionados define as terroir—in resulting wines, which is exactly what is prized the most by small, handcraft winemakers.
In a world where authenticity and a sense of origin are valued more than ever, old vines fit the bill.
Nicole Walsh founded her winery in 2012, calling it Ser—Spanish for expression of identity or origin. Ser Winery is more of a small-batch side project for Walsh. She primarily puts bread (and wine) on the table as a winemaker for Bonny Doon Vineyard, a well-established brand she has been involved with since 2001.
Soon after she started with Bonny Doon, originally as the winery's Grower Relations Manager, Walsh's longtime employer Randall Grahm—the Bonny Doon founder who sold the brand in 2020—was told about a Lodi vineyard owned by Wanda Woock and farmed by her husband, the late Al Bechthold. The vineyard is planted with own-rooted Cinsaut grapes, originally planted by Woock's great-grandfather Joseph Spenker in 1886. This makes it Lodi's oldest existing, continuously farmed vineyard of any sort.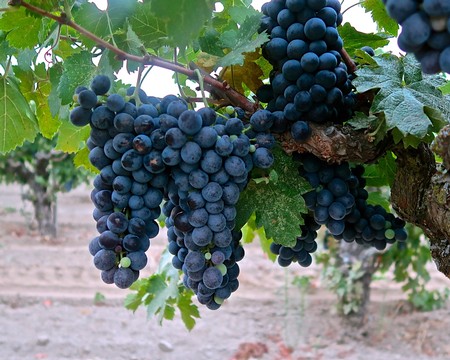 Bechthold Vineyard is also, as far as anyone knows, the oldest planting of Cinsaut grapes in the world. Almost a freak of nature. Who maintains a 25-acre vineyard devoted entirely to Cinsaut—not exactly a prestige cultivar or varietal wine—for over 100 years? The Spenker family did, in defiance of all logic or economic sense. It is highly doubtful that this could have happened anywhere but in Lodi, where most vineyard properties are still owned by multi-generation farmers.
According to Walsh: "In the beginning, I spent a lot of time at the vineyard talking to Al and Wanda, and really made a connection with the vines. The fruit was always very special. We used it to complete our Le Cigare Volant [Bonny Doon's groundbreaking Châteauneuf-du-Pape inspired red, consisting of varying proportions of Grenache, Mourvèdre, Syrah, and Cinsaut]. We also produced special Cinsaut bottlings for our wine club, usually blended with some Syrah.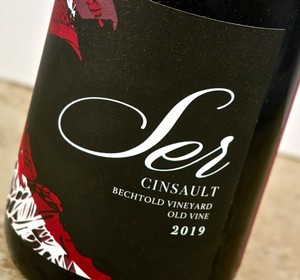 "When I began sourcing the fruit for my Ser brand, I was committed to producing a vineyard-designate, 100% varietal Cinsaut. My current vintage, 2019, was a product of a near-perfect growing season and harvest climate."
The 2019 Ser Bechthold Vineyard Lodi Cinsaut ($32) is a joyously aromatic bundle of spice—suggesting black pepper, peppermint, clove, and allspice—lighting up exuberant cranberry/raspberry-like fruit. The spice-scented qualities come across as lightly tart, tingly, and mouth-watering on the palate; the wine's medium-full body is rounded out by moderate tannin, unimpeded by any intrinsic oak qualities.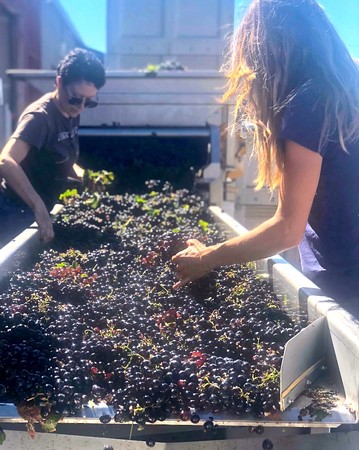 The Ser's Cinsaut's supple, distinctly pungent profile is compelling precisely because of the vineyard's natural attributes, underlined by Walsh's minimal intervention winemaking. Or, you can say, her common sense to leave well enough alone. Explains Walsh:
"I sourced enough fruit, almost 6 tons, to fill an open top fermenter, which allowed me to do a heavy saignée [i.e., the "bleeding" of a proportion of juice from a tank prior to fermentation] to help concentrate the must for red wine." The juice that was separated from the red wine must go into a separate tank that was fermented by Walsh to make a dry-style rosé of Cinsaut.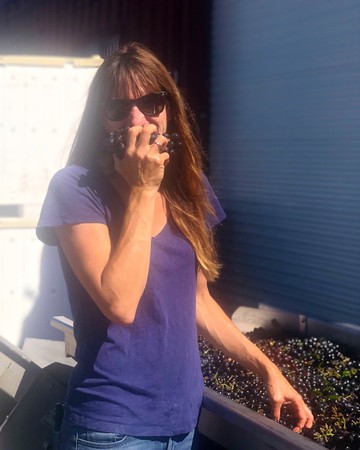 Continues Walsh: "Typically Cinsaut fermentations can get away from you, fermenting hot and fast when you ferment in a 1-ton bin. In a tank, however, you have the ability to insulate and cool down the must. The resulting fermentation is slow and long. I fermented with indigenous yeast, and the wine had an extended maceration [i.e., contact with skins] time, as it took over two weeks to go completely dry.
"Following fermentation, I pressed the wine to neutral French oak puncheons [double-sized barrels] for aging, and it was bottled unfined and unfiltered, with minimal SO2. I describe the Cinsault as elegant, perfumed, and full of bright red fruit and floral character. I really enjoy this wine as I would a lighter Pinot Noir, with salmon, pasta, anything with mushrooms."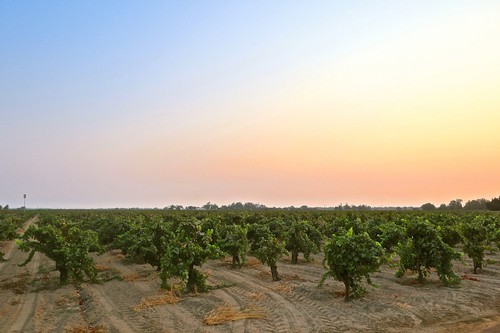 Bechthold Vineyard brings a mystique to Lodi
For over 100 years, the 25 acres of Bechthold Vineyard Cinsaut were pretty much unwanted. Largely because the grapes produce a soft, fruit-focused style of red wine. In a world where prestige is attached primarily to red wines of the darkest possible color, big tannin and a "powerful" sense of body and intensity, soft and fruit-driven doesn't cut it.
It did not help that it wasn't until 2004 that the grapes were formally identified as Cinsaut. Prior to that, the Spenker family cultivated the vineyard as Black Malvoisie, the name given to the grape by Stockton's El Pinal Nursery, the original source of the plant material back in 1886. Up until the early 2000s, practically the only home the Speakers could find for this Black Malvoisie were grape packers selling small crates to home winemakers on the East Coast and in Canada.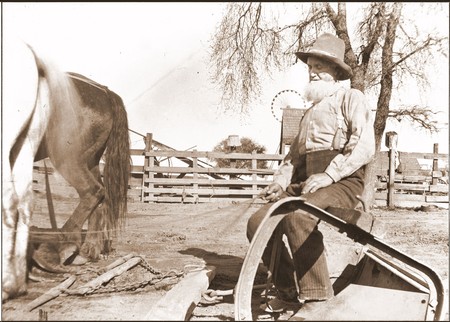 Once the vines were identified as Cinsaut, thanks to a search initiated by U.C. Davis' Kay Bogart, the rush was on. Bonny Doon Vineyard was the first winery of note to mine this newfound source of this key Southern French grape. Today, Ser Winery is one of over a dozen wineries, based inside and outside of Lodi, standing in line for Bechthold Vineyard fruit each year.
While Bechthold-grown grapes no longer go to Bonny Doon, Grahm's enthusiasm played a huge part in the vineyard's "overnight" success. Something, that is, that took well over 100 years to happen. In an interview in 2012,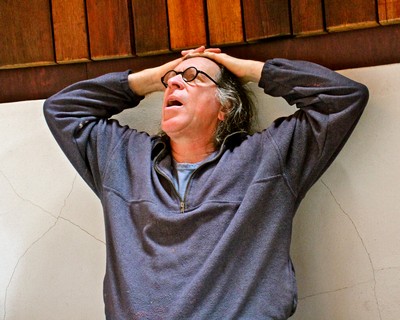 Mr. Grahm told us:
"The wines demonstrate the varietal like no other vineyard. It's dark red morello cherry, with a marvelous perfume, like a confit of candied fruit, and a real elegance—feminine, sleek, graceful, savory, seductive, and strong without being tannic or blocky. In that sense, there is more in common with Pinot Noir than other Southern French grapes—a superb gastronomic wine. It also has magical catalytic qualities as a blender with other wines, and is fabulous for pink wine."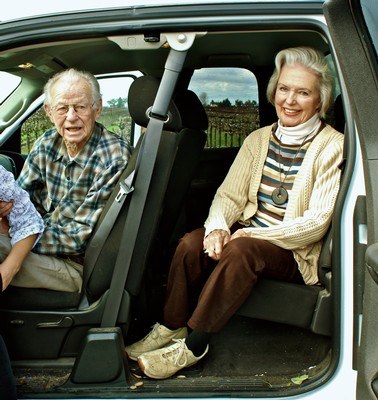 "The problem is that there is so little economic incentive for winemakers to make California wines like this. They can't get the respect and support of critics, and they can never charge nearly as much as they should. Musigny might sell for $400, but a wine like Woock [a.k.a., Bechthold] Vineyard Cinsault has its own beauty and pedigree."
In 2014 Bechthold Vineyard was named California's "Vineyard of the Year" by California State Fair. While none of the dozen and a half or so brands of Bechthold Vineyard reds and rosés bottled each year sell for anywhere near $400, the vineyard has carved out its own indelible niche. This qualifies as "prestige." That is, when grapes are coveted by top producers, and wine lovers—at least those in the know—begin to associate the vineyard name with some degree of mystique.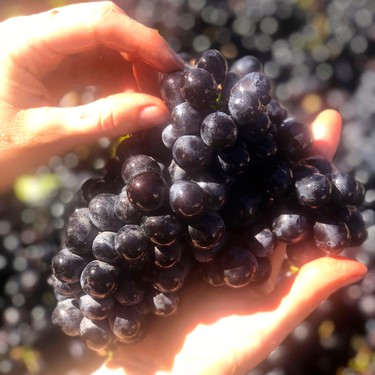 Whenever any region can find appreciation for at least one such vineyard—a vineyard of a sort that can be found nowhere else in the world—this bodes well for neighboring vineyards of similar ilk. There are, in fact, a bevy of other utterly unique old vine plantings in the Lodi appellation. This is a triumph in itself. While it may be only a matter of time before the rest of the world catches on, we are deeply appreciative of the old vine wine lovers we have now!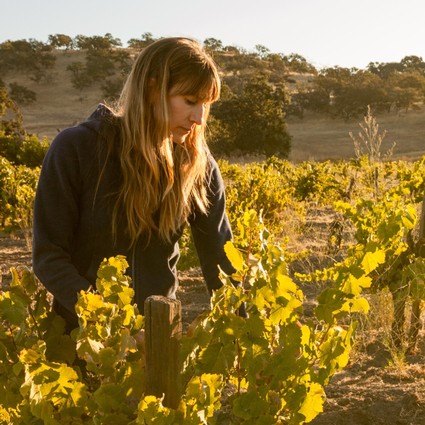 Comments