Letters from Lodi
An insightful and objective look at viticulture and winemaking from the Lodi
Appellation and the growers and vintners behind these crafts. Told from the
perspective of multi-award winning wine journalist, Randy Caparoso.

August 4, 2020 | Randy Caparoso
George West — the long forgotten Father of the Lodi winegrowing industry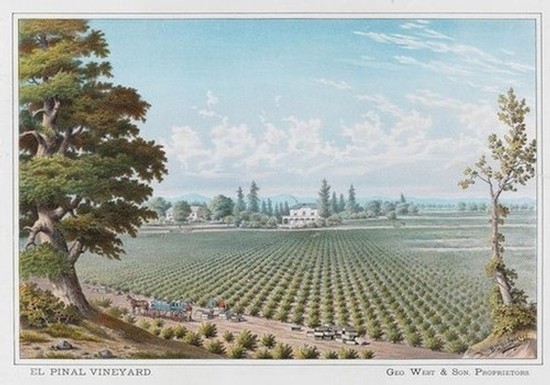 You won't find his name mentioned in most of the popular books touching upon the history of California wine. No Wikipedia entry, and nary an illustration or photograph to be found in "the Google." Why? From what we gather, he was a pioneer who rested more on his labors than his laurels. Also, probably because he didn't do his work in Napa Valley, Sonoma County, or even the Santa Cruz Mountains. Yet in many ways, the visionary endeavors of George West, the founder of Stockton's El Pinal Winery, had as much impact on the entire California wine industry as any one individual.
Even in Lodi, West's legacy looms like a gigantic shadow, yet nearly completely shrouded and forgotten. All the same, the Lodi winegrowing industry would probably have never gotten off to its prolific start, in the second half of the nineteenth century, without George West.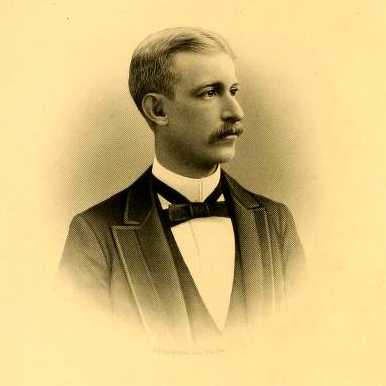 Lodi's oldest existing vineyards, for instance, are the Bechthold Vineyard and Jessie's Grove's Royal Tee Vineyard, both still owned by the descendants of Joseph Spenker who in 1869 acquired a square-mile property near Woodbridge (west of the town of Lodi, the latter then known as Mokelumne). Phillips Farms, the farming arm of Michael David Winery, currently cultivates the original 25 acres of naturally rooted Cinsaut planted by Spenker in 1886. Right across a water canal, the Royal Tee Vineyard is a barely 5-acre remnant of much more extensive "mixed black" plantings of Zinfandel, Carignan, Mission, Black Prince, and Flame Tokay put in by Spenker between 1889 and 1900. In 1890 Spenker planted 7 full acres of Black Prince and 22 acres of Flame Tokay. In 1900 he added 16 acres of Zinfandel, 8 acres of Mission, and 5 acres of Carignan (the latter block, still very productive).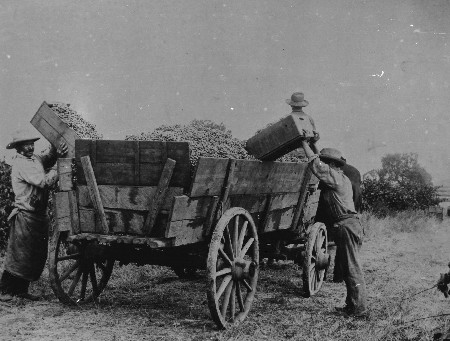 All of these ancient vine plantings, as it were, originated from the nursery first established and continuously replenished by George West, starting in 1852 — the dawning of the California wine industry. If not for West, none of the Lodi area farmers would have turned to grapes after wheat prices fell in the 1870s, or when demand for watermelons waned in the 1890s. And most certainly, ever since Lodi became an incorporated City in 1906, grapes have remained synonymous with the entire surrounding wine region.
So let's talk more about this shadowy figure. There is a 1932 book entitled California and Californians (The Lewis Publishing Company) that boldly contends:
The history of California viticulture will always form a great deal of the enterprise and widely extended activities of the late George West. What he did as a vineyardist was a powerful stimulus to the state's fundamental destiny and prosperity. George West was a man of magnificent vision, and it was his vision, his public-spirited purpose, and the practical evolution of his plans that meant more to Mr. West than his extraordinary achievements as a businessman.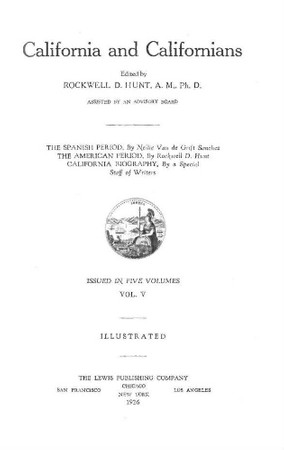 West was born in Taunton, Massachusetts in 1830, and came to California in 1849 with his brother William B. West, sailing from Boston around the Cape Horn to San Francisco. The original idea, like for thousands of others, was to head out into the Sierra Nevada foothills to mine for gold. The West brothers met Captain Charles M. Weber, the founder of the City of Stockton, who had acquired 49,000 acres of his original holdings through a Mexican land grant. In 1850 Weber planted one of the first vineyards in San Joaquin Valley. Weber's plantings, like that of a group of New Yorkers who had also planted a vineyard the year before, were never intended to be a commercial wine enterprise. The Wests, however, were sufficiently inspired. They saw their future fortunes in grapes.
In 1852, George West and his brother shipped in cuttings of some 40 "foreign varieties" on a steamer, sourced from a nursery in Boston. The following year they planted their first vines as part of a planned nursery to supply other farmers, on a 63-acre ranch at the north end of Stockton they called El Pinal (or "Pine Grove"). Quoting California and Californians:
The Wests laid the foundation of their nursery business when few others in California took an interest in anything except the quest for gold... Both of them had an inalienable love of growing things, and tinder their direction the ranch presented not only an opportunity for a practical business but an outlet for their passion for flowers, plants, and other phases of horticulture. They imported seed for stock from a Boston house and in the following year brought out different varieties of trees and pines, including pears, apples, and grapes...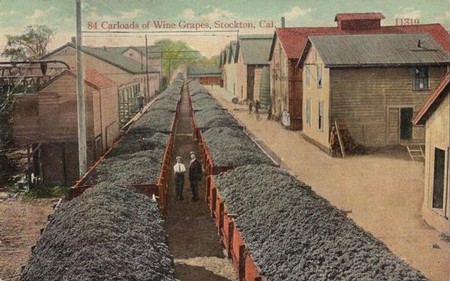 Their business thrived and there was a demand for their nursery stock as far south as Riverside and San Diego. There was also a call for their grape vines and cuttings at points as far as Texas. Fifty varieties of grape vines, including the seedless Sultana, had been brought from Boston in 1852.
Soon after the Wests established another 60-acre ranch near Waterloo, 8 miles north-east of Stockton. George West himself became interested in winemaking, and so in 1858, he established the El Pinal Winery in a brick and adobe building. In A History of the San Joaquin Viticultural District — assembled in 1965 by Ernest P. Pininou from original nineteenth-century sources — we read:
In 1868 he (George West) imported from Spain several varieties of grapes for the production of sherry and other grapes from the Alta Douro for port wines... The original plantings of Mission grapes (at El Pinal) were gradually replaced by more desirable varieties from the Bordeaux region for its dry red wines. These clarets, along with the dessert wines, especially the ports and El Pinal brandy, were products of which George West was justifiably proud.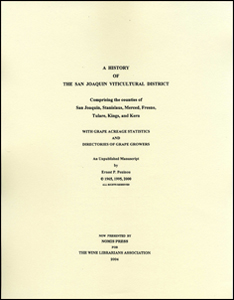 At that time, the Stockton and Lodi areas were part of the officially recognized 6th Viticultural District, or the San Joaquin Valley Viticultural District, an enormous region comprising the counties of San Joaquin (which includes Lodi, and Stockton), Madera, Fresno, Tulare, Kings, and Kern. According to Pininou's account:
By 1890 the San Joaquin District, with 64,330 acres of grapes (7,050 acres of wine grapes), had catapulted to first place and accounted for 38% of the State's 171,000 acres... The two principal wine-producing areas in the District were around the town of Lodi in San Joaquin County and Fresno in Fresno County... By 1910, (California industry) wine production totaled 45.5 million gallons, and the San Joaquin District had 68% of the State's total acreage...
At Fresno, the C.W.A. (California Wine Association) had the largest distillery on the Pacific Coast, with an incredible working capacity of 60,000 gallons every twenty-four hours. The Italian-Swiss Colony, generally associated with its immense dry wine vineyard at Asti in Sonoma County, had four large sweet wine facilities in the (San Joaquin) valley that produced close to six million gallons annually. The last big chunk of production, the nine firms of George West & Son (which became part of C.W.A. in the early 1900s), the pioneers of viticulture in San Joaquin Valley, added another five million gallons to the Association's cellars. By 1912 every winery in the Lodi area was under contract to the Association.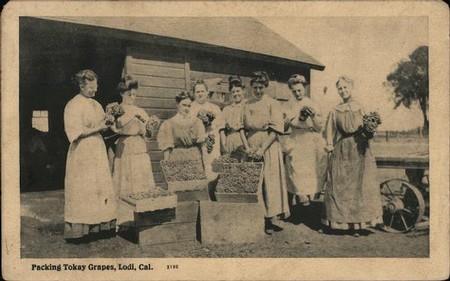 Not unlike pioneer grape growers in other parts of California, Lodi farmers between the 1860s and 1890s typically started off with plantings of dozens of grape varieties to see what "sticks." And since almost all the plant material came from El Pinal's nursery, and the grapes were destined for El Pinal Winery or one of its satellite wineries, the selections consisted of varieties like Black Malvoisie (finally identified as Cinsaut 118 years after it was first planted in Bechthold), Black Prince (a.k.a. Rose of Peru), Madeline, Black Hamburg, Sweetwater, Black Ferra, Emperor, and of course, the better-known heritage grapes — Zinfandel, Carignan, Mission, Grenache, Mataró, and Alicante Bouschet.
The Wests first acquired and introduced Colombard (a.k.a. French Colombard) during the 1850s. Traditionally grown in France for distillation into Cognac and Armagnac, Colombard became known in California's Central Valley as "West's White Prolific." According to U.C. Davis' The California Garden Web, "Acreage was very limited until the table wine boom in the 1960s-'70s when it became the state's most widely planted variety... Plantings peaked at 90,000 acres in 1987."
Raisin and table grapes, primarily Sultana and Flame Tokay, were also usually in the mix; and as Peninou points out, "it was not unusual for the San Joaquin Valley's mammoth wine facilities to crush all grape varieties — table, raisin, or wine — for their fortified sweet wine production."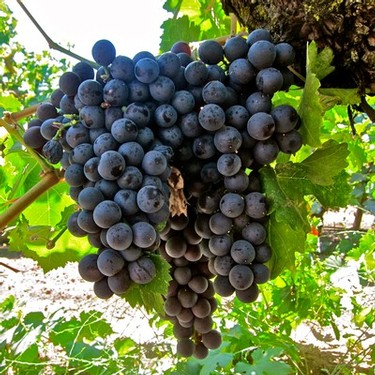 There were, for instance, no less than 30 varieties planted in 1861 by George Perley in partnership with George West on their farm located just west of Woodbridge (now located on the west side of Lodi's Mokelumne River AVA). According to the Lodi Historical Society's Lodi Historian newsletter, "The John Thompson family, father of Wilson Henry, would buy this vineyard 18 years later, and plant 30 acres of Tokay grapes."
In 1864 George J. Leffler went on record as planting 6 acres of Tokay, along with 2 acres of Black Prince, and 2 more acres of 15 different varieties. The location of Leffler's vineyard would now be near Eight Mile Rd., south of the City of Lodi. According to Lodi Historian, "The plump berried Tokay and Black Prince varieties did the best, and these eating grapes were successfully sent to the San Francisco market by boat."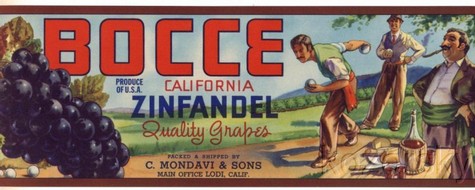 Lodi Historian also states that when Ezekial Lawrence, a pioneering Lodi farmer, arrived in Lodi in 1857, "there was less than 10 acres of grapes in San Joaquin County." But by 1879, Lawrence and a few other growers were shipping Lodi-grown grapes "by railroad cattle car to New York City in 16 days travel." Another one of Lodi's earliest vineyards consisted primarily of Mission, planted sometime during the early 1860s by A.T. Ayers just north of the City, on the south side of the Mokelumne River. In 1880 this ranch was purchased by Stephen Sanguinetti and passed down to his son Louis and grandson Allen Sanguinetti.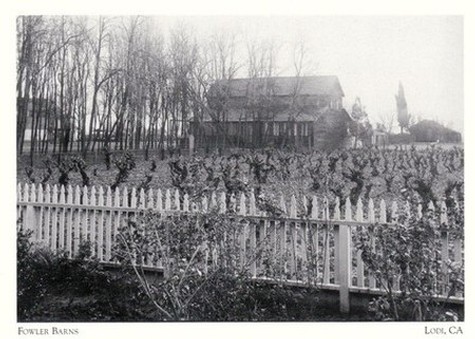 Another serious foray into viticulture in Lodi was undertaken in 1888 by Allen T. Covell. According to Lodi Historian: "Covell purchased 160 acres north of Turner and west of Lower Sacramento for $125 per acre. He started planting grapes and in 1890 set out a large block of Tokay grapes, the first commercial planting." Most of Lodi's grape growers, in fact, eventually gravitated to Flame Tokay, which ripened beautifully in Lodi's Mediterranean climate and rich sandy loam soils, and which could be sold as either a fresh table grape or for dessert wine and brandy production. By the early 1900s, Tokay became the economic backbone of the City of Lodi.
Lodi farmers also eventually found, as in other regions throughout California, that Zinfandel was the most dependable wine grape in terms of vine health, yield, and winery demand. In Zinfandel: A History of a Grape and Its Wines, Charles Lewis Sullivan writes that in 1883 an El Pinal Zinfandel was submitted to a viticultural convention in San Francisco; and that around the same time, El Pinal also produced a pinkish wine from free-run Zinfandel juice, which would have made this California's first, historic "White Zinfandel."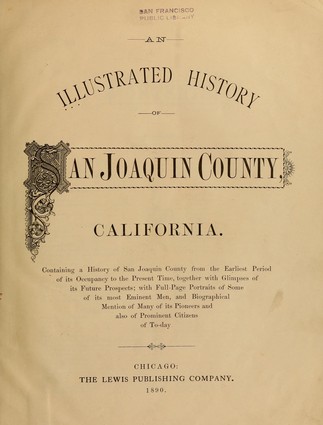 According to An Illustrated History of San Joaquin County, California, published by Lewis Publishing Company in 1890 (author unknown):
For many years the table grapes from this place (El Pinal) have enjoyed a reputation among the commission fruit merchants of San Francisco, not only for the size and beauty of clusters but also for fine quality. Rapidly, however, the importance of the wine and brandy grapes in his collection became felt, and from his stock many vineyards have been built up, all hoping to some degree to produce the excellencies of the El Pinal cellar.
The El Pinal brandy is now really celebrated and is known not only to the trade, which was quick to discover its merits but also by critical consumers from San Francisco to New York. Repeated decisions of juries and committees at fairs and State viticulture conventions have proved that this reputation is not due to any exceptional vintages or picked samples, but that it is based on general and continued excellence and contrast improvement. His last distillations take rank with the high grades of well-renowned Cognac and are eagerly sought by New York merchants doing first-class business.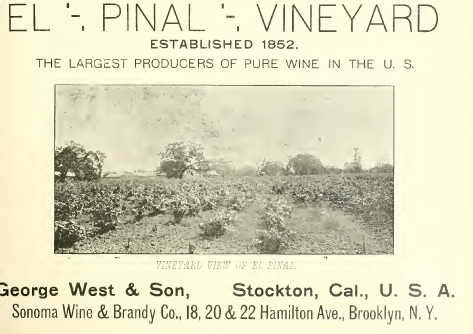 Side by side in quality with the brandies, Mr. West's port wines, made from the varieties which are most appreciated in the Alto Douro of Portugal, have made themselves known. Samples of them four years old have favorably stood comparison with the highest-priced imported stock. In sherries, also, the same promising feature is being developed as experience leads the intelligent wine-maker.
Unexpectedly now the public is surprised with the quality of his clarets, in which he has shown vast improvement by adopting the varieties of vines of the Medoc district, near Bordeaux, France. It has been supposed that a locality suitable for the highest quality of port would fail in producing high-grade clarets.
After George West's death in 1899 — and El Pinal Winery was re-incorporated as George West and Son Winery (the son being Frank Allen West) — the relationship between the West family and Lodi growers became contentious. The 1900 founding of an independent winery called Urgon Winery — which was paying as much as $22 to $23 per ton for wine grapes (whereas the Wests were paying as little as $3.50) — caused the inevitable friction when the Wests turned around and purchased the Urgon facility in 1904, and grape prices crashed down again.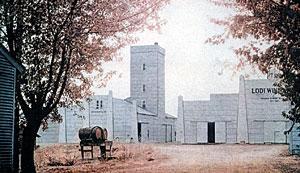 Thereafter, Lodi growers began to adapt the European business model of forming cooperatives, whereby they could sell grapes to their own jointly owned winery, producing products either marketed under their own brands or sold to other wineries (or often, both). The first such Lodi cooperative winery, the Woodbridge Vineyard Association, broke ground in 1905, which was followed by the Community Grape Corporation's Mokelumne Winery in 1907, Farmers Mutual Winery in 1908, and several more similar entities during the following years up until the start of Prohibition in 1919.
George West and Son Winery did not survive the Prohibition era — a period of time when many of the Lodi growers transitioned into grape packers, loading their fruit onto boxcars and selling them to home winemakers across the country — but the impact of George West on Lodi's agricultural industry is indelible to this day, even if practically erased from the history books.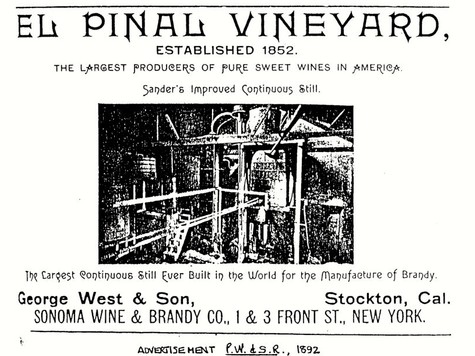 Long forgotten, as California and Californians remind us, was the fact that...
George West was one of the early commercial wine manufacturers in California. In the making of wine he had certain high technical standards... importing to California the finest of wine grapes from many historic and famous vineyards...
He and his son, Frank Allen West, labored hand in hand to develop what both believed to be an industry absolutely invaluable to the state. Both of them lived to see their vision realized...
In addition to the value of his individual enterprise, he served as a member of the (California) Viticultural Commission from 1880 to 1897, when the commission was abolished by legislation...
It was by no means solely a selfish or commercial motive that actuated George West in his viticultural enterprises. Fundamentally he loved to see growing things, and it was part of his loyalty to his beloved State of California that he should exert himself to develop what he believed would be an industry that would become one of the state's most important means of realizing its natural resources and one that would afford thousands of men a profitable employment and bring millions of dollars annually to the state at large.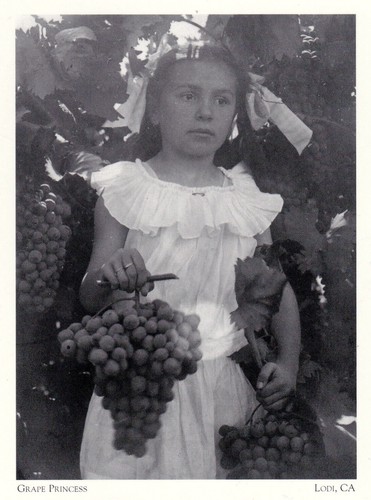 Comments