Letters from Lodi
An insightful and objective look at viticulture and winemaking from the Lodi
Appellation and the growers and vintners behind these crafts. Told from the
perspective of multi-award winning wine journalist, Randy Caparoso.

July 25, 2022 | Randy Caparoso
Learning to love Zinfandel and saving old vines in the process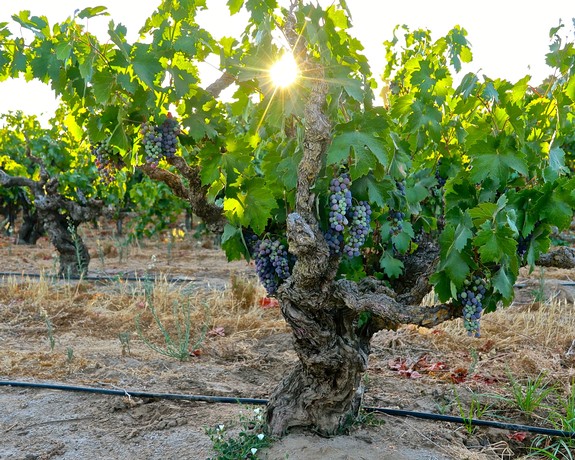 Over the past five, ten, and twenty years Lodi growers have been faced with a dilemma: The ever-increasing cost of farming and labor shortage has made cultivation of heritage, free-standing, head-trained vines—vineyards that require the most amount of work by hand—less and less economically sustainable (see our 2019 blog, The past, present and future usages of head-trained vines in Lodi).
Most of Lodi's head-trained plantings consist of Zinfandel. Nearly 5,000 acres of these vineyards have recently been uprooted, replaced primarily by almonds, walnuts, or higher-demand grapes such as Cabernet Sauvignon. Some of these vineyards were very old, planted before the 1970s; although most of the Zinfandel plantings that have bit the region's sandy dust were planted within the past 40 years, primarily to supply the once-dominant but rapidly dwindling White Zinfandel market.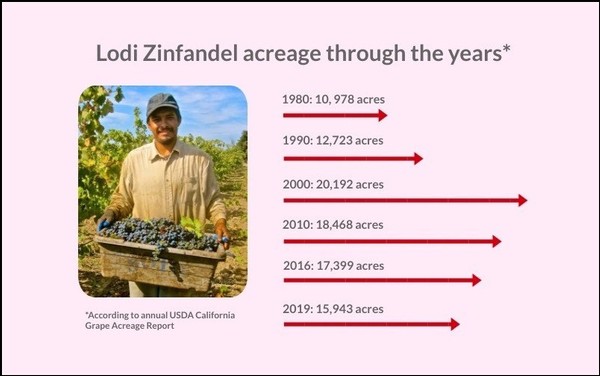 Zinfandel, however, remains Lodi's most widely planted grape, and its signature varietal. The region is still the source of some 40% of California's entire Zinfandel production, most of it now red wine.
It is never a good thing for a region to lose its identity, even though over 100 other wine grape varieties are now commercially grown in Lodi. Therefore, our strategy over the past two and a half years has been to Save the Old. Vine Age has a lot to do with the appreciation of Zinfandel because it is one of the few varietals in which it has been indisputably proven that older vineyards produce superior wine. The older the better. Therefore, we have asked consumers, the trade, and the media to help us keep our older vineyards in the ground by increasing their appreciation of the wines made from these unique heirloom plantings. This, to put it bluntly, is the only economically feasible way of making this happen.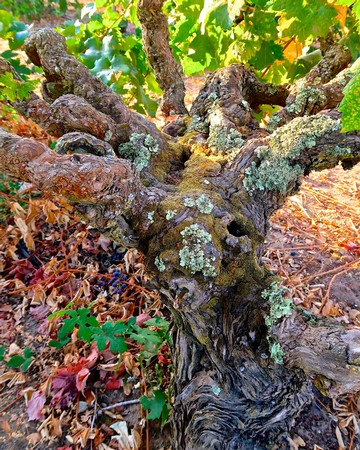 It has been an uphill battle. A big reason may be because Zinfandel does not have quite as much cachet as other varietals. It is hard to tell if it is a stigma attached to the grape or a stigma attached to the Lodi appellation, but there are still many lovers of fine wine who are either averse to Zinfandel or who look upon wines made from the grape as more like less desirable members of the family. We love 'em, but just don't want them around.
Put it this way: Go to any fine dining restaurant and look at the wine list. It's never surprising to find dozens of selections of, say, Cabernet Sauvignon, Pinot Noir, Chardonnay, or their counterparts from other regions of the world such as Bordeaux or Burgundy. Selections of Zinfandel? Maybe one or two, if any at all. The chances of finding a Lodi-grown Zinfandel on the list of fine dining restaurants? Practically nil. Zinfandel, and Lodi, are just not shi-shi enough.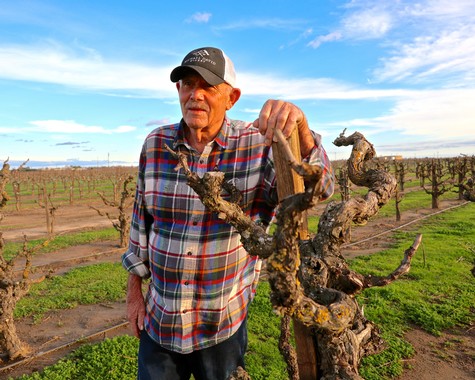 This prejudice defies logic. It may be true, of course, that the varietal category is associated with the jillions of fruit-driven, inexpensive bottlings found in every wine and liquor store in America. But here's the thing: Other varietals, such as Merlot, Cabernet Sauvignon, or Chardonnay, can also be found in every wine and liquor store in America, gaudily packaged under colorful labels and priced for the marketing-prone, value-conscious crowd. Wine connoisseurs know that Merlot, Cabernet Sauvignon, and Chardonnay grapes also go into many of the finest, and most expensive, wines in the world. Most of them just can't make that same jump in logic with Zinfandel. That it can be just a good, average wine, but often a great wine.
Connoisseurs also profess a love of wines of breed, historical significance, or with attachments to lofty, wine-geeky concepts such as terroir—that is, as expressions of their vineyard or region of origin. Yet there is no cultivar grown in California with as much historical standing as Zinfandel. It has not been called "America's" grape for nothing, even though we now know the grape originated in Croatia, a Mediterranean winegrowing country. This is of historical significance because, way back in the 1800s, Californians found that Zinfandel was the easiest of all grapes to grow in the state's Mediterranean climate. This was after trying out dozens of other grapes of European origin.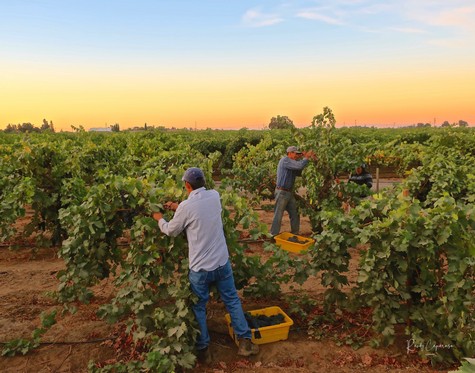 The California pioneers also found that Zinfandel produces the most consistently good wine, which is what happens when a grape is eminently suited to a region. Zinfandel, in short, is as terroir-driven as a varietal can get.
The current knock against Zinfandel was undoubtedly exasperated sometime between the 1970s and 1990s when the varietal became a caricature of itself. During that era, "big" styles made from ultra-ripe grapes became very popular. One leading Zinfandel specialist's mantra was "No Wimpy Wine," and the varietal character of the grape became known as "jammy." If grape sugars were too high to get wines lower than 17% ABV, not a problem. Winemakers simply added water to lower the potential alcohol, adjusted the acidity to brighten the fruit profile, and filled it all out by tacking on a ton of oak flavor—preferably American oak, which adds sweetly vanillin, charred, dill-like, and often furniture polish-like qualities. This became the formula for "America's wine."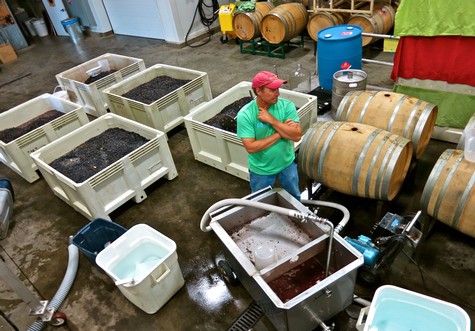 Then there was the common practice of blending Petite Sirah, anywhere from 10% to 24% (the latter percentage, the maximum allowed for varietal labeling) for most commercial Zinfandels. Petite Sirah in itself is a wonderful red wine; like Zinfandel, also probably underrated. Petite Sirah definitely increases color, tannin, blacker fruit, and spice qualities of its own, while helping to make Zinfandel come across as even more "jammy," or less "wimpy."
Ultimately, though, Petite Sirah has as little to do with the pure taste of Zinfandel as the flavor of oak culled from barrels. Petite Sirah is an embellishment, nothing more, but somewhere along the line, it became the expected thing, along with overripe fruit and chunky wood.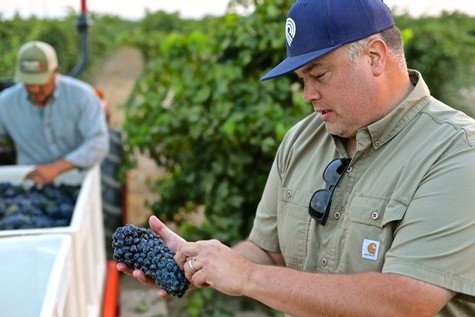 Most commercial Zinfandel is still made this way. The good news is that more and more of them aren't. Just over ten years ago, for instance, Turley Wine Cellars—once the poster child for huge, jammy Zinfandels—began taking control of their own vineyard sources. Once that happened, they were able to grow grapes with more ideal sugar/acid levels, and their vineyard-designate wines became fresher, more floral—pure, unadulterated Zinfandel is more flowery than jammy—and delineated in terms of their terroir focus.
While Turley Wine Cellars produces over 30 different Zinfandels from vineyards located up and down the state, it is no coincidence that they produce Zinfandels from no less than four different old vine vineyards in Lodi. Back in the late 1990s they helped rescue Jessie's Grove Winery's Royal Tee Vineyard—a 4.95-acre mixed grape Zinfandel block planted in 1889 (Lodi's oldest)—from sure oblivion by producing bottlings labeled Spenker Ranch Zinfandel. Earlier this year we tasted a magnum of Turley's 1999 Spenker Ranch Zinfandel, and it was stunning. Its balance and freshness were indicative of a wine of true style and intrinsic breeding. As good as any Pinot Noir or Cabernet Sauvignon of that age. Maybe even better.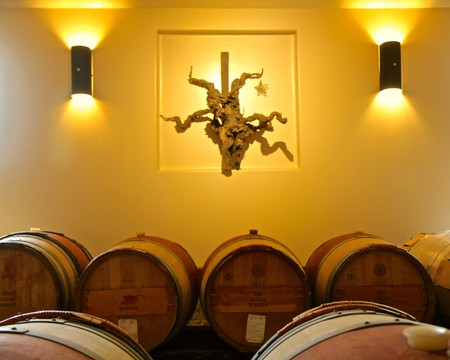 Turley, like other top Zinfandel producers such as Robert Biale and Ridge Vineyards, still employs a little new oak (20-25%) in its cooperage program, but at least their Zinfandels now taste like, well, "Zinfandel," and not something pumped up by vinous equivalents to steroids. There are now numerous other handcraft brands that are aged strictly in neutral wood, and pick grapes earlier in the season in order to stick to native yeast fermentation (as Turley and Ridge have always done) and to retain a more natural acid-driven edginess. Progress.
Bottom line, Zinfandels need no longer be fat, sweetly fruited, and oaky—the things that, say, hoity-toity restaurant sommeliers hate the most. While many of the popular brands are still made that way, there are now lots of choices that are the opposite: Zinfandels as taut, zesty, finely balanced, and food-versatile as any Pinot Noir. In fact, in my own experience as a restaurateur, more food-versatile than most Pinot Noirs (see Not your daddy's Zin, Zinfandel's amazing food affinities).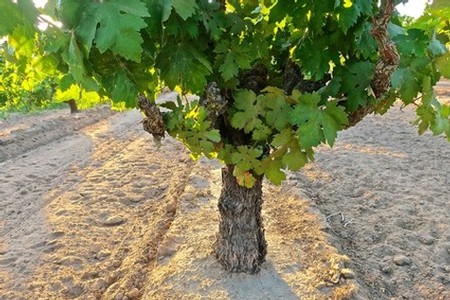 Above all, California Zinfandel has evolved to a point where the finest examples are crafted in the same way as any of the finest wines of the world: They taste like where they come from. Napa and Sonoma-grown Zinfandels are still the sturdiest in tannin and can be quite big and ripe, but these qualities are dictated by their restrictive hillside sites or clay soil origins, not winemaker decisions or brand styles.
You can now buy any number of single-vineyard bottlings grown in Lodi or Contra Costa County that are softer than those of Napa or Sonoma, yet just as zesty, more purely red fruited, plus mildly to strongly earthy in sensory distinctions—attributes that qualify as complexities, and are the direct byproducts of these regions' extremely sandy soils. Paso Robles Zinfandels, on the other hand, tend to be very ripe, often huge, but also minerally and almost surprisingly well balanced with acidity—reflections of this region's own variation of warm Mediterranean climate coupled with typically hilly, high-pH, calcareous slopes, completely different from the sand dunes of Contra Costa, the flat Delta terrain of Lodi or the hillsides of Napa, Sonoma, Mendocino or Amador County.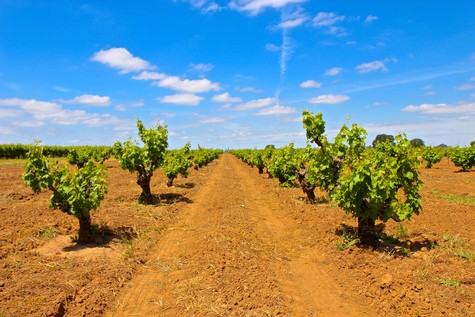 Different regions should produce different styles of Zinfandel. That's what makes all of the world's finest wines so interesting. Lodi in itself is varied enough to produce its own range of styles (see our 2019 post, Direct influence of east vs. west side terroirs on the taste of Zinfandel).
Today's finest examples of Lodi Zinfandel, for the most part, are largely crafted as pure varietals (no blending of Petite Sirah) to reflect the natural attributes of individual vineyards. The groundbreaking Lodi Native project helped foster the practice of native yeast fermentation to further accentuate vineyard characteristics, and the use of older barrels to allow the natural qualities of grapes and place to shine the brightest. Yet, because most of the wine world is still unaware of tiny, special, venerated vineyards such as Marian's (planted in 1901), Lizzy James' (1904), Steacy Ranch's (1907), Rous's (1909), Soucie's (1916), Stampede (between the 1920s and 1940s), TruLux (1940s and 1970s) or Wegat (1958), Lodi Zinfandels are still largely underappreciated, and definitely undervalued.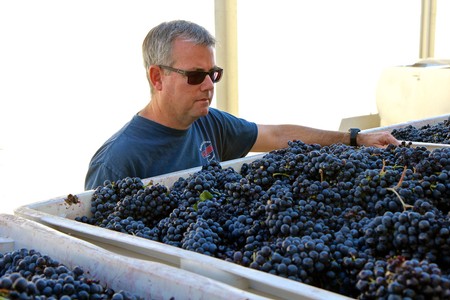 It stands to reason, when you think of it, that a Zinfandel that is just as rare and distinctive (in many cases, more!) as a Cabernet Sauvignon or Pinot Noir-based wine should enjoy just as much prestige, and sell for just as much—that is, for over $100, $200, even $300—as any other wine in the world. Not that Zinfandel lovers would actually want that; but until this becomes at least a possibility, there's probably something wrong with this wine world of ours.
Needless to say, this would go a long way towards alleviating the cost-of-farming crisis facing many of the old vine growths today.
What we do know is that helping us Save the Old is a matter of appreciating what makes Lodi Zinfandels so distinctly... Lodi. If you happen to prefer a style of red wine that is more gentle, floral, or fragrant, and maybe a little earthy, then all the better!
Fair enough? Then let's go out and save some old vines!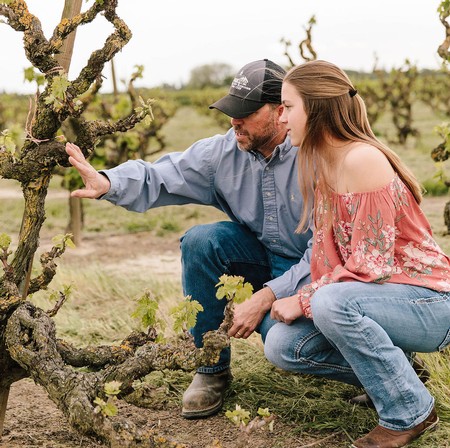 Comments