Letters from Lodi
An insightful and objective look at viticulture and winemaking from the Lodi
Appellation and the growers and vintners behind these crafts. Told from the
perspective of multi-award winning wine journalist, Randy Caparoso.

May 12, 2020 | Randy Caparoso
Cheese Central's top selling artisan cheeses (and our Lodi wine matches) during the weeks of SIP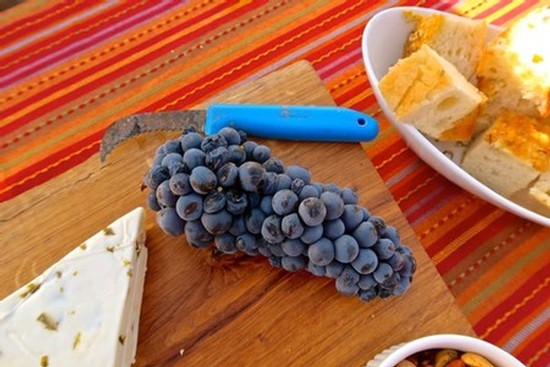 You can buy darned good cheese just about anywhere, but there's the reason why Cheese Central in the heart of Downtown Lodi's historic district is so aptly named: You won't find a better selection (hundreds of different artisanal cheeses from around the world, including those of the finest American fromagers) all in one, cozy place, nor will you find more masterly advice on what to select. A veritable cheese lover's Paradise.
Cheese Central owner Cindy Della Monica, as the locals know, is Cheese Central. She is an experienced professional chef (making her an endless fountain of information on how to serve or cook with cheese), and she knows her wines (having worked with just about all of Lodi's top wineries on wine and cheese events).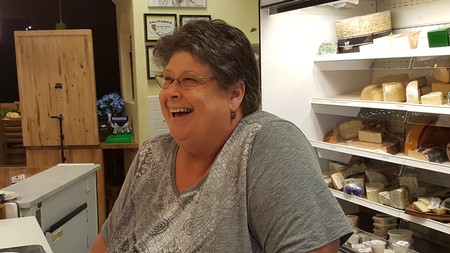 Since Cheese Central is, essentially, a grocery store, they have been open 10 AM-2 PM throughout the SIP quarantine — whether accommodating walk-ins (safely, of course), doing curbside deliveries, or being available through DoorDash's delivery services, Della Monica has been offering all the options. She tells us, of these past few weeks:
Though COVID-19 quarantine has had such a profound effect on lives and businesses, we have been able to continue connecting with our local public, confined to home and home cooking. It has been a joy to see how many are shopping here or taking out just to support our family businesses. Many of our guests are heavily into the Lodi wine culture, and come to the shop to find just the right cheeses to enhance wines with their cheese and charcuterie boards, their appetizers, family dinner, or to share at a "social distancing block party." Thank goodness our public LOVES cheese!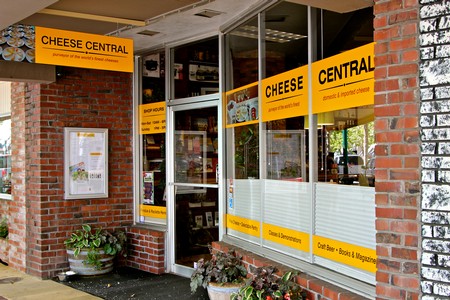 Curious about the cheeses her clientele has favored the most during the past few weeks, we asked Cindy if she could put together a list of her top selling brands or types during the weeks of quarantine. She went further and wrote down the following descriptions, to which we are adding wine recommendations based upon our own tried-and-true experiences, enjoying Lodi wines with these fantastic specialty cheeses: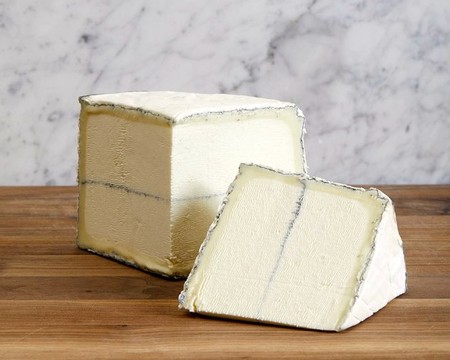 Humboldt Fog
Della Monica: A celebration of California cheesemaker's creativity, Humboldt Fog is the flagship creation of Mary Keehn at Cypress Grove Creamery in Arcata, California. A light and flaky goat's milk paste "decorated" with a gray ash line horizontally through the middle and coating it's surface, "frosted" with the velvety white bloom typical of Brie rind — a slice of Humboldt Fog looks like a pretty piece of cake! It is delicious with honey, sweet or savory jams, fresh fruit or with a vinaigrette dressed salad with baguettes.
lodiwine.com: Because all cheeses are produced from some kind of animal milk (especially from cows, goats or sheep), the finest cheeses have their own range of milky and acidic sensations, plus textures ranging from soft and creamy to semi-soft, medium-hard or hard; not to mention distinctive flavors reflecting regions (the grass and topography where animals are grazing have a huge impact on the taste of milk going into cheeses, the same way that soil, climate and topography have an impact on grapes going into wines) and the myriad different processes employed to turn milk into cheeses.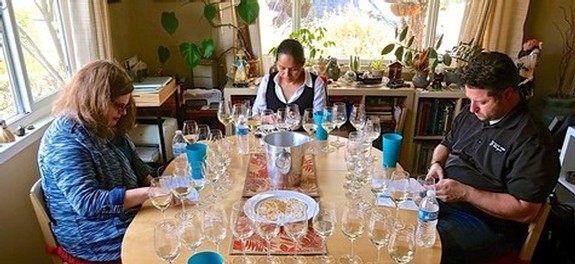 In the case of a fresh (as opposed to "aged"), tangy yet lusciously creamy goat's milk cheese like Humboldt Fog, the classic match is a fresh white wine with a tartness of grape acidity to balance the tartness of goat's milk. Because of its intrinsic lemony acidity, whites made from Sauvignon blanc are a sensory natural. It also fits because the earthy/grassy flavor of the goat's milk is amplified by the herby/green and often minerally taste of whites made from Sauvignon blanc. For a good introduction to some of Lodi's finer, artisanal style Sauvignon blancs, please see our recent post entitled Wherefore art thou Lodi Sauvignon blanc?.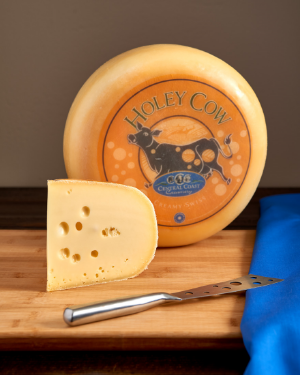 Holey Cow
Della Monica: Holey Cow is so unlike the mass produced, square shaped, rubbery "Swiss" cheeses you find in delis because this Alpine-style cow's milk cheese is handmade by Central Coast Creamery in Paso Robles, California. It has smooth texture, the recognizable holes of a Baby Swiss, and a sweet nuance to its flavor that lingers in the mouth. Even better? Not only does it belong on your cheeseboard, it has been the go-to cheese for the finishing touches in quiches and omelets, grilled cheese sandwiches and the best reuben sandwiches ever! Also try it with sautéed mushrooms on your next backyard hamburger.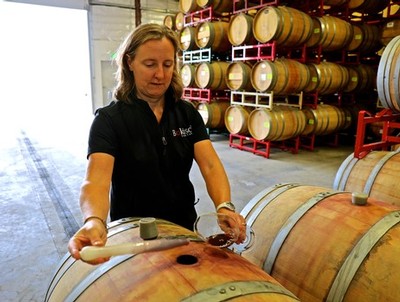 lodiwine.com: Semi-soft "Baby Swiss" cheeses like Holey Cow are a much milder variation of the traditional "stinky" Swiss cheeses which taste so wonderful with earthy, European style red wines. Yet it still goes through the aging process producing the discreet holes (actually called "eyes") associated with the rich, nutty flavor of a good Swiss, while retaining a firm yet creamy/buttery texture. Hence, Holey Cow is a natural for red wines with the complexity derived from oak aging, yet with a softer, rounder tannin structure. In Lodi, the quintessential reds that fit this description are made from Tempranillo (for a list of top brands, see our recent post, Tour of Tempranillo Celebrates the ease of growing this Spanish grape in Lodi terroirs), although reds made from Montepulciano (particularly those of Lodi's LangeTwins Family, Drava Wines or Watts Winery) also have that round, supple texture that go well with creamy, nutty Holey Cow. Still another, even more exotic choice: Mettler Family's Pinotage, a varietal bottling that has the smoky oak nuances wrapped around the round and earthy qualities unique to the grape and friendly to a Baby Swiss like Holey Cow.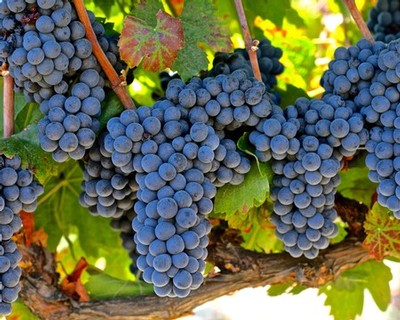 But if you are putting together a wine and cheese tasting that includes Holey Cow, you might also be surprised by how well an oak aged white wine — particularly a classic style of French oak fermented Chardonnay made by top Lodi producers such as The Lucas Winery, Harney Lane, Mettler Family, Michael David, Jeremy Wine Co., Peltier, Watts or Oak Farm Vineyards — compliments the nutty/sweet-butter taste of Baby Swiss inspired cheese. Try a Chardonnay next to a Tempranillo, a Montepulciano or Pinotage to discover out what you prefer.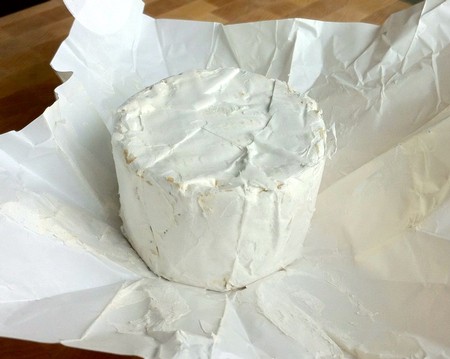 Bries
Della Monica: It doesn't matter if the cheese is double-crème or triple-crème, the soft custardy texture of Fromage d'Affinois, or the buttery texture of Domaine du Vallage, everyone knows that a crusty baguette or a Raincoast Crisp cracker is the best vehicle to get this French comfort food to the mouth! Both types are cow's milk, and the bloomy rinds invoke texture and taste similarity to fresh white mushrooms. Two ideas: 1) split a crusty baguette lengthwise, spread on a slab of Fromage d'Affinois and top with slices of tomato and torn basil leaves (and pretend you are lunching on a side street in Paris while people-watching!); or 2) toss diced fresh tomatoes with lots of garlic, chopped basil, salt, pepper and olive oil, let it marinate on the counter for a couple of hours, and when ready to serve cook ½ lb. large shell pasta until al dente, drain the water, and toss with 1/3 lb. of diced Domaine du Vallage cheese (in this case, Italy meets France in just about the best way!).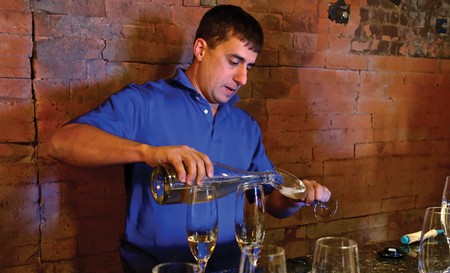 lodiwine.com: In our experience, we have found that lusciously creamy soft ripened cheeses are "two-way" cheeses in that many people prefer a match of soft, round, creamy/buttery styles of Chardonnay, while many others enjoy a sharp/tart/edgy Sauvignon blanc (or in a similar tart edged fashion to the latter, light, crisp whites such as Pinot grigio/Pinot gris, or even a dry, snappy champagne style Brut or Blanc de Blancs). A fun thing to do is to compare all these types of wines with these ultra-rich cheeses; and when you do, chances are you'll pick your favorites based upon whether you like a white wine that echoes the sumptuousness of the cheese (in which case you'll prefer a Chardonnay) or a white wine that pushes acidity front and center to freshen the palate between bites of the buttery rich cheese (in which case, you'll prefer a Sauvignon blanc, a Pinot grigio-type, or a zesty sparkling wine). It's all good, of course.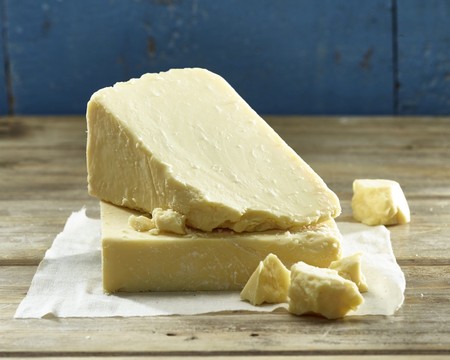 Coastal Mature Cheddar
Della Monica: God bless the Brits! More than 12 centuries ago, a British cheesemaker living in a town called Cheddar produced a cheese from cow's milk, treating the curds with a new technique we now call "cheddaring." Aged for a very long time, sometimes up to 10 years, this lovely cheese develops a crumbly texture, and sharp, tongue-tingling flavor. Coastal Mature Cheddar is produced by hand of raw cow's milk on the Dorset coast of England. Though just about 2 years old, the texture is firm but sliceable, and the taste is sharp and lingering. (P.S. white and orange cheddars are made exactly the same, but orange is created with a natural dye called annatto, which contributes no aroma or flavor of its own).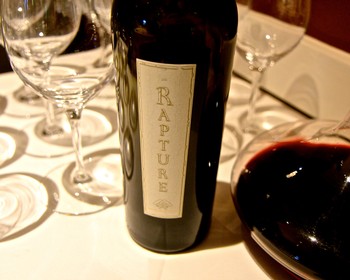 lodiwine.com: Practically all the world's great aged cheddars — from "rugged" British brands like Coastal Mature to domestic styles such as California's Fiscalini "Bandage Wrapped" — possess a depth and intensity of flavor that are rich in both caramelized/buttery and savory sensations. The savory element in particular is often described as the taste of umami (for a thorough reading see one of our previous posts, Deconstructing umami), manifested in these aged cheeses' crunchy taste of calcium lactate crystals (see a thorough explanation in Cheese Science Toolkit) formed during the traditional aging (and cheddaring) process to release an amino acid called tyrosine, a source of umami sensations when it occurs in foods.
Virtually any cheese high in umami practically screams for deep, complex red wines such as those made from Cabernet Sauvignon; and in fact, aged cheddars have a remarkable way of smoothing out the rough, high tannin edginess of recent vintage Cabernet Sauvignons or other high extract reds made from black, thick skinned grapes (like Syrah, Petite Sirah, or even heftier styles of Zinfandel). For a recent overview of top Lodi grown Cabernet Sauvignons, please see our post, Winemakers assess a current crop of Lodi grown Cabernet Sauvignon.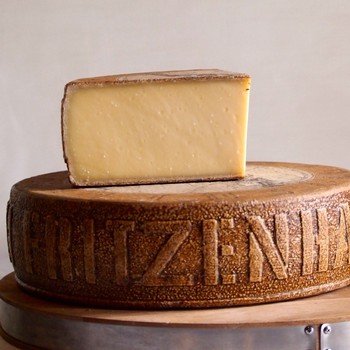 Hornbacher
Della Monica: This is a traditional, Alpine Le Gruyère from Switzerland. Rich and nutty, this is the type of yummy cheese you ideally want melted on your French onion soup, or stirred into your fondue pot for dipping. Swiss cheesemaker Michael Spycher produces his Hornbacher near Switzerland's Hornbach River, and its rich, brown buttery flavor and smooth taste (with just a few crystals) is somthing that you simply want to savor in the mouth.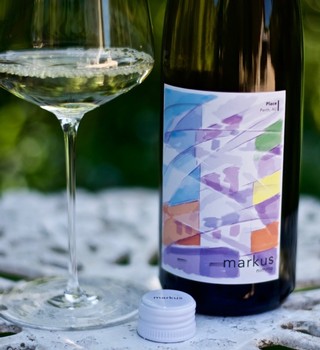 lodiwine.com: In some places we have seen Hornbacher described as tasting like "buttered baked potato" (who doesn't love that?). The cheese's subtle umami complexity as well as the buttery rich taste taste make it another "two-way" (so to speak) cheese for wine:
• Ideal with layered, complex white wines — the Swiss would choose whites made from their native Grüner Veltliner grape, but here in Lodi we'd recommend layered styles of whites such as Markus Wine Co.'s crisp yet silky, new oak nuanced "Nimmo" (crafted from Kerner with small percentages of Bacchus and Riesling grapes), Oak Farm Vineyards' Estate Grown Sauvignon Blanc (which sees subtle flourishes of French oak), Peltier Winery's Prééminence White (partially barrel fermented blend of Vermentino, Sauvignon blanc and Chardonnay), or Harney Lane's Scottsdale Vineyard Chardonnay (a crafty blend of stainless steel and barrel fermented cuvées).
• Or with softer, supple, smoothly textured styles of red wines, such as more fragrant, purer, terroir driven styles of Lodi grown Zinfandel (this is where lean, unfussy styles like Michael Kouda, Stonum, Precedent or Stellina might shine, not to mention the organically scented, native yeast fermented approach of McCay Cellars), Carignan (look for those of Jessie's Grove, Klinker Brick, McCay, Michael Klouda, Precedent, Leaf and Vine, Holman, or PRIE), Tempranillo, or a Pinotage.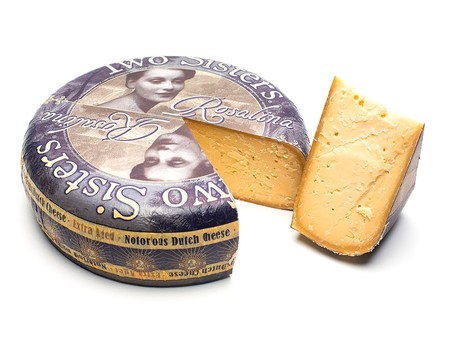 Rosalina
Della Monica: If you love the texture of the little crunchy crystals in your cheese, Rosalina is the one for you! It is a Dutch gouda, made of cow's milk by the Two Sisters Creamery, Rosalina is the "older sister" cheese — aged 24 months. Her younger "sister" Isabella (which we also have in stock) is an 18-month cheese. Both are fantastic on a cheeseboard, very wine friendly, and when shredded and added to any potato dish, the dish is elevated to new heights! Think potato soup, potato gratin, even mashed potatoes — a better cheese choice than even cheddar to pair with potatoes.
lodiwine.com: Once you get into the super-aged goudas like either one of the "Two Sisters," you are definitely in red wine country; since red wines are deeper in flavor than white wines, and have both an edge of umami (when found in wines, derived from the skins of black skinned grapes) and the body to enhance the crazy rich, crystallized taste of a cheese like Rosalina. The Rosalina's umami component is exactly why this cheese enhances anything (as Cindy suggests) involving potatoes — it literally adds "sensation." We'd go for fuller, notably oak enriched Zinfandels such as those made by Mettler Family, Fields Family, Harney Lane, Klinker Brick, Jessie's Grove, Macchia, Michael David's Earthquake, m2, LangeTwins Family's Centennial, Oak Farm, Concrete, Rippey Family, Van Ruiten Family, Jeremy or Mikami. You'll also find an effortless match in reds made from the "Bordeaux" grapes (i.e. varietals such as Cabernet Sauvignon, Merlot, Cabernet Franc, Malbec or Petit Verdot), which are even more likely to possess oak aged complexities.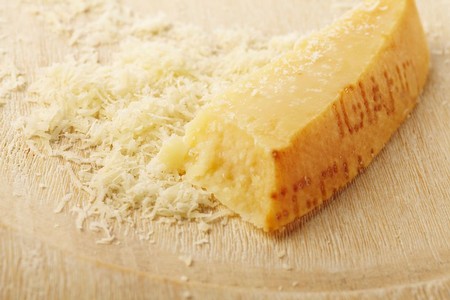 Grana Cheeses
Della Monica: Vella Dry Jack, Parmigiano Reggiano and Gran Tartufino are examples of the types of cheeses many of our guests specifically request as "grana" cheeses — meaning a cheese meant to be grated, usually used on pasta. Our California favorite is Dry Jack from Vella Cheese in Sonoma. This cheese was developed as a Parmigiano substitute over a hundred years ago, in a time when we couldn't get the Italian import — as a younger version of Parmigiano at just 7 months old, it is wonderful on pasta, but also a delicious cheese for snacking. The Parmigiano-Reggiano that we stock is 24 months old, and is a celebrated classic that we cut to order. Of all the grana cheeses, only the rind of Parmigiano can be kept (in the freezer) to flavor soups or sauces at a later date. The last cheese in this group, Gran Tartufino, is not for the faint of heart: an Italian cow's milk cheese filled with white and black Italian truffles — a special treat grated over hot pasta of any kind, grated over popcorn or roasted vegetables, or added to macaroni and cheese sauce. The strong truffle flavor allows maximum impact without having to use much cheese, especially nice if you watch budget or calories.
lodiwine.com: Drizzling aged grana cheeses over dishes is tantamount to adding umami zing, no different than adding salt and pepper to bring out flavors. Because of their high amino acids, we usually think of these hard grana cheeses as more of a condiment than as cheeses to slice and eat; which is a shame, because there is nothing like simple shavings of Parmigiano with glasses of deep, sturdy, aggressively oak aged reds made from any of the Bordeaux varieties (beginning with Cabernet Sauvignon), bottled as varietals or blends (such as LangeTwins Family's Midnight Reserve or Heritage Oak's Voilà).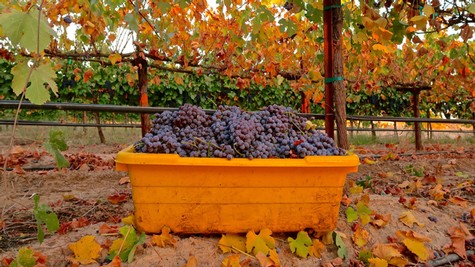 As you might also expect from the Italian culinary connection, the deep, fruity/nutty, crystallized taste of grana cheeses also has a way of bringing out the subtle yet sweetly scented, zesty qualities of red wines made from black skinned grapes of Italian origin, such as Sangiovese (finer Lodi grown examples made by Sorelle, Macchia, Jeremy, or DaVero Farm's Avivo), Barbera (look for those of Oak Farm, Macchia, Uvaggio, St. Amant, Heritage Oak, LangeTwins Family, or Sorelle), or unique varietal offerings such as Anaya Vineyards' Nebbiolo, LangeTwins Family's Teroldego or Nero d'Avola, Mettler Family's Aglianico, or Klinker Brick's Dolcetto. Still another choice is a varietal red that sounds Italian (but really isn't), but has the lean/sharp, deep and sturdy qualities ideal for grana cheeses: Charbono (a specialty of Lodi's Paskett and Heritage Oak wineries).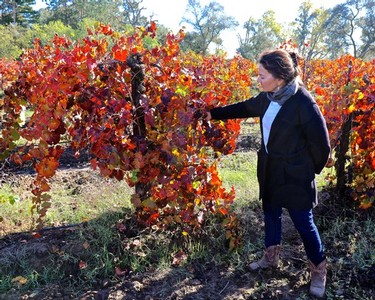 As for the pungent, truffled Grand Tartufino: While not, as Cindy mentions, "for the faint of heart," this is not necessarily a grating cheese — it is wonderful simply sliced and savored with earthier styles of red wine. In fact, we have found Tartufino to be a stunning match with some of the more pungent, naturally earthy/loamy styles of Lodi Zinfandel, particularly those grown on the west side of the Mokelumne River appellation. Look for m2's Soucie Vineyard (a quintessential "west side" Lodi Zinfandel), The Lucas Winery's ZinStar Vineyard, McCay's TruLux or Bonotto vineyard-designates, St. Amant's classic Marian's Vineyard, Oak Farm's Mohr-Fry Ranches-Block 417, Estate Crush's Stellina, or Maley Bros.'s Lodi Native Wegat Vineyard.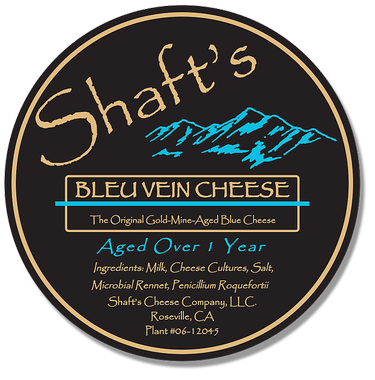 Shaft's Aged Blue
Della Monica: More than a decade ago, a family creamery developed new cheeses in the area of Roseville, California. Their acres included an abandoned gold mine shaft — which became their aging "cellar," and the name of the cheese company became Shaft's for just that reason. One of our favorite blue cheeses is their 1-year aged blue, which has a very rich and creamy mouthfeel, a flavor that packs a punch from its long aging, and a great texture for producing great dips and dressings makes this a go to for lots of reasons. Blue with your burger? Yes, please. Wedge salad for a hot evening dinner Pass the Shaft's blue cheese dressing! Snacking with crisp and sweet apples for dessert? Can't go wrong.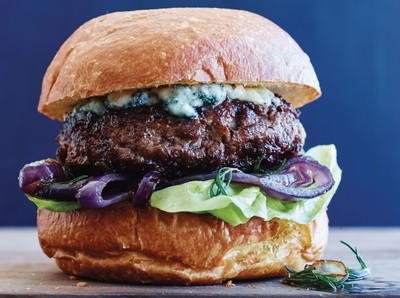 Blue cheese burger (image courtesy of delish.com)
lodiwine.com: There is almost nothing like a blue cheese burger with a good, juicy fruit driven, soft yet sturdy Lodi Zinfandel. But when consumed by itself, especially with apples and other fresh fruit, dried fruits, or sweet condiments (honey, marmalades, chutneys, figs, quince, jams and preserves, etc.), the salty, sharp, and yes, "moldy" taste of blue veined cheeses responds best to sweet wines — the match of salty and sweet senstions as easy as pie to grasp, and as predictably pleasing as pineapple on ham — and Shaft's Aged Blue is probably up there with the rest of the world's finest producers of blue cheese (Roquefort, Gorgonzola, Stilton, Cabrales, Maytag, Rogue, Port Reyes, etc.). Here in Lodi, totally delicious, sensibly sweet wine matches would include the late harvest styles of Zinfandels made by specialists like Harney Lane's Lizzy James, The Lucas Winery or Harmony Wynelands' Zinsation, or the Port style reds such as those of d'Art, Ripken or St. Jorge. But it doesn't have to be a sweet red — you may also be surprised by the match of a Shaft's Aged Blue with a flowery-fresh and sweet Moscato (a.k.a. Muscat) such as Mettler Family' Muscat Canelli, LangeTwins Family's Moscato, or Uvaggio's Moscato Dolce.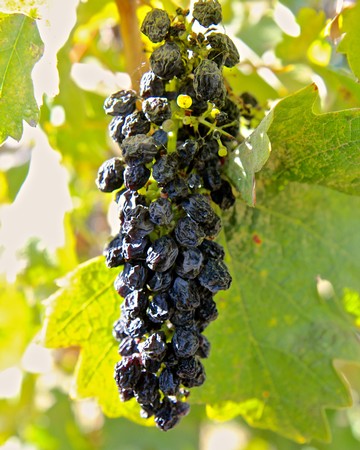 Comments