Letters from Lodi
An insightful and objective look at viticulture and winemaking from the Lodi
Appellation and the growers and vintners behind these crafts. Told from the
perspective of multi-award winning wine journalist, Randy Caparoso.

March 10, 2020 | Randy Caparoso
Wherefore art thou, Lodi Sauvignon blanc?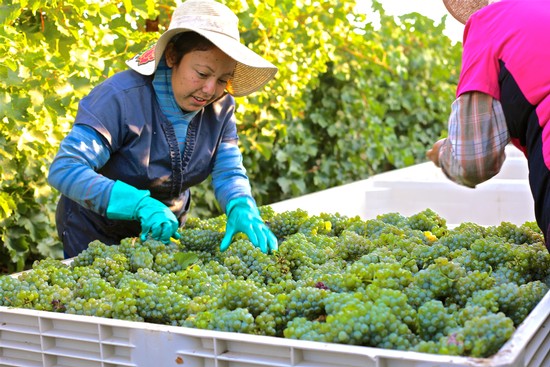 What is the "best" Lodi-grown Sauvignon Blancs produced today?
Read on, and we'll share detailed notes on 10 of Lodi's most popular Sauvignon Blancs, but not before this caveat: If you've read any number of our blogs posted over the past 10 years, you already know that we don't like the word "best." At a certain quality wine level, wines are never really "better" than each other. They're more like... different!
Especially for a varietal category like Sauvignon blanc, which on the West Coast is now produced in a good variation of chosen styles, almost regardless of quality factors such as vineyard selection or "sense of place" (what wine geeks call terroir). In that sense, Sauvignon Blanc is a little like Chardonnay: How a wine ends up tasting is not so much where grapes come from, but what a winery or individualistic winemaker wants to do with those grapes. Tabula rasa, as vintners like to say.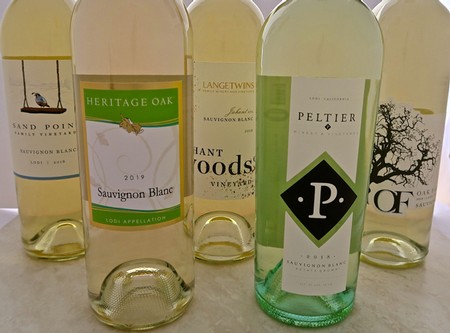 Fifty years ago the California producer that made the greatest impact on how Americans perceive the grape was Robert Mondavi Winery. There was a time when Robert Mondavi's Fumé Blanc — a synonymous varietal moniker that the winery, for all its power and influence, was able to push past official federal guidelines regulating wine label language — was one of the best-selling wines, period, in both retail stores and restaurants from Hawaii to New York. More popular (at least by the late '70s) than Chardonnay, Riesling, Chenin Blanc, or any other domestic varietal white known to American consumers.
Mondavi's Fumé Blanc was named after the Sauvignon blanc-based whites coming out of the Pouilly-Fumé appellation of France, despite the fact that the style of Mondavi's iteration was very un-Pouilly-Fumé-like in that it saw barrel aging (Pouilly-Fumés are traditionally bottled straight out of stainless steel tanks, never touching a speck of oak). Mondavi also experimented with barrel fermentation, aggressive lees stirring (to attain a creamy texture) and, in the tradition of France's Bordeaux region, blending with white wines made from grapes like Sémillon — resulting in a more flowery, melony, and far less herbaceous, less minerally or citrusy-tart style of wine than that of Pouilly-Fumé, or Sancerre, a neighboring appellation in the Loire Valley region.
Because of the Mondavi influence, the soft, round, often tropical fruit-driven style of "Fumé" would remain the predominant approach (at least the most widely lauded) to the varietal in Napa Valley, Sonoma County, and most of the rest of California. Then in the late 1980s and 1990s, markedly greener, sharper styles of Sauvignon Blanc imported from New Zealand exploded into the U.S. market. The enormous popularity of New Zealand Sauvignon Blancs just couldn't be ignored by the American wine industry. Not if they wanted to compete.
Consequently, California styles of Sauvignon blanc of today are more likely to balance herby green sensations with green melon, tropical fruit, floral as well as earthy/mineral qualities in deference to growing "international" tastes among consumers and critics; while aggressively oak influenced (i.e. "Graves" inspired) styles usually bottled as "Fumé" (although there is absolutely nothing regulating the style or decision to bottle wine as Sauvignon Blanc or Fumé Blanc) appear to be on the wane, except for a handful of ultra-premium priced bottlings, usually from Napa Valley or Sonoma County.
Hence, the variations of Sauvignon Blanc styles are now being produced in Lodi and everywhere else, up and down the West Coast. In Lodi, acreage of Sauvignon blanc has been steadily increasing, as demand for the grape from commercial wineries reflects a steady upward trend of Sauvignon blanc sales, one of the bright spots in today's otherwise sluggish overall U.S. wine market.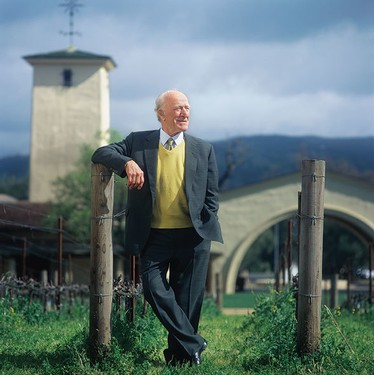 According to the most recent California Department of Food and Agriculture Grape Acreage Report, as of 2018, there are 1,892 acres of Sauvignon Blanc (including its clonal variant Sauvignon Musqué) planted in Lodi. This is still a little less than plantings in Napa Valley (2,754 acres), Sonoma/Marin Counties (2,713 acres), and Lake County (2,110 acres).
However, because Sauvignon blanc vineyards in Lodi go primarily into larger production, value-priced labels put out by wineries like E. & J. Gallo and Fetzer Vineyards, or multi-brand companies like Trinchero Family Estates and Constellation Brands, Lodi is currently crushing over 20% of California's total Sauvignon blanc harvest each year — eclipsing the Sauvignon blanc production of Napa Valley, Sonoma/Marin Counties and Lake County — and this is a 2% larger share than just two years ago (in 2017).
Yet, as even a casual observer of the Lodi wine industry can clearly see, Lodi is not exactly "known" for its Sauvignon Blanc. You think of Lodi, you think more about Zinfandel or Spanish varietals like Albariño and Tempranillo. Out of the approximately 80-something Lodi-based brands today, well less than a quarter of them produce a Sauvignon Blanc.
All the same, things are looking up for Lodi Sauvignon Blanc: Slowly but surely, even vintners who hang their hat on varietals like Zinfandel are starting to take a serious approach to the varietal. The fantastic part about Lodi Sauvignon Blancs — almost any premium-level Lodi wine, for that matter — is that they are so well-priced. LangeTwins Family Winery & Vineyards, for instance, produces an ultra-premium level vineyard-designate Sauvignon Blanc marked with just a $20 suggested retail price. The same winery's Sand Point Family Vineyards brand, which has garnered several golds in the wine competition circuit, sells for just $12. Generally speaking, the retail price of Lodi's finest Sauvignon Blancs hovers somewhere near the vicinity of $18.
What's not to like?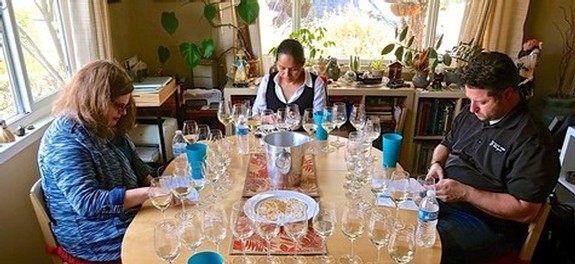 Blind-tasting Sauvignon Blancs: (from left) Lodi winemakers Karen Birmingham, Susana Rodriguez Vasquez, and Dan Panella
So here's the scoop: We asked three winemakers — Karen Birmingham (LangeTwins Family), Dan Panella (Oak Farm Vineyards), and Susana Rodriquez Vasquez (Peltier Winery) — to blind-taste 10 of Lodi's better-known Sauvignon Blancs and share their sensory impressions.
Inevitably, since we were tasting Sauvignon Blanc, discussions did not focus so much on "quality," "ratings" or even "preferences," but rather on the distinctive style in which each wine was clearly made. These are winemakers, after all, who are very cognizant of the direct control that every winery has when it comes to the sensory components of the varietal: Whether, for instance, to emphasize herby/green aromas or more floral/melony fruit qualities of the grape; a sharper edge of acidity vs. a creamier, softer texture (or something in between); a lighter body (closer to 12% alcohol) or a fuller body (approaching 14% alcohol); and so forth.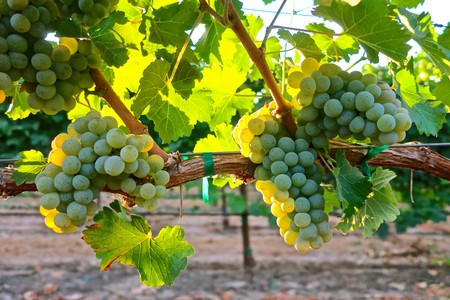 As it were, only one of the 10 wines (Oak Farm Vineyards' Estate Grown bottling) showed the influence of barrel aging and a very subtle one at that. Ergo, the vast majority of Lodi Sauvignon blancs veer towards purer expressions of the varietal fruit, produced entirely in stainless steel tanks. Strangely enough, though, all the winemakers sat around the table chatting about the possibility of someday producing a good old fashioned "Fumé" — barrel fermentation, lees stirring, oak aging and all —although with as high natural acidity in the grapes as possible.
Mr. Panella remarked that his highly regarded consulting winemaker, Chad Joseph, has always favored an oak-influenced style for the simple reason that not all Sauvignon Blancs should be exactly the same. But both Birmingham and Vasquez agreed on this point: "If you're going to produce a 'Fumé,' you have to go all-in on it... a partial 'Fumé' is never going to work!"
Five top Lodi Sauvignon blancs
In alphabetical order, here are the 5 Lodi Sauvignon Blancs that the vintners ended up rating as their "favorites," along with a compilation of everyone's sensory observations: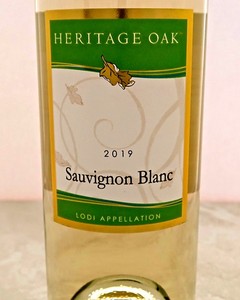 2019 Heritage Oak Winery, Lodi (Mokelumne River) Sauvignon Blanc ($18.50) - Herby-green "grassiness" and green melon aroma underscored by suggestions of peach and the earthy quality of grapefruit skin. Crisp and silky entry, with pure varietal fruit-centered qualities filling out a medium-full body (the label states 14% alcohol, but the wine doesn't taste like it's near to that) while retaining a refreshingly balanced sense of lightness through a citrusy finish.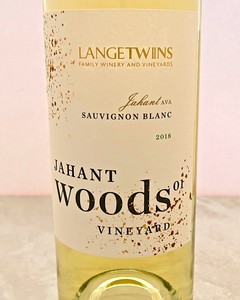 2018 LangeTwins Family Winery & Vineyards, Jahant Woods 01 Vineyard, Jahant-Lodi Sauvignon Blanc ($20) - From a single vineyard located in Lodi's Jahant AVA — a sub-region defined by clay-based soils far more shallow than the sandy loam soils in the more historic Mokelumne River AVA surrounding the City of Lodi — and planted entirely to Sauvignon Musqué, the more floral, less herby clonal variant of Sauvignon blanc: Notably bright lemon/citrus freshness and lightly grassy/herby/green melon profile of the pure varietal fruit in the nose. Rounded medium-full feel with a soft, silky texturing despite lightly tart, taut, bone dry yet vibrant qualities.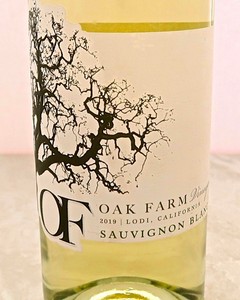 2019 Oak Farm Vineyards, Lodi (Mokelumne River) Sauvignon Blanc ($20) - A blend of Oak Farm's estate planting and fruit sourced from Mohr-Fry Ranches: Pleasingly "green," almost weedy yet ringingly fresh nose suggesting kitchen herbs, lemon/lime and a hint of jasmine. While herby and leafy-green on the palate, there are some soft, fruit-forward, off-dry qualities (the winery reports .55% residual sugar, which is just a hair over the threshold of dryness for most people), although the wine finishes with a feathery light and deftly balanced feel.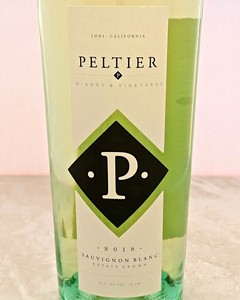 2018 Peltier Winery & Vineyards, Estate Lodi (Cosumnes River) Sauvignon Blanc ($18) - Pungent array of green leafiness, a hint of sweet pea, an almost basil-like herbiness, and suggestions of flowery tropical fruit and green melon. This multifaceted, pristinely focused fruit profile takes on a lemony/citrusy edge in the mouth; crisp, zippy, silky, with somewhat of a palpable viscosity, while finishing with notably tart, palate freshening qualities with a real sense of balance, suggesting elegance.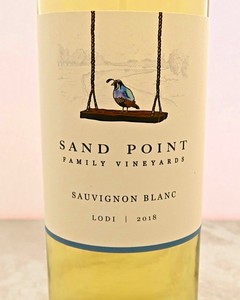 2018 Sand Point Family Vineyards, Lodi (Jahant) Sauvignon Blanc ($12) - A blend of the Lange family's two major Jahant AVA plantings, both planted exclusively to Sauvignon Musqué: Leading off with a Mandarin orange/lemon citrusy nose that is on the subtle side, tinged with just a trace of green herbiness suggesting the "gooseberry" quality common to many New Zealand bottlings. Crisp and airy medium body on the palate, defined by a lithe, rather delicate feel in the middle before finishing with a light, soft, easy touch.
Five more Lodi Sauvignon Blancs with their own distinctive qualities
Also listed in alphabetical order, each of these other 5 Lodi Sauvignon blancs definitely has some interesting attributes to offer: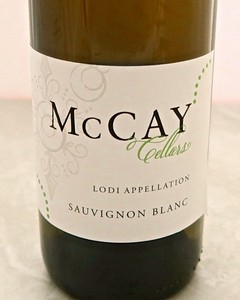 2018 McCay Cellars, Lodi (Mokelumne River) Sauvignon Blanc ($24) - Native yeast fermented (very unusual for this varietal category) and sourced entirely from Heritage Oak Winery's estate vineyard: More of a dried straw-like, weedy herbiness in the nose mingling with a melon/cantaloupe-like fruit, a sprig of tomato leaf and a touch of organic earthiness. Medium-full body falling more on the full side (the label reads 14.1% alcohol), giving the pure herby/fruit-centered qualities a broad yet rounded feel punctuated by moderately crisp acidity.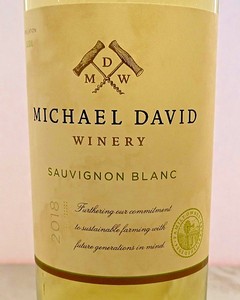 2018 Michael David Winery, Lodi Sauvignon Blanc ($16) - Fresh, lush tone to melon/peach skin-like aroma, veering towards tropical fruit (guava and white flowers). Medium to medium-full body with an almost fleshy, silky feel giving the wine a consumer-friendly feel while remaining tart edged, crisp, and concise in its pure varietal fruit exuberance.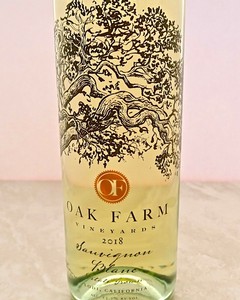 2018 Oak Farm Vineyards, Estate Grown Lodi (Mokelumne River) Sauvignon Blanc ($26) - This single-estate bottling was the one oak-influenced wine in our tasting, showing slivers (not obvious doses) of vanillin oak mingling with a melony, ripe toned varietal fruit aroma; crisp, medium-full feel and fruit intensity with a subtle vanillin veneer (the winery reports that the wine was stainless steel fermented and aged 8 months in French oak, 12.8% of that in new barrels), giving a rounded feel to the middle followed by a long, silky finish.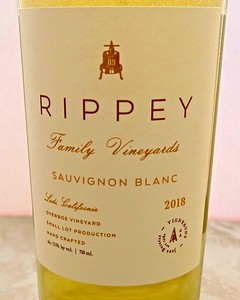 2018 Rippey Family Vineyards, Overboe Vineyard, Lodi Sauvignon Blanc ($20) - An aroma that falls squarely in the lush, ripe, slightly tropical/green melon spectrum of the varietal profile, with an herbiness relegated to just a hint of licorice/fennel in the nose. Rounded, fleshy, medium-full body and feel, with moderate acidity giving a restrained citrus/grapefruit-like quality in the middle, before ending on a soft, easy note.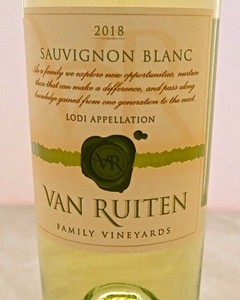 2018 Van Ruiten Family Vineyards, Lodi Sauvignon Blanc ($16) - Fragrant, floral, understated varietal fruit-focused nose suggesting green apple and melon, with hints of tropical (papaya/guava) fruit. Medium-full weight and notably soft, smooth, rounded feel supported by just moderately crisp acidity.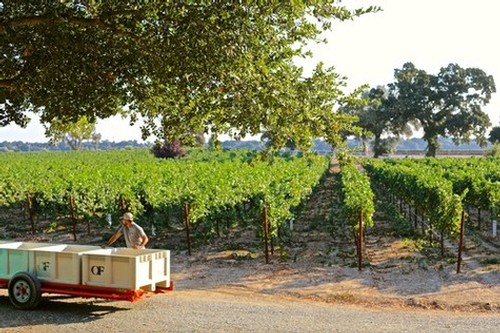 Comments