Letters from Lodi
An insightful and objective look at viticulture and winemaking from the Lodi
Appellation and the growers and vintners behind these crafts. Told from the
perspective of multi-award winning wine journalist, Randy Caparoso.

January 21, 2020 | Randy Caparoso
Lodi winemakers assess a current crop of Lodi grown Cabernet Sauvignons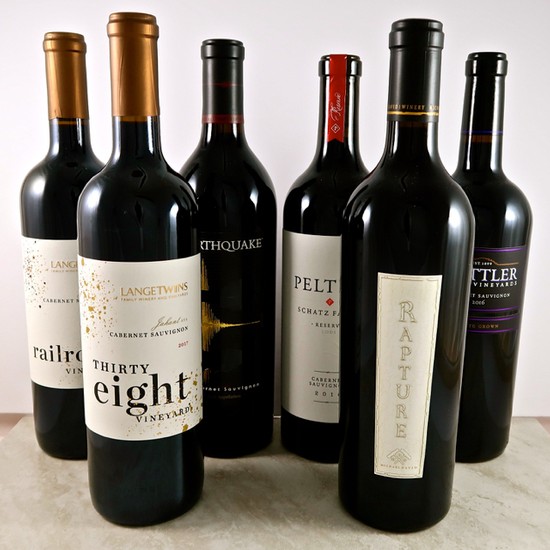 While Lodi's signature grape is Zinfandel, and the region is becoming increasingly known for its plethora of grapes of Mediterranean country origin (Albariño, Tempranillo, Grenache noir and Grenache blanc, etc.), Lodi also grows a lot of Cabernet Sauvignon. In fact, more than any other wine region in the U.S.
How much more? According to the California Department of Food and Agriculture's last official California Grape Crush Report (April 2019), the following is the tonnage of Lodi-grown Cabernet Sauvignon picked in the 2018 harvest, compared to that of three other major California wine regions:
• District 11 (Lodi) - 198,838.3 tons
• District 8 (San Luis Obispo County, which includes Paso Robles) - 90,507.5 tons
• District 4 (Napa County) - 89,096.6 tons
• District 3 (Sonoma County) - 56,948.2 tons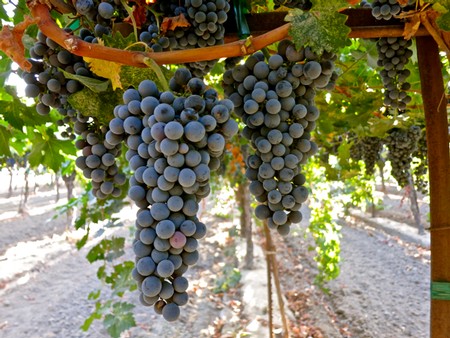 Yet there are obviously far more brands of Cabernet Sauvignon produced in Napa Valley and Sonoma County than in Lodi or Paso Robles. So where does all that Cabernet Sauvignon grown in Lodi and Paso Robles go? Answer: Into value-priced varietal bottlings, most of which are bottled under a "California" appellation since bigger production wineries prefer to blend their wines from multiple wine regions. This makes sense, and gives consumers — in fact, the vast majority of American wine consumers — plenty of choices of good quality Cabernet Sauvignon in the under-$10, $10-$20, and $20-$30 price ranges.
But like Paso Robles, Lodi has its share — albeit, a much smaller one than Napa Valley and Sonoma County — of more artisanal, small to medium-sized premium producers who put quite a bit of effort into top-quality Cabernet Sauvignon. Wines that compete with other regions in the general consensus of quality. In this post we'll compare the sensory qualities of 16 of Lodi's leading Cabernet Sauvignons; but before that, let's try to put how Lodi generally compares to other regions in some kind of quality-related perspective.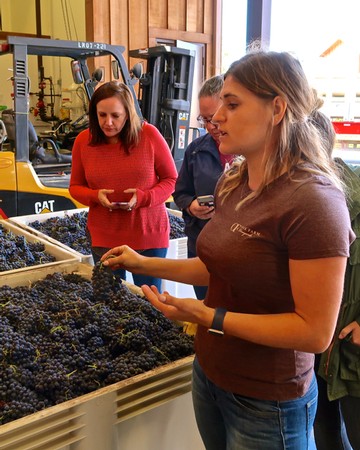 We can take, for example, one snapshot of how professional wine judges look upon California Cabernet Sauvignons in general by examining the number of gold medals handed out at the last San Francisco Chronicle Wine Competition, which took place earlier this month (January 2020). The Chronicle divides up its Cabernet Sauvignon entries into no less than 17 price categories, ranging from Up-to-$12.99 to More-than-$90.00. For the sake of brevity, here are the number of gold medals awarded to Cabernet Sauvignons from Napa Valley, Sonoma County, Paso Robles, and Lodi appellations, bunched together in 3 combined price categories:

Please bear in mind that wines from the entire United States are entered into the San Francisco Chronicle Wine Competition. Although we are comparing the number of gold medals awarded to just four wine regions, many other golds were given to Cabernet Sauvignons from Livermore Valley, Mendocino County, Lake County, the Monterey and Sierra Foothills AVAs, and a few other regions (including those of Washington, Oregon, Texas, and Virginia).
But if anything, the gist of our comparison of top-rated wines from Napa Valley, Sonoma County, Paso Robles, and Lodi at the most recent Chronicle judging demonstrates, more than anything, the typical price points of these four major Cabernet Sauvignon growing regions.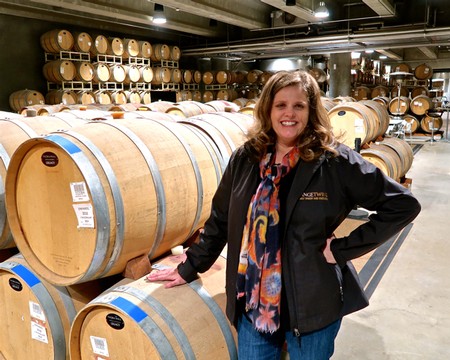 Parsing the 2020 San Francisco Chronicle Wine Competition results:
• Not only are there more Napa Valley Cabernet Sauvignons than from any other region entered in the Chronicle Wine Competition's higher price categories ($50 and up), this is where Napa Valley naturally excels in terms of pure quality.
• Medium-range grape prices (which have a big impact on subsequent bottle prices), number of entrants as well as favorable growing conditions reflect Sonoma County's typical dominance in the medium, $30-$49.99 price ranges.
• While Paso Robles does compete in higher price ranges, the region's moderate grape prices usually result in a good number of gold medal winners in the lower price categories ($29.99 and less).
• The only Lodi-grown Cabernet Sauvignon priced at more than $50 that is usually entered into major wine competitions is Michael David Winery's Rapture, which (living up to its consistent track record) garnered a gold medal in the $55.00-$55.99 price category. However, more than 99.9% of Lodi Cabernet Sauvignons are priced below $30.00. Hence, Lodi's predictably good "showing" in the lowest price categories — where Lodi invariably garners more gold medals than any other wine region — at the most recent San Francisco Chronicle Wine Competition.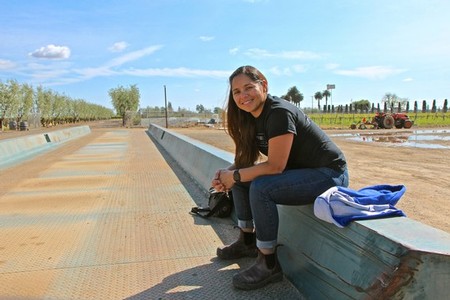 Lodi Cabernet Sauvignons
To get our own snapshot of where Lodi-grown Cabernet Sauvignon is currently at, earlier this month (January 2020) we asked five of Lodi's leading winemakers to sit down to blind-taste 16 of these bottlings, representing price points from $15 to $65, and most of them $25-$35. The winemakers:
Karen Birmingham - LangeTwins Family Winery & Vineyards
Gerardo Espinosa - Anaya Vineyards
Dan Panella - Oak Farm Vineyards
Susana Rodriguez Vasquez - Peltier Winery & Vineyards
Sierra Zeiter - Oak Farm Vineyards
After sharing their impressions with each other, the winemakers were asked to rate the wines in order of "favorites." Six of the Cabernet Sauvignons clearly ended up at the top of the group's list of preferred wines, and the other 10 were ranked fairly close to each other, differentiated more by style than by actual perceived quality.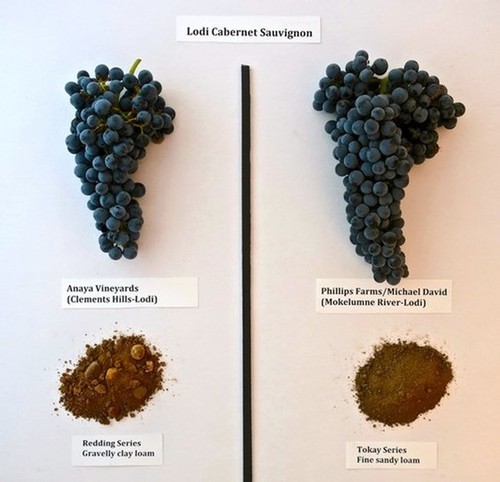 Regarding terroir-related findings: In this type of tasting, involving wines grown in disparate sub-regions (i.e. American Viticultural Areas) of Lodi, invariably you will find distinctions pointing directly to "sense of place," or vineyard-influenced qualities, even if winemaking (or brand) styles have an even stronger impact on the sensory qualities of resulting wines. Of course, other factors — such as the age of vines, vintage variables, and picking decisions (pertaining to degrees of grape ripeness and Brix/acid levels) — also strongly influence resulting styles.
Still, slowly but surely we are starting to see some distinctions related to the sense of place in Lodi-grown Cabernet Sauvignons. To be more specific, in this particular tasting we found:
• The sturdy tannin and more compact sense of concentration without a heavy weightiness of alcohol or ultra-ripeness of fruit found in two LangeTwins Family grown Cabernet Sauvignons grown in Lodi's Jahant AVA, where shallow, terraced clay soils are naturally amenable to this style of wines.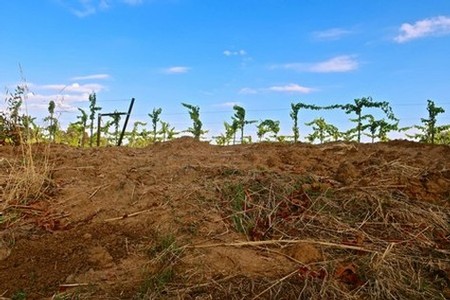 • The brighter, riper, sun-splashed fruit tones and round tannin feel widely associated with "Lodi" style Cabernet Sauvignon, but mostly because the Lodi Cabernet Sauvignons with the highest market presence are those of wineries like Michael David Winery (represented by their top-of-the-line Rapture and Earthquake bottlings in this tasting), Mettler Family Vineyards and Van Ruiten Family Winery — wineries that largely source from vineyards in Lodi's Mokelumne River AVA, which has deep, sandy loam soils (not a speck of gravel or clay) that typically go down 50 to nearly 100 feet.
• In this particular line-up, the presence of two Cabernet Sauvignons (Peltier Winery's Schatz Farm and Anaya Vineyards) grown in Lodi's Clements Hills AVA, a sub-region distinguished by rocky/cobbly, rolling clay hillsides, which seem to result in wines with grippier tannin structures and a somewhat rambunctious fruit character, as of yet a little less finely "scented" than those of Mokelumne River or even Jahant.
While these vineyard-influenced delineations are still on the subtle side in the actual bottlings, they are a harbinger of very interesting things to come.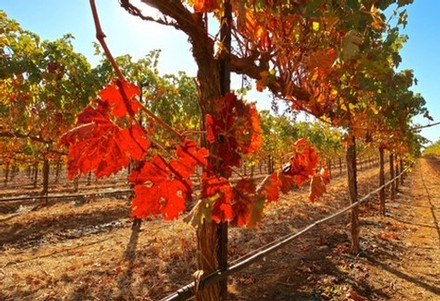 Finally, lest there be any misunderstanding: Our own "rating" of Lodi Cabernet Sauvignons is pertinent only to this particular tasting and these particular winemakers/judges. From experience, we know that if we took the exact same wines and put them in front of five other winemakers, most likely the list of preferred wines would end up in different order. In fact, if you are an avid Cabernet Sauvignon aficionado, mostly likely your own preferences would differ. If anything, we ask that you refer to our descriptions, where we endeavor to distinguish the wines on a sensory basis, not so much a qualitative one.
That said, our notes in order of the group's top 6 preferences, followed by our remarks on the other 10 wines listed in alphabetical order: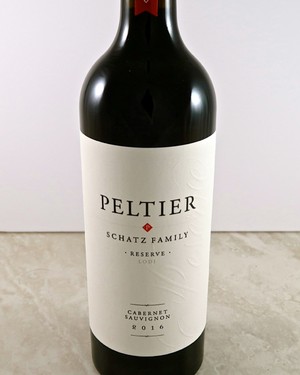 1. 2016 Peltier Winery & Vineyards, Schatz Farm Family Reserve Cabernet Sauvignon, Clements Hills-Lodi ($60) - Rich, medium-intense ruby color leading to intense aromas of black cherry, blackcurrant, a perceptible smidgen of green, almost dill-like herbiness, and not-quite-subtle toasty/vanillin oak. The fruit seems ripe-toned and filling (14.5% alcohol) on the palate but is filled out with generous, sturdy-feeling tannin and the oakiness of a young, somewhat rambunctious wine. Winemaker comments: "Full in structure, still well balanced with lots of fruit, making it very consumer-friendly despite an intense amount of minty/vanillin oak "; "more oak than most of the Cabernets in the tasting, but in a nice way"; "this wine is well-made with its dark fruit nicely fleshed out and the rich oak adding to its juicy character."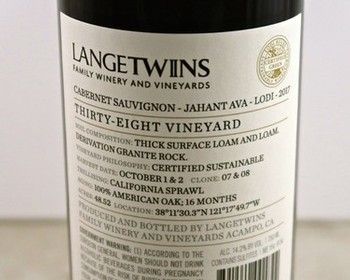 2. 2017 LangeTwins Family Winery & Vineyards, Thirty-Eight Vineyard Cabernet Sauvignon, Jahant-Lodi ($32) - A heritage vineyard-designate bottling coming from the Lange family's oldest Cabernet Sauvignon block, originally planted for Robert Mondavi Winery in the late 1970s. Rich ruby color with medium-intense pigment, followed by a harmonious, complex nose — bright, focused cherry/black fruit aromas with a floral, violet note and a twinge of green herbiness and kitchen spice along with subtle vanillin/toasted oak shading. On the palate, the intense, multifaceted fruit sensations are encapsulated in a medium-full body with a fine feel, notable acid balance, and a sense of moderation in weight (14.2% alcohol) and tannin. Winemaker comments: "A more elegant style, nicely done"; "nice, dark berry aromas with balanced oak and feel"; "deep, dark cherry with a floral note and firm yet velvety quality, the tannin solid, even grippy, while well balanced."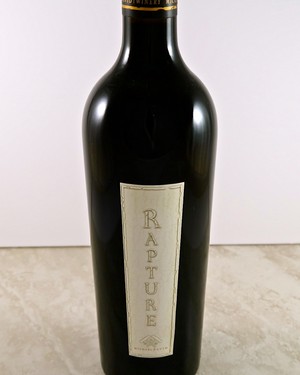 3. 2016 Rapture (by Michael David Winery), Cabernet Sauvignon, Mokelumne River-Lodi ($59) - Purplish ruby color and focused, sweet-toned, harmonious (subtle, polish oak quality) blackcurrant/red berry/cherry nose with a sense of richness. Full-bodied with a savory, velvety, rich, and layered feel. Has dense quality without being weighty or plodding, with an emphasis on the bright fruit tone typifying Lodi-grown fruit. Winemaker comments: "Blueberry and plum, juicy with toasty oak, but also has some age-ability"; "floral notes with balanced acidity and just-right oak"; "bright berry quality and well-rounded tannin"; "quite drinkable yet well structured, with generous oak and tannin without a drying character."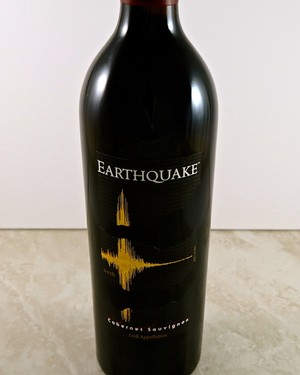 4. 2016 Earthquake (by Michael David Winery), Cabernet Sauvignon, Lodi ($26) - Rich, dark, vivid ruby color fulfilled by an intense, sweet-toned nose of black fruit, black cherry, and vanillin/toasty oak. While the toasty characteristics continue on the palate, the rich core of intense, zesty fruit remains front and center, giving a balanced feel to a fleshy, full body with some velvet texturing, supported by rounded, medium-full tannin. Winemaker comments: "I loved the cassis, plum, and blueberry notes in this wine"; "I found more cassis and a dark, curranty character, with a richness on the palate enhanced by nice barrel aging"; "the fruit has both sweet tones and a dried herb character of Cabernet."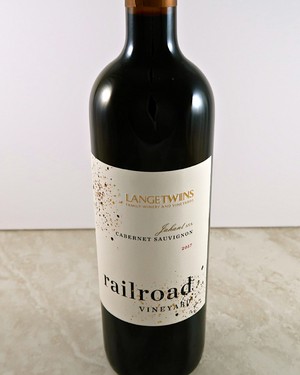 5. 2017 LangeTwins Family Winery & Vineyards, Railroad Vineyard Cabernet Sauvignon, Jahant-Lodi ($32) - The "sister" wine in LangeTwins Family's 2017 vineyard-designate Cabernet Sauvignon program — the Railroad Vineyard being a younger Jahant AVA block (planted in 1997 on heavier clay soils than Thirty-Eight Vineyard's) — is a little more fragrant in black cherry/red berry qualities, and is also fuller, weightier and broader in feel, combining good tannin and conscientiously zesty acid balance to build upon a generous, fruit-focused style of the varietal that is as yet youthful in its somewhat lean, tightly wound character yet doesn't stray from its balanced composure. Winemaker comments: "Very likable bright, expressive fruit that comes in layers, with red cherry, cedary spice and a good chunk of tannin"; "one of the most structured of the Lodi Cabernets, still with lots of bright fruit aromas"; "I noticed a little bell pepper in the taste, mixed with toasty, cigar-like, juicy fruit qualities"; "cedary qualities and medium-weight feel, with oak kept in balance where it enhances the wine without being obvious about it."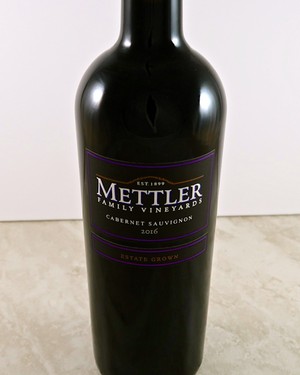 6. 2016 Mettler Family Vineyards, Cabernet Sauvignon, Lodi ($25) - Vivid purplish ruby color that is just as compelling as an invitingly intense, sweet-toned black cherry/blackcurrant aroma underscored by subtle vanillin/toasty/cedary/pencil-box oak flourishes adding a low-key framework to the nose. On the palate, the tilt towards intrinsically ripe toned "Lodi" fruit continues in a medium-full body filled out by sturdy tannin, while the vanillin oak and an evidently judicious blending (most likely Petite Sirah) add an angular, meaty sensation and somewhat caraway-like savoriness to the overall feel of balance and generosity despite the sun-ripened fruited core. Winemaker comments: "Sweet/smoky/vanilla taffy-like qualities give the flavors a bright, sweet focus"; "the plummy fruit, hinting at blueberry, is bordering on overripe, but oaky richness adds balance and structure"; "the nose is sharply defined, which carries on in the mouth."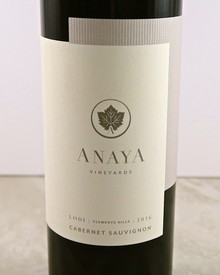 ♦ 2016 Anaya Vineyards, Cabernet Sauvignon, Clements Hills-Lodi ($42) - Deep, dark ruby color and sweet-toned, chocolaty/mocha notes mixed with dark berry qualities. The ripe, extracted, chocolaty qualities come across as broad and full with chunky tannin on the palate. Boisterous yet exuberant. Winemaker comments: "Probably the heaviest, ripest tasting Cabernet in the tasting"; "good fruit, even if a little overripe"; "big wine with a big fruit finish, which many Cabernet drinkers would find attractive."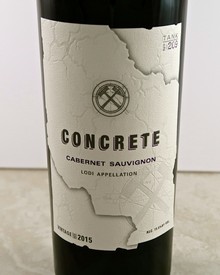 ♦ 2015 Concrete Wines, Cabernet Sauvignon, Lodi ($20) - Purplish ruby color and ripe-toned, black cherry/blackcurrant/cassis-like aroma sweetened by nicely integrated vanillin oak that keeps the Lodi fruit character front and center. A combination of a full-blown body (15.9% alcohol), sturdy tannin, and a velvety feel adds up to a voluminous style by any California standard. Winemaker comments: "Big wine, with dark currant nose and minty/cedary notes"; "concentration of blackcurrant, blackberry, and black cherry fruit with a little bit of oak influenced smokiness." Available through Lodi Vintners.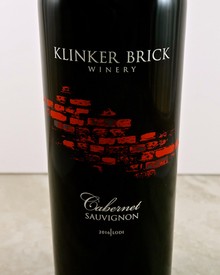 ♦ 2016 Klinker Brick Winery, Cabernet Sauvignon, Mokelumne River-Lodi ($29) - Purplish ruby color of medium-intensity, coupled by a forward, red berry perfume with a note of red licorice. The zippy, medium-full body carries well-delineated cherry/berry varietal qualities, with moderate yet firming tannin contributing a finish that is notably dryer than the initial burst of berryish fruit on the palate. Winemaker comments: "It seems like it's more the tannin from the oak than the fruit tannin that contributes to the drying finish, but there is a balanced quality indicating that this wine could age well"; "I'd call this a medium-intense, medium-weight, medium tannin style of Cabernet with a good 'all-around' quality"; "dark blueberry fruit with notably toasty oak, especially on the palate."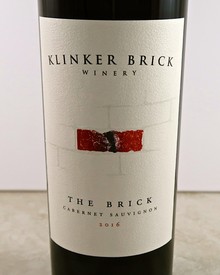 ♦ 2016 Klinker Brick Winery, The Brick Cabernet Sauvignon, Lodi ($65) - Klinker Brick's "reserve" level 2016 bursts with young, bright cherry fruit with an oak complexity that seems both obvious and restrained, all things considered. Sense of "bigness" and some luxury in a full, dense, aggressively structured body, with heightened sensations of youthful tannin and laudably balancing acidity, notwithstanding a layered, velvet texturing in the overall feel. Winemaker comments: "Comes across as a young wine with big oak and tannin hiding what seems to be a good concentration of Cabernet fruit"; "has good mouth-feel despite strong, pencil-sharpener oakiness and a little pyrazine (i.e. green herbs/bell pepper-like) in the nose"; "fruit intensity enhances by vanillin sweetness of oak"; "middle and finish dominated by young, slightly drying tannin."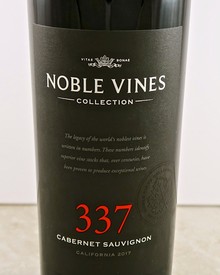 ♦ 2017 Noble Vines Collection, 337 Cabernet Sauvignon, California (Borden Ranch-Lodi; $15) - While carrying a California appellation, this laudably priced wine is sourced entirely from parent company Delicato Family Wines' Clay Station Vineyard in Lodi's Borden Ranch AVA. There is a focused, floral, red/black cherry quality in the nose underscored by a low-key vanillin tone. The feel is medium-full, with an emphasis on balance, zippiness, and keeping the vanillin fruit qualities bright and buoyant notwithstanding an intensity falling on a leaner, restrained side. Winemaker comments: "A lighter style, but very bright and well balanced"; "nothing wrong with this style aimed at a lower price-point, it is still nicely balanced, pointing more towards a vanillin American oak — would make great 'everyday' drinking"; "I liked the ripe dark cherry and minty notes, and sweet cherry/vanilla on the palate."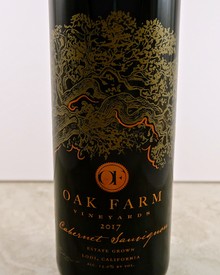 ♦ 2017 Oak Farm Vineyards, Estate Cabernet Sauvignon, Mokelumne River-Lodi ($25) - Fairly dark, purplish ruby color leading to an intense nose of sweetly ripened red berry, a touch of green herbiness, and some degree of blackcurrant concentration and focus. A rich, layered feel is bolstered by good tannin, carrying the rich and herby fruit qualities all the way through a lively, tart-edged finish. Winemaker comments: "Fruit driven but also a little herby, while noticeably tart and edgy"; "the Cabernet fruit is on the ripe side, with some smokiness to go with the tartness"; "good fruit, but also has some sweet/vegetal qualities."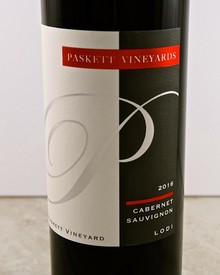 ♦ 2016 Paskett Winery, Paskett Vineyard Cabernet Sauvignon, Mokelumne River-Lodi ($36) - Moderate ruby-red color and a floral, slightly minty red berry/cherry nose that is somewhat singular yet well focused, borne out in a fluid if lean feeling, medium-full body buoyed by good acidity and easy, moderated tannin, leading to a restrained yet bright, zippy overall varietal profile. Winemaker comments: "More eucalyptus quality than other Cabernets in this tasting"; "I'd describe the nose as like eugenol (i.e. suggesting clove), which comes across as minty with its balanced oak character"; "not much tannin, ends up lean yet round and easy."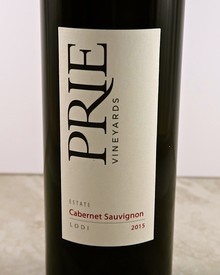 ♦ PRIE Winery & Vineyards, Estate Cabernet Sauvignon, Mokelumne River-Lodi ($27) - Ruby red, almost transparent in pigmentation, followed by a flowery red cherry nose with an herby/dill-like fruit/oak interplay, manifested in lean yet zesty, medium-bodied qualities that are, if anything, refreshingly restrained and upbeat in the overall feel. Winemaker comments: "Deliberately lighter style of Cabernet with its greener, herby notes"; "maybe more like Cabernet Franc than Cabernet Sauvignon"; "different approach to the varietal, but not without its qualities or its own appeal, especially with foods (i.e. less fat or protein) you don't normally eat with Cabernet Sauvignon."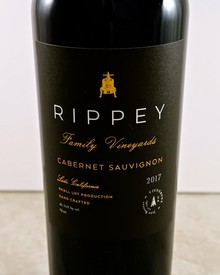 ♦ 2017 Rippey Family Vineyards, Cabernet Sauvignon, Lodi ($25) - Ripe black cherry aroma with a tinge of leafy/herbiness, yet with a fresh, focused quality. Full, rounded velvety entry followed by sturdy tannin and slightly toasted oak sensations expanding the ripe fruit-driven focus in the middle and finish. Winemaker comments: "The herbiness has a tomato leaf quality to it"; "restrained aroma, yet remains nicely fruit-forward all the way through the finish." Available through Lodi Vintners.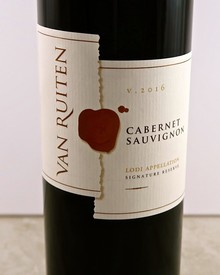 ♦ 2016 Van Ruiten Family Winery, Signature Reserve Cabernet Sauvignon, Lodi ($35) - A sleek and balanced style, starting with a floral, cherry-like fruit fragrance with handsome hints of cigar box and a sprig of leafy dill. The medium-full body is zippy with acid, yet tannin is firm enough to give a structured feel and a tight, promising finish. Winemaker comments: "Rose petal complexity, if the light in the mouth-feel"; "found lots in the nose — fruitcake, mint, marzipan — enhanced by soft, round tannin"; "some green herbal notes in the nose, but balanced by ripe fruit, good oak and round feel in the mouth."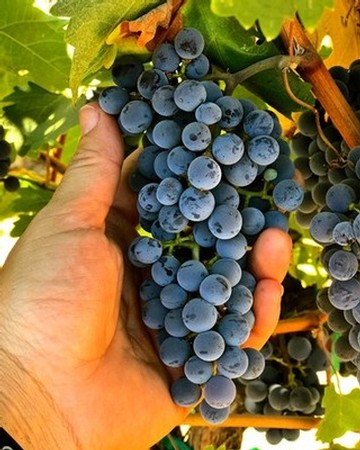 Comments